Winter - it's not lethargic monotony of the landscape. Winter - a bright, festive, shining it's time, like a wedding. On a winter wedding, you both can never be creative, especially at a photo shoot. Think about and prepare accessories for photography, and the result is sure to fulfill all expectations. Moreover, many of them strongly not to hit your wedding budget!
Warm up at a photo shoot
Winter is not only connected with the cold, but with the heat -hot tea, soft blanket, fond memories ... You can put these ideas during the winter wedding photography. Picnic in the snow. Podyschu colorful plaid or even a small table, chairs and a tablecloth for him. And then - a flight of fancy. You can drink tea or mulled wine, eat bagels or candy apple, bask in the samovar or wrap up in a cozy scarf. In addition, www.articlewedding.com site advises to take cookies and nuts. After all, the parks are found tits and squirrels, who are happy to take part in a photo shoot when they feed.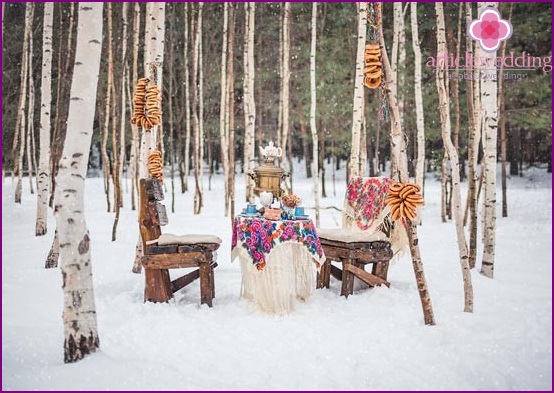 Stock up on winter accessories
In wedding photography all useful souvenirs reminiscent of winter. It may be cone, decorated with gold leaf, silver snowflakes, knitted scarves, etc.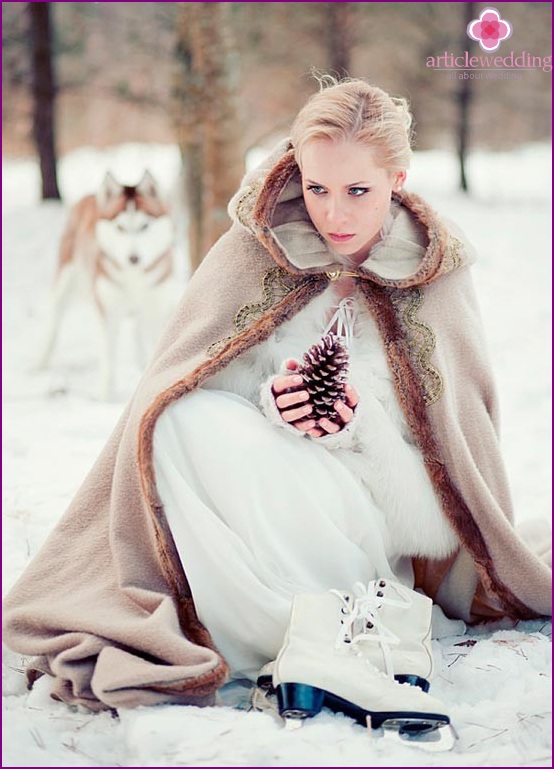 Arrange holiday
Many people love the look and wait for the winter, becausethis time to the New Year and Christmas. And they, in turn, is one of the most beautiful and romantic holiday of the year. On the wedding photo shoot in handy cap of Santa Claus, Christmas candles, Christmas decorations, winter balls with glitter inside, bells, statues of angels - anything that would remind one of the happiest holidays of the year.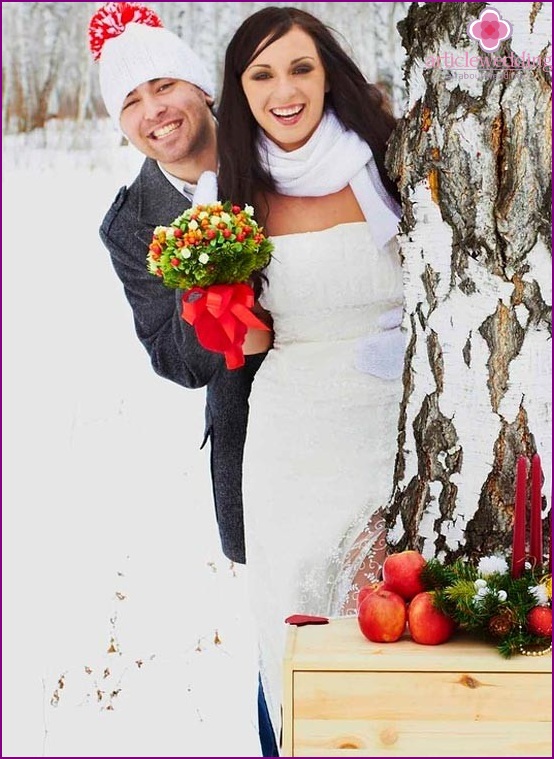 Grow a tree of love
Many winter wedding photography conducted inindoors, not outdoors, since it seems that without trees leaves appear "naked" and are unlikely to decorate the frame. And why would you yourself do not grow your tree of love? Find low in the park tree and decorate it valentines, ribbons and cute pendants. Valentine can buy at the store, but also to make himself more interesting - from paper, thread, papier-mache, wood and other materials. They can be an original way to decorate and even sign. Then, at a photo shoot, you can not only make beautiful pictures, but also to please each other once more tender declarations of love.
Sport photoshoot
Remember why you loved the winter as a child. Sleds, skates, skis - all this brings the warmest memories. If you do not want to organize a wedding photo shoot at the rink, you can at least take a picture with skates or sledges.
Add light
Candles - perfect accessory for wedding photo shoots. Candles add warmth and tenderness. And in the winter, with its short day, they become particularly relevant, adding a mysterious light photography.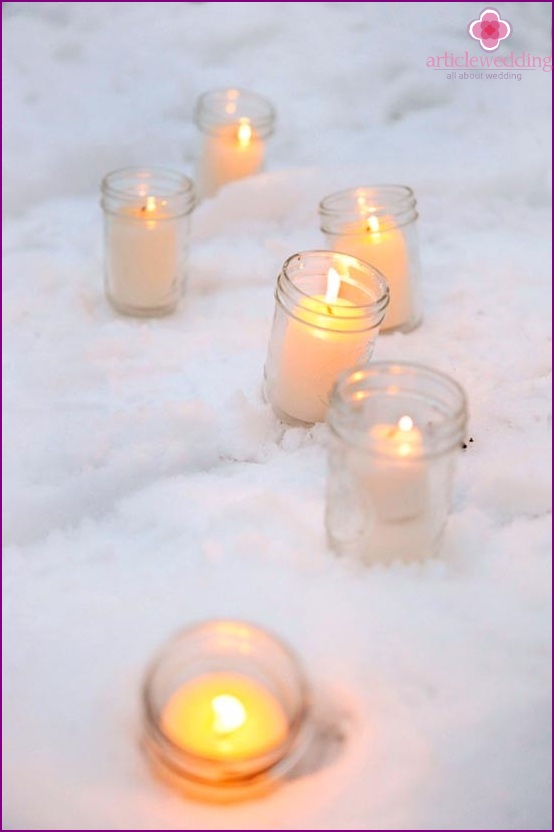 Vintage - a winter trend
Vintage - the most successful theme for winterphotoshoot. Vintage painting may resemble frost on the glass, and the sophisticated style and elegance of the vintage are suitable for winter weddings verified elegance. In the frame will look great wrought-iron chandeliers, floor lamps, dishes with original paintings, decorative napkins, etc. So, wedding portal www.articlewedding.com recommends visiting souvenir shops in search of vintage accessories for winter photo shoot.
Everything you need, at your fingertips
In fact, winter is not such a boring and time forwedding. After all, if you look closely, beautiful scenes for photos nearby. You can play snowballs, making a snowman or make snow angels. Have fun, and be sure the photographer will be able to capture the beautiful moments of the wedding.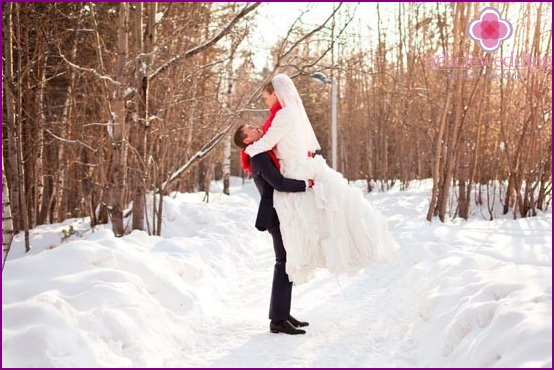 Winter wedding photography can be bright,original and colorful, if you think over what style of its triple, and hence, what accessories to prepare for it. Winter photo shoot - a great opportunity to be creative and attention to each other!