Wedding Love is in style, themedunder the ear of the eponymous chewing gum popular in the 90s. XX century, has recently become a fashionable trend. Touching the relationship of a young couple, depicted in a chewing gum inserts, thematically suitable for wedding celebrations, filled with tenderness and romance. For more flavor add this wedding invitation Love is, telling your love story. How to choose and create an invitation for the guests?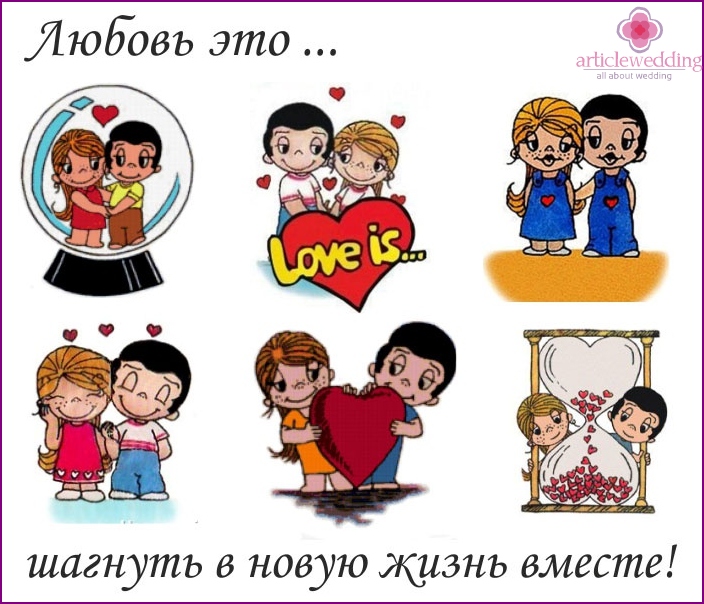 How to sign the invitation Love is in the style of
Wedding invitation signed by the newly-married coupleand sent to a month before the holiday to visit without haste to prepare for the upcoming event. As the invitation is usually used cardboard card (unilateral or bilateral), which on one side is an image with a couple in love touching the definition of love, both on bushing cud Love is, on the other side of the information block about the upcoming wedding ceremony.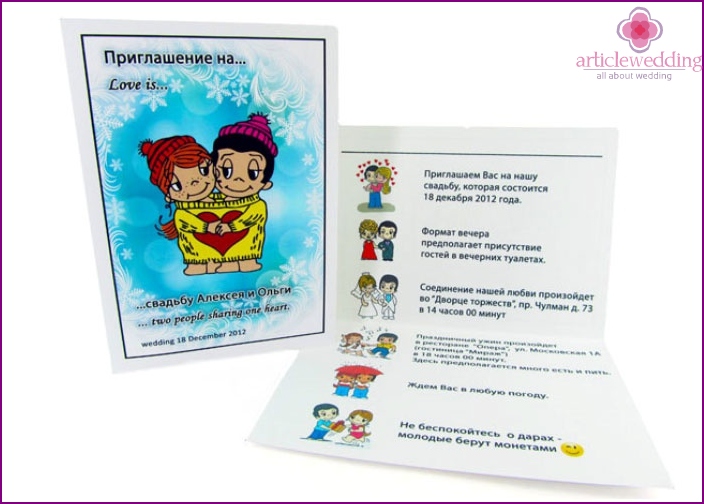 In the information section of the wedding invitations include the following information:
treatment by name and patronymic to prospective guests;
celebration date;
Venue - redemption address, the registrar or the banquet hall, where guests are invited;
wedding dress code - general recommendations or holiday themes;
signature of the bride and groom.
If you are planning on a wedding partywith clearly defined set time program, it is advisable to schedule the evening designate in postcards to the guests were informed in advance and could join the celebration in the time convenient for them. To this information did not look too formal, create a comic name of each part of the celebration, an example look at the photo below.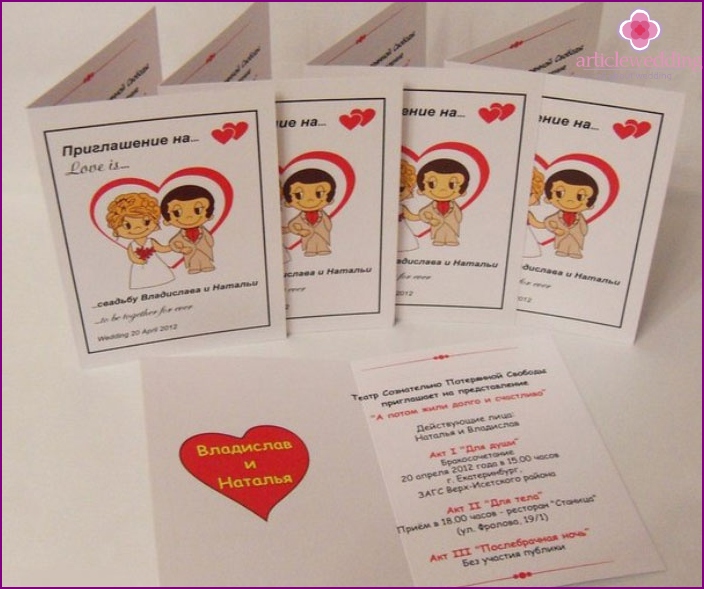 Customize the appearance of an invitation to helpsilk ribbons, delicate lace, pearl beads, artificial flowers, paper hearts, monogram, giving ordinary cardboard postcard original design. To the message arrived at its destination in its original form, use when sending white or colored envelopes, decorated in the style of a single invitation. Alternatively, add the invitation to chewing gum in a beautiful package, see the photo below.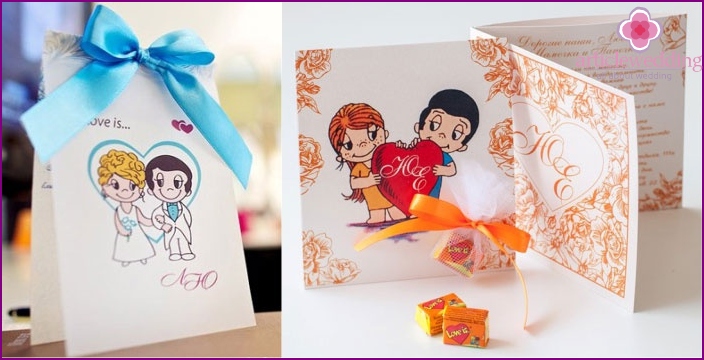 The original solution - placing on the outsidephotos of the newlyweds greeting, stylized image insert gum, see picture below. You will need to pre-select a suitable way to organize a photo shoot and the photographer to photograph were ready at the time of printing in the printing of postcards. Connect your imagination, then you get the original invitation, and guests remembered for a long time.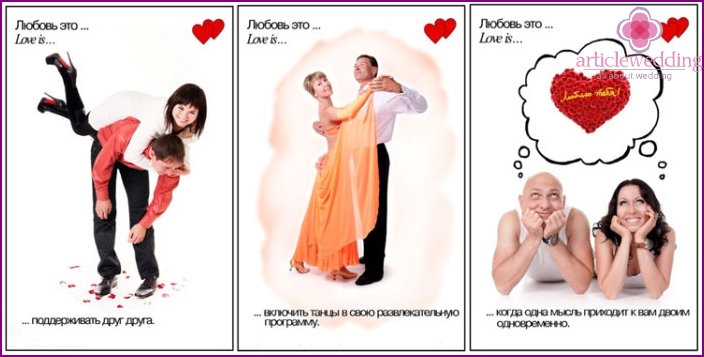 Writing in prose
For the outside of the invitation to compose a romantic phrase, or use a ready example:
... Love is two hearts beating in unison.
Love is ... a romantic journey of a lifetime.
Love is ... to share with loved ones a happy moment of life.
Love is ... to feel the heart beat of each other.
Love is ... the reason for our life on earth.
Love is ... the light of the way.
Love is ... a journey into the unknown.
Love is ... a romance for two.
Love is ... dizzy at the meeting.
Love it ... I wish that time slowed down.
Love is ... to feel each other.
Love is ... a brief moment of a lifetime.
Love is ... to listen to the sound of his heart.
In verse
Wedding invitation Love is in the style of romantic poetry supplement:
***
Love - it's not waste time,
Make it a welcome gift,
Hold his hand when he was sick,
Maintain, so I was pleased.
Love - it's all day to spend together,
When you do not sit still,
Sing and dance,
Have fun and grieving.
Love - is when your thoughts are similar,
Doing together can something
To help and love each other,
However, to go through life always.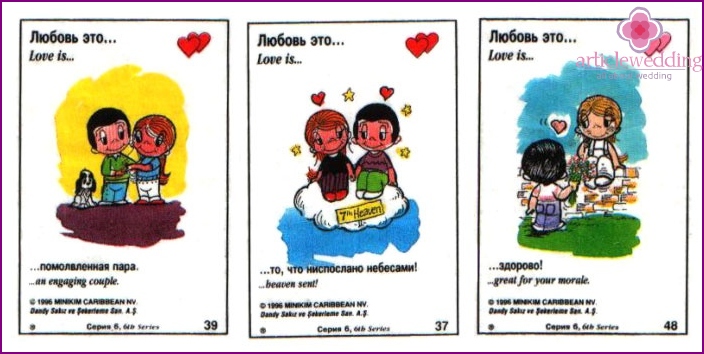 ***
Love - is to call her every minute,
Support coming out of the bus,
Tenderness to whisper in your ear,
Straightens the pillow every night.
Love - it's praising her pasta,
Rejoice, rejoice without cause,
Spend a romantic evening,
Or just to be together.
Love - is a gale,
Step into a new life,
Recognition of a hundred different keys,
For the sake of love, are you ready?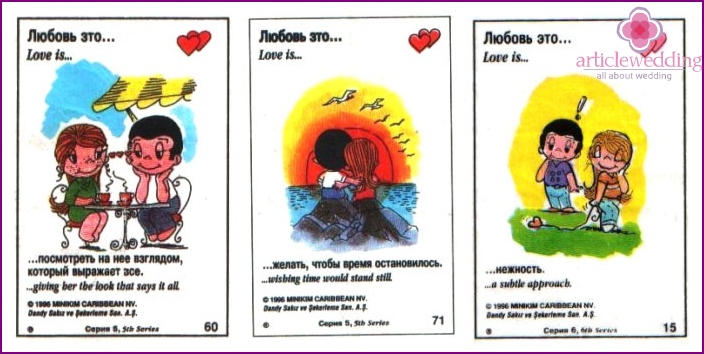 ***
Love - it's a club for the elite,
Evening with roses and champagne
Romance and pleasure,
Dance is one for two.
Love - a shared future,
Fatherhood and motherhood,
Keep family values,
The life of one for two.
Love - not the packaging and contents,
Two-way street,
Being a reliable companion for her,
Steer for the benefit of the family.
Invitation to Love is the style for parents
Wedding invitations for parentsinvitations etiquette differ from other guests. Use less formal tone treatment, make it warmer, such as "Dear Parents" or "Favorite Mom and Dad." Write the words of gratitude, gratitude to the relatives, about how much they have given you, for the support that you have received from them always. Handling was sincere, written sincerely, then the words will resonate with families and will long remain in the memory.
Etiquette postcards to parents and other relativesrelatives are given to the bride and groom during a personal meeting. This is an excellent occasion to organize a family holiday that will allow you to express my gratitude and respect for their loved ones, talk about their feelings, to show how much you value them as you appreciate them and love.
Photos and examples of invitations