Each pair, marry, wants toceremony and subsequent celebration took place in an original and memorable forever. The ideal solution for a beautiful memorable wedding will be holding the event overseas. Wedding in Thailand - a veritable kaleidoscope of fun, bright colors, magnificent views. Celebrating the triumph of the territory of the Kingdom of Thailand, you can be sure that the beginning of your married life will become a breathtaking adventure.
How to celebrate a wedding in Thailand
If you have firmly decided to celebrate a wedding interritory of Thailand, will tackle some organizational moments. The first thing you need to decide where it will be held a ceremony of marriage. Here are some options for your wedding:
Wedding on the beach. Beach Wedding - is ideal for lovers of sun, sea, sand and freedom. Clean beaches of Thailand away from busy places will be a perfect solution for couples who decided to celebrate the unusually auspicious day. You can arrange for a quiet little wedding lavishly decorated with Thai flower arch or throw a massive party with DJ, powerful equipment, dance till morning and luxurious banquet.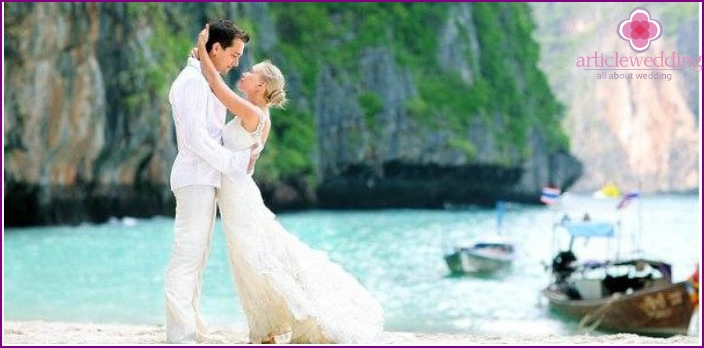 Beach wedding is a big advantage overother types of celebrations, thanks to the beauty and photogenic. Photos and videos from this ceremony will be a long time to please the newlyweds and guests of the festival.
A wedding on the mountain. Thailand is famous not only lots of cozy beaches, and picturesque rocky coast, offers a great view of the ocean. You can not go wrong if Celebrate a wedding on a high meadow among magnificent tropical plants. Choosing a style of the ceremony, think in advance about the additional transport for guests.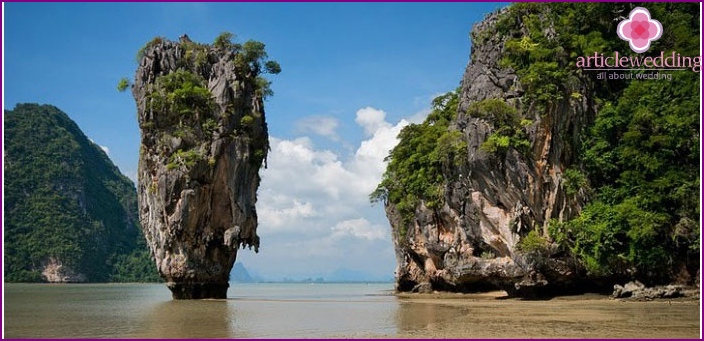 Wedding on a desert island. With its unique location, Thailand covers a large number of islands, many of which are uninhabited. If you like to discover new things, want to completely isolate themselves from the bustle, set up large clusters of people, there is no better option than to hold a wedding on a desert island. The untouched virgin nature, sand, that does not find human footprints, and only two of you and the master of ceremonies.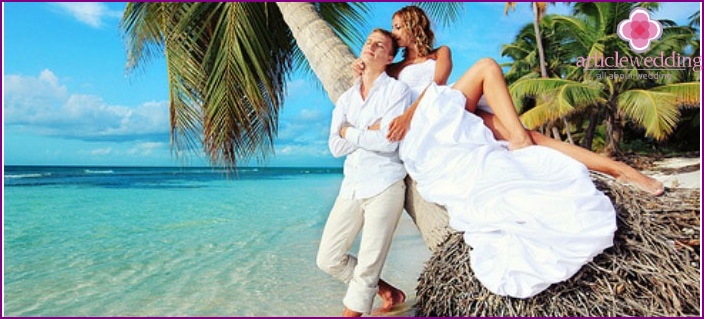 Wedding on site. Thailand attracts tourists from all over the world due to its extreme cheapness. You will feel like a real king, took off luxury villa in Thailand, and it will not cost fabulous money. Each couple can find an option for a wedding according to their financial capabilities. Thai agencies provide a small cozy cabins for two, and huge villas, palaces, where the calm accommodate many guests.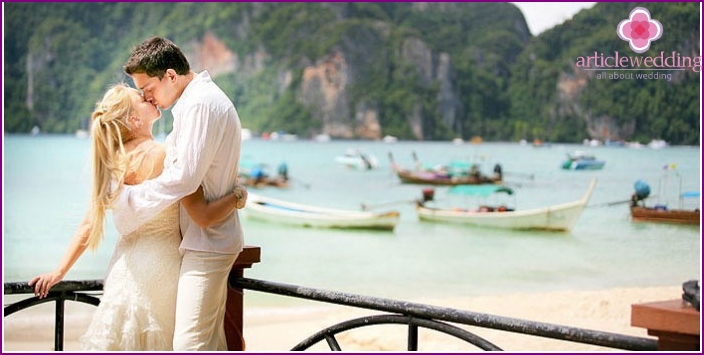 The territory of the Kingdom of Thailand encompasses thousands of islands, so special attention deserves the choice of the island for the magnificent wedding. The most popular options:
Phuket - a large island with a developed infrastructure, where no one, even very demanding, the tourist will not get bored. Phuket is perfect for wedding organization.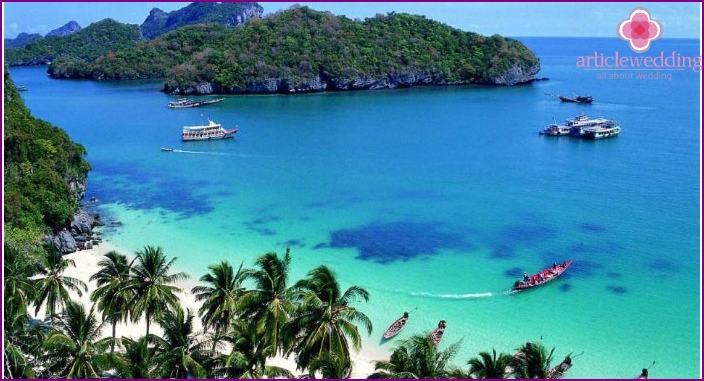 Samui - a convenient location and at a beautiful island with a medium level of infrastructure. Samui is famous for a large number of villas for weddings in beautiful scenic locations.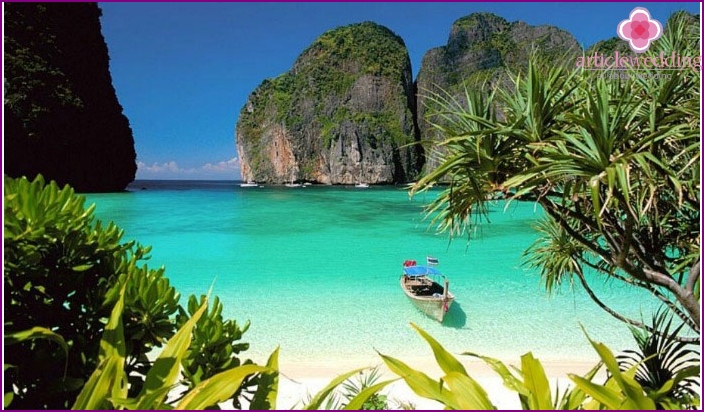 Phangan - a romantic place that is less likelyHe touched by civilization. On Phangan more attention to the entertainment program (diving, traveling, water skiing), than go shopping and relaxing at the villa.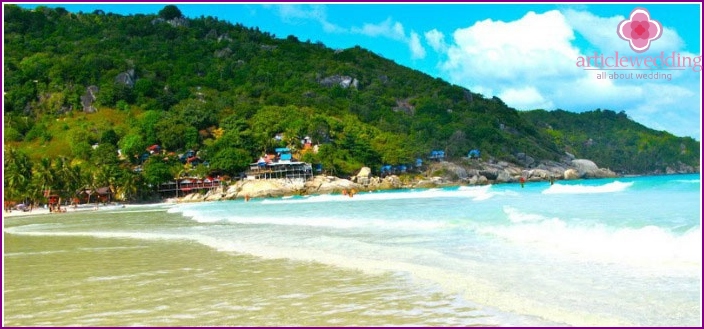 Krabi. This island has recently become available for tourism and is a combination of beautiful rocky coast and beautiful beaches. The unique nature allows you to organize a wedding, like the shore and on the hillside jungle.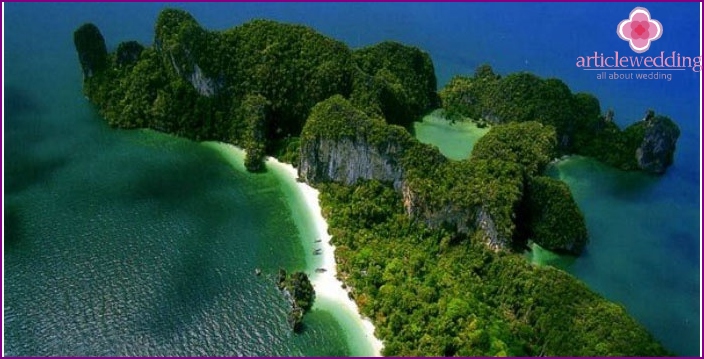 Pattaya. Beautiful Island in Thailand for a wedding, where each pair will be able to look for a suitable accommodation - a huge selection of rental real estate and hundreds of hotels offer tourists the opportunity.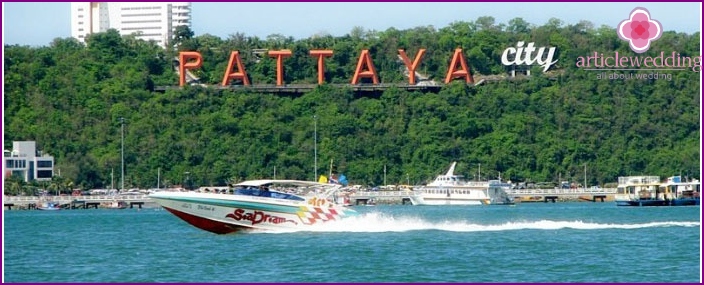 In Pattaya
Pattaya - a popular venue forwedding, for him is to talk separately. For couples who have a family life, here there are excellent options for the ceremony. Almost all of the coastal strip is the beach, where a high concentration of entertainment. The couple can rent a nice room in a hotel or rent a small villa. In comparison with the other islands of Thailand, Pattaya offers cheaper options for real estate.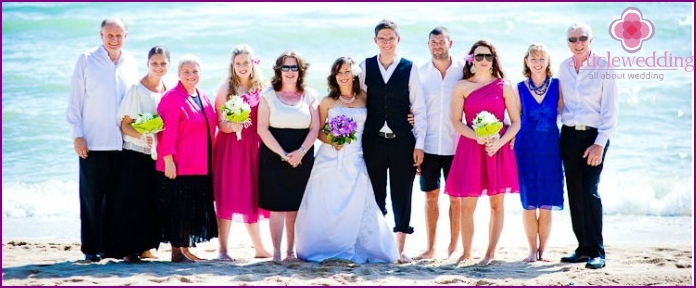 Perpetrators of celebration can spend a wonderfultime, not only during the ceremony, the perfect place for which is the beach, but also before and after it. The entertainment industry offers tourists scuba diving, water skiing or fishing. If you do not want active entertainment, head to the magnificent botanical garden, visit the animal farm, where organized presentation and tasting, take a look at the temple complex of Wat Chaymonkron.
In Phuket
Phuket - Thailand Island, where there isthe most developed infrastructure. Chic restaurants and shops with merchandise for every taste, theaters, cinemas, concert halls, luxury hotels, villas and endless beaches - all waiting for heroes of the occasion, decided to organize a wedding in the area of ​​Phuket. Due to the large number of amenities provided by Phuket for tourists, the cost of standard services there may be more expensive than the other islands in Thailand.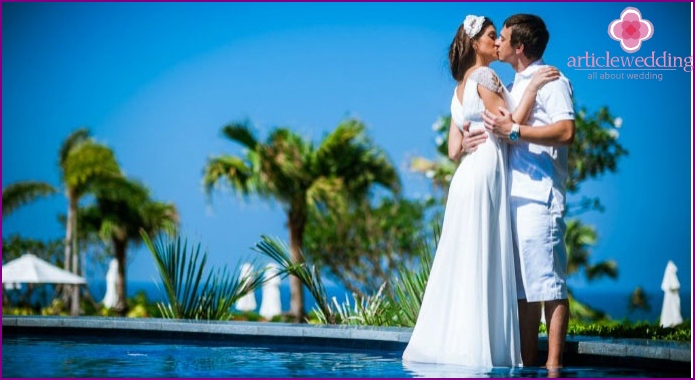 Together with professional weddingagencies, you can organize an unforgettable ceremony, imbued with the elegance of a European wedding and cheerful spirit of eastern Thailand, and the rich entertainment world Phuket will not let you get bored.
Scenario wedding in Thailand
Most weddings organized in Thailand, are the classical scenario. Consider the exemplary festival stages.
Morning. It starts with the preparation of the bride and groom - the future spouses get up early, put on a wedding dress. Culprit celebrations can pre-order the services of a professional make-up artist and stylist. They come in the morning, will make her professional makeup, hairstyle. When everything is ready, together with the guests of a young couple goes to be photographed. For this purpose they are provided with minibuses, Thai guide and interpreter. Thai tour guide - a prerequisite for a wedding in Thailand.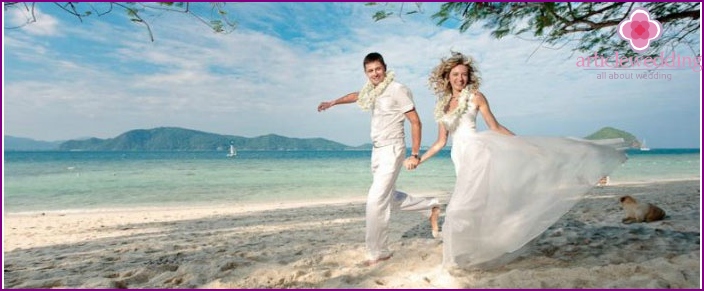 Day. When the photo session is over, heroes of the festivities come to a wedding place in advance decorated Agency - this may be a beach, where the bed has carpet, are seats for guests, stands the beautiful floral arch. Organizers give guests the petals, which are showered newlyweds, the ceremony takes place. The couple painted in a wedding certificate, after which are officially husband and wife. It takes a second phase of a photo shoot.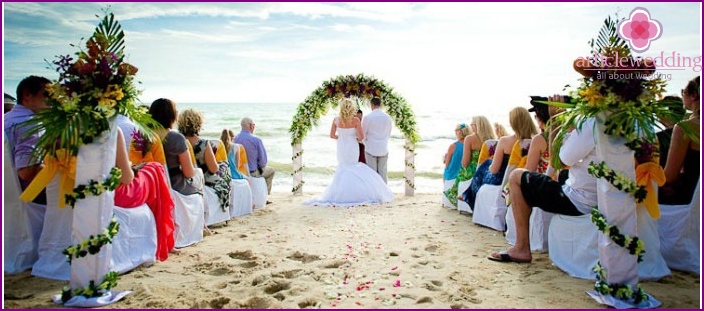 Evening. After the ceremony, a photo shoot and a small celebration, heroes of the occasion with the guests leave the villa or in the restaurant, where they were waiting for a table. There's a wedding present note. The bride and groom can order additional leading services which will hold interesting competitions, will prepare a luxury entertainment. The evening ended with colorful fireworks.
Dream wedding
Symbolic wedding is still the mosteasiest way to hold a ceremony in Thailand. During the celebration of the symbolic is no official registration of relations, that is, the bride and groom do not become husband and wife according to the documents. This wedding is for solemnity and scale is no different from the official one, but put a stamp in the passport would have to have in Russia, or before leaving for Thailand. After a wonderful celebration is issued to spouses Thai wedding certificate.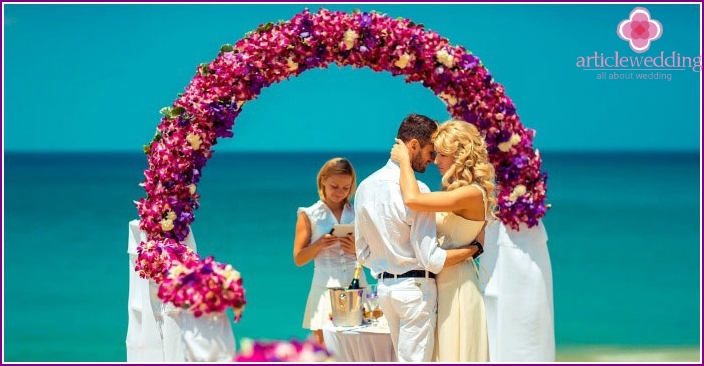 Official wedding
Despite the serious difficulties, manythe couple is still trying to go through the official registration of marriage. If you want to arrange a similar celebration, get ready for what will have to visit several public authorities, to collect documents for the wedding. The package of documents required for registration of marriage in Thailand include:
passports of Russian citizens
passports
certificate of divorce or the death of the previous spouse, if such was the case
When will collect the necessary documents, will follow a clear plan to formalize the relationship without problems in the territory of Thailand. Here are step by step instructions of action: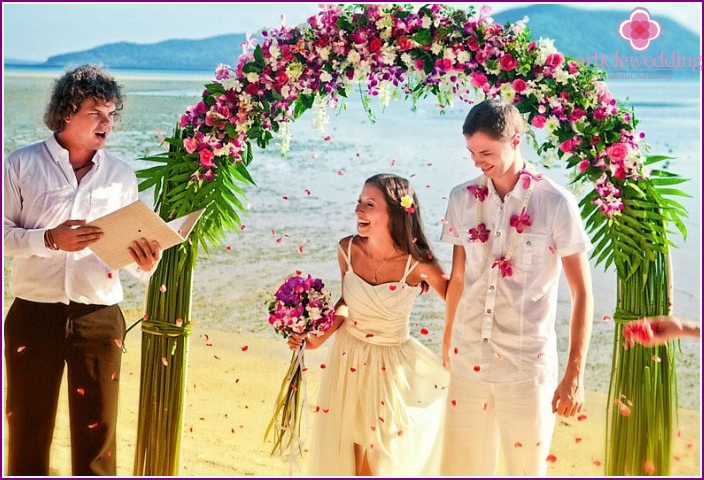 To go to the Russian consulate to fillaffidavit of marital status. Affidavit - a document certified by a legal entity, in which the future spouses to testify under oath about the current marital status. hero of the occasion will be given forms to be filled in English. The form will need to specify two proxies addresses.
Make affidavit translation into Thai, to assure him of a notary.
Legalized affidavit translated intoMinistry of Foreign Affairs of Thailand. Future spouses will fill out a form, take a queue number and wait to take the documents. Then you will need some time to myself legalization process - be informed about it after the issuance of the receipt of payment.
To go to the local municipality toregister their marriage. With legalized affidavit and passports need to go to the local registry office, where on the same day will be issued a marriage. It may require a certificate of divorce or death of the former spouse. After registration will be given a certificate of marriage.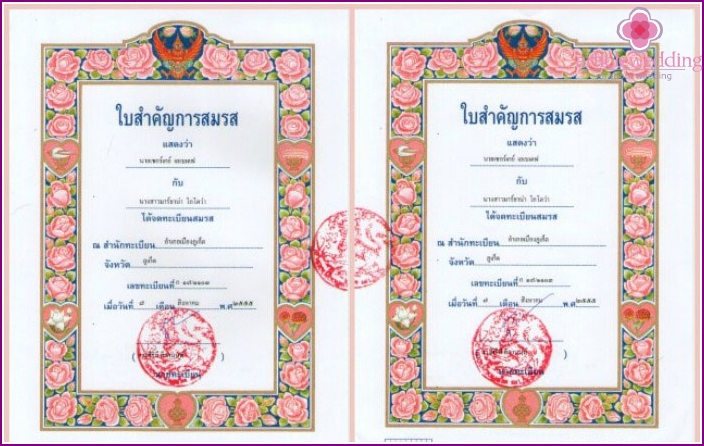 Conduct reverse legalization in the Ministry of Consular Affairs of Thailand, and then in the Russian consulate.
Translate issued a marriage certificate at the Russian assure translation.
After all the above steps, you will officially become husband and wife, both within Thailand as well as in any other country.
Photo wedding in Thailand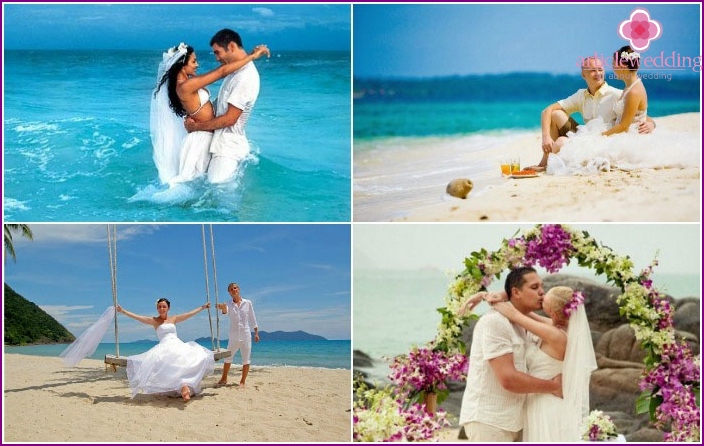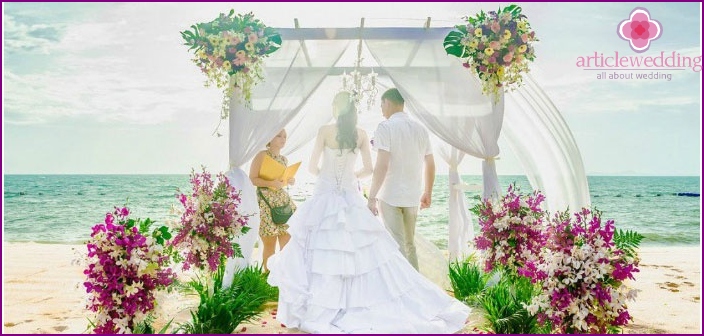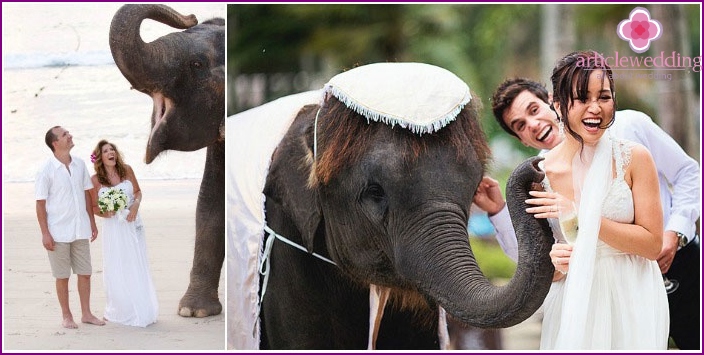 Reviews
Several reviews of the Thai wedding:
Mikhail, 34 years old: - "After ten years of marriage, decided to make her favorite gift - a symbolic Thai wedding. I read reviews on forums related to the local bridal agency has stipulated the details ... the woman he said, just to celebrate the anniversary of flying. What was her delight when on arrival I told her the news. Dress with a suit purchased already there. Beautiful well-coordinated work of the organizers and exotic wedding left great impressions! "
Tatiana, 24 years: - "My husband and I have been thinking how to celebrate the wedding of unusual. Marriage was recorded in the winter, so after some deliberation, it was decided - fly in the summer! We chose Thailand because it is a proven option, and pricing pleases. It was a great symbolic ceremony on a wild beach, only close relatives and friends. All were satisfied, and some unmarried couples after watching our wedding photos themselves have decided to arrange a holiday there. "
Elena, 27 years: - "I will never forget this day! Great views, delightful ceremony, the happy faces of the guests, delicious Thai cuisine. Fly could not all, but those who could have been ecstatic. And what can we say about the wedding album - an incredible photo shoot! Photographer all I have done a bang. It's been almost a year, and we still have the weekend reviewing the pictures and plan a vacation in Thailand. "
Video process
If you have chosen Thailand for a wedding,Be sure your celebration will be an event that will never be forgotten! This kingdom -Perfect combination of grandeur of nature and all kinds of entertainment. Carefully planned Thai wedding will be a wonderful start of your joint family life.