Finally all the wedding preparations behind. It remains to play a wedding and go far away, where your body will caress aqua and filled with love. But to honeymoon passed with maximum comfort, you need to pack their bags correctly. It is necessary to avoid excessive amount of things, especially those that are, in principle, you do not come in handy on vacation, but also "light" and should not be sent to a distant seashore. What it is worth to bring along in the first place? Wedding portal articlewedding.com offers newlyweds their assistance in this matter.
To begin with, the bags should be collectedbeforehand. If you are going in a hurry, you obviously will forget almost half of what it would like to bring with you. Better before leaving again to verify that all the necessary things, than to try to collect them for five hours before the plane / train.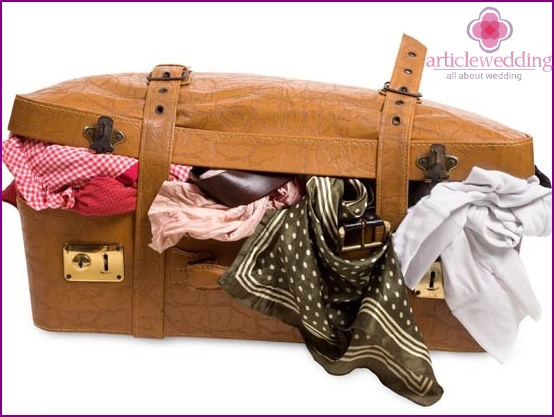 This is especially true of those couples whogo on their honeymoon immediately after the wedding. I doubt that after the wedding you will have the time and desire to collect suitcases. Better they are "ready" month.
In addition, the cost to prepare in advance and clothes inwhere you go on a journey. If the groom is much easier (took off his jacket, unbuttoned and freedom), the bride in a magnificent wedding dress is quite difficult to land the plane or the train on this issue. Therefore, prepare in advance a light comfortable dress. It is not for those brides who originally chose their outfit with a trip condition. Typically, this dress without rings having a length just below the knee.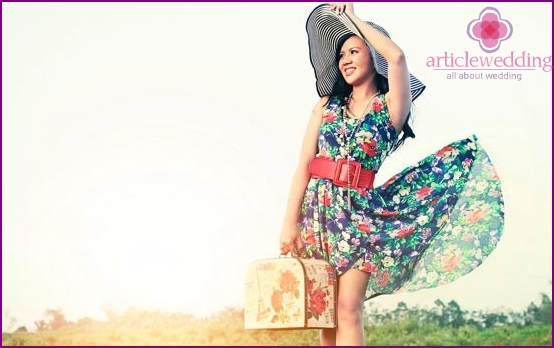 When choosing clothes and do not forget to take into account the air temperature, weather. If you are pulled out of the harsh winter in the hot summer, it is best to pre-dressed "for the weather" of the host country.
So now let's turn to what is sure to take along for the ride.
Documentation
Perhaps the most important thing - it documents. "Without paper - you're an insect," unfortunately, this proverb applies everywhere, so be sure to check that all the documents. These include: a passport, driver's license (if any, in case if you are planning to rent a car), tickets, tickets. Also do not forget about the money. And all of these things should not be laid on the surface of the luggage.
personal hygiene
This toothbrush and toothpaste, shampoo, foamshaving razors, wet wipes, handkerchiefs, napkins, soaps and cleansers. Of course, all this can be purchased on arrival, but whether or not you wish to spend precious time on honeymoon such trifles? By means of personal hygiene and we also we put underwear. For a young wife will also need to collect the cosmetics.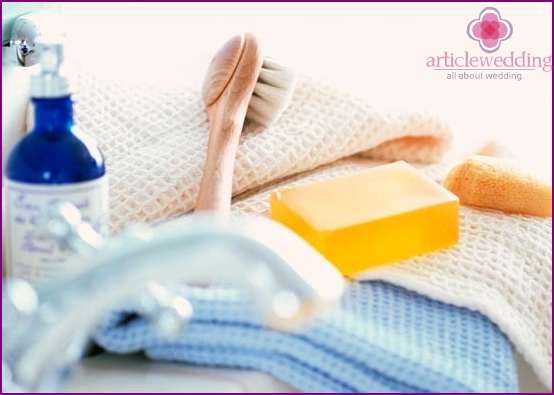 medicine chest
At no journey can not be sent withoutfirst-aid kit! Preparations essentials better to have always at hand, than to run on the neighboring hotel rooms to find the right medication or ointment. In case of receipt of cuts and wounds should have bandages, iodine or Zelenka, a band-aid. Do not forget that you are going to a foreign country where the food is different from the usual. Therefore, you should insure and buy anti-indigestion, anti-diarrhea and constipation. articlewedding.com sincere wishes that such problems are not marred your honeymoon. Available - certainly the presence of drugs against allergies. Also it is necessary to have a first aid kit in cold remedies and insects.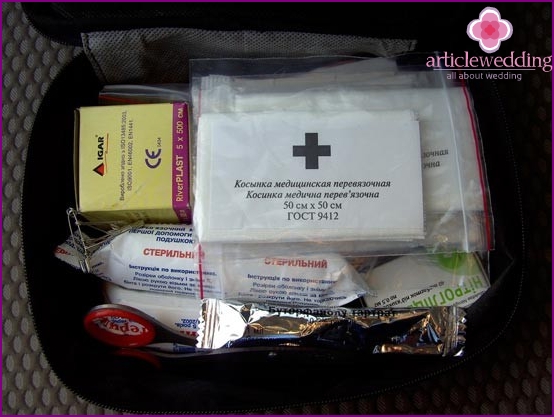 Clothing and Shoes
The next step we will be collecting clothes and shoes. As mentioned above, you should not take a lot of things. In addition, you'll want to run on the local markets and shops, where always something, and bought for myself and my husband. Where then it all add up? ! If you go to the sea, the natural need to bring your swimwear. Also put light clothes for walks and excursions in the hot weather. Insure in case of rain and cold snaps. Throw on a pair of jeans herself and her husband, as well as several blouses. By the way, collecting things, consider the customs of the country where you are going to rest. For example, if the honeymoon will be held in the United Arab Emirates, you should not take with them causing clothing.
Footwear is also necessary to take to the beach for a stroll. If you plan to visit a cafe or restaurant, you should take with a befitting shoes and clothes.
And finally, do not forget your camera and charger to it, if you do not know the language - a phrase book, not be superfluous boiler and the iron road, as well as sunglasses.
Enjoy your holiday and a happy family life, which will be the beginning of your unforgettable and romantic honeymoon!