For many couples the honeymoon is still associatedwith a beach holiday and the warm southern nights ... Today wedding portal articlewedding.com decided to introduce you to another opportunity this holiday. So, go on a honeymoon ... in Dubai!
A little bit about Dubai
Dubai - is one of the seven emirates that makeUnited Arab Emirates. This is a very popular holiday destination among honeymooners and fans (and pets) of the sun, because of its bright lights and surprisingly high temperatures are provided in Dubai all year round! So the round trip - a wonderful opportunity to escape the dreary rain and cold (if you are planning your wedding and honeymoon in the fall or winter).
On the cost of the trip
Tours in this truly paradise ourplanets are relatively inexpensive, the price of a trip depends on the time of year in which you are planning a honeymoon, and it's really a small amount for such a luxurious and relaxing holiday, where you have the chance to enjoy in Dubai.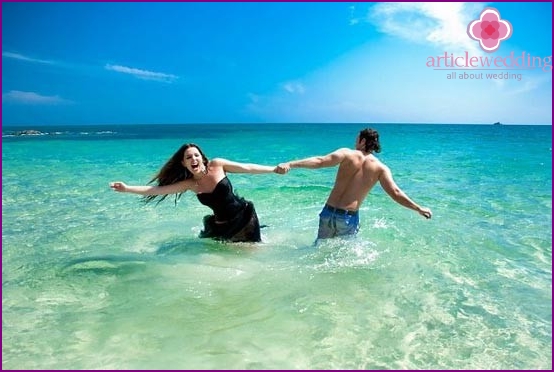 On the beaches, sports and entertainment
In Dubai, there are several the most amazingbeaches in the world, with beautiful white sand and turquoise sea waves - exactly what is needed for a full saturated honeymoon. Many public beaches offer picnic areas and barbecue parties, where you can prepare your own romantic dinner and enjoy it in the gentle rays of the setting sun.
If your dream - to actively spend their honeymoon,You can not go wrong if you go to Dubai, and be sure to find yourself kind of water sports to taste: swimming, water skiing, windsurfing - just some of the exciting opportunities that offer the warm waters of Dubai.
If you like shopping - you know that in DubaiIt is one of the world's largest shopping and entertainment centers, where thousands of tourists flock each year in search of gold jewelry, Persian rugs and designer clothes. In the center, also located rink, underwater zoo, cinemas and many restaurants, so bored just will not.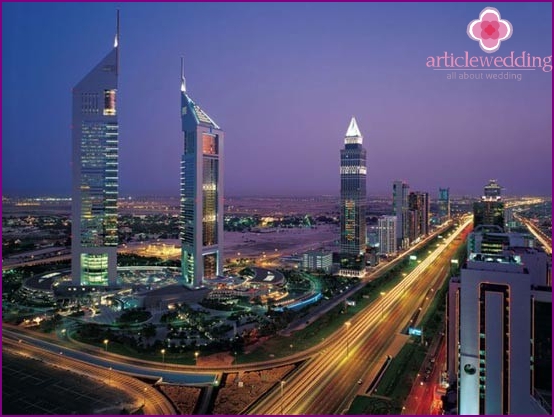 About the weather
Dubai is hot all year round, and during the summer monthsthe temperature often reaches 40 degrees, so unaccustomed to such temperatures is recommended Europeans choose to travel during the winter months. Dubai winter begins in November and ends in late March, although the temperature remains in the range of 20-30 degrees. If you love good food, and the trip is not recommended in October: the month of Ramadan, and it is expected that tourists on a par with Dubai residents should be involved in the post.
Wedding portal articlewedding.com today to tell you about the honeymoon opportunities in Dubai. This will be the ideal option for you if you love the sea and the hot sun, evening romance, fun and positive emotions, and in addition, planning a wedding and honeymoon in the fall or winter!