Not sure whether to give the newlyweds flowers? After all, they will soon wither, and gift presented in their place will be kept forever. The exact answer to this question no one will give you both options have the right to life. The correct decision you make for yourself. Just for a moment imagine a situation - you are standing in a crowd of guests, welcoming honeymooners, all in the hands of beautiful bouquets, and you keep the gift. I do not want you too young to please the bright, fragrant beauty, creating a festive atmosphere? If your answer is yes, then the future is to continue reading.
What kind of flowers are given to the wedding?
Once chosen outfits and holidaysbought gifts for young, it is time to think about what is best to choose flowers for the bride. It has long been observed that the best - donated from the heart. No matter what flowers do you prefer, buy and give to him with love. Each flower carries its own special meaning. Therefore it is useful to know that symbolizes the plant to his tongue to tell the young what sometimes can not express in words.
Rose - the most frequent guest at weddings. White roses symbolize innocence, purity, red - love and passion. It is recommended to give the bride is not red, and pink or tea shades personifying tenderness, delicacy of her nature. Do not bunch too bulky enough 5-9 buds.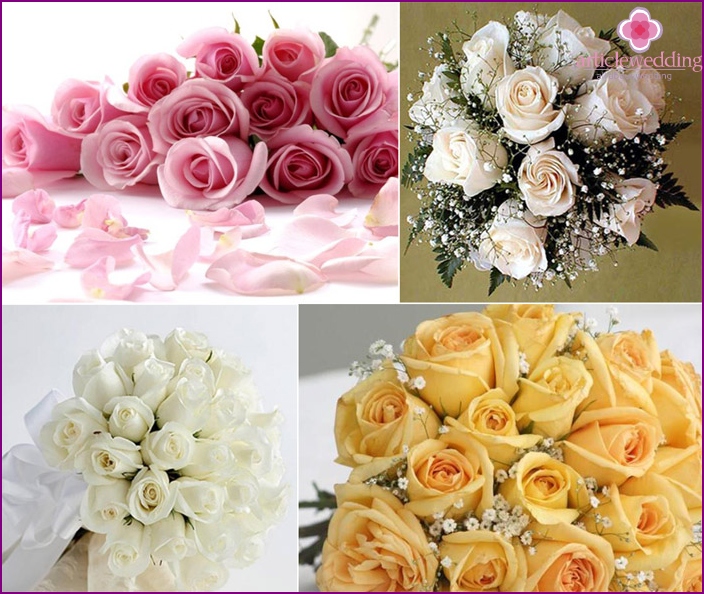 Lily - a gentle, charming, pleasing to the eyethe splendor of forms and by a variety of shades, from the white and pale peach to Panther ripples. Lily does not carry any specific meaning, everyone interprets it in their own value. This bouquet will be a great gift, if the bride is not allergic to a pronounced odor.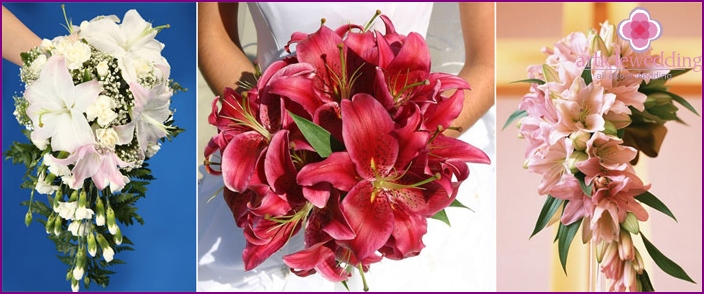 Orchids - unusual for our weddings plants, but it does not detract from their beauty. Orchids for the wedding the young promises eternal love. Exotic beauties symbolize sizzling passion.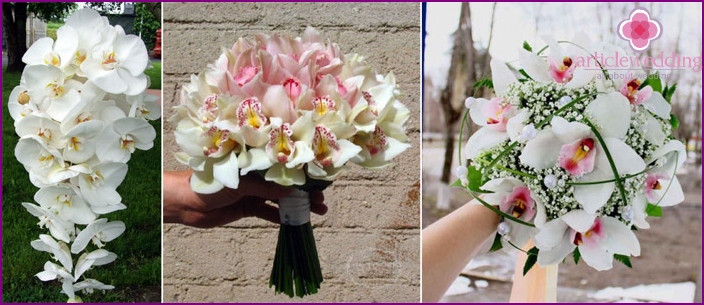 Callas, elegant and rigorous, are not perceivedsymbolically, they are a sign of friendly attention and a good location. And they are favorable energy, so callas in hands of the bride is considered a talisman of a new family. It will help the young to resist the evil forces and save their union for a long time.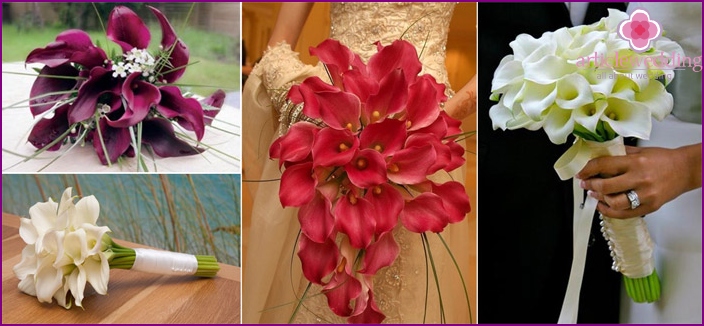 Gerbera daisies and certainly will cause a smile onface, tenderness of the bride. Funny suns give warmth, good humor. The best colors for the wedding - orange or pink. They will bring young luck, love, family happiness.
Lilies of the valley - the ancient, revered by all peoplesflowers. About them no one ever said anything negative. Small bells lily sages called "stairway to heaven". Snow-white plant symbolizes purity, fidelity, good will, openness and sincerity of feelings.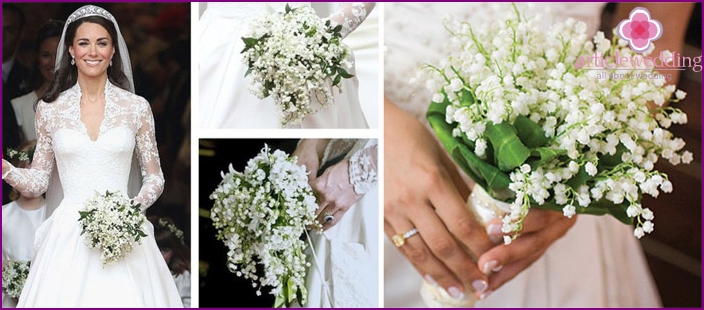 Chrysanthemums Japanese call a symbol of lifeforce. We associate them with friendship, the ability to overcome difficulties and to enjoy life. Bouquet of chrysanthemums enjoy cheerful bride, leading an active lifestyle.

The meaning and symbolism of a bouquet of flowers
Even if a bouquet of flowers combines severalshades, he still maintained in any one key. For weddings choose soft, pastel colors, trying to avoid the sharp, saturated and dark colors. Each color has its own symbolic meaning. On it is useful to know before you make your choice.
White flowers presented to young, as a symbol of pure and loving relationship.

Red represent love and passion, it is not suitable for the guest, it must give the bride groom.
Green bouquet, as a sign of family harmony and hope for a good future, it is quite suitable as a gift.
Orange shades are very pertinent to the wedding as a wish young family well-being, comfort in the house, good health.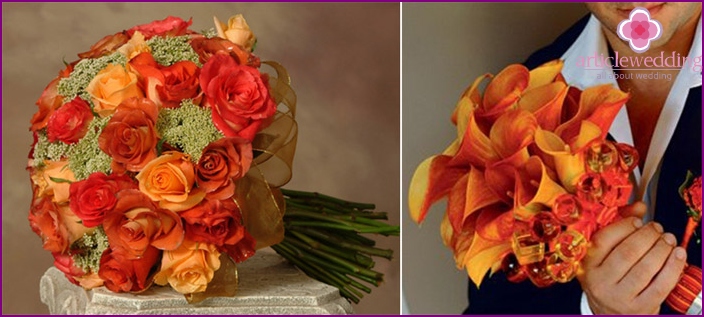 Yellow giving bouquets with caution, some people still believe in what they bring to the separation. Although in itself yellow color symbolizes the sun, heat, light and joy.
Songs with violet flowers are treated differently. Some consider them extremely elegant and beautiful, while others see them as a symbol of sadness.
Giving the young a bouquet of blue color, you will wish them a long, faithful family life, loyalty and constancy.

How many colors should be in a bouquet?
Focusing on a specific color for awedding bouquet, should decide on their number. The main rule - colors should be an odd number. Fans of roses usually choose at least five large buds. The more colors, the more magnificent bouquet. For example, it looks elegant and romantic arrangement of 25 roses. Admirers gerberas recommend choosing at least nine pieces for the bridal bouquet. For the remaining amount of buds color does not matter, because it's not in it, and skillfully formulated composition. Another opinion voiced in the video.
Can I give in pots or baskets?
Many doubt whether the wedding to giveflowers in baskets, or this method is acceptable only on the sad events? Answers to this question immediately - discard unnecessary prejudices, give! Flowers, presented to in pots or baskets, will look elegant and beautiful. Of them are entire floristic composition, from which it is impossible to look away. Florists so packed flowers in a basket that they will stay fresh for a long time for this, there are many little tricks and devices.
After receiving a gift flower arrangement in a basket,the bride will be able to easily carry it, and then put in a banquet hall in a prominent place. For such a bouquet is not necessary to seek the appropriate vase. Flower baskets are packed with the supply of water for a long time. By originality, such compositions are superior to conventional cut bouquets, and ease of use and long shelf life have won the trust of many people.

What to present a gift instead of flowers?
To show off the originality, givenewlyweds custom bouquet. You can order an unusual composition, or a basket of candy, caramel roses. Created florists figurines fairy-tale characters or floral pattern pleasant pleasing to the eye. Another novelty - the inscription on the colors with the wishes of the young, and even the whole image. These "talking flowers" are a real work of art, luxury, worth a lot of money. For honeymooners with a sense of humor can create an amazing bouquet of flowers instead of using a small soft toys.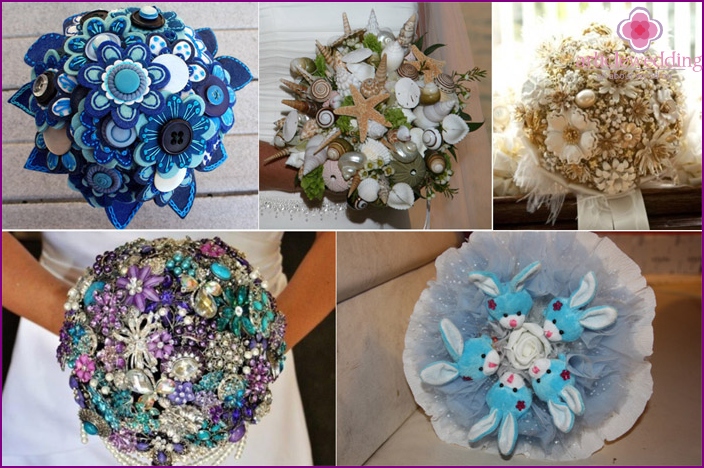 Bouquet in the form of toys
You want to surprise relatives at the wedding? Then buy figurines and toys, created from flowers - a novelty in wedding fashion. Experienced florists will lay flowers as a cartoon character, a white swan, heart-shaped, or the whole beautiful picture of a landscape that capture the spirit of the sight of your gift. Agree to present this masterpiece of the young much more prestigious than a bouquet of flowers, even the most beautiful. The composition in the form of heart, you can easily make your own hands. The process is clearly shown in the video.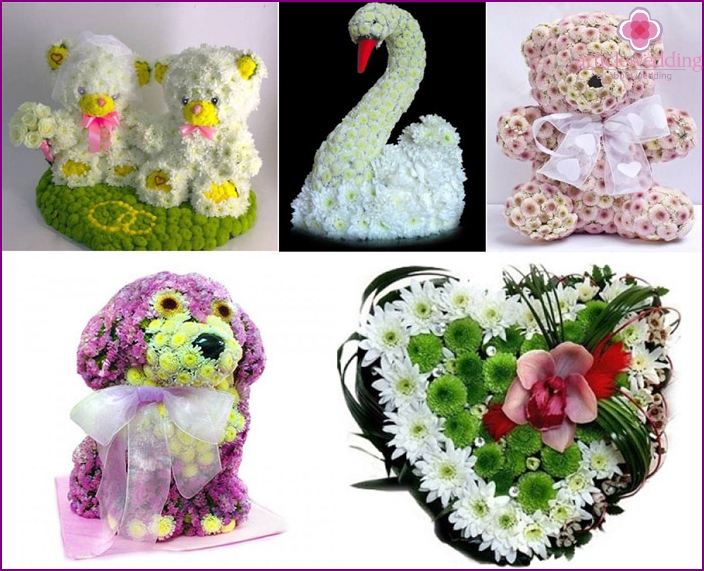 From chocolates
The basis of this bouquet become expensive chocolatechocolates in colorful packaging, diluted bright colored ribbons and flowers. Seeing this once exclusive thing, you can not abandon it. Bouquet of flowers looks much more attractive than the usual bouquet of flowers and box of chocolate candy. It is both surprising and beautiful, and delicious treat. It is made like a work of skilled florists, designers, and worthy decorate wedding table. How to make a simple bouquet yourself, look in the video.

Baskets with caramel roses
Want to make a young honeymoon even sweeter? Then give them a wedding basket with flowers of caramel mass. Amazing beauty sweet gift will please his appearance all the guests around the table. This bouquet is not only wither a few days after the wedding, and will give a young couple in a good mood for a long time. Beautiful fresh flowers will give them a lot, and such a fabulous bouquet is only you.

What kind of flowers is not desirable to give?
Before choosing a particular bouquet,try to learn the local traditions and to ask the indigenous inhabitants of the area, what kind of flowers they have not decided to give the wedding. After all, in different nations can be in this regard are different concepts. In one country, the purple color is a sign of greatness and wealth, while others - a symbol of sadness. The same applies to the yellow - for many it is a harbinger of separation. There are some general rules you should follow:
Do not give to a wedding with red roses. Red - the color of love, and guests are advised to give bouquets more modest, pastel tones.
Who are allergic to heavy scents for celebration, held in the banquet hall, do not pick the flowers with a strong aroma, so as not to affect the state of health of the newlyweds and guests.
Bulbous flowers - not the best choice for a weddingcelebration. Tulips, daffodils, hyacinths are more suitable for a different, more modest event. In others may think that you bought first got a bunch.
Carnations, especially red, round, decided to give to a date or a funeral. Therefore, do not buy them for honeymooners. Suitably is a big, beautiful bouquet of white carnations.
Make sure that the colors on the purchased was not the thorns, it is better to remove them.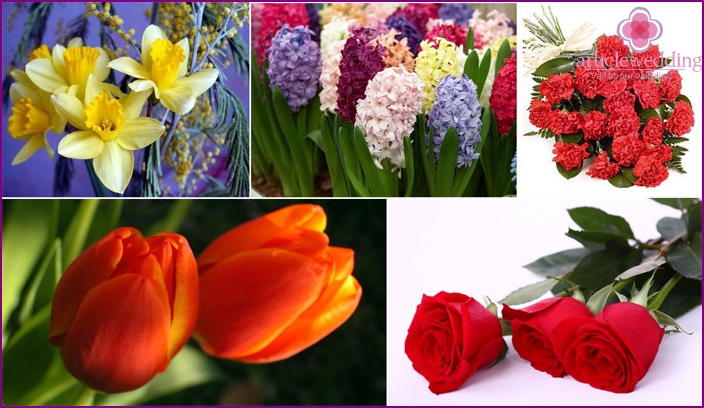 On the flower market or florist shopa sea of ​​different colors. Eyes run up, thought lost. Take your time when choosing a bouquet for a wedding. Think about what you would like to tell the young what to wish. For properly selected bouquet will help you to express feelings. Listen to your heart and it will tell you the right solution.