No wedding ceremony is complete withoutrespect for traditions. Weddings are regularly updated with new entertaining rituals. One of them - the European custom of touching cook candy boxes for guests (small gift from the newlyweds). This is the original method that helps to express gratitude to the guests for their participation and support in the celebration.
What bonbonnieres
Bonbonnière is a small bag, pouch,a box, a bag with candies or small presents, which are given to each wedding invitation. The tradition of making such gifts was born in France: there, in boxes placed five candies or almonds in chocolate, guests wishing to fertility, health, wealth, longevity, happiness. Bonbonniere create a special wedding mood, with their help you can successfully complement a single wedding style.
What is accepted to give in bonbonnieres
The design and content of the wedding of gifts mayto be different, it all depends on the imagination and financial possibilities of the newlyweds. In order not to offend anyone of invited guests, try to prepare all the same candy boxes, children do better than other gifts. If you have not yet figured out what to give to guests at your wedding, use the ideas below, which will be able to beat at their own discretion.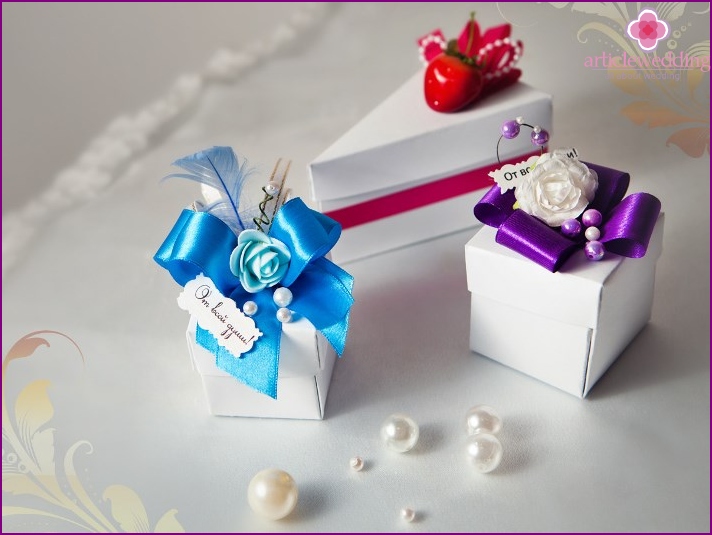 In the spring, decided to give the guests:
Flowers. Small vazonchiki potted violets or any other flowers will delight every visitor.
Seeds. For example, bulbs of gladioluses, tulips or daffodils in the spring will be a good gift.
In autumn you can invite guests as gifts:
Jam, jam, honey. On cold evenings, guests can warm up with hot tea with a sweet, full of vitamins, jam or honey.
Fruit. Pears and apples - not only delicious, but also useful surprise.
In the winter would be appropriate:
Tea. For young people choose floral and fruity beverage types, for the older generation - the highest grade, and for older people - gathering herbs.
New Year and Christmas theme. Christmas balls engraved with the wedding date or a decoration on a Christmas tree made with their own hands. For example, cotton angels.
Citrus. Fragrant Mandarin, decorated with beautiful ribbons, provide guests with the perfect mood.
For a summer wedding suit:
Strawberries, cherries, peaches. These vitamin goodies packed in corrugated paper or small baskets.
Sunglasses. Guests will not have to squint at the wedding photo from the bright sun.
Options candy boxes, regardless of the season, a lot of:
Small notebook and a notebook with unusual shapes, the design - useful and creative gift.
Cups with funny words or pictures of your wedding. Such prezenty always useful to visitors.
Towels embroidered with the wedding date.
Slates for dancing. Bonbonniere This will please the girls, who walked all day in high heels.
Photo Frame - simple and cute.
Bonbonniere for theme weddings. For example, at a wedding in the French style will give guests a figure-a copy of the Eiffel Tower. For celebrations in a small Russian matryoshka fit style. If your wedding theme - Travel, pick each guest luggage tags.
Candies. That was the original, each candy, attach pieces of paper with wishes.
Cakes, donuts. Your guests with a surprise not have to think about breakfast.
Biscuit. Unusual and interesting look bonbonnieres pastries that accompany good joke or predictions.
Tea strainer. Each guest will long remember about your wedding, tea brewing itself.
Beverages. Small bottles of strong drinks and funky wraps depicting a bride and groom - a good option for men bonbonnieres.
Bottles for water. Such a surprise, guests can take in a hike, jog, bike ride.
Coffee beans. Fans of this drink that gift will like.
Decorative soap. These products are handmade with "tasty" smells will be an excellent gift. For each guest pick a distinctive flavor.
Fridge magnets. Such collect many souvenirs. Magnets will take their place on the refrigerator each guest, and a long time to be reminded of gay weddings.
Keychain wedding date will be a good souvenir and reminder for the guests of the fun time spent on your wedding ceremony.
Small desktop calendars. Beautifully designed calendar is still a year to remind the guests about your wedding unique, and you will never forget important dates.
Candles. The small wax figurines bride and groom or aromatic hearts that could be sweeter and more romantic?
Porcelain or crystal figurines. It is a good idea for the candy boxes in the form of a couple of lovers, or pigeons.
Opener wedding in style with an engraving, made to order, will always remind guests about attending the wedding.
Bath salt. Relaxing in the evening sea salt will help to remove stress and fatigue after multiple competitions and dance at the banquet.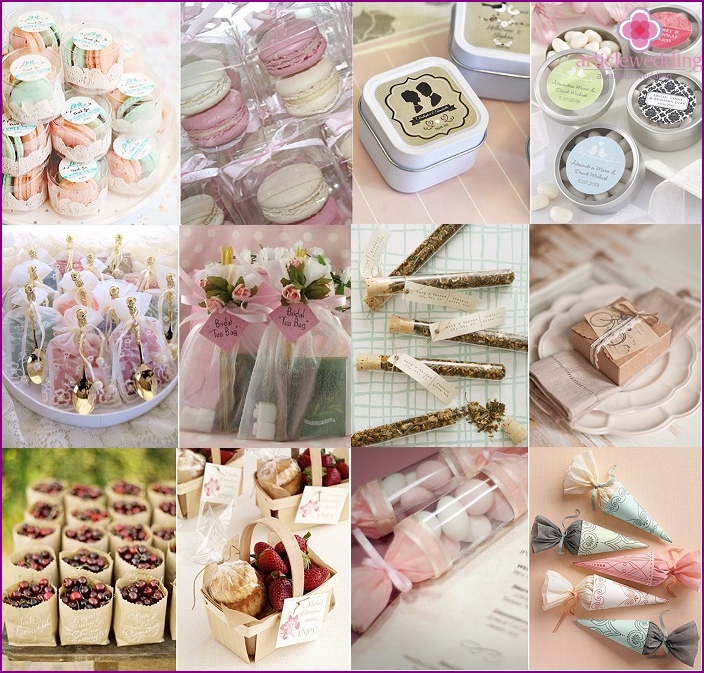 How to sign the wedding bonbonniere
On gifts for the guests decided to use theinscription with the date of the wedding, good jokes and words of gratitude for the fact that the invitation to share the joy of the wedding day with the bride and groom. Here are a few memorable phrases for sweet dishes:
Thank you that you have this day with us.
For luck.
Dear guests.
From family ...
With love from …
We are pleased to share with you this important event of our lives.
Take me with you, I - your gift.
Be our guest.
Charged with love.
Thank you.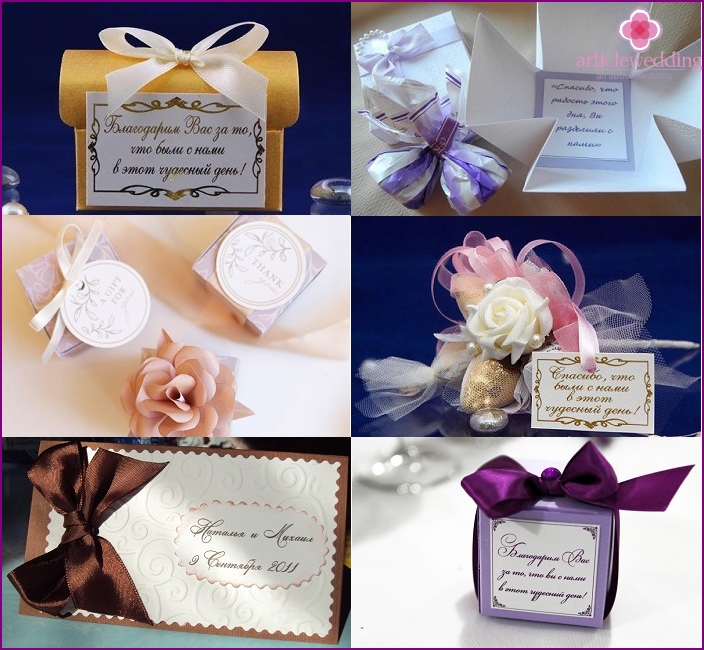 When handing bonbonnieres guests at the wedding
Specific rules on gift giving is notexist. If invited a lot, then one bonbonnieres give each couple. To prepare children for a particular souvenir. The time and form of delivery of gifts may be different:
At the beginning of the wedding celebration, placing them near or on the plate of each guest at the banquet table.
In the midst of the holiday. Put them on a large tray or basket, and every guest can take bonbonniere for celebration.
Handed each guest a present at the end of the festive evening, when they already begin to disperse.
How to make your own hands bonbonniere
Variants and species trendy wedding candy boxesa lot of. They are bought in specialized studios, which are engaged in decorating weddings, salons with products for a wedding or bought in shops. But most of the couple prefer to make their own hands (if invited by some). And guests will be glad to receive bonbonniere, created jointly by the newlyweds. Try to make them yourself!
Necessary materials
required for the manufacture of:
colored cardboard or heavy paper for scrapbooking;
A4 sheet of paper;
bonbonnieres scheme;
stationery scissors;
stencil knife;
line screen or board;
glue;
ribbons, flowers or other decorative elements;
label with the inscription.
Driving and stages of development
Increase the scheme to the desired size and then print it on a normal thin paper or a pencil and a ruler alone rascherchivaem the pattern.
The resulting printout we place on a piece of cardboard, draw out a pencil pattern edge. Scissors cut the workpiece and stationery knife create slots for fasteners.
On the dotted lines do bend, indicating a square shape, and add up the resulting "petals".
Curly punch or scissors cut out of construction paper tag with an inscription.
Using glue finished flyer text is fixed on one of the "petals" boxes.
Decorate bonbonniere ribbons, hearts and flowers.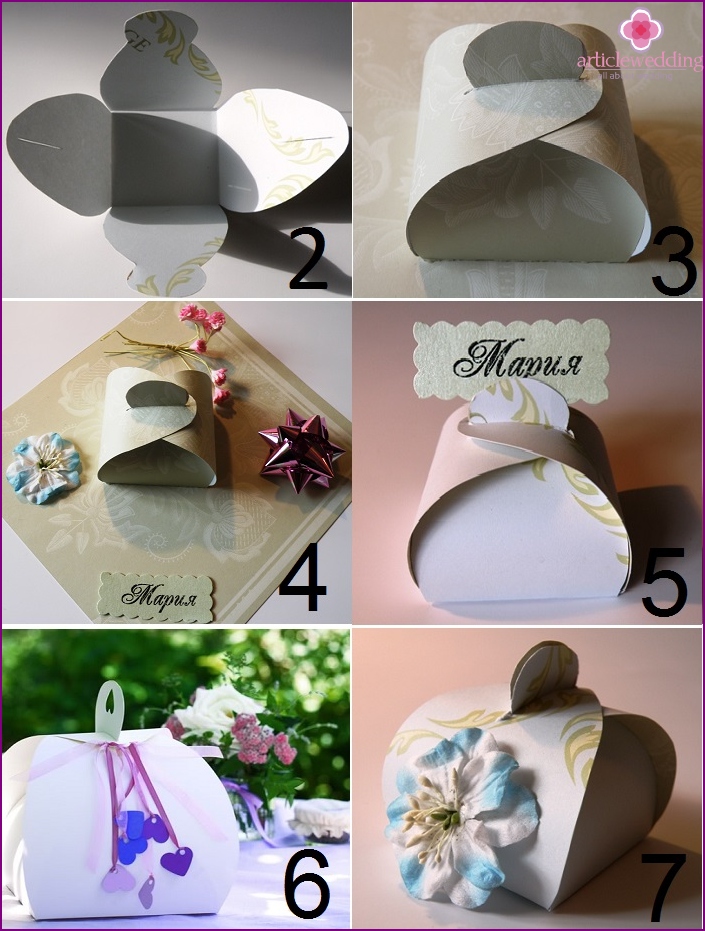 Photos of sweet dishes for the guests to the wedding
Take pleasant surprises especially whendo not wait. Wedding candy-box, regardless of content, design and delivery method allows invited guests walk away with a holiday not only a good cheerful mood and bright impressions, but also a material piece of the celebration, which will remind them about the wonderful day of two loving hearts.