Every year in the wedding industry, newtrends and ideas for wedding decor. 2016 - is no exception! If you want guests to remember your wedding as a fun and fashionable event, you should be aware of trends in the wedding decor. On them I will tell you www.articlewedding.com portal.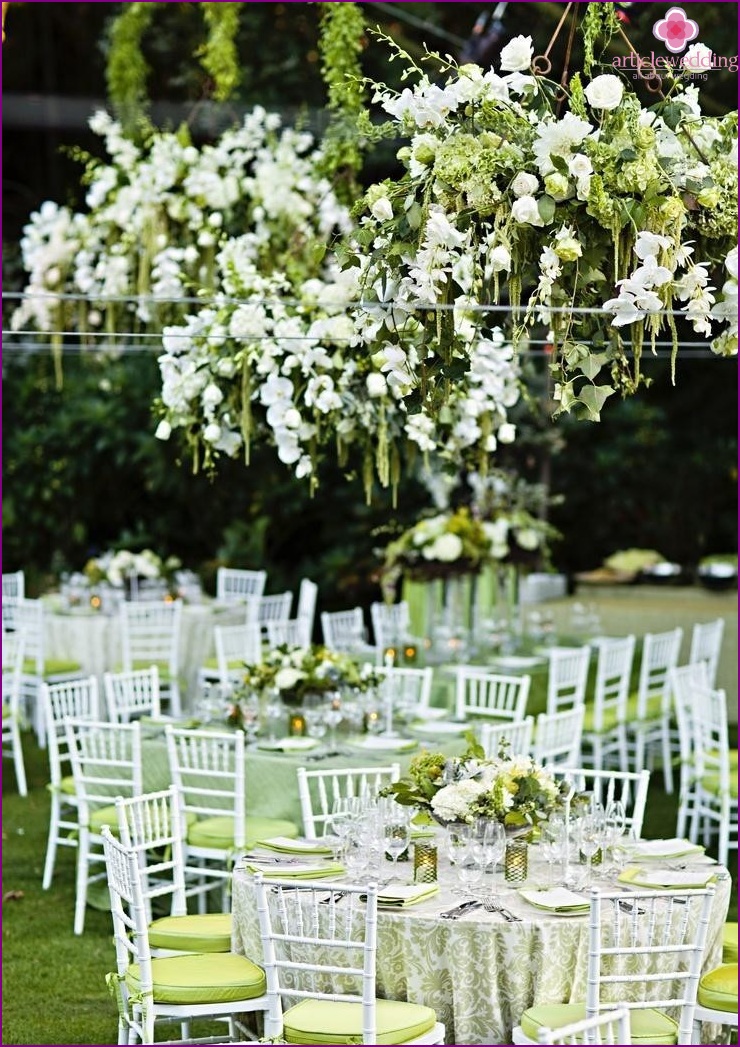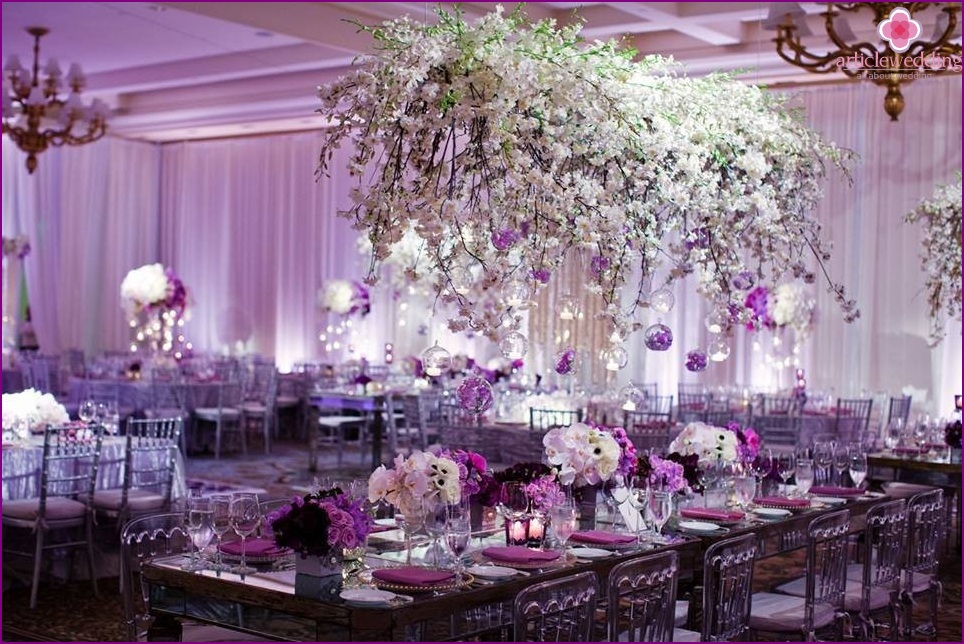 Natural colors
Designers offer in 2016 to turn to. Natural palette and choose a wedding celebration the following colors: pale pink, peach, pastel blue, blue, yellow, pearl, gray, green, brown, coffee, etc. Trend 2016 are monochrome wedding - celebrations, decorated in any color.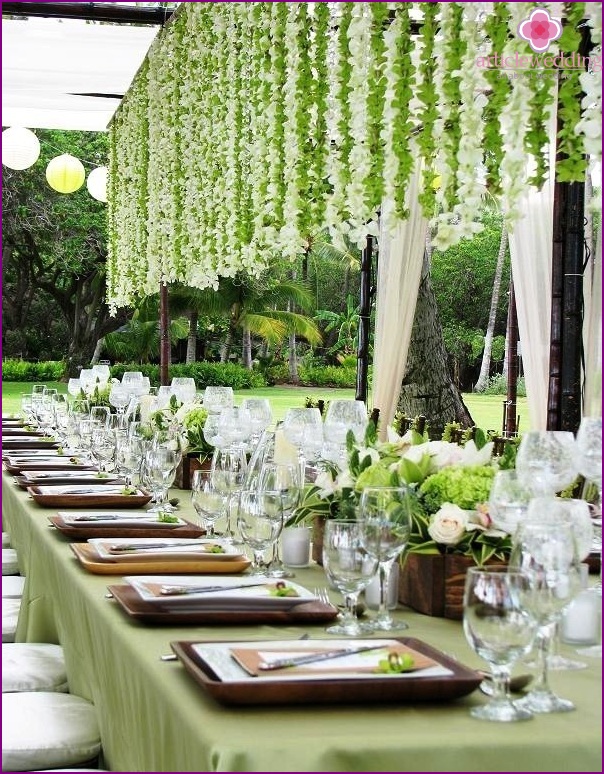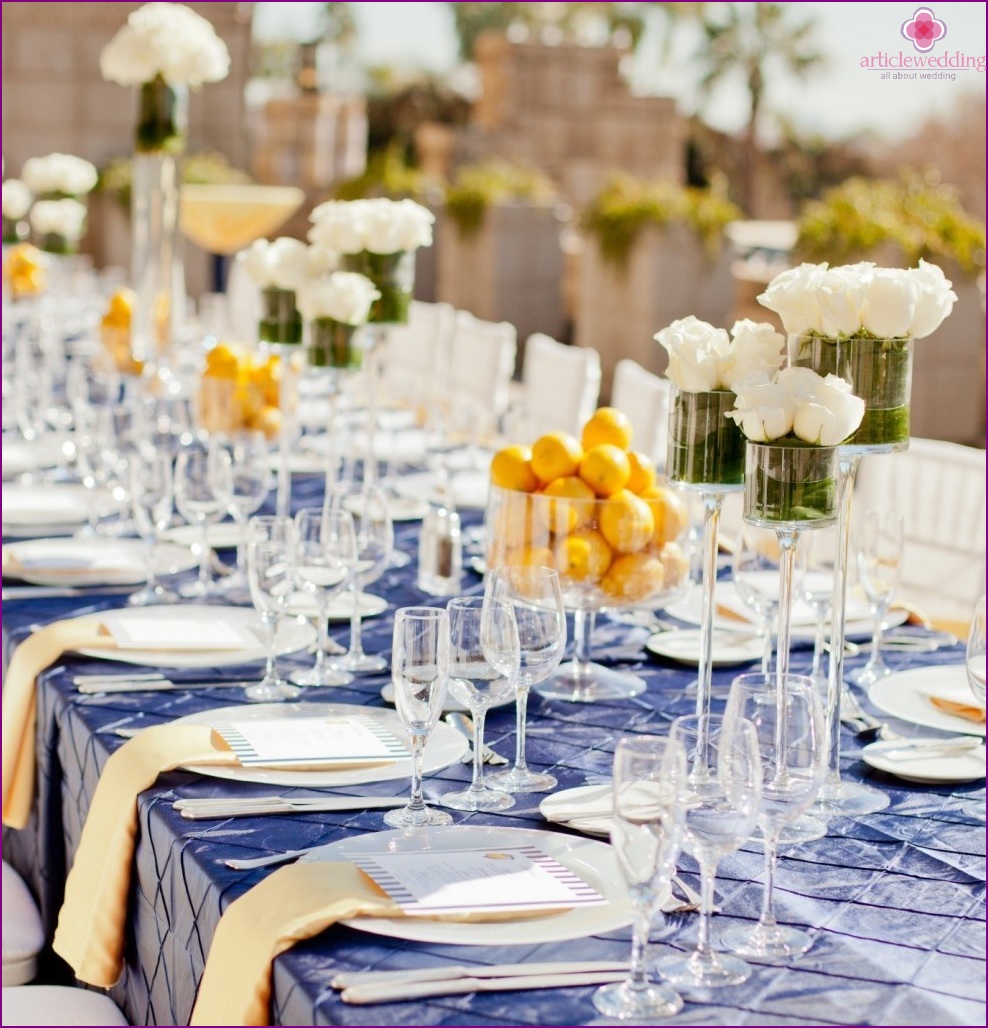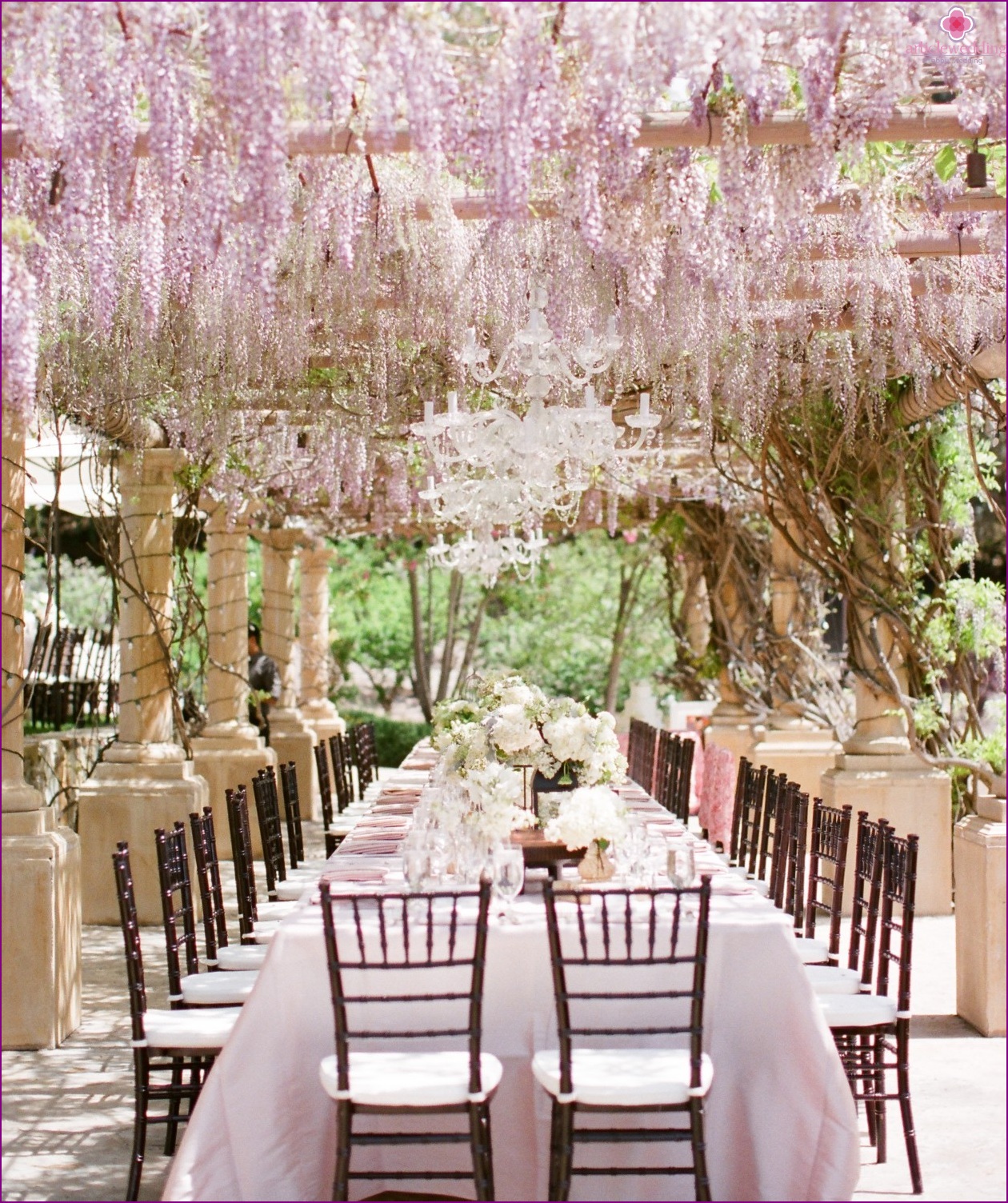 Natural style decor
Wedding Decorators year already tend to. Wedding decoration in eco-style with natural materials: twigs, moss, feathers, hay, fresh flowers, vines, berries, succulents, etc. Moreover, the more natural look wedding design - the more fashionable you pass for the newlyweds.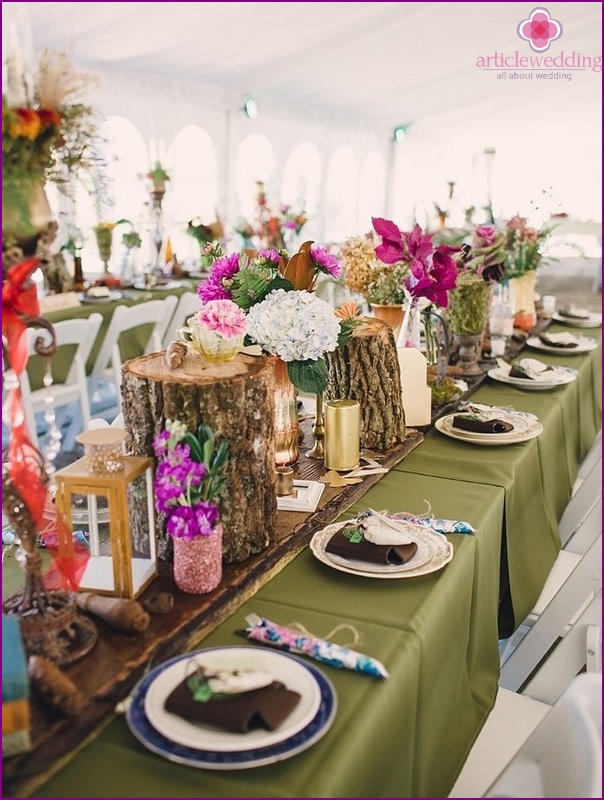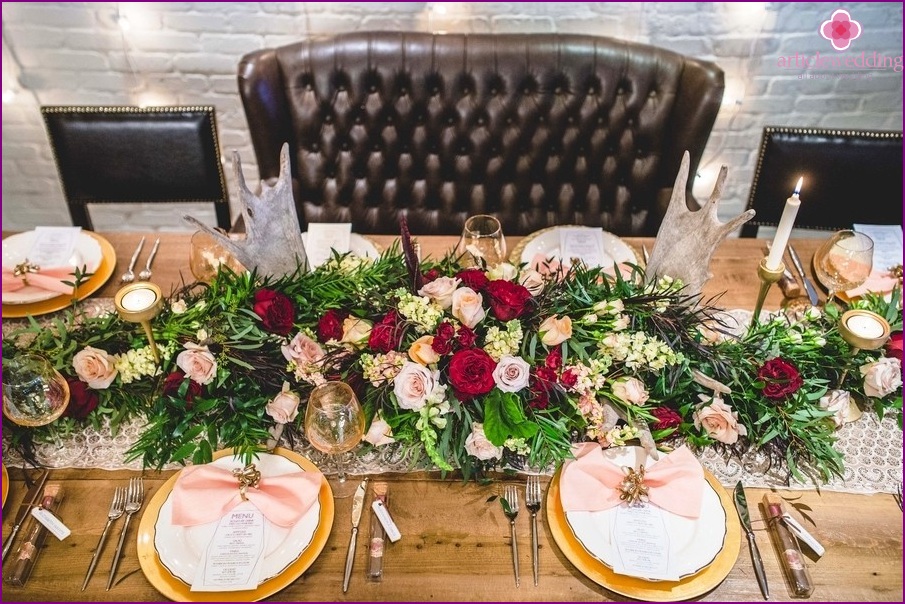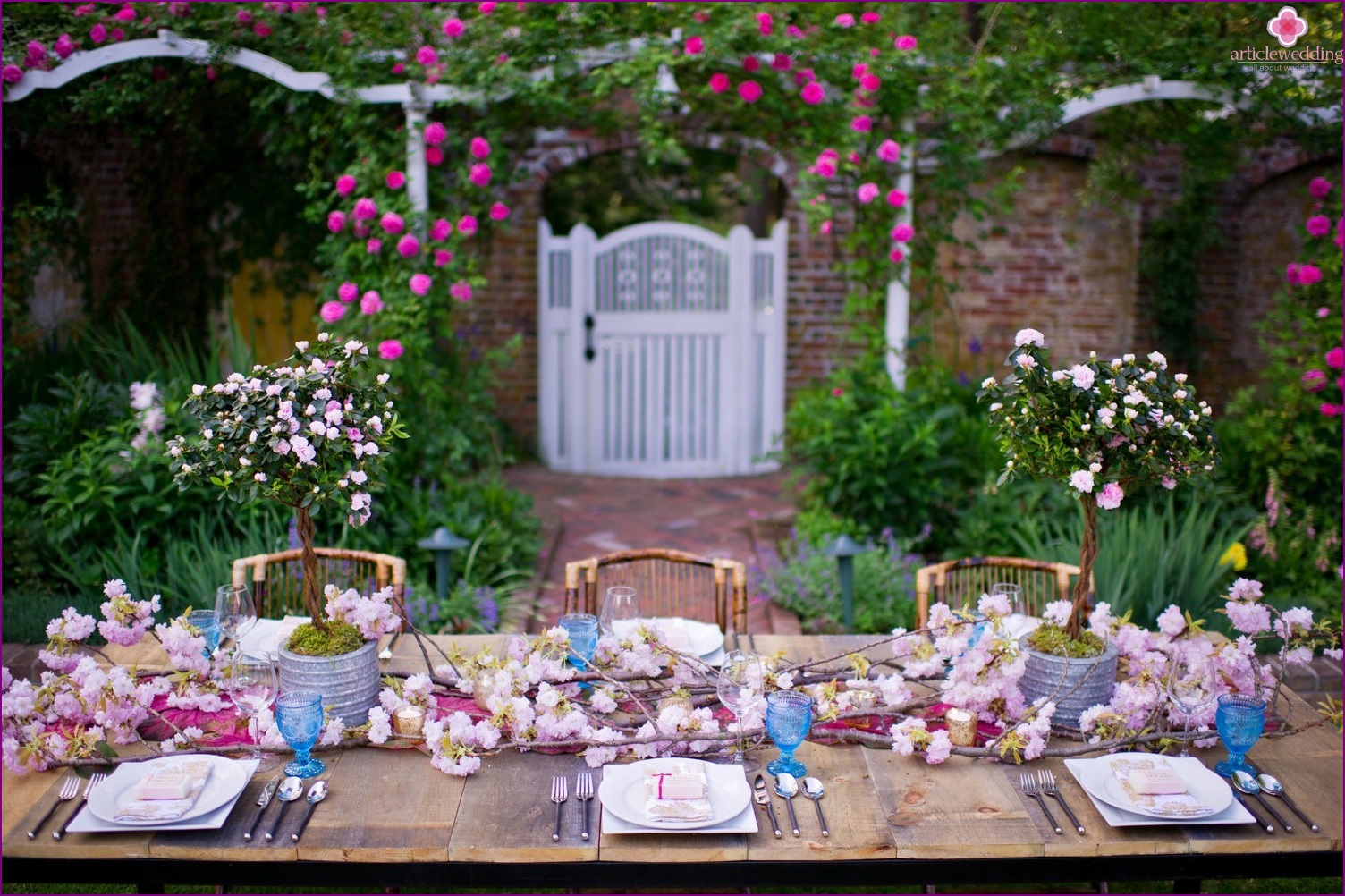 Eclectic or mixing of wedding styles
Fashionable remain not only in the style of the weddingRustic, but also in the style of botanical, english garden, Boho and others. Moreover, in the wedding decor, you can use more than one style, and more, for example, to add style rustic decorative elements in vintage style and Provence. Such a bold combination of styles would make the wedding unique.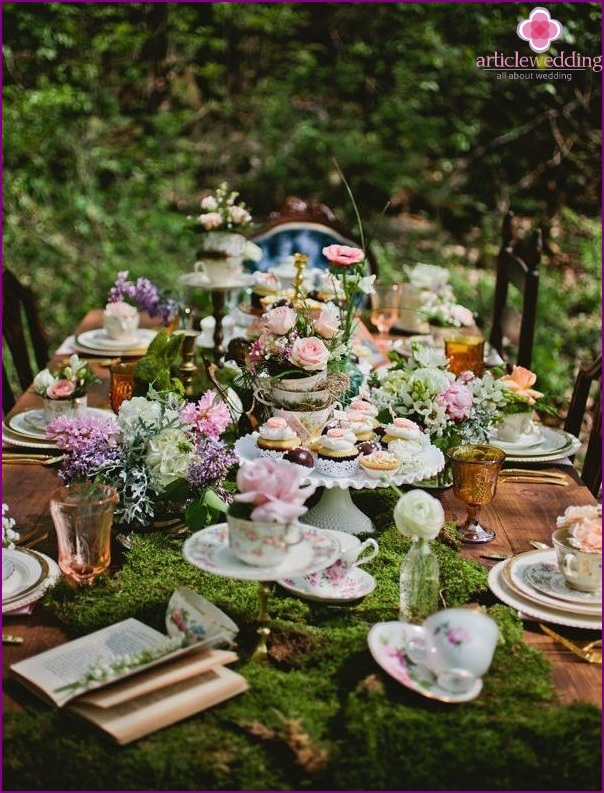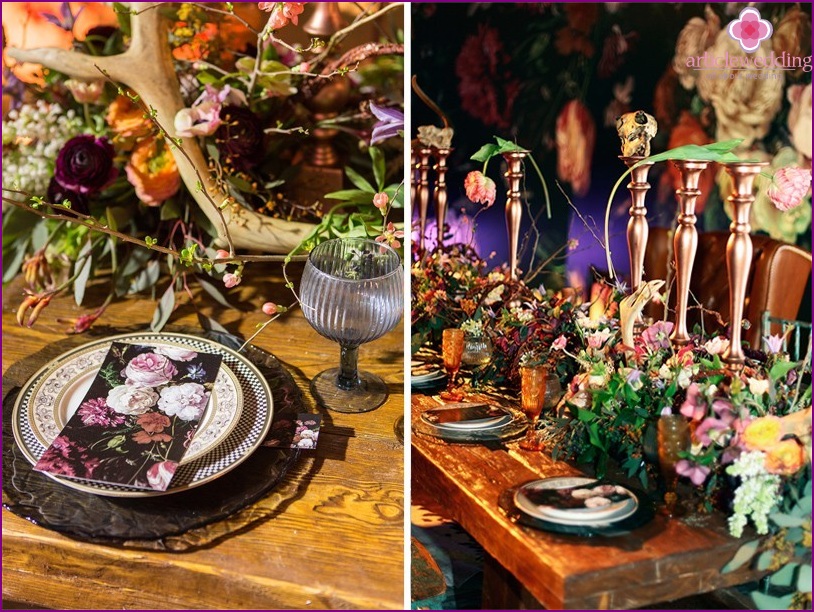 Unexpected materials in the decoration
Modern decorators offer to move away fromconventional materials and pay attention to unusual items, which can be used in wedding decoration of doors, window frames, straw bales, barrels and others.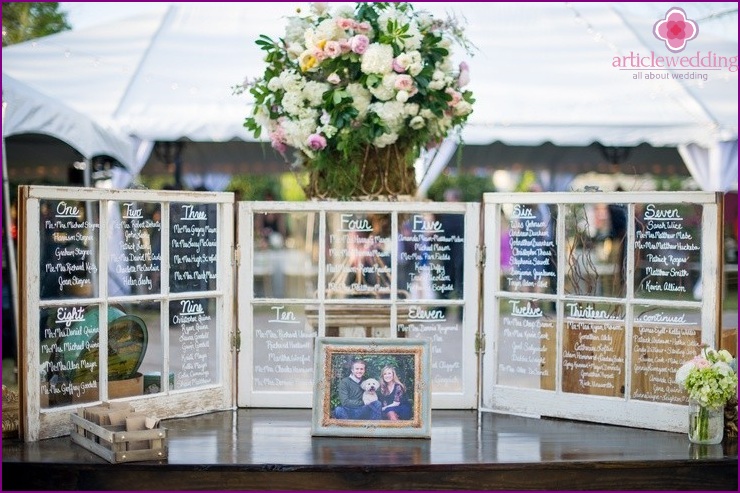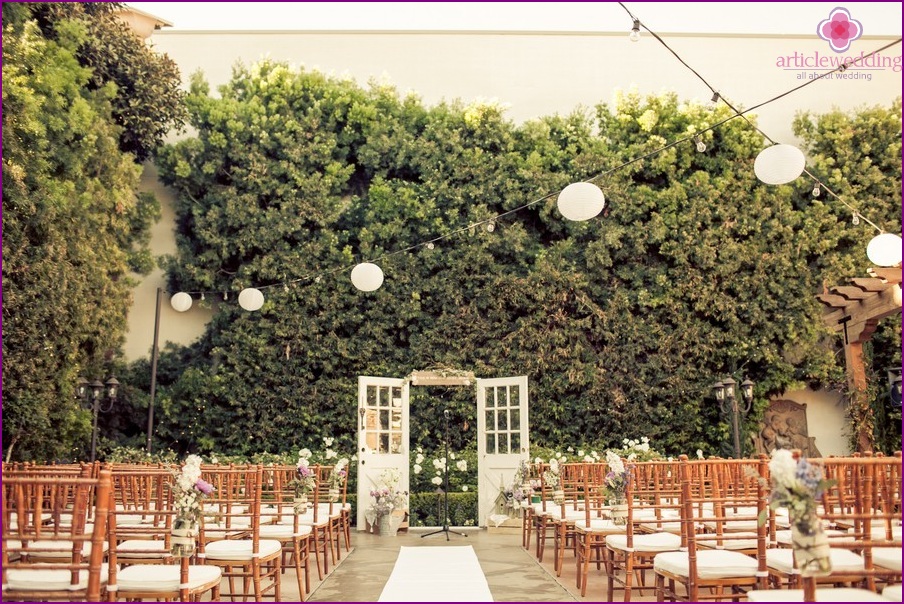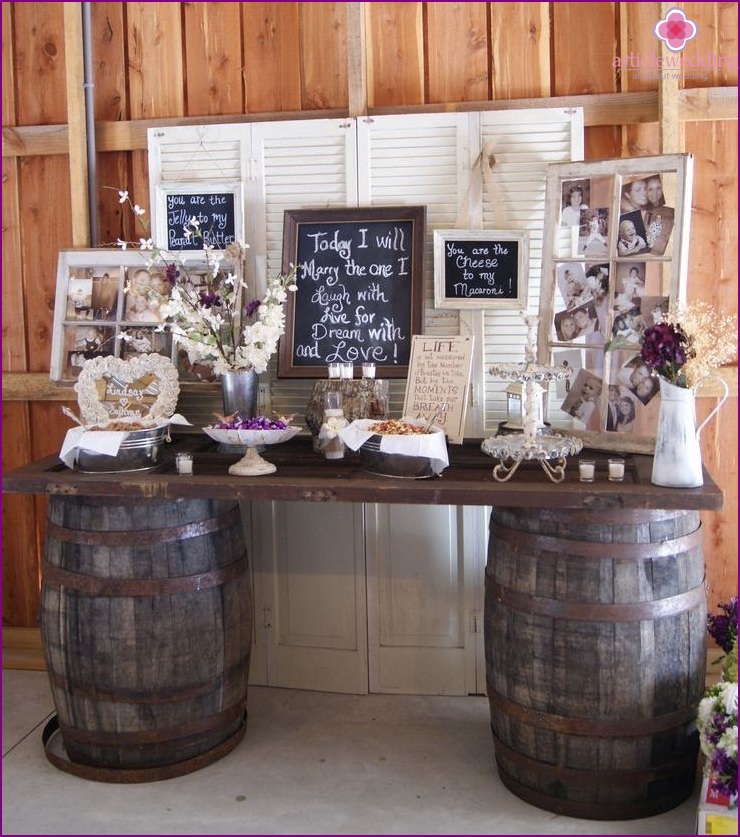 floral wall
Striking elements in the form of floral wall,burst onto the forefront of the wedding in 2015, remain popular again! Along with fresh flowers in the creation of such a wall, use moss, vines, etc. This season, they added floral ceilings, fascinating for its beauty.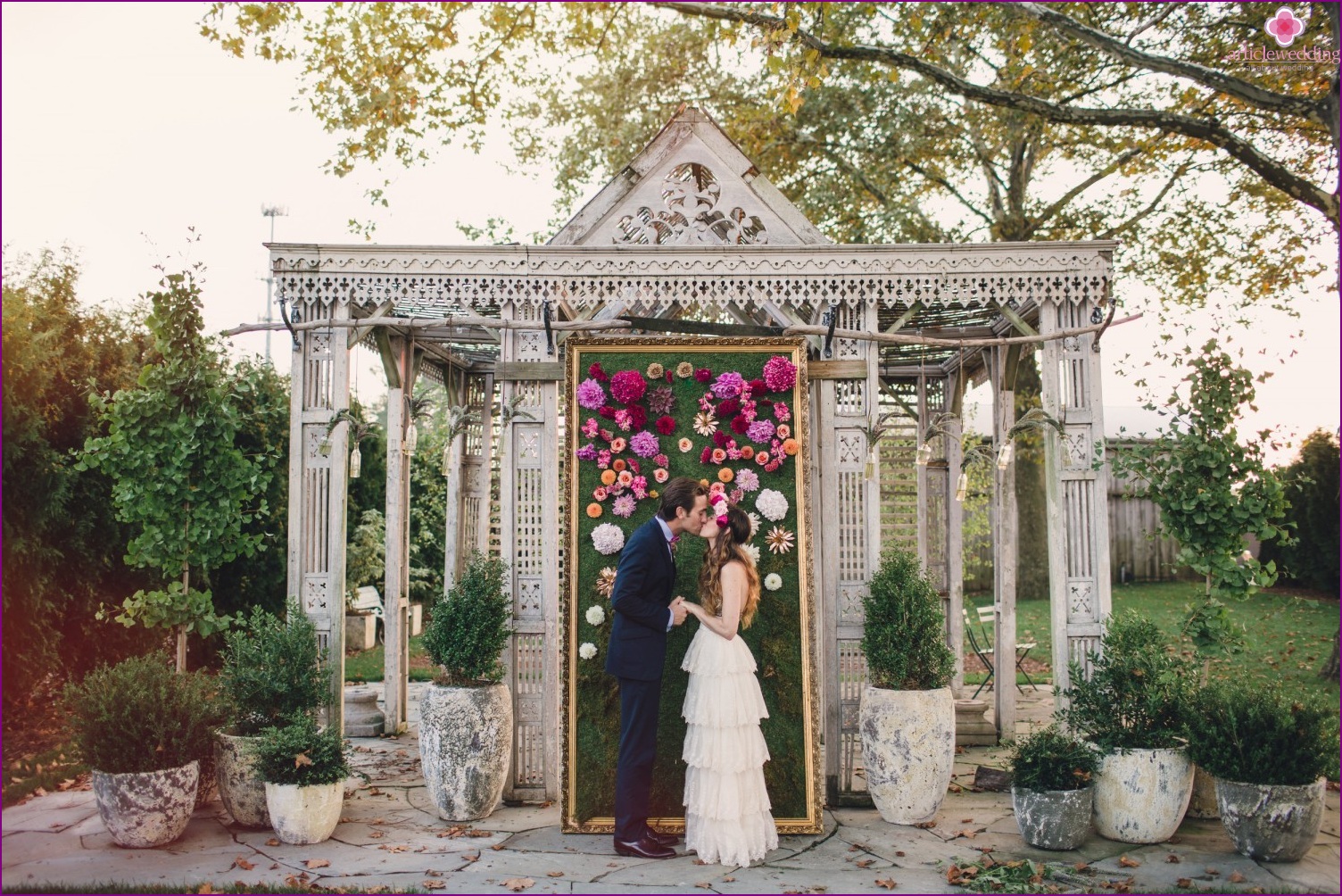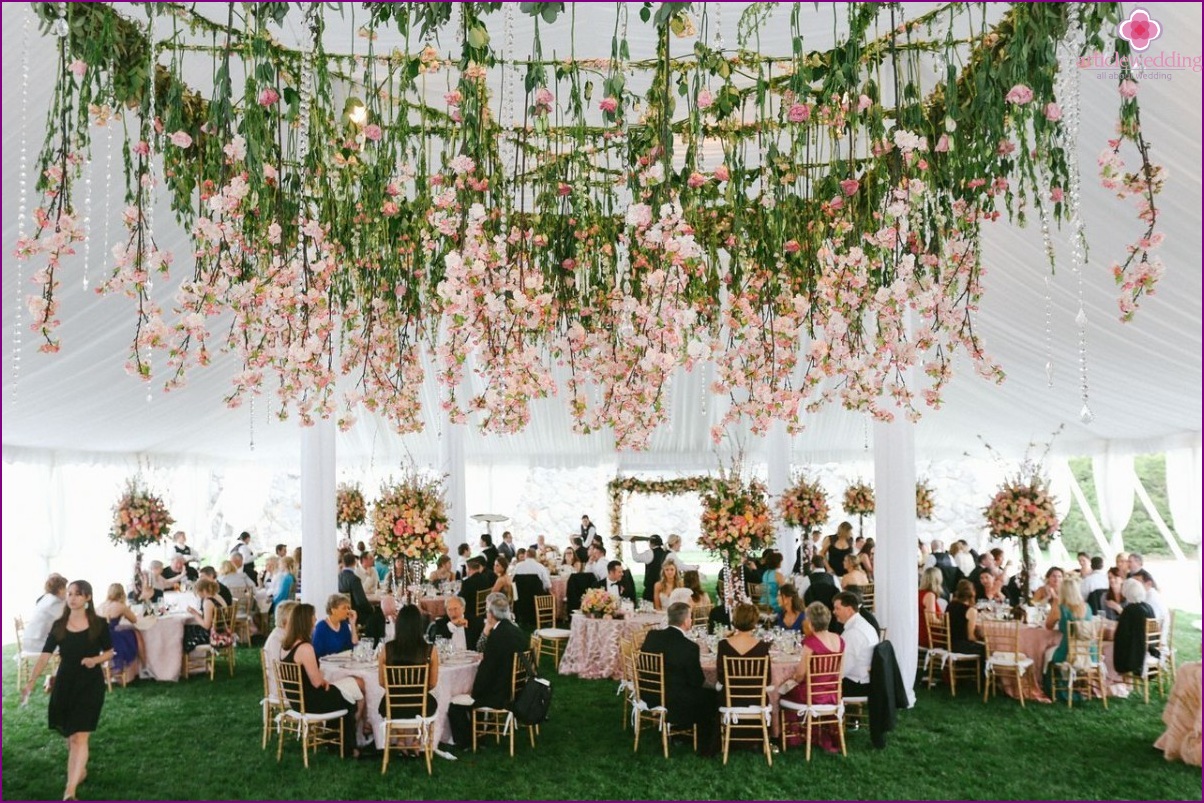 Hanging flower design
The highlight of the wedding decoration in 2016 maybecome ampelnye design - suspended container flowing plants that can be successfully used for the decoration of banquet tables, creating the illusion of floating decorations.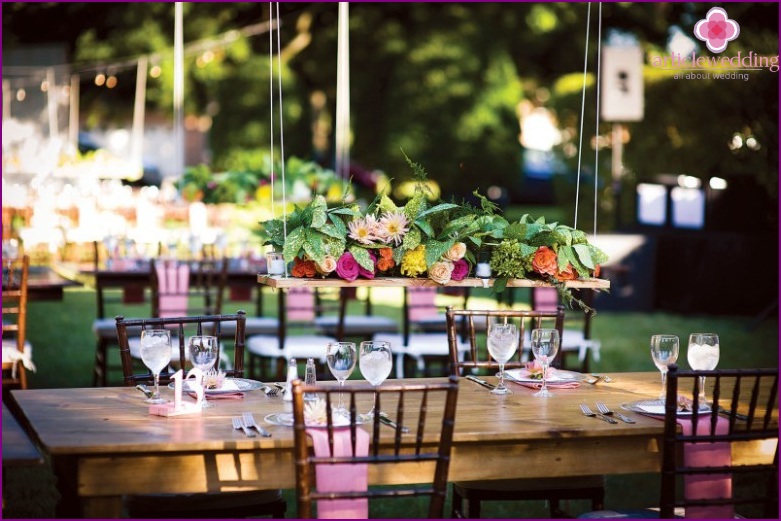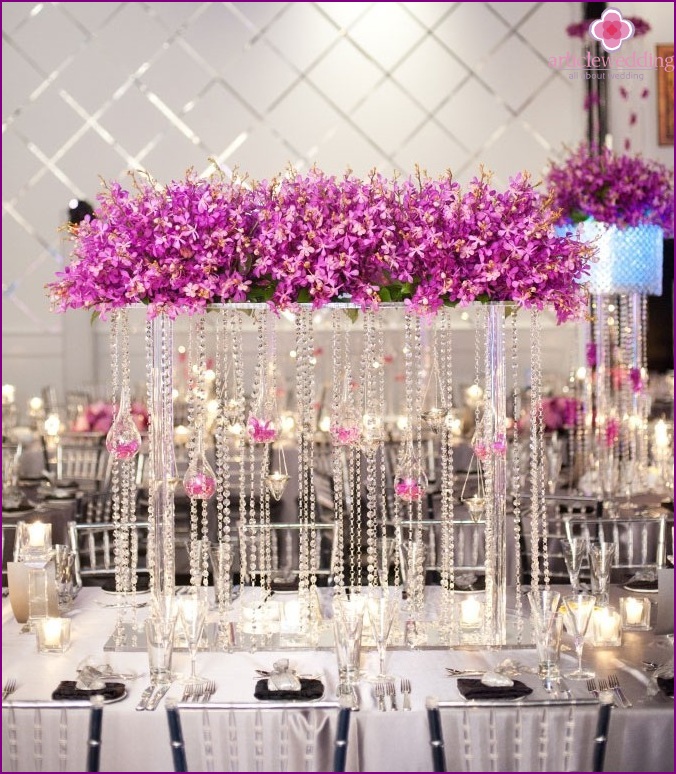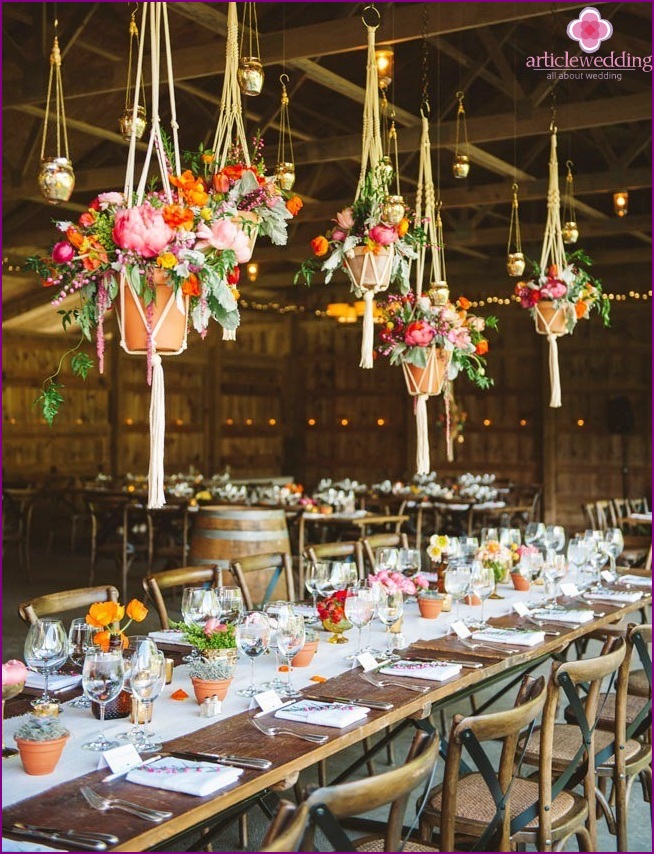 Serving - an important detail!
Particular attention during the design of weddingTables should be paid to the serving of: dishes, matched in style wedding, beautiful textiles (from tablecloths to napkins), glasses and cutlery. An important additional details are Napkin: rings, brooches, sprigs of greenery and flower buds.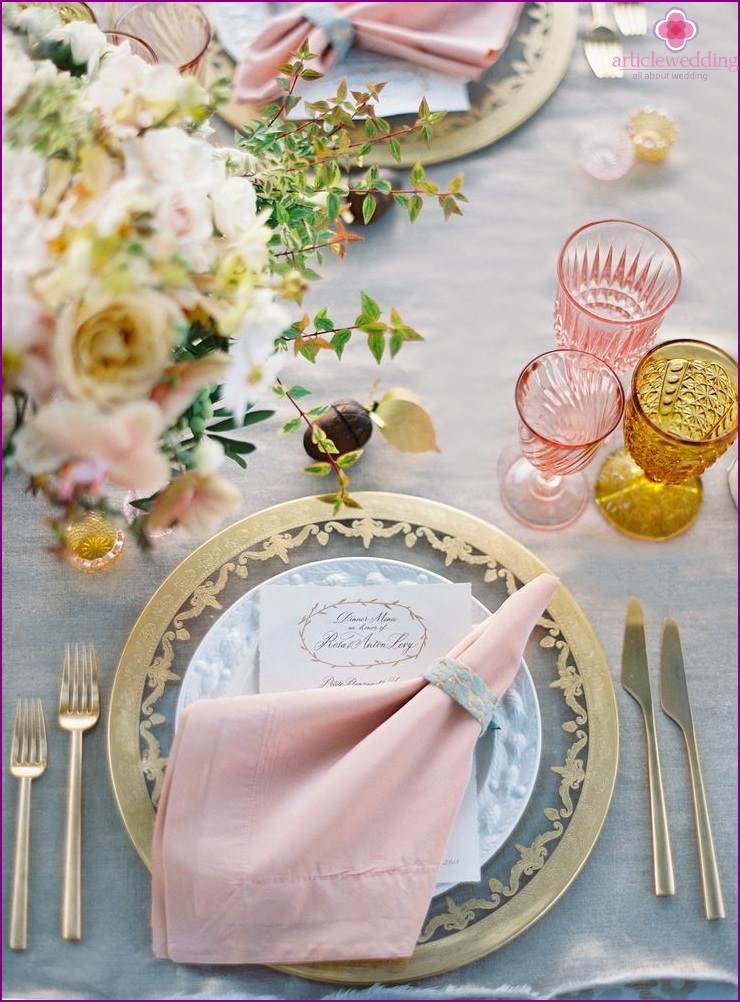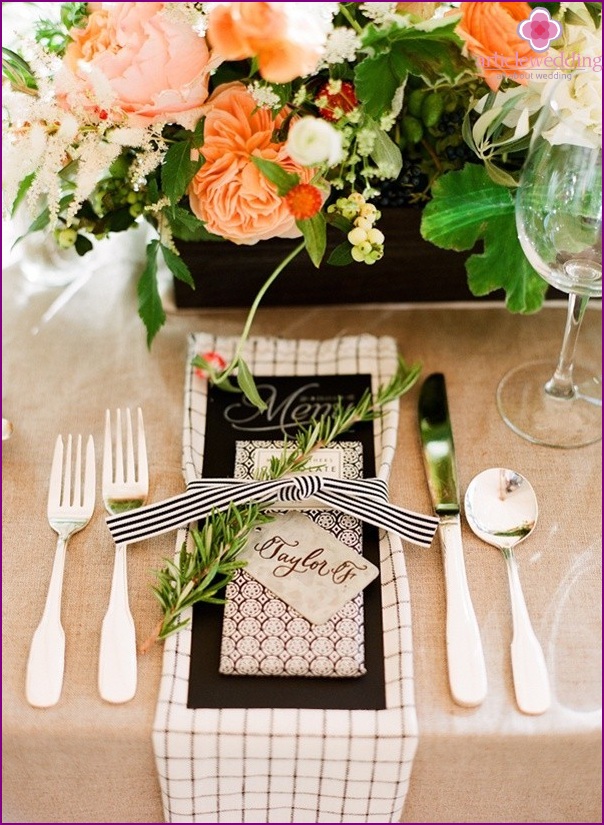 Glass and mirrors
One of the main decorative elements 2016It was intended to be a glass in a variety of ways. Such elements will create the wedding a sense of airiness and lightness. Along with glass in fashion is an acrylic plastic or lucite, from which often make transparent chairs, strong and flexible.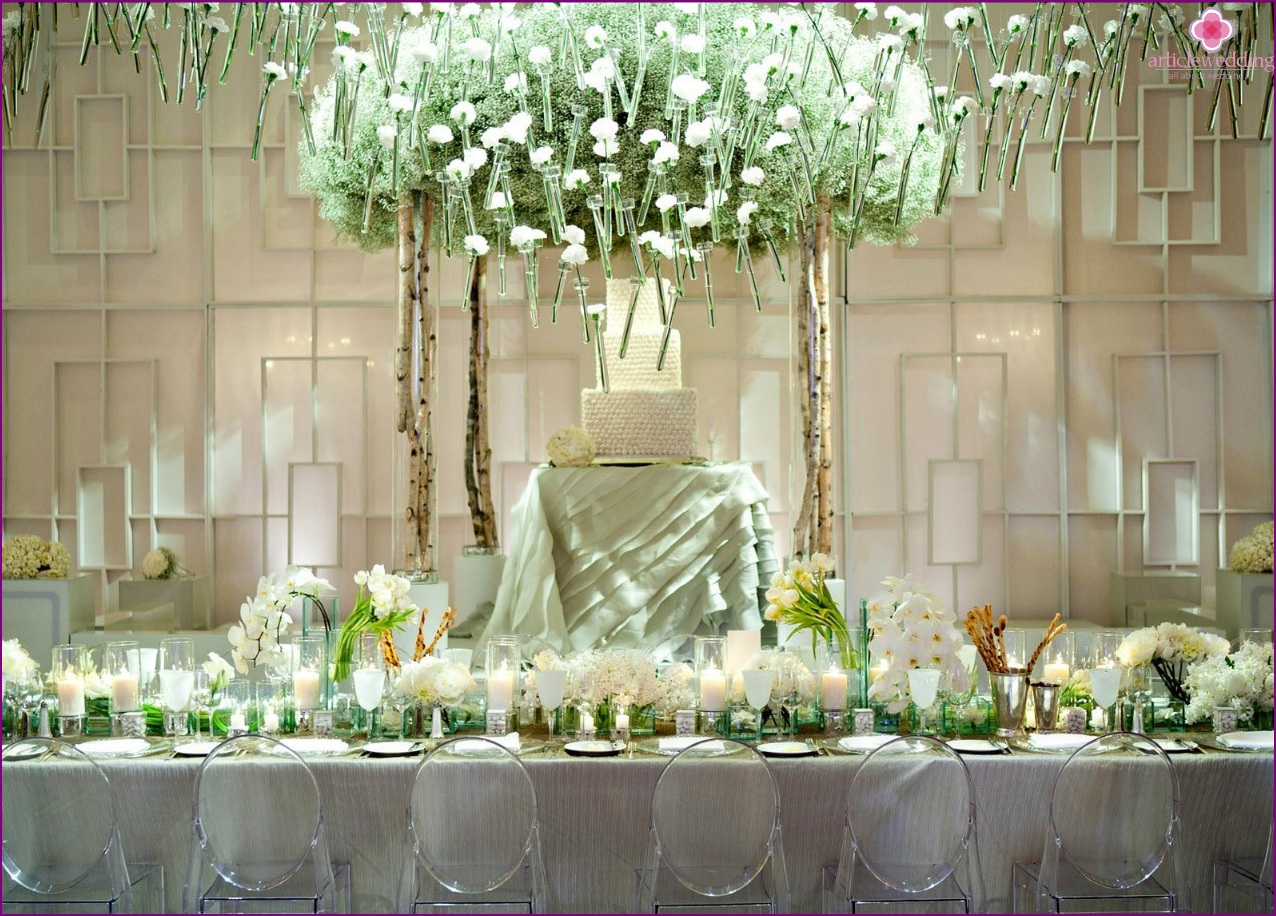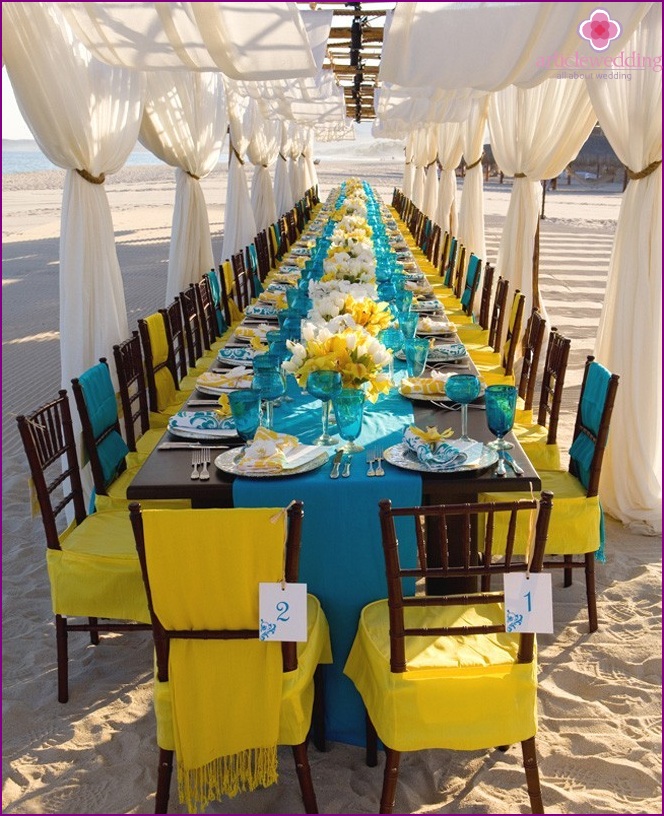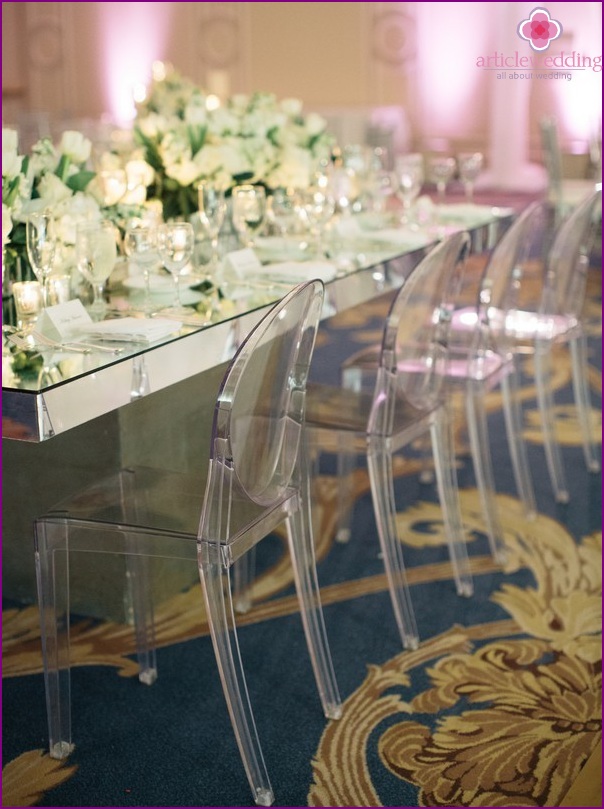 Comfort and romantic candles
The most romantic part of the wedding decorations canbecome a candle. This trend is not going out of fashion. With their help, you can create a wedding celebration an unforgettable atmosphere of comfort and warmth, says www.articlewedding.com portal.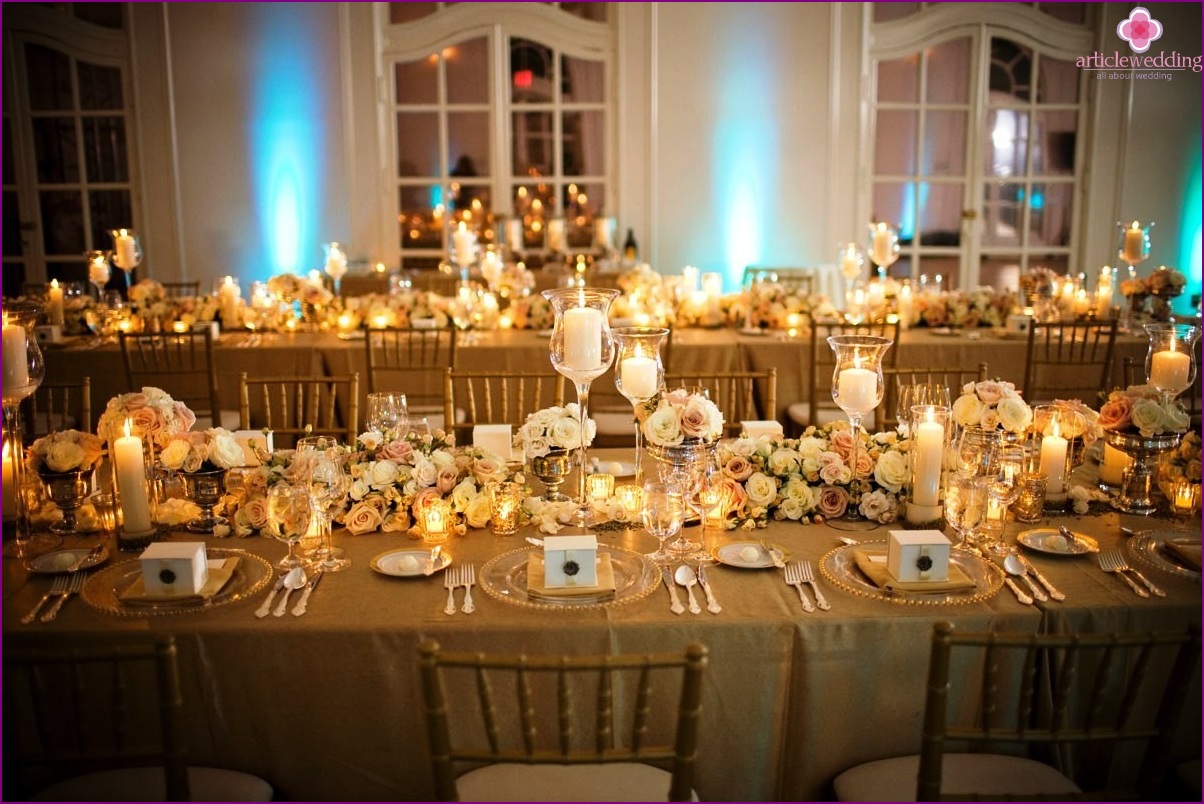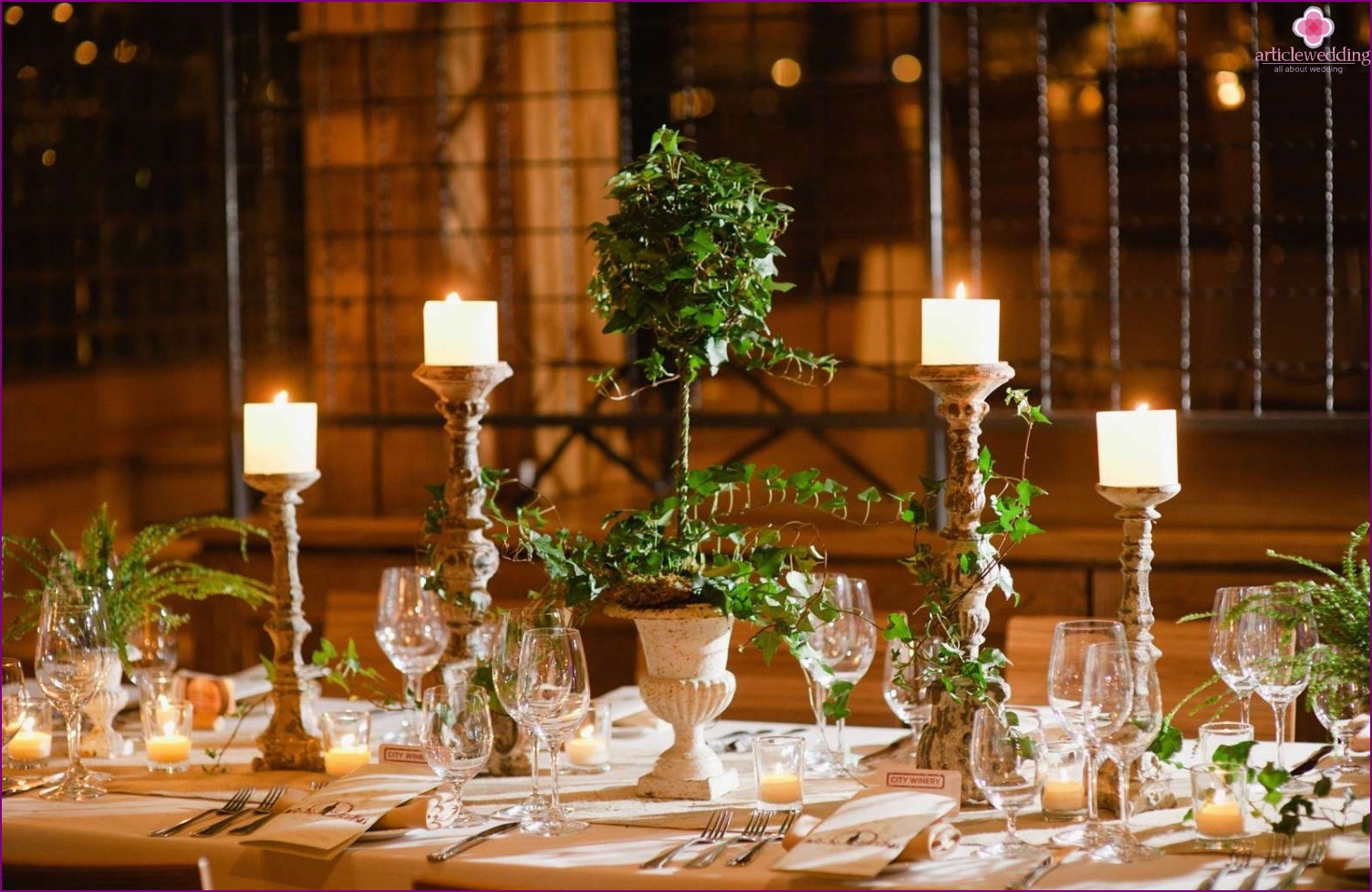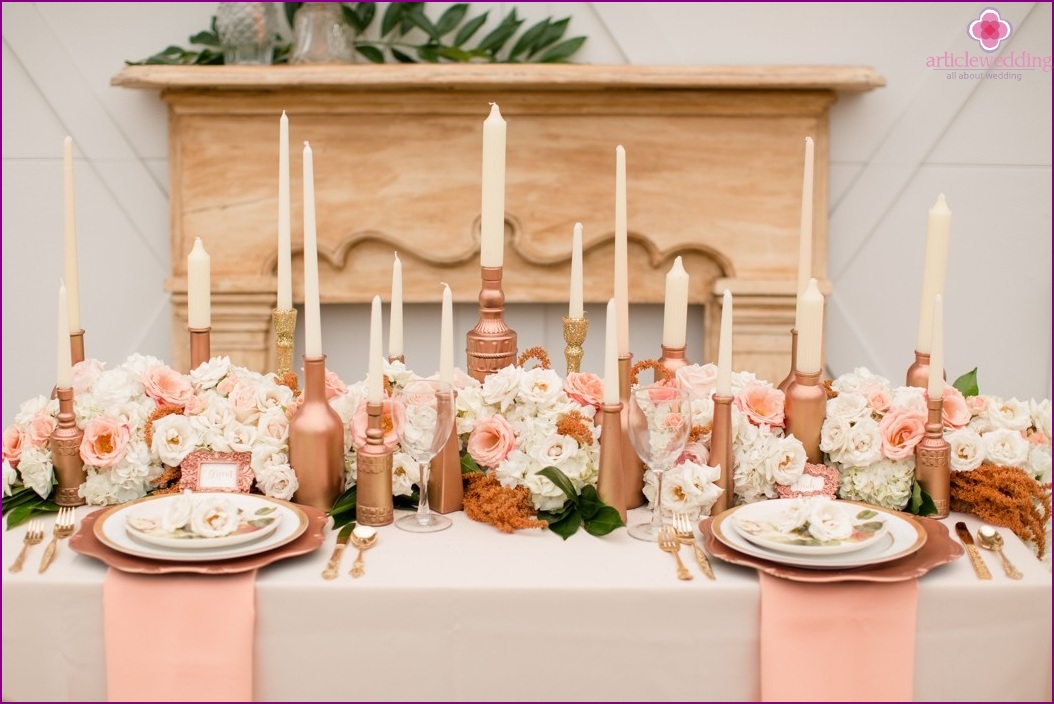 No standard arches!
Instead of the usual arches wedding decorators in 2016 suggest the use of simpler options: ribbons, hanging on a tree, cloth strung between the pillars or trees, and others.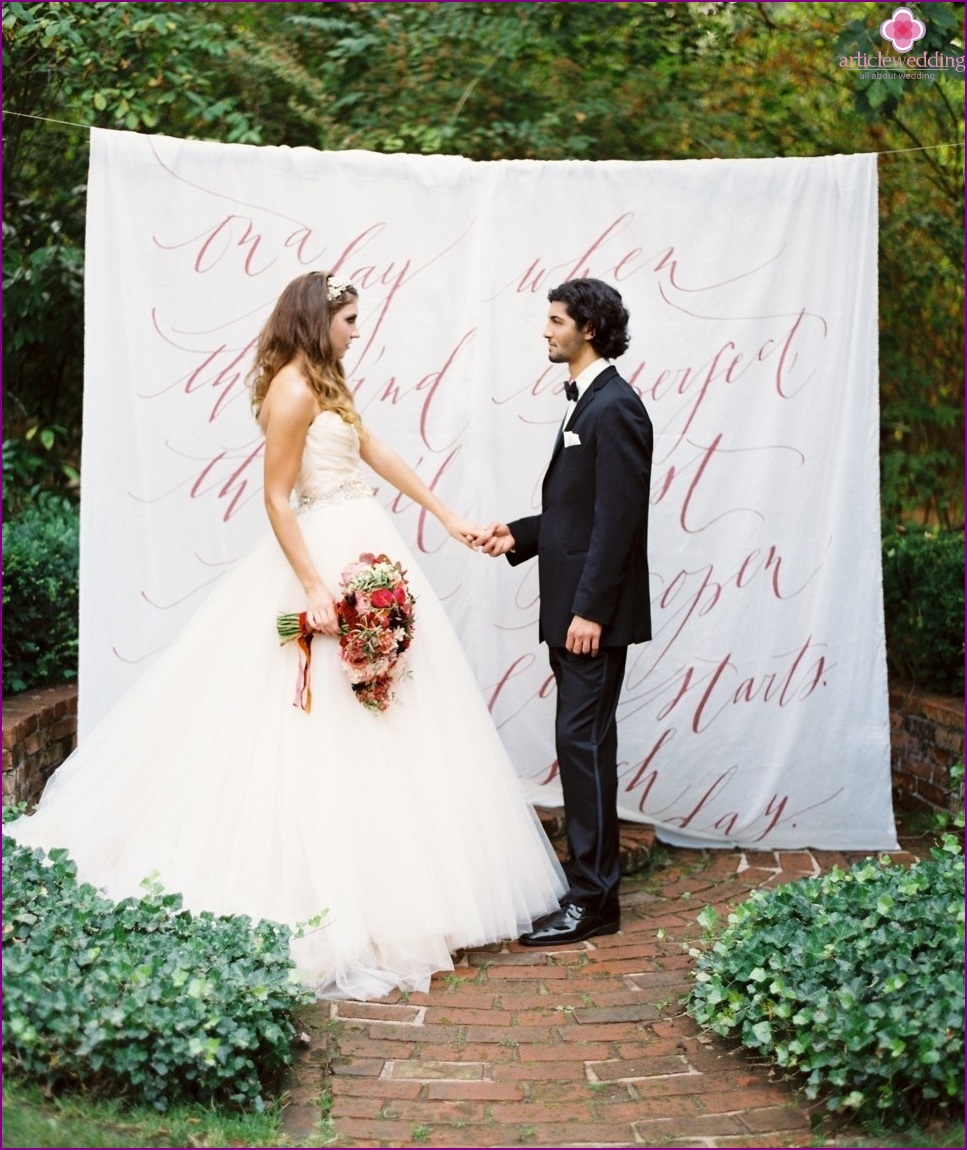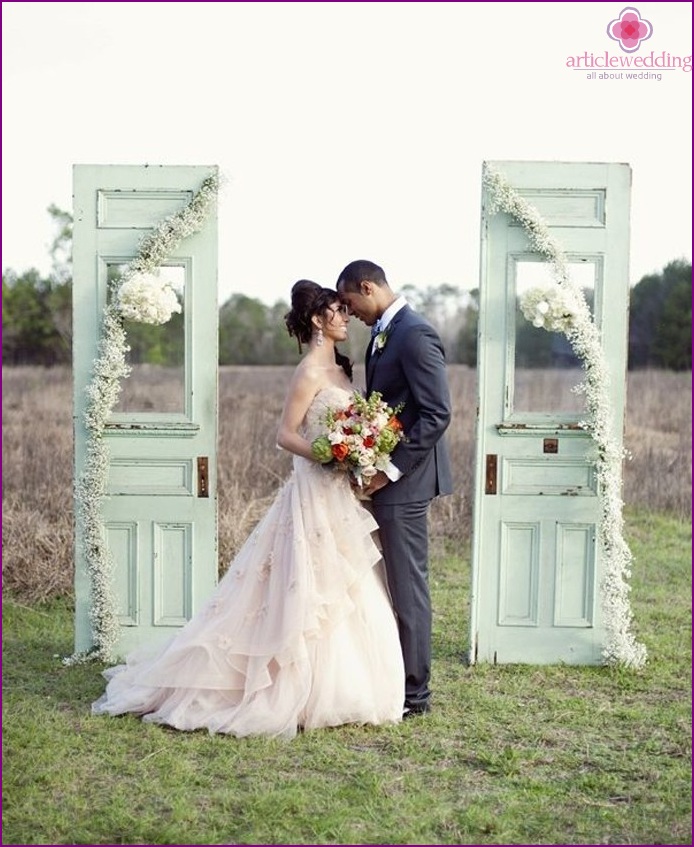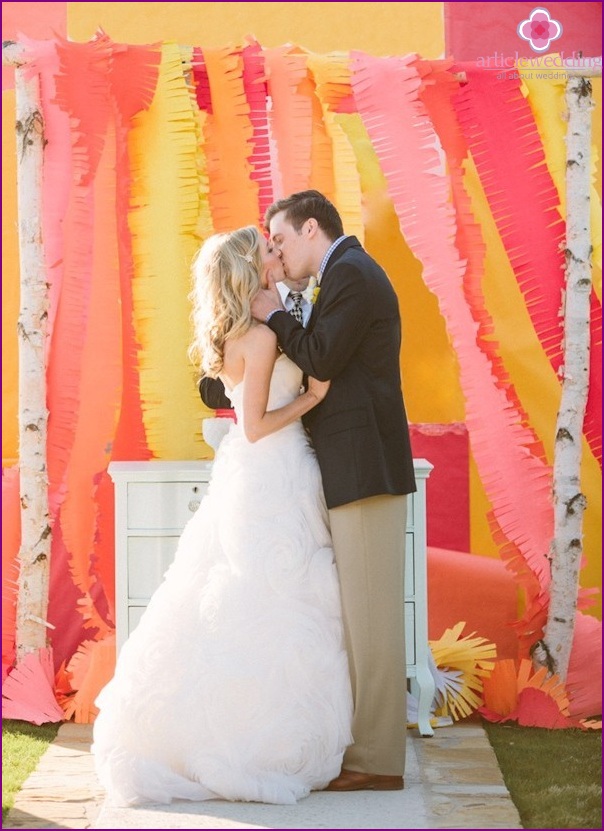 Metal elements
Much love from decorators latelyenjoy the decorative elements of the "metallic" color, which can be used in the design of celebrations everywhere. For example, along with glass vases for flower arrangements can be used copper, and "gold-plated" containers of different shapes and sizes. The mod also gilt cutlery, plates with brilliant rim and others.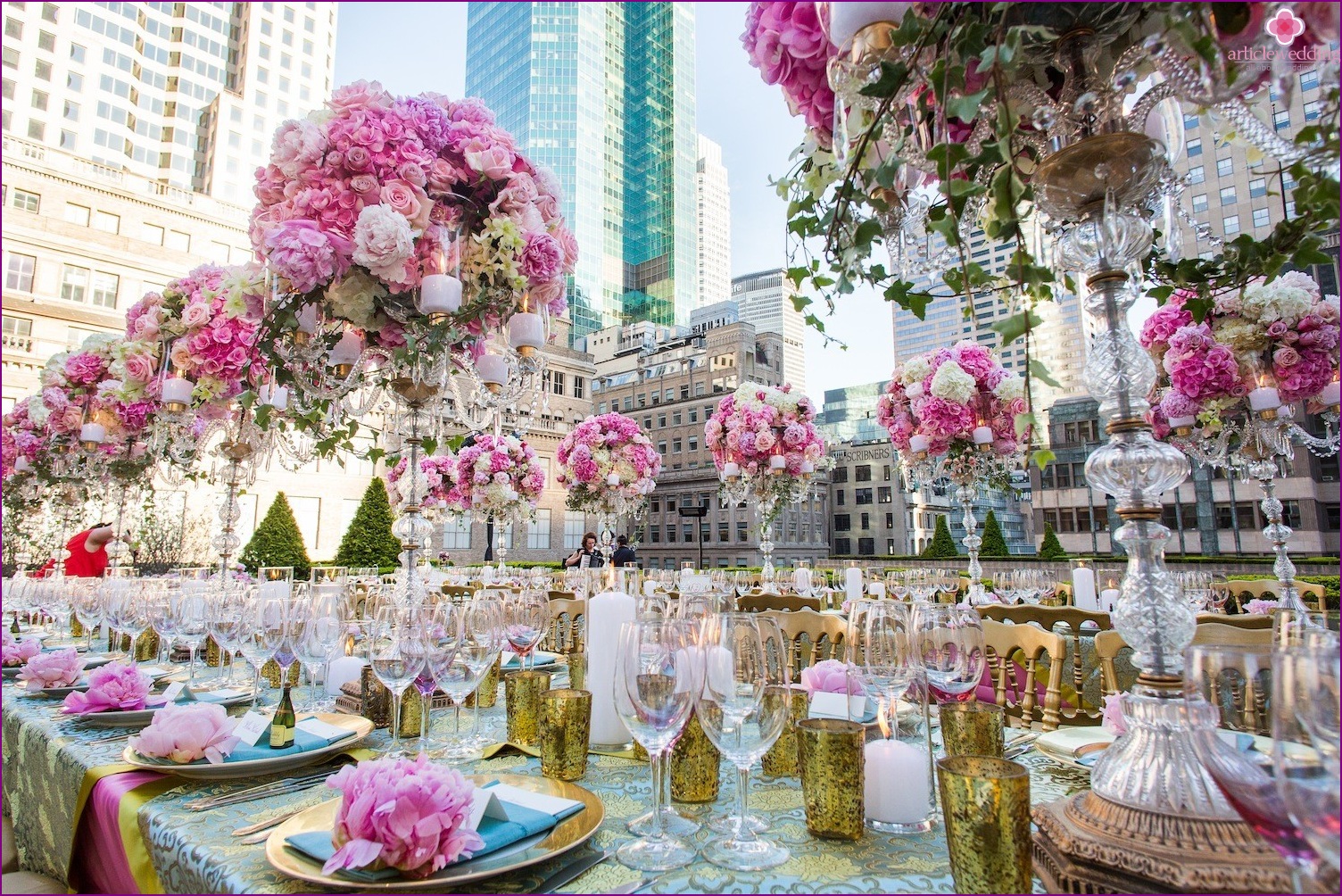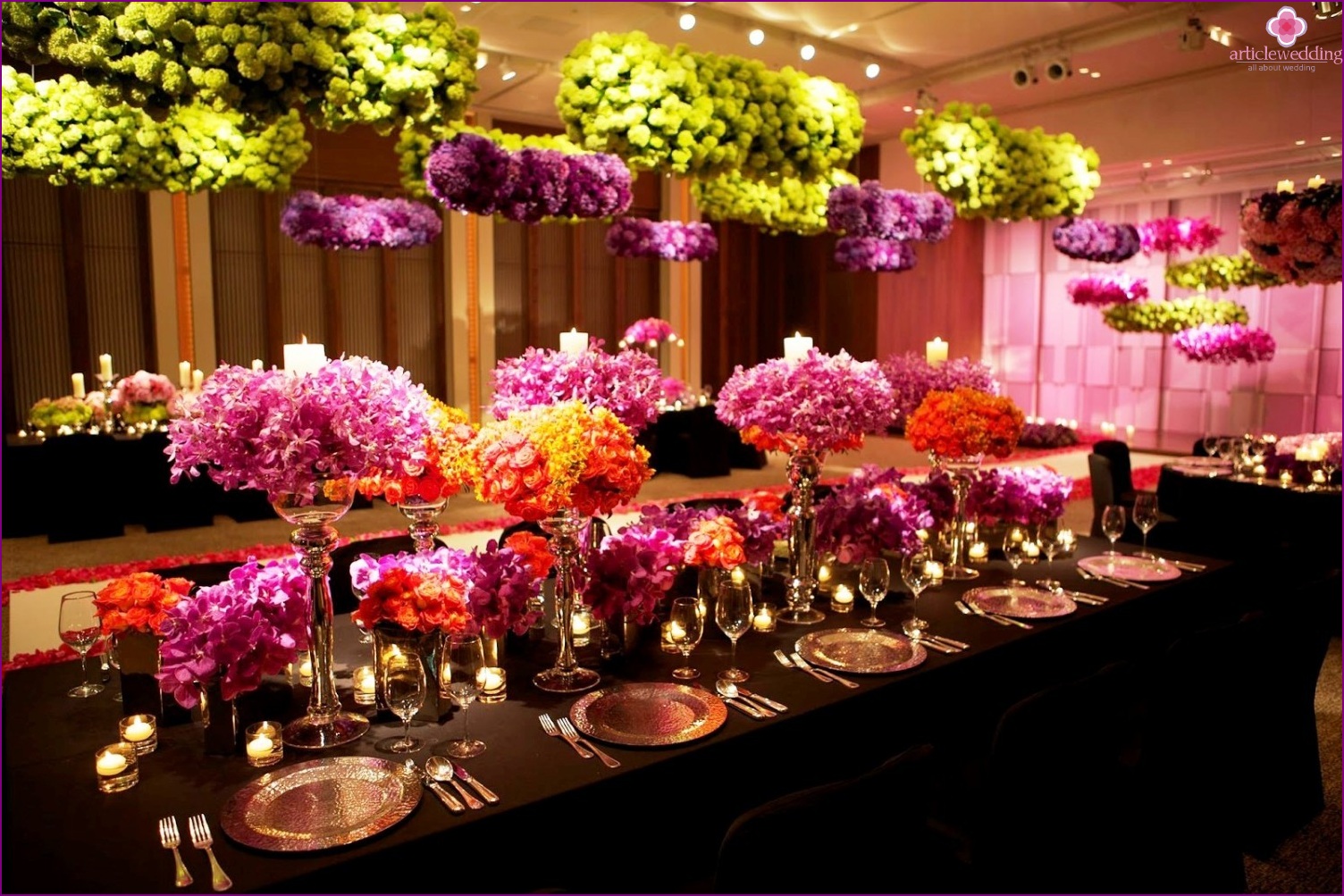 light decor
Mandatory element of modern weddingsIt becomes lighting design. For this purpose, a chandelier, and less than standard lighting elements: garlands, illuminated panels, projectors, etc. With them, you can make the decor more vivid, three-dimensional and fabulous.. They are able to turn a bad thing into a harmonious space and cozy room that will amaze with its beauty.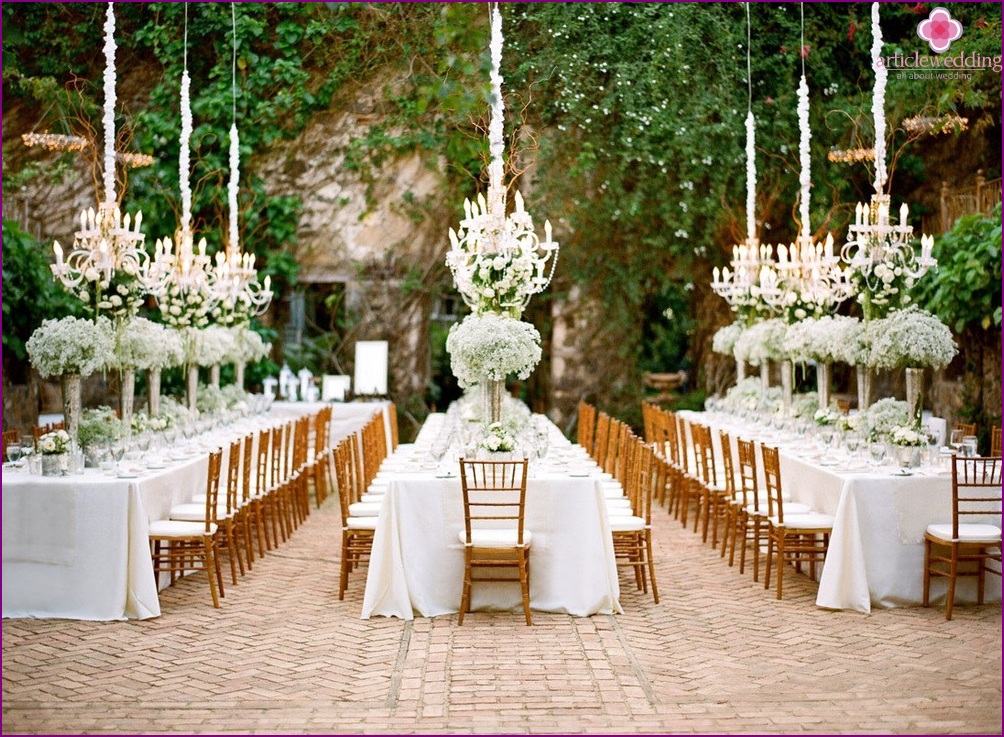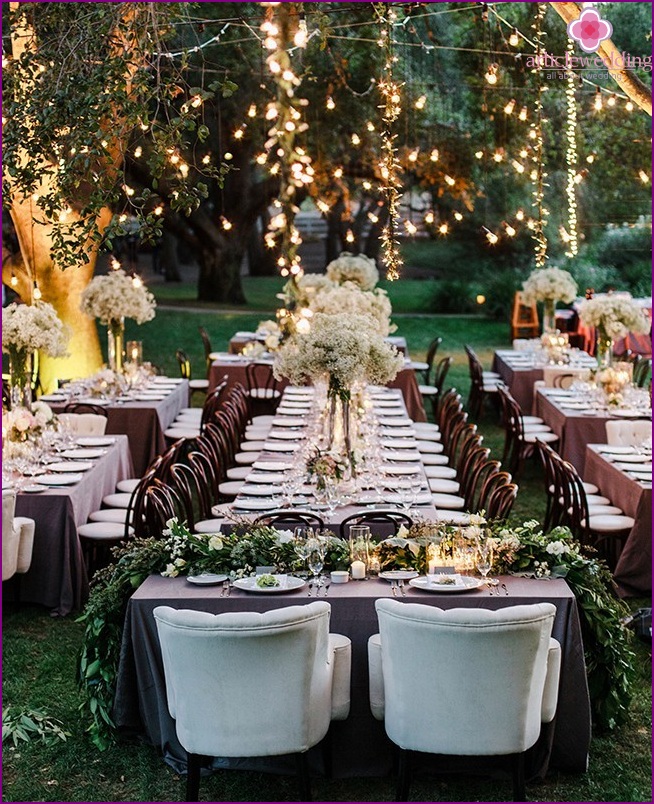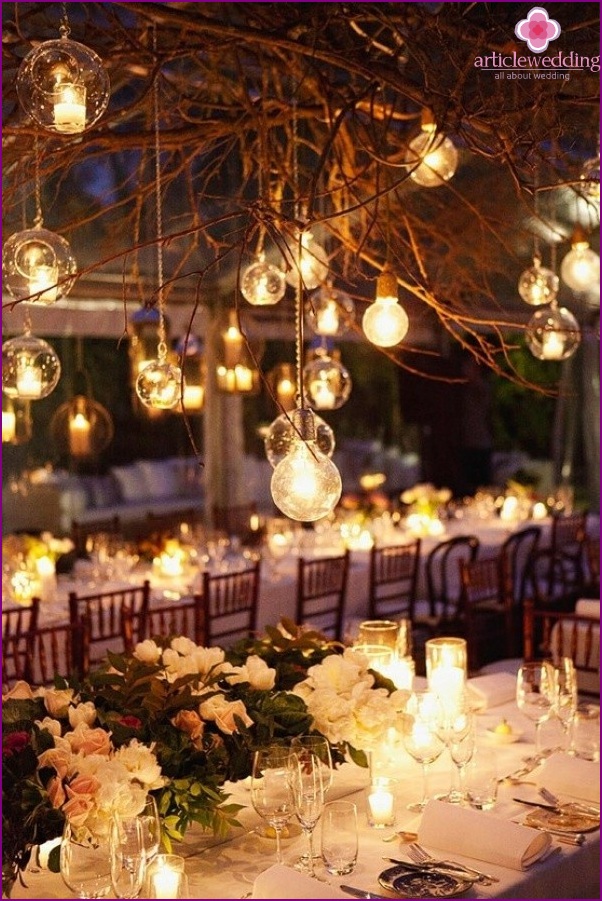 Wedding Decor 2016 - is the embodiment of the presentprinciples of naturalness, and naturalness that is achieved by using natural materials and natural colors in the design of a festive space.