Wedding celebration - an event which withI am looking forward to it all: the couple themselves, their relatives and friends. Close Suite, tend to spend a lot of time on the choice of gift, holiday bouquet and card, where the newlyweds write wishes. Without the latest gizmos no cost, no greeting, but because the invited people necessarily go looking for it in specialty shops. The alternative - making original cards with their own hands. Let's see how to make your own greeting card.
How to make a beautiful card with the wedding with their own hands?
If you decide to make a card for the newlywedswith their hands, there is no doubt that it will be kept newlyweds tenderly, because such gifts are appreciated much more purchased. As its foundation using heavy paper or cardboard, decorate with a variety of techniques - scrapbooking, quilling. Decorate for a wedding card with sequins, beads, ribbons, lace, dried or artificial flowers, drawings, patterns. Master classes below will help you create an original product that will appeal to the perpetrators of the celebration.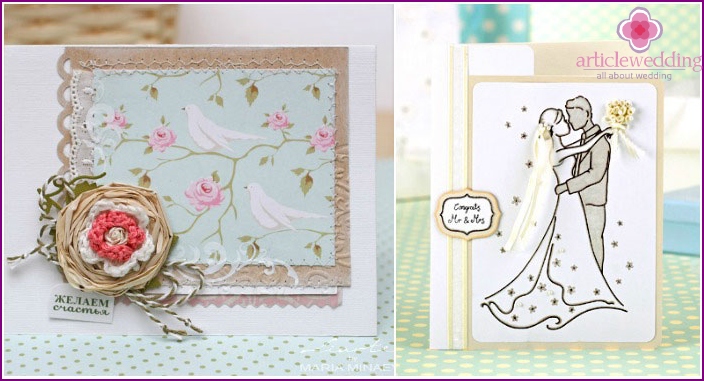 Postcard-congratulation in quilling techniques
Quilling or "bumagokruchenie" - a techniqueused in many areas of needlework. Masters create greeting cards using folding and twisting narrow strips of paper. More of them are made photo frames, albums, jewelry, paintings. Due to the large selection of paper of different colors and density, you easily will discover materials that are ideal for the decoration of the wedding cards.
Necessary materials
Sheet thick white paper (or other light-colored).
The sheets of tissue paper, which will be needed fortwisting "rolls". You can use special quilling kits, which include source material already cut into thin strips. In this case, the card manufacturing process will go much faster.
for scrapbooking paper with patterns or designs with matching color.
Satin ribbons.
Beads, previously cut in half.
Pencil.
Scissors.
Ruler.
Stationery or other knife.
Tool bumagokrucheniya. This item can replace the toothpicks, matches, empty bars ballpoint pens.
Stages of Development
From dense white sheet, cut a rectangle measuring 20 by 15 centimeters. Fold in half. This will be the basis for future cards.
Cut the paper for scrapbooking. I should get a rectangle measuring 9.5 by 14.5 centimeters.
On equal strips cut material for quilling - for a card will need about fourteen or sixteen pieces.
Take a quilling tool oralternative, start to roll paper. One end should be fixed with adhesive. Make sure that the strips were twisted tight, they do not fall apart. When the "roll" will be ready, the free edge fix glue to finished item does not spill.

To the basis of the future cards carefully gluerectangle scrapbook paper. Make sure that the item was exactly in the middle, try on a few times before it is fixed. Take the resulting round rolls, flatten them with the two sides to the paper edge an acute angle - the pitch ready. With their help shape flowers (one need 5 petals), lock on the front side of the card. Complete tender plant, glued to the core half radiant beads.
Touching composition further decorateuntwisted spiral rolls, decorate as you wish - with crystals, beads, sequins. In the lower right corner of the secure satin ribbon, which will be the final element of the decor. Wedding greeting card ready!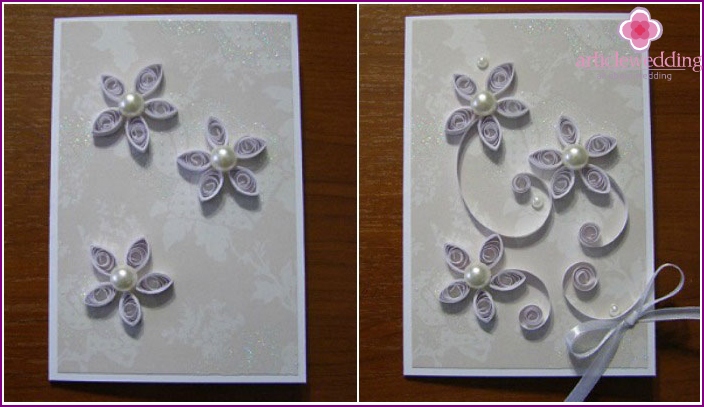 Greeting card with the wedding day in scrapbooking techniques
Greeting card made usingscrapbooking techniques, obtained cute, air, and touching. Such cards may be minimalist, with only two or three colors and some decorative elements. It is essential for scrapbooking - to properly combine colors, patterns and drawings on scrap paper to the finished product did not work too nalyapistym. A harmonious selection of details such cards guarantee its magnificent view.
Necessary materials
Thick paper or cardboard sheet (A4).
Two sheets of paper for scrapbooking, matching in color.
Stationery knife.
Scissors (for curly edges can be used).
Ruler.
Double sided tape.
Glue.
Lace.
White satin ribbon.
Decorative "corsage", which was previously necessary to make your own or buy from specialist retailers.
Clear printout with the inscription "Happy Wedding!"
Halves of pearl beads.
Stages of Development
Create a foundation for a card with the help of a knife and a ruler of office - fold half sheet of A4, neatly cut off the excess, to obtain a preform 10 by 15 centimeters.
For the background, take a sheet of scrap paper, similar tocut the bureaucratic knife edge as to obtain a basis for future decor, measuring 10 by 15 centimeters. Double sided tape cover the preparation, attach the top scrap paper.
Visually define the horizontal center of the futureCards, and just below the glue double sided tape. Two thin satin ribbon (or a single wide) is located on top of him, carefully cut off the protruding part of the material, the lighter treat the edges of the tapes, so they do not "spread out."

Apply a little glue just above the tape (forlace fabric should not use double sided tape), fix it a decorative lace. Wait until the glue is dry, then use scissors to trim the edges. Halves pearl beads zadekoriruyte tissue.
Heavy paper or cardboard piece beautifully cut, as shown in the photo. She will need to label.
Cut out of colored scrap paper a small leaf,little more than a blank for writing. edges form must be identical to the edges of the workpiece. Connect two elements by using double-sided tape, and for the larger volume using adhesive pads.

At the upper boundary of the double sided tape on the cardsstick the scrap paper, different in color from the background. Make the edges of the form is the same as in preparations for the label. Sami billet parts place just above the lace, the right of the card.
Take the finished decorative bouquet thatIt will be the main decoration of the postcards. Place the item so that the inscription remains visible, and the bouquet is not performed at the edges of the product. Fix the decoration greeting cards with glue.
When the glue is completely dry, complete product halves decor elegant pearls. Beautiful card for a wedding is ready!

Greeting card in an envelope of money for
A great gift for newly couple -money. At the newlyweds have enough spending at the beginning of family life. On the shelves of souvenir shops there are many cash wedding envelope options, but even better to do this little thing with their own hands. Also the amount of gift, guests can attach to the card of congratulations. Consider how to make a wedding envelope using scrap paper, satin ribbons and other beautiful decorations.
Necessary materials
Double-sided paper for scrapbooking with a suitable pattern.
Tool for creasing.
Mat cutter.
Satin ribbons (ribbon organza fit).
Curbing punch (stationery knife).
Glue.
Double sided tape.
Jewellery.
Stages of Development
On the mat, place a sheet of razlinovkoy colored scrap paper, cut square of 28 by 28 centimeters. Diagonally cut in half.
Explore bends space for creasing, shown in the photo, carefully mark the their pencil.

Apply two thin strips of double-sided tape is not larger than 0.6 cm, as seen in the photo below.
Bend the line at the bottom of the envelope. Stick double sided tape on it. Along the way, do not forget to cut off the protruding edge, which is already cut to the photo-materials.

Fold the sides of the envelope at the same time fixing the base and the top line. If done correctly, you should get a perfectly smooth envelope.

In the double-sided adhesive glue satin ribbon length of 50 centimeters, skirting its envelope front and rear. The bottom edges of the tapes remain free, which will tie card.
Additionally decorate wedding envelope lace paper (to create it, use the hole punch), hearts, beads, decorative flowers or other decorations.
Make a insert size of not more than 17.5 centimeters by 8. Arrange his stamps or drawings. The original wedding envelope with a card ready!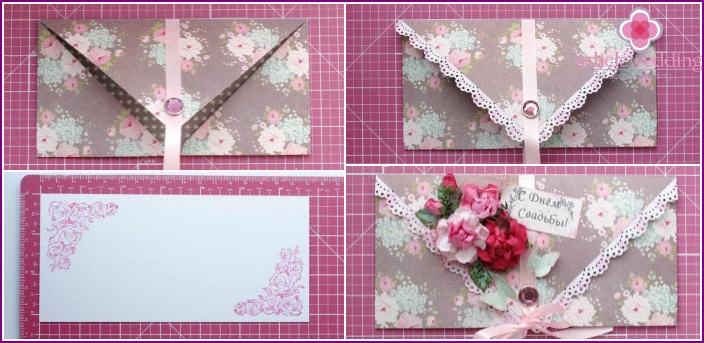 Ideas for creating wedding cards with their own hands
Making a greeting card for the wedding yourself, youyou can safely experiment with shapes, sizes, colors. The main thing is that all the elements greeting cards look appropriate and in harmony with each other. Well look, rectangular, square, round cards, articles in the form of a heart or two pigeons. See photo below some interesting ideas on registration cards for the wedding.
In a dress the bride and groom
Decorate wedding greeting cardthe groom with the bride dresses - a funny and unusual idea, which just have to taste the newlyweds. paper can be used to manufacture such products, satin, lace, chiffon fabric, a variety of beads, decorative flowers, kvillingovye rolls. Good will look two gold rings.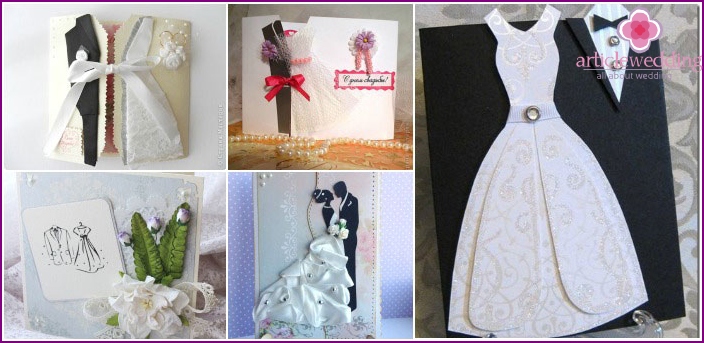 Sweetheart
Heart shape is ideal for manufacturingwedding cards. It is a symbol of true love between the spouses. Greeting card can be created in the form of heart, decorated with one or more such elements. This option card will look good in red or any other color, suitable topics for a celebration.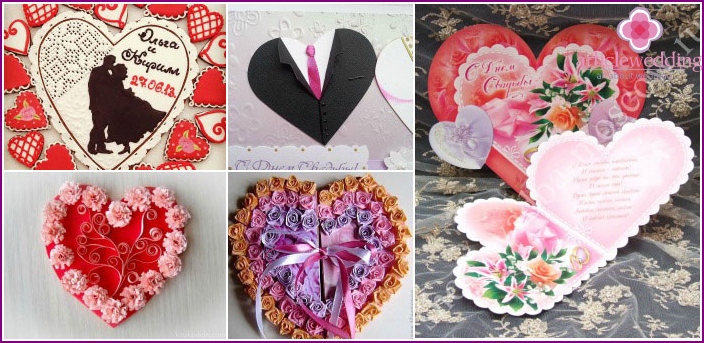 Bouquet of flowers
Delicate flowers - the perfect solution fordecoration wedding cards. This may be a small bouquet as in a master class above, or a real "flower meadow". As decorative elements can be used natural dried flowers, artificial plants, paper items, flowers made of polymer clay, fabric or plastic.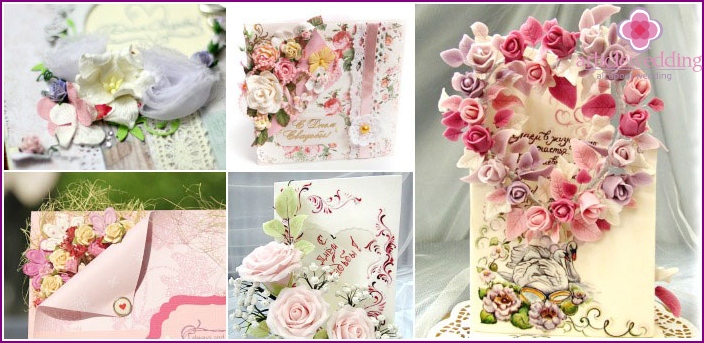 Video: Master-class on making cards for the wedding
Creating wedding cards for newlyweds - afascinating process that takes pleasure giver, and subsequently - pleasant emotions newlyweds. To make a really nice gift card, and do not miss, watch the video below a master class with detailed step by step instructions. Presenters will help you create an elegant beige and snow-white card using a basis weight paper for decoration - elegant lace, satin hearts, three-dimensional butterfly, painted gold paint, tape and a small piece of paper with the inscription.