is joyful - Wedding Guests and newlywedsand happy holiday. To decorate the wedding and make it a fun atmosphere, bright, used fireworks and fireworks to entertain guests. Great joy to guests and the bride and groom can cause explosions of crackers with confetti, streamers or small figures of hearts, rose petals. What are the firecrackers at a wedding? When appropriate to use them in the celebration?
How to choose a wedding firecrackers
The first cracker came up and did 100 years agoEnglish confectioner Thomas Smith. This invention consists of a piece of candy, from which sparks flew, pieces of paper, fabric. In contrast to the fireworks, wedding fireworks firecracker pyrotechnic products is safe. This important feature allows you to use it without fear as a wedding accessory on holidays with large crowds.
Flapper is a paper orplastic body in the form of a cone or a candy, which is filled with confetti, streamers, or other colored "stuffing." When pulling the rope at the bottom of the pyrotechnic articles, there is a friction, causing micro-explosion. As a result, confetti flies up and transformed into a multi-colored paper rain.
There are also pnevmohlopushki that are filledwithin the compressed air. This pyrotechnic product for the holiday must be selected by their appearance and labeling: the greater the weight and size of the cracker, the more powerful it is able to make the shot. Some species of the pyrotechnics can shoot for 6-8 meters, and the other shot the height can reach 20 meters.
Options for filling wedding crackers
Long gone are the days when the only"Fillings" firecrackers were colorful confetti or streamers. At their wedding, modern couples can choose a pyrotechnics filled with a variety of colored small figures. "Stuffing" can be paper, foil, with a special coating. The contents of the fireworks produced in the form of rose petals, doves, hearts, notes.
Multi-colored confetti
Well look the couple in the photo, whereIt captures the moment of the explosion firecrackers and falling on the young couple of small figurines of colored shiny confetti. Small red, blue, yellow, green circles, slowly falling on the bride and groom are able to create an amazingly happy atmosphere at the festival. Observing this phenomenon, guests will be delighted and will feel more pleasure, fun.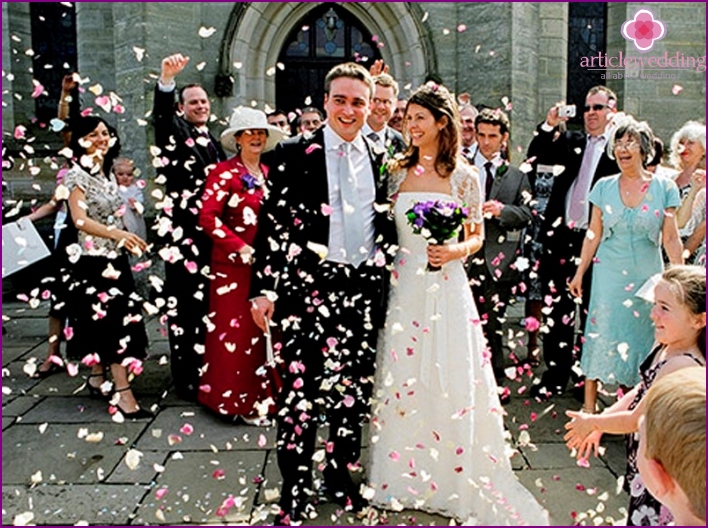 money bills
If you want to swim under a money rainthen the celebration of wedding it will be easier to make. Variety of wedding crackers with bills it is appropriate to use at the wedding. If desired, a waterfall shower of paper money can be not only the bride and bridegroom, but also present on the holiday guests. Flapper can shoot unreal dollars, euros or Russian rubles.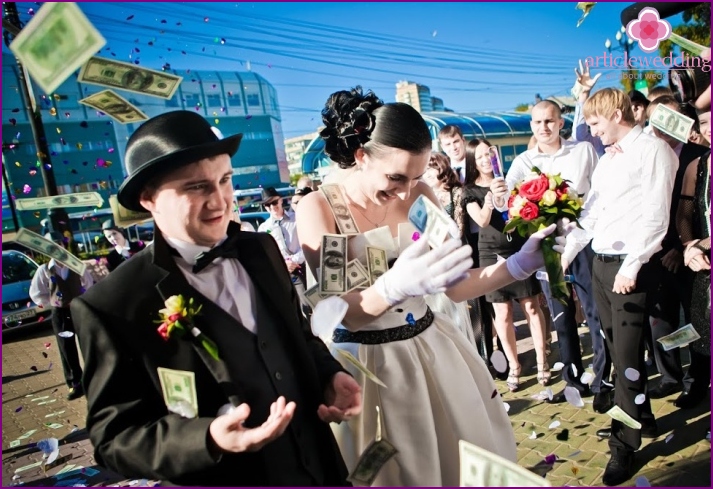 Multi-colored hearts
Wedding crackers with hundreds of red heartsperfect for honeymooners congratulations after the wedding ceremony. Extremely impressive, colorfully will look like the bride and groom when they fall from a cloud of little symbols of love. If this is a moment to photograph, you get a beautiful, romantic, unusual frame for your wedding album.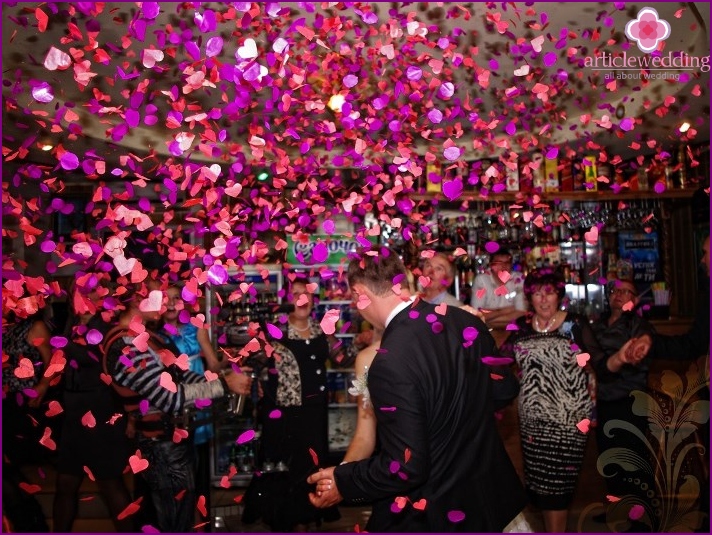 Decorative coins
The original hlopushechny salute with decorativecoins that shimmer golden luster, increase the degree of fun honeymooners and guests. Bright, shiny spectacular rain will remain in the memory of the bride and groom after the celebration as an unforgettable event. Golden penny falling on the newlyweds, will create a beautiful backdrop for photos.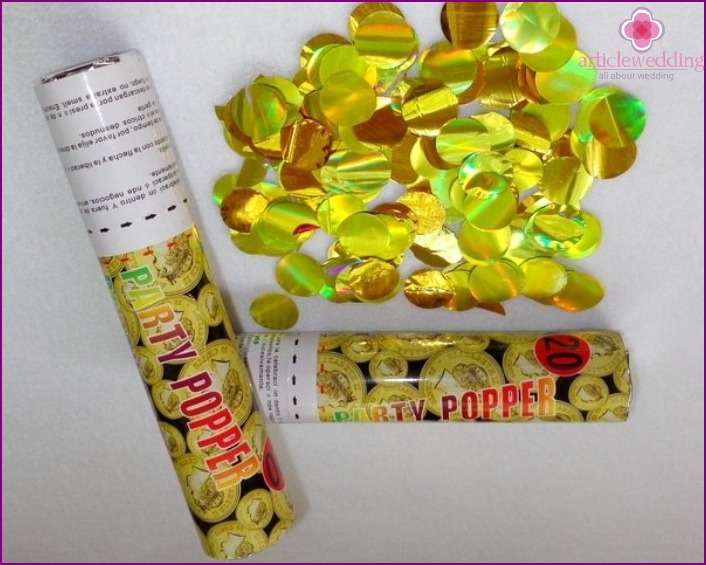 Rose petals
Scarlet, white, pink, burgundy roses givemen in love to their beloveds. These flowers are often used to express tender feelings, so they are perfect for filling wedding firecrackers. During the first dance will be appropriate showering newlyweds rain of rose petals. This will help create a romantic atmosphere during the festival and make a sweet and beautiful sight for guests.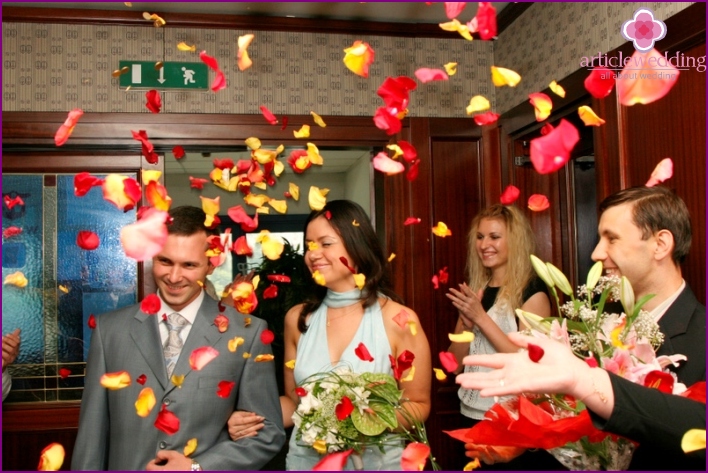 When such attributes at a wedding
Wedding party poppers are used in different momentssolemn day. Beautifully will look spectacular, if after the registrar guests will meet newlyweds fireworks rose petals. Originality first dance the bride and groom will be able to give a multi-colored serpentine rain created with volleys of safe fireworks. Guests can Honeymoon at the meeting to make a living and make a beautiful corridor hlopushechny salute. And at the entrance to the restaurant would be appropriate to artificial rain small hearts, rose petals or small pigeons.
Alternative wedding firecrackers
Pyrotechnics can make unusual holiday,original, memorable. If you flappers for some reason are not suitable for entertainment at the wedding, they have a lot of alternatives. For example, the first dance of the bride and groom would be surprising if they were dancing surrounded by hundreds of bubbles produced by a special unit. A lot of impressions newlyweds can get from pyrotechnic fountains at the entrance to the restaurant. A variety of fireworks, fireworks, when used properly will make your wedding beautiful and interesting.
Photos of crackers at the wedding
To achieve a beautiful visual effect whenstart at the same time a few crackers, shoot every 5 seconds. In this body of pyrotechnic products hold at an angle of 45 degrees. When buying firecrackers, always pay attention to the shelf life and quality of the product. Although the fireworks and have a high degree of security, but their use must adhere to the following guidelines:
Not SALUTE without warning, especially in the presence of children.
Do not use near sources of ignition pyrotechnics.
Do not overdo it with the use of fireworks, not to litter the place of celebration.
Do not let children pyrotechnics.
Do not aim the shot in the face, electrical, glass, or other fragile items.