A hint of the tone and style of the wedding can be felt,when you hold hands in the invitation. That is why many brides prefer to do the invitations themselves. Indeed, from his own work done as if breathes warmth and sincerity ... Every guest can feel that it will sincerely, heartily glad to see, and do not invite "for show" or from mercenary motives. If you decide to make your celebration invitations to yourself, then you can be sure that will have a great time at work, you will have a minute to dream or think about the upcoming in the near future family life. Today wedding portal www.articlewedding.com will give you some tips on how to issue an invitation to the wedding.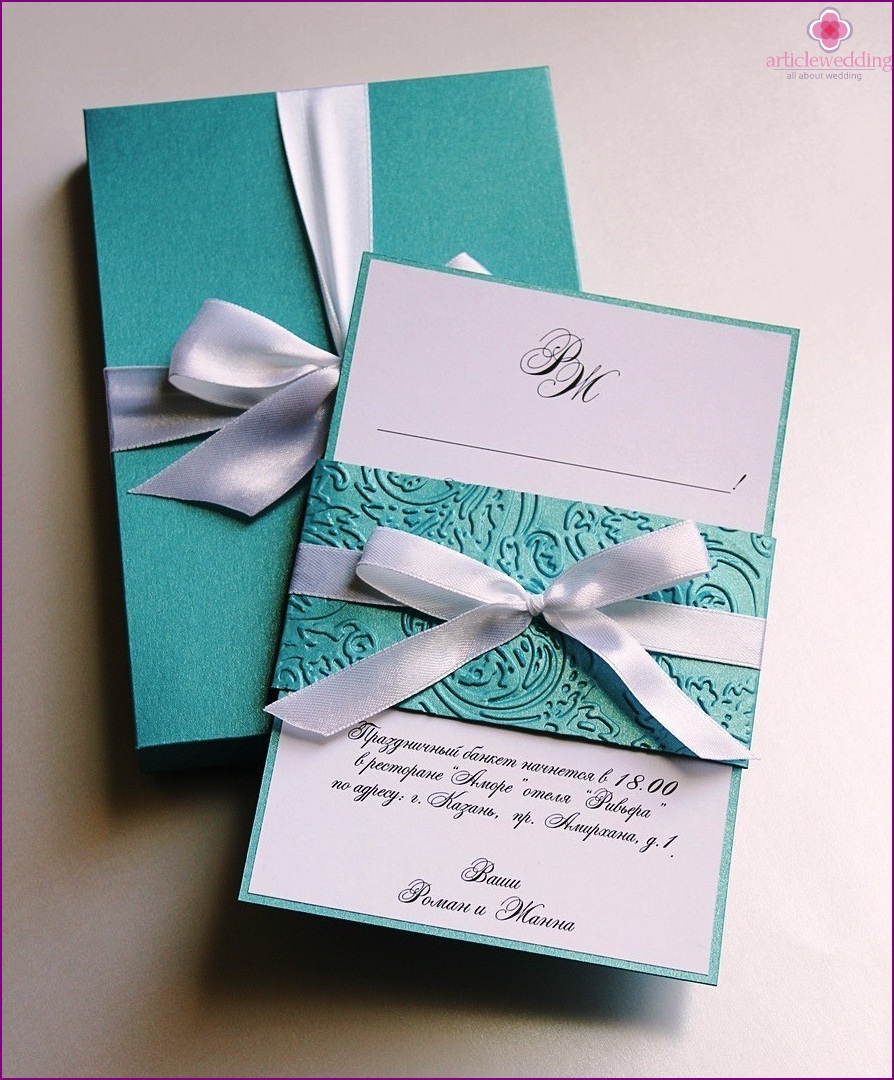 We draw up the guest list ...
So the first thing to do - to makethe guest list, where you gonna call on their marriage. To anyone not to forget, it is better to create a list for small groups. For example, the first to write a group of guests from the bride and subgroups: Relatives from the groom, friends with the groom, the groom with colleagues and so on, similar to the record group of the bride...
Determine the number of invitations ...
Then you need to count the number of visitors anddetermine the number of invitations (eg, married couples most often handed one wedding invitation for two people). Our site www.articlewedding.com recommends several additional or replacement pieces for invitations: You suddenly someone forgot to write?
Identical or individual invitations?
In the next step you have to decide,Are the texts you write / print on all invitations? Of course, to draw up a personal invitation to each of the guests because all you have different relationships. Agree, friends will be pleased if you used the text "ticket to the wedding," a bit of humor or irony, but your grandmother needs to be kind, gentle and touching words. Of course, if your guest list is made up of 40 or more names to write a special text to each guest, to put it mildly, difficult. Then at least you have to do - to make a separate texts for invitations that you will give to married couples, and invitations that you give unmarried / unmarried.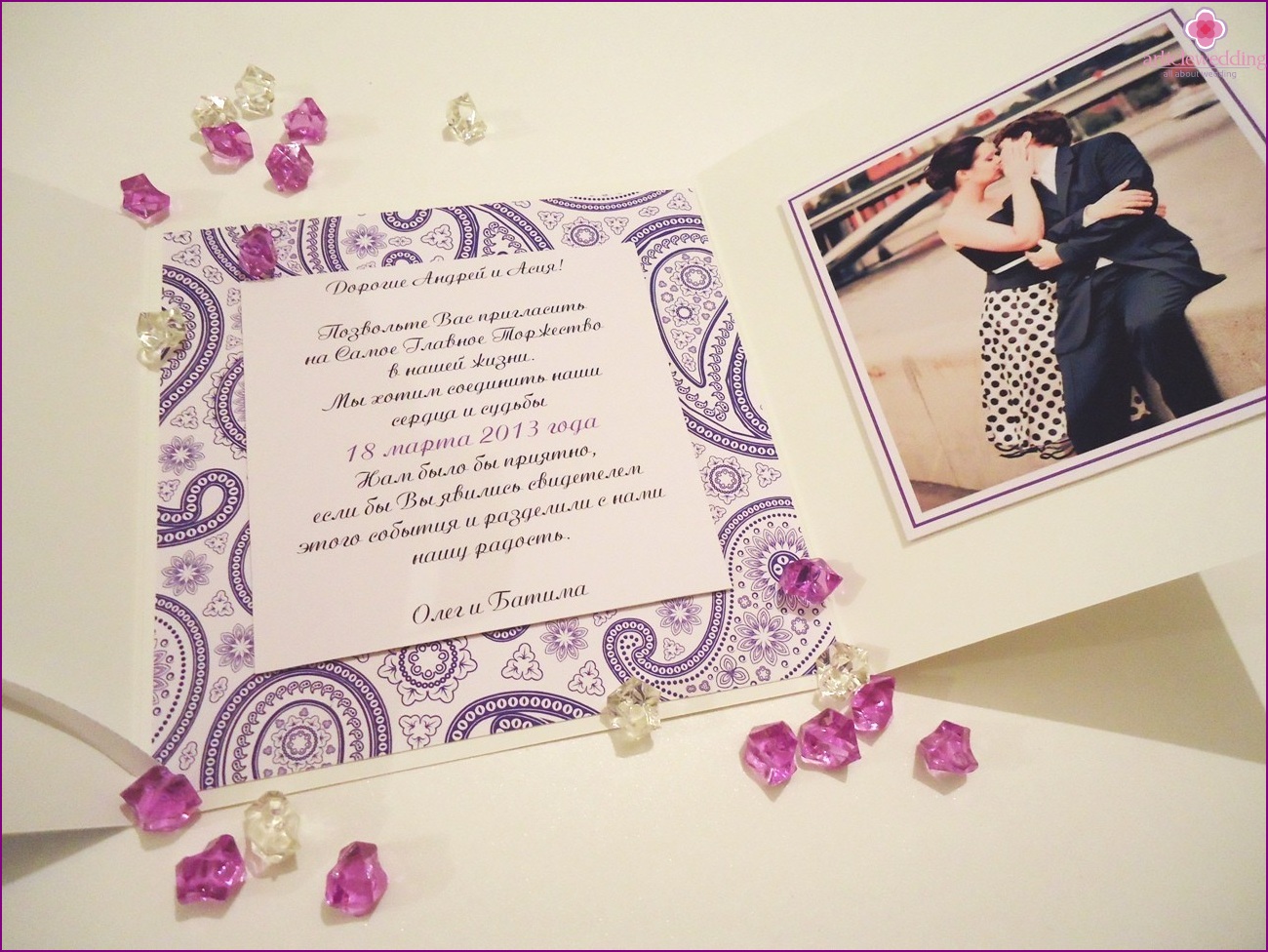 Who to invite?
Be sure to think over, from the person who willwritten invitation. Typically, the text is written on behalf of the bride and groom, but if you're going to play a traditional wedding, some relatives or friends of the parents you could not see any time in life. They are likely, it is advisable to send an invitation on behalf of your parents.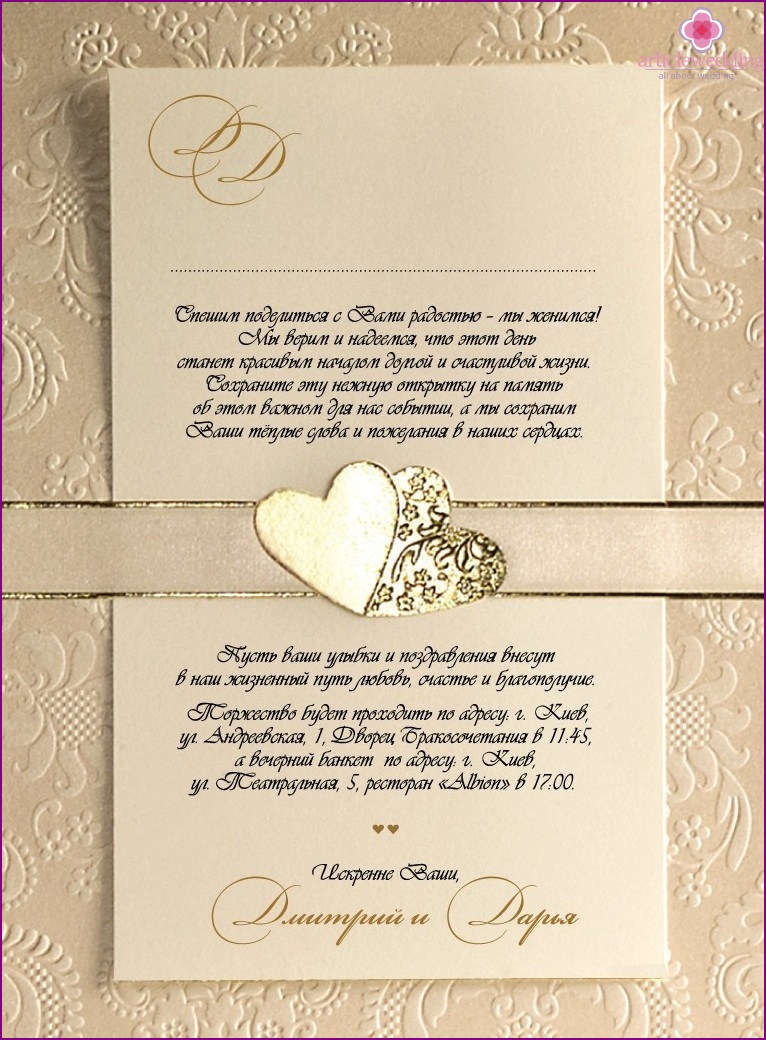 A few rules of etiquette ...
Understand a few simple rules of etiquette: the names of the guests in the invitation must be entered by hand, the invitation should be handed in or sent to all guests, even if some of you have already been invited verbally, invitations to be sent out or give at least three weeks before the wedding: guests must have time to prepare for the celebration, including is likely to draw a vacation and buy tickets for transportation, if invited live far away.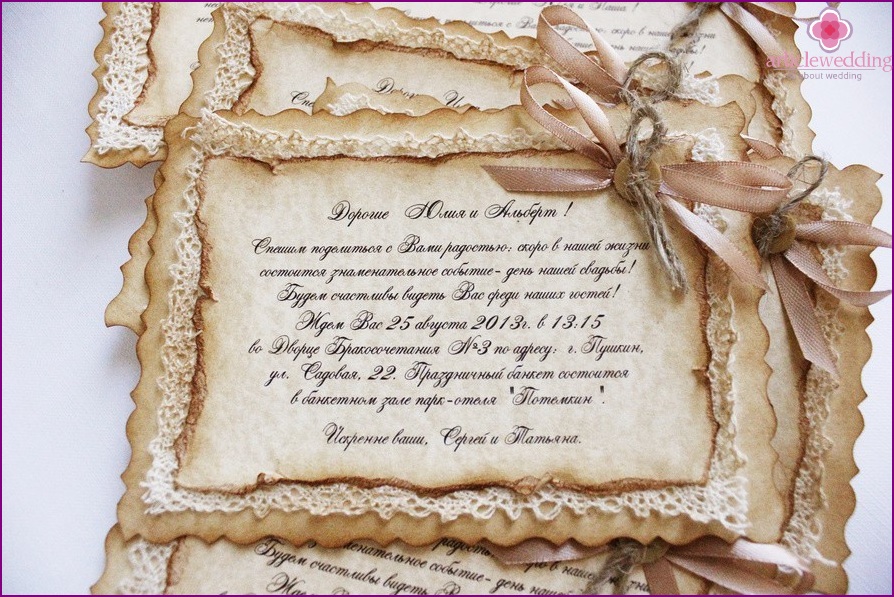 Text Style Invitation
There are several styles of invitations texts:
official - rather dry style, usually such invitations are handed boss, partners and colleagues;
soul - very expressive, emotional version of the text for the close friends and relatives;
comic - for lovers of humor;
verse - template invitation text in verse, usually it is very fond of the elderly.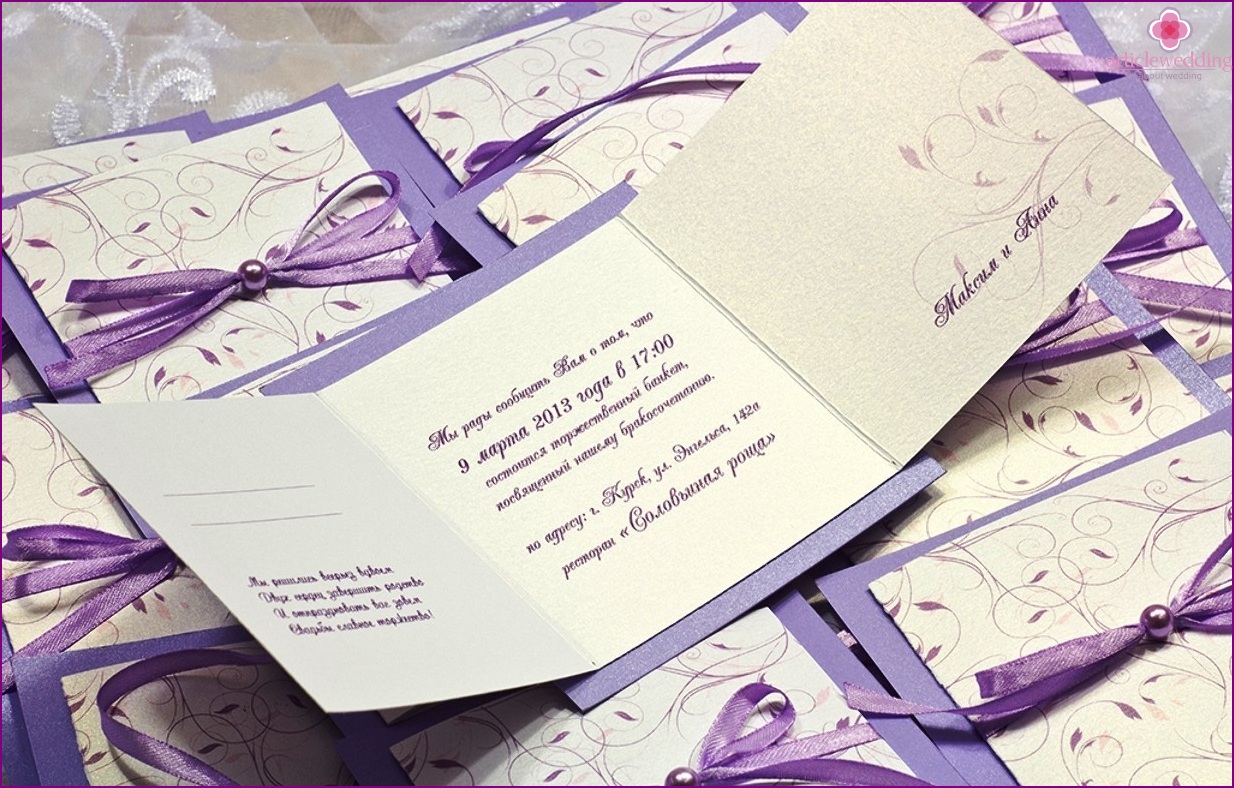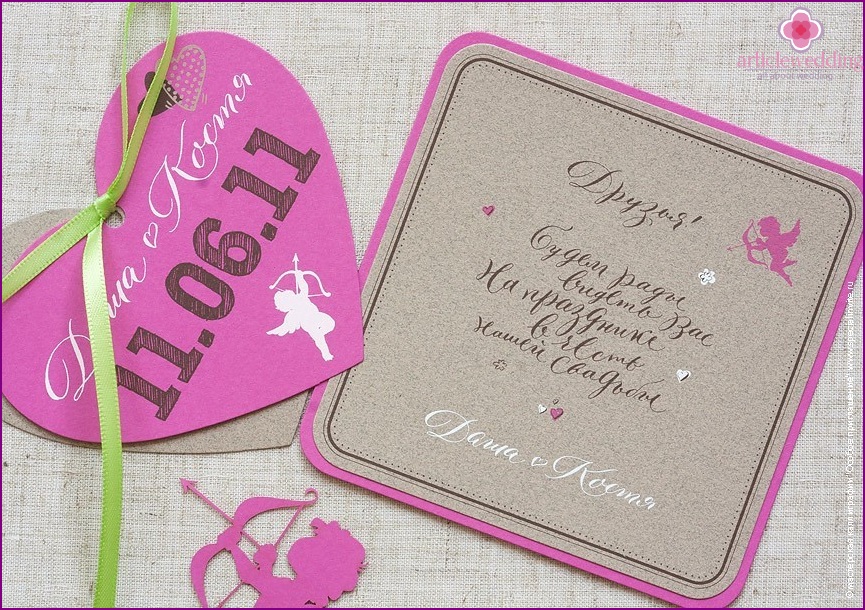 What is necessary to specify in the invitation?
Remember that regardless of the invitationStyle should contain the date, time and address of the wedding. If your celebration consists of several parts (for example, marriage, wedding and banquet), you must specify the time and place of each of them.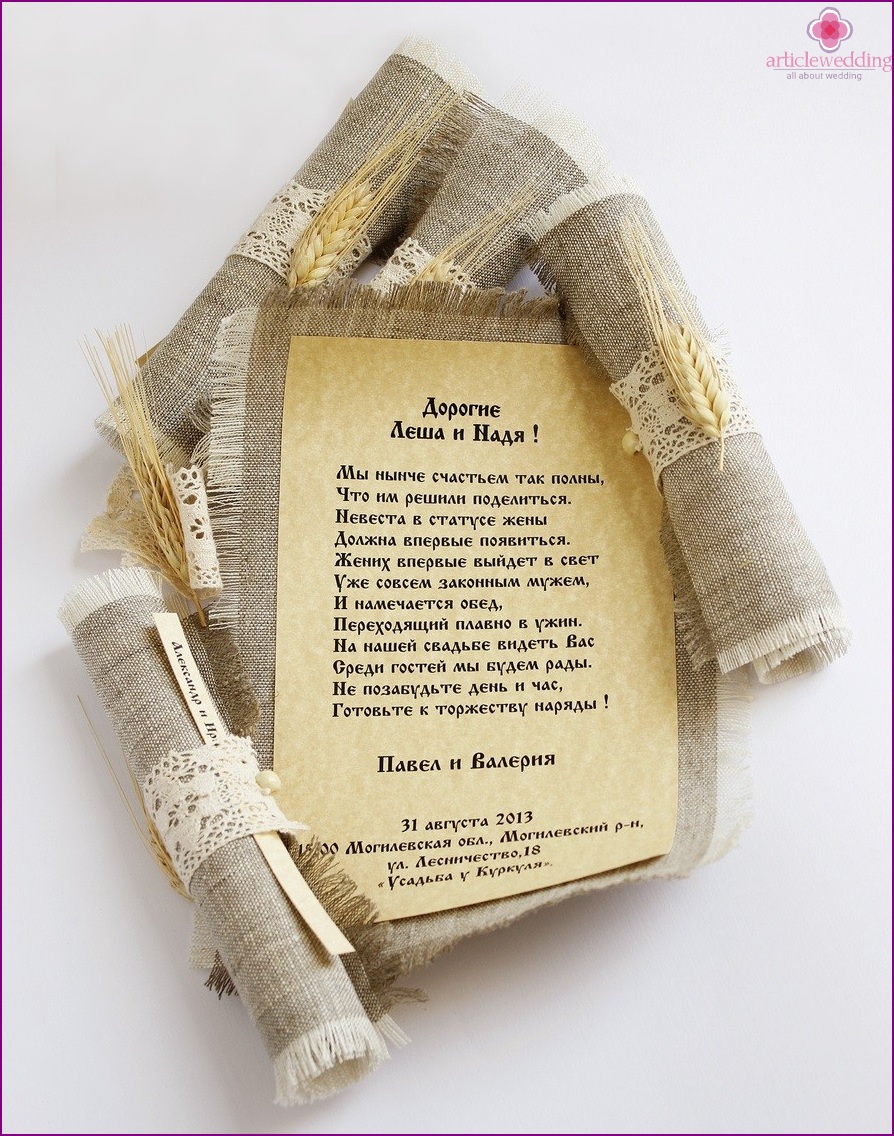 Create text wedding invitations - businessquite difficult. But do not be lazy and try to think through every detail - your guests will be satisfied and come for a holiday in a good sunny mood! Note: Invitations can be compared with the hallmark of the future of the family, they set the tone of the wedding!