The history of the umbrella has its roots in ancient times. Already in the 5th century in the ancient Greek women used umbrellas as fashion accessories. Ten centuries later, European ladies walking with umbrellas at Palace Park. And in the 19th century the Chinese have found ingenious way to make water-repellent umbrella. Since umbrellas are mainly used to protect against rain. However, this accessory is not lost attractiveness for stylists, who create ever new models of umbrellas. A bride can take them to a photo session or decorating or holiday.
Lace umbrella
The most popular kind of umbrella for weddings -lace. There is nothing surprising. It perfectly complements the image of the bride, especially with lace veil and dress trimmings. This umbrella is well suited for a romantic wedding and themed photo shoots (vintage or historical).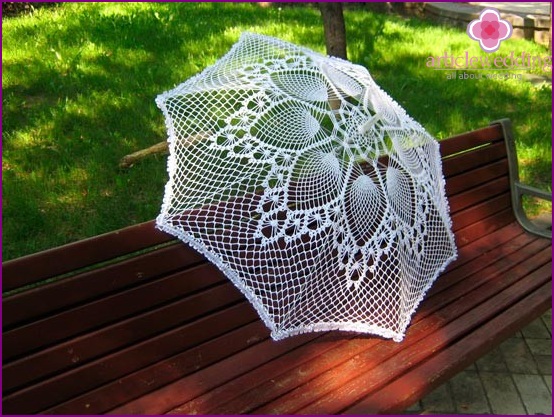 Funny umbrellas with prints
For the bride and groom humorous weddingwww.articlewedding.com portal can advise brightly colored umbrellas or model with cheerful prints. These accessories will make the photo shoot perky and fun. Using the "serious" and funny umbrellas, have fun at the wedding photo shoot, tell stories. A good option - joint staff with the guests.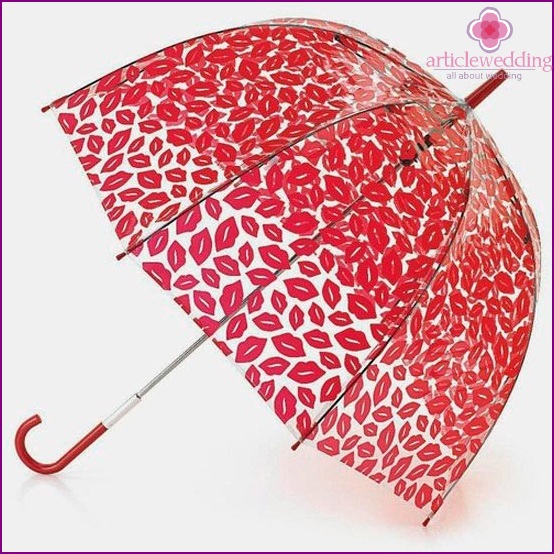 Chinese paper umbrellas
Chinese umbrellas perfectly decorate the wedding, as wellas well as photography. They can be issued Stand-up area or an exit registration. They are good for summer photo shoot, when, thanks to the sun, it is possible to draw silhouettes. In addition, these umbrellas are exotic enough to use them in a themed wedding.
personalized umbrellas
Try to make the whole personality? Want to creatively express themselves at the wedding? Do it yourself or order a unique umbrella for your sketches. For example, write on your own umbrella name, initials, the word "love" or "thank you", the celebration date, etc. These accessories are original. Use them as photography, as well as in the design of the wedding hall.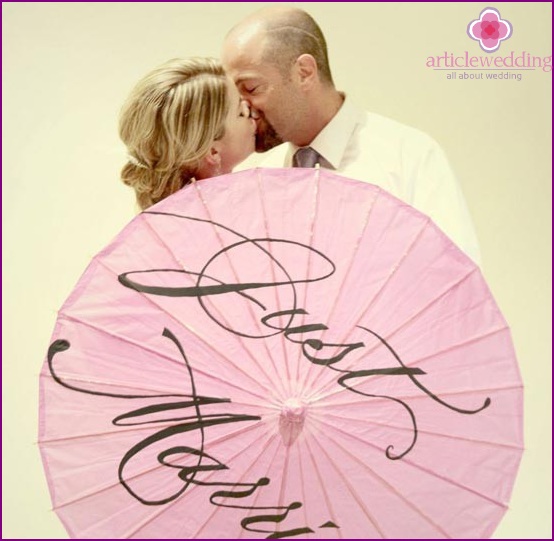 Transparent umbrella
Perfect for wedding photo shoots -transparent umbrella. It is quite unusual, so ideally looking at photographs. It allows the photographer to experiment with staged shots, selecting the most original scenes. This will make the photo look like frames from a movie.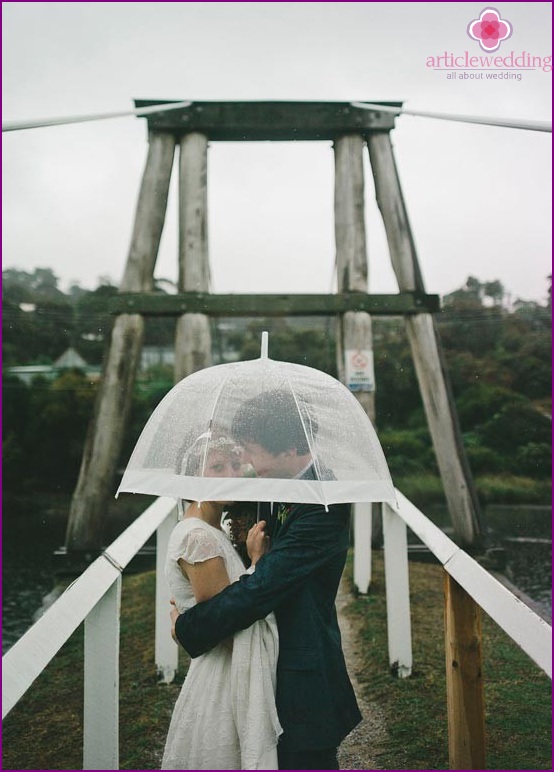 Umbrella fabric
The original subject - the bulk of the umbrella fabric. It can be ordered in specialized stores wedding accessories or to make his own. To do this, you need to purchase a few scraps of fabric, twist them and sew on the umbrella, preferably white in color. Umbrella fabric make extraordinary photos. It is good for bright color schemes weddings.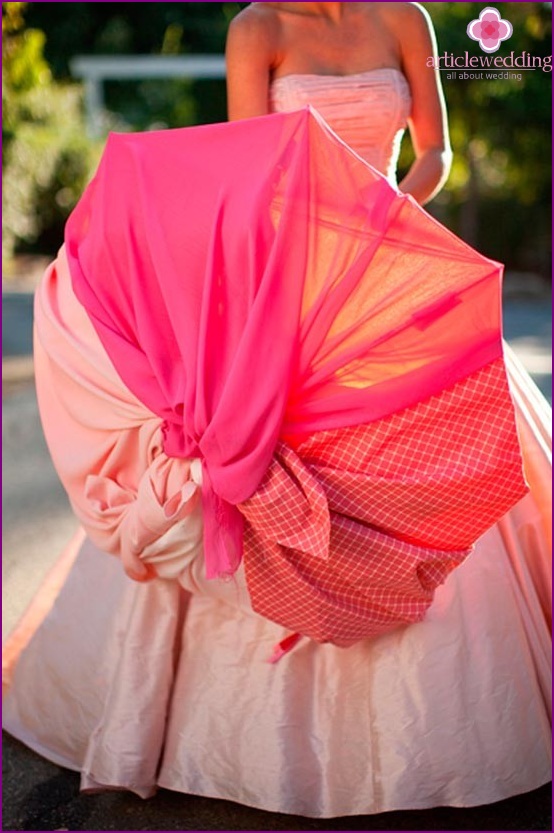 Small dessert umbrellas
The little paper umbrellas make it easy andfun to decorate wedding. They are inexpensive and colorful, making it particularly suitable for use in the preparations for the wedding, I'm sure the site www.articlewedding.com. Use them for decoration of desserts, drinks, candy boxes, boarding cards and bouquets of flowers on the tables. They will make the holiday more original, happy and stylish.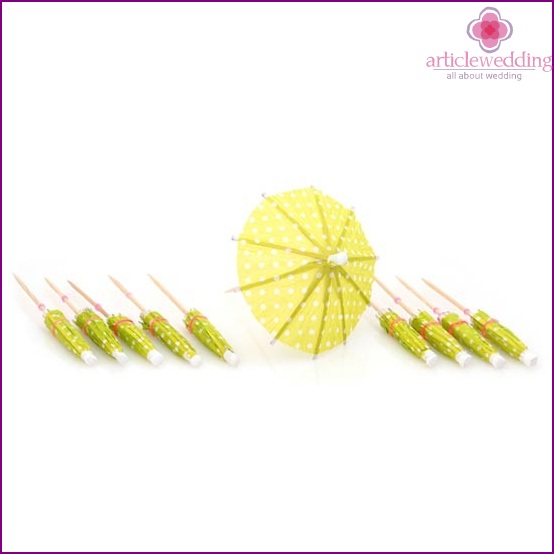 Large garden umbrellas
Going to organize a wedding in the garden? Here you will also be useful umbrellas, large garden. They will shade the tables and make more comfortable banquet. Good idea - use umbrellas of the same color as the greens at this time of the year. Then the umbrellas become like transparent. On the other hand, arranging colored wedding, should give preference bright umbrellas, appropriately selected shades.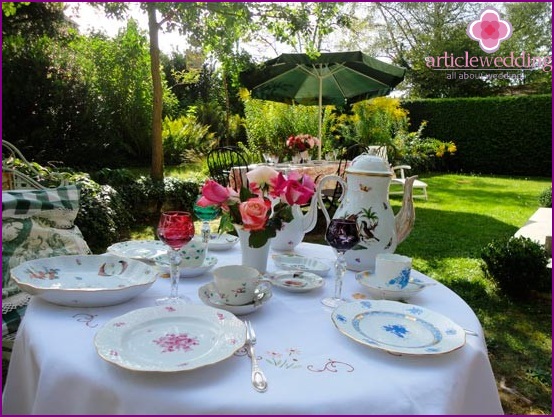 Umbrellas - a convenient and colorful accessory for weddings. Pick the style that best suits your wedding style. And then will arrange a holiday original and colorful.