From Western Europe comes to us a lot of weddingtraditions. One recent - bonbonnieres it, i.e. small gifts to the guests memory and in appreciation for attending the celebration. Usually they are small beautifully decorated gift box, which put sweets, glazed almonds and thank you cards. However, the couple may give guests a more original and candy boxes, and as described in this article.
Classics of the genre in a modern way
Put in bonbonniere candy - a versatile andwith respect to a budget option. But sweets and you can choose an interesting, for example, chocolate balls, nuts glaze or in chocolate, sweets with names corresponding to your wedding theme, cupcakes and cakes. Great idea - bake your own wedding cookies on the "firm" recipe from the newlyweds.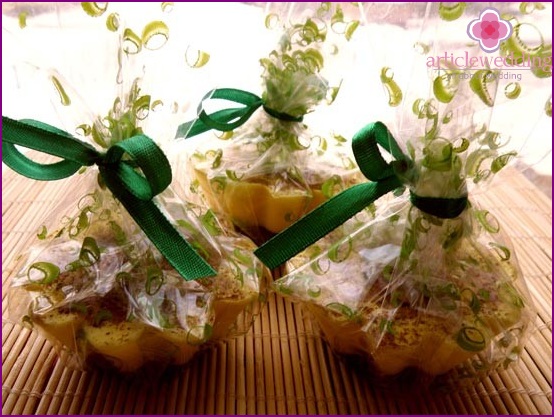 Wedding Favors
What is an essential attribute of the wedding? Different characters on the theme of love and romance. For example, angels, twin doves, Amurchik, heart, picture the bride and groom. Wedding portal www.articlewedding.com offers to purchase or make their textile angel hands and put inside a special bag sweets.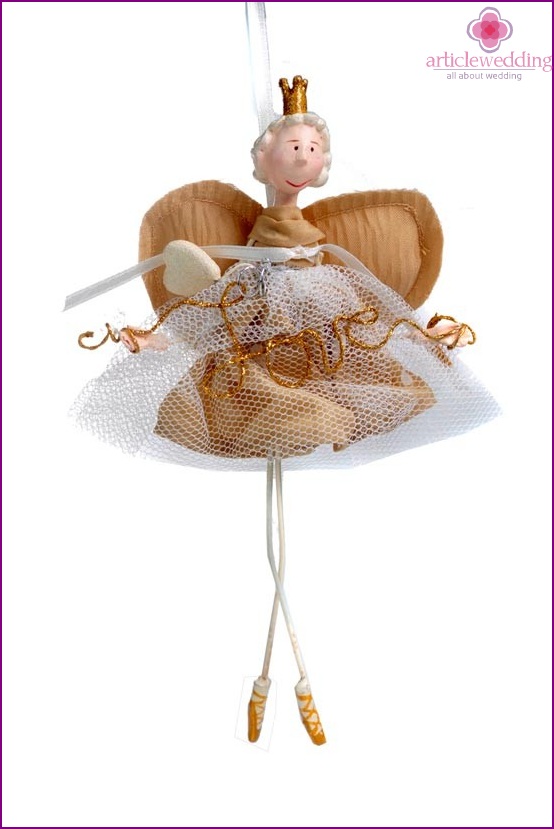 Tea and coffee gifts
Universal version of filler candy boxes,which will be enjoyed by both young and older generation - tea and coffee. For young people, you can choose the flowers and fruit teas, for the mature generation - elite varieties, and for the elderly - herbal.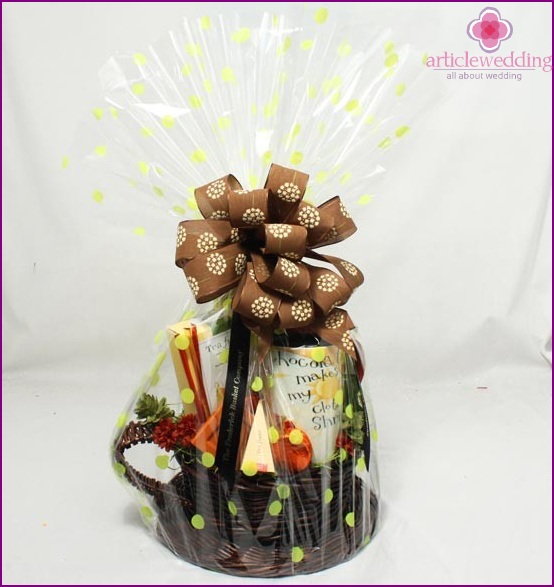 Eco-bonbonnieres
Women of the guests like the souvenirssmall plants in pots. It can be flowers, succulents and herbs. In addition, some companies today are made souvenirs with plants in key chains, which also will look great as wedding candy boxes.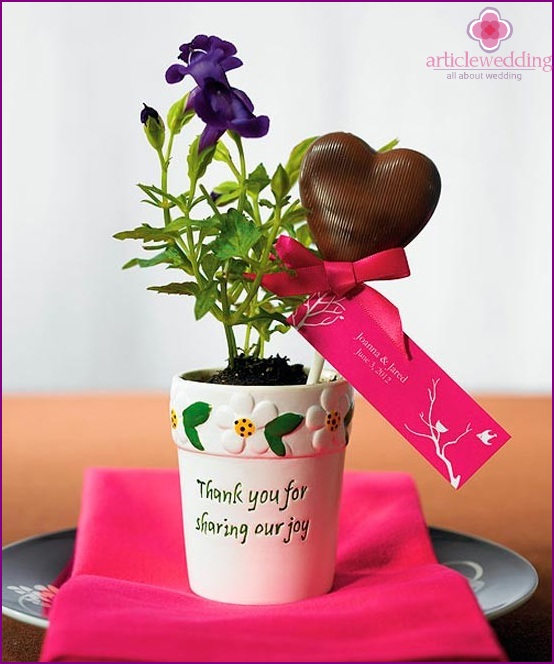 Bonbonniere for Ladies
Treat lady handmade soap, bath salts or even perfume probes in wedding candy boxes. These souvenirs are distinguished sophistication and always timely.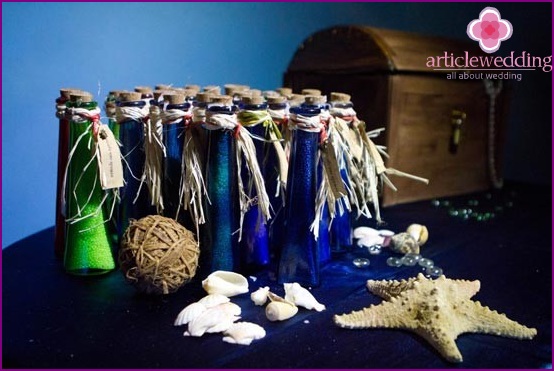 Bonbonniere for Cavaliers
Male part of the invitees might likespecially made for the wedding flashlights, compasses, business card holders, and an hourglass. This traditionally male souvenirs. If they decorate the engraved nominal thanksgiving, they serve as excellent gifts in candy boxes.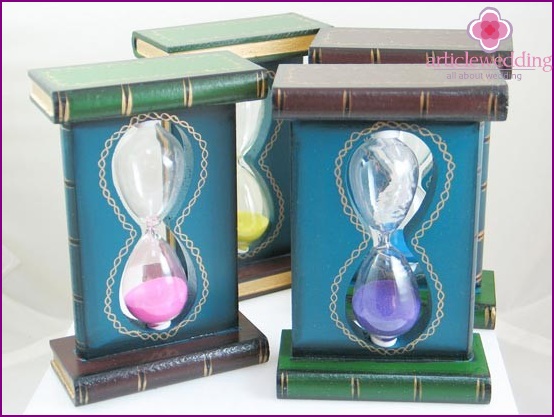 Remember the little ones
Who else is so sincerely happy gifts as children? Younger guests will be happy to candy boxes with toys, fun art supplies, designers lego, puzzles, bubbles, and other children's gifts. Put a souvenir in a colorful box decorated with colorful ribbons and fairy-tale characters, and the joy of children is not the limit!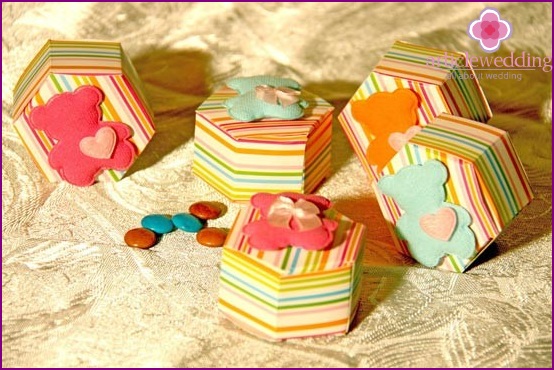 Winter bonbonnieres
Those who celebrate a wedding in the winter, in his own waylucky, said www.articlewedding.com site. After all, winter sweet dishes so many ideas: souvenir snow balls, Christmas decorations, snowflakes, Christmas gifts (Santa Claus, reindeer, elves), gingerbread, etc. Think of the joyous winter festival - and options for candy boxes come themselves.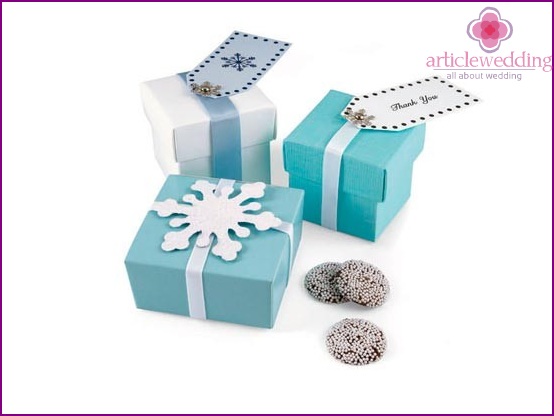 Wedding decoration
Even if you decide to put in bonbonnieresthe usual sweets or small chocolate, think of the original design of the actual boxes. For example, separately for ladies and gentlemen, children and adults, and can, make of them as many as bonbonerochny cake. In any case, beautifully packaged and beat with a souvenir donation is already creating a joyful, festive mood.
Carefully selected souvenirs, carefully packaged and presented to the soul - that is what makes these wedding candy boxes.