Such accessory as a wedding veil is no longermandatory for the bride at the ceremony. But every girl dreams of being a princess at his own wedding. And so the bride pays tribute to tradition and still wear this beautiful snow-white wedding image element.
The choice of wedding accessories today is huge. The same applies to veils. Our site www.articlewedding.com tell you about all kinds of veils and how to choose it correctly.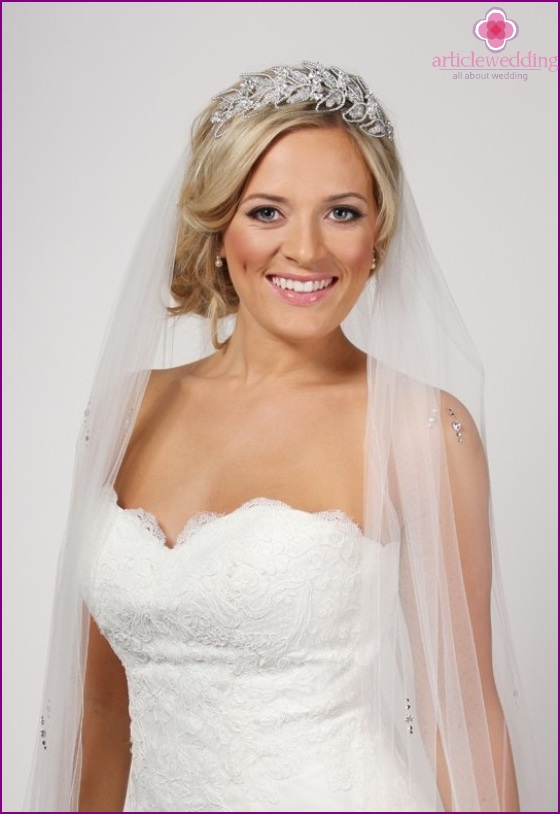 What is the length of the veil?
First - it is a veil to his shoulders. The length of this veil is 60 centimeters. This veil is ideal for short wedding dress and a long model with corset and fluffy skirt. It balances the upper and lower parts of the body.
Second - Fata 80 centimeters to the elbow. It is a classic option, suitable for most wedding dresses.
Third - the veil on his hands level. Length veil - 110 centimeters. This length is the most popular among brides. But this veil is not exactly suited to very short dress.
Fourth - the veil for wedding or cathedral veil. Its length is 230 cm and longer. This veil is recommended to wear a dress with a train. Besides veil should be longer loop. This title has received a veil because it is very popular in Western countries at a wedding in a church or cathedral.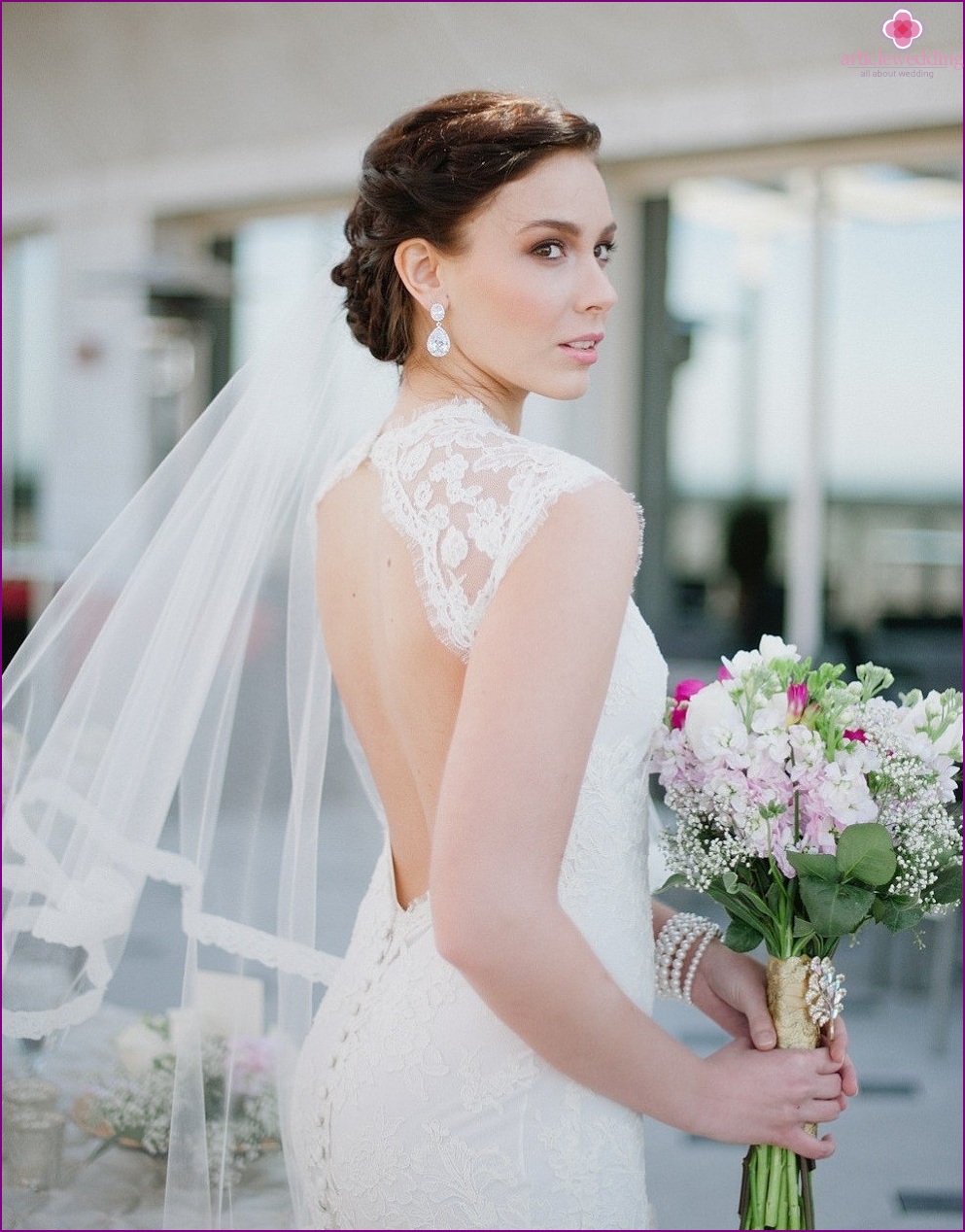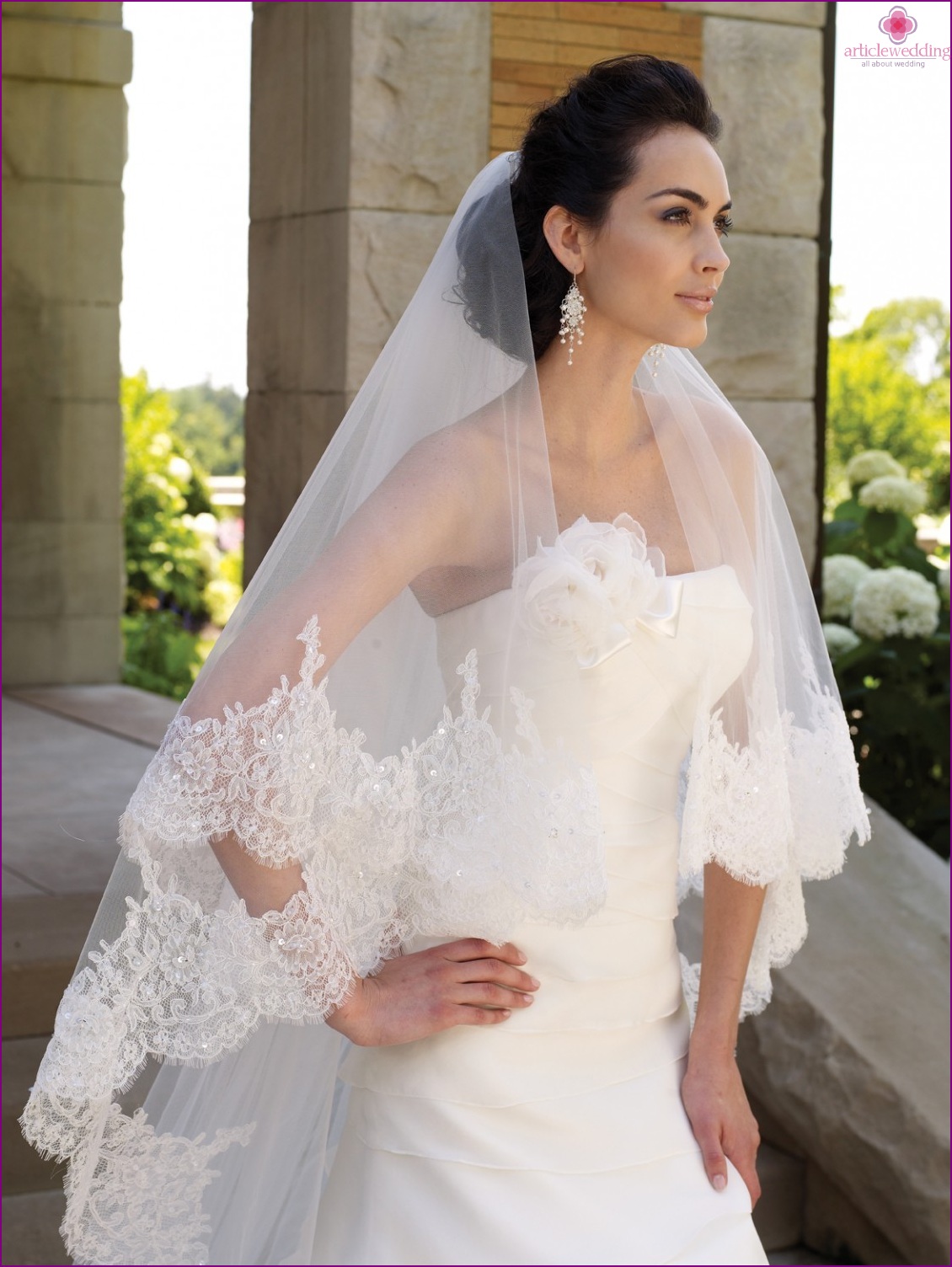 How to choose the veil?
In order to choose a wedding veil, follow a few simple rules:
Choose a dress
Yes, in this order: dress first, and then the veil. Better yet, to the choice of dresses and veils took place at the same time. This is very important as the dress and veil may not match, and it will spoil your image of the bride.
Pick hairstyle
Decide with wedding hairstyle - on thisIt will depend, as will be attached veil. If you want the veil has been virtually invisible, attach it back hairstyles. And if you want it to be abated in the shoulders, then attach it should be at the very top of the head.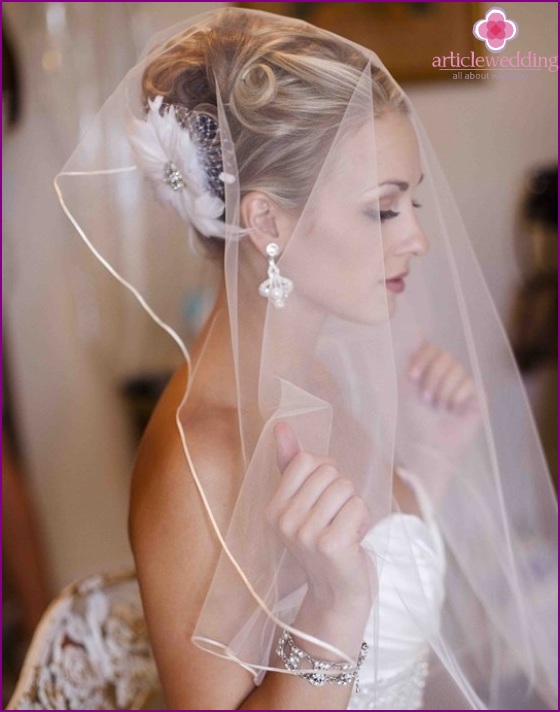 Do not overload the image
Do not overload the wedding image. If you have a simple dress without ornaments, the veil you can afford elegant. If the dress is embroidered with beads or lace, the veil must be the simplest. You also need to bear in mind that the veil should not end at the decorated part of the dress - it must be either higher or lower. And remember about balance: lush must be either a dress or a veil.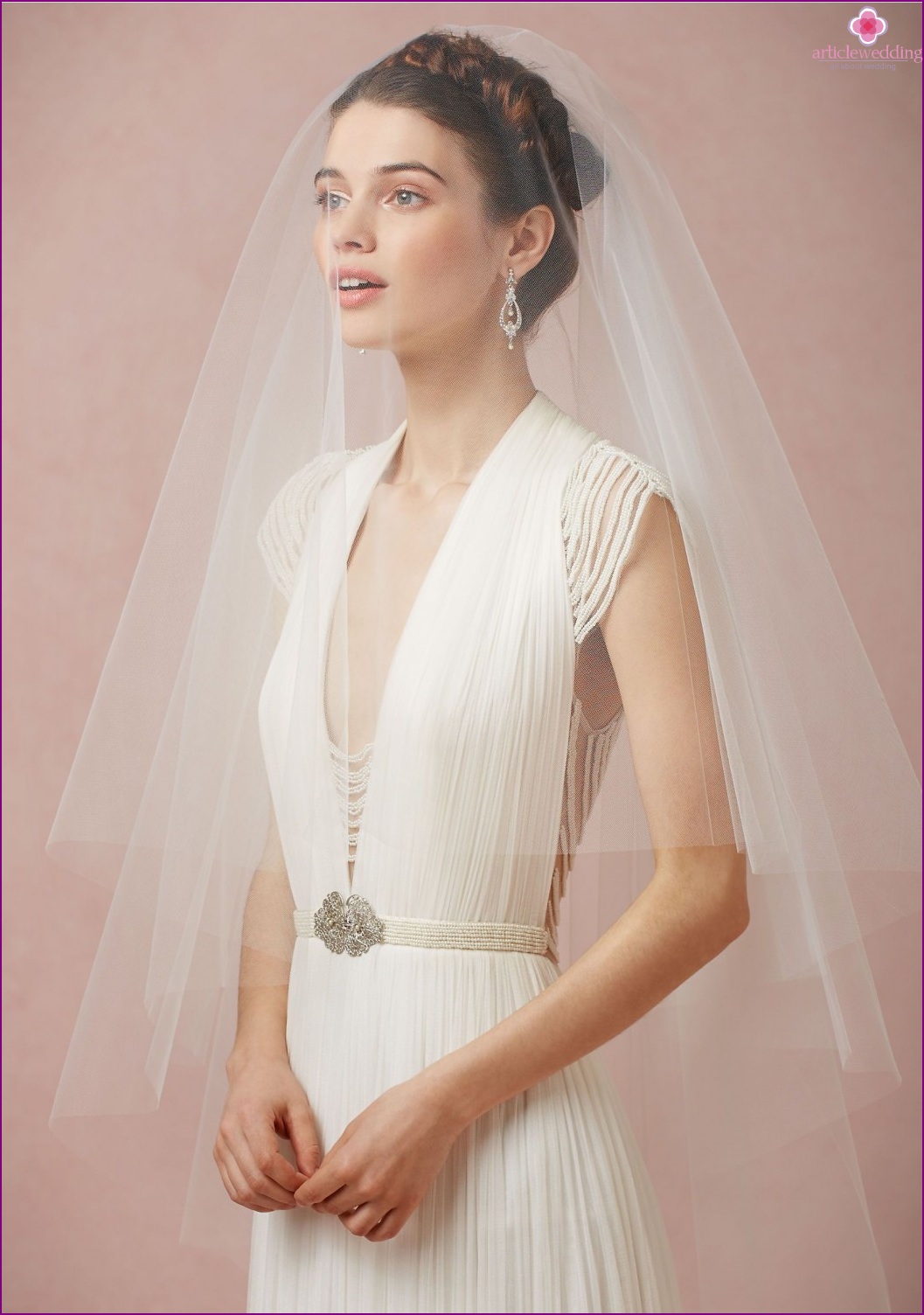 The figure and range of veils
If the veil is chosen correctly, it cancorrect your figure. Bride with a curvy shape will not fit too short veil and lush layered veil - they only emphasize the roundness of the figure.
To hide the tummy and large breasts choose a long flowing veil.
Girls with small breasts and lush hips better to pick up a veil to his shoulders or elbows up. This veil will hide the excess bulk thighs.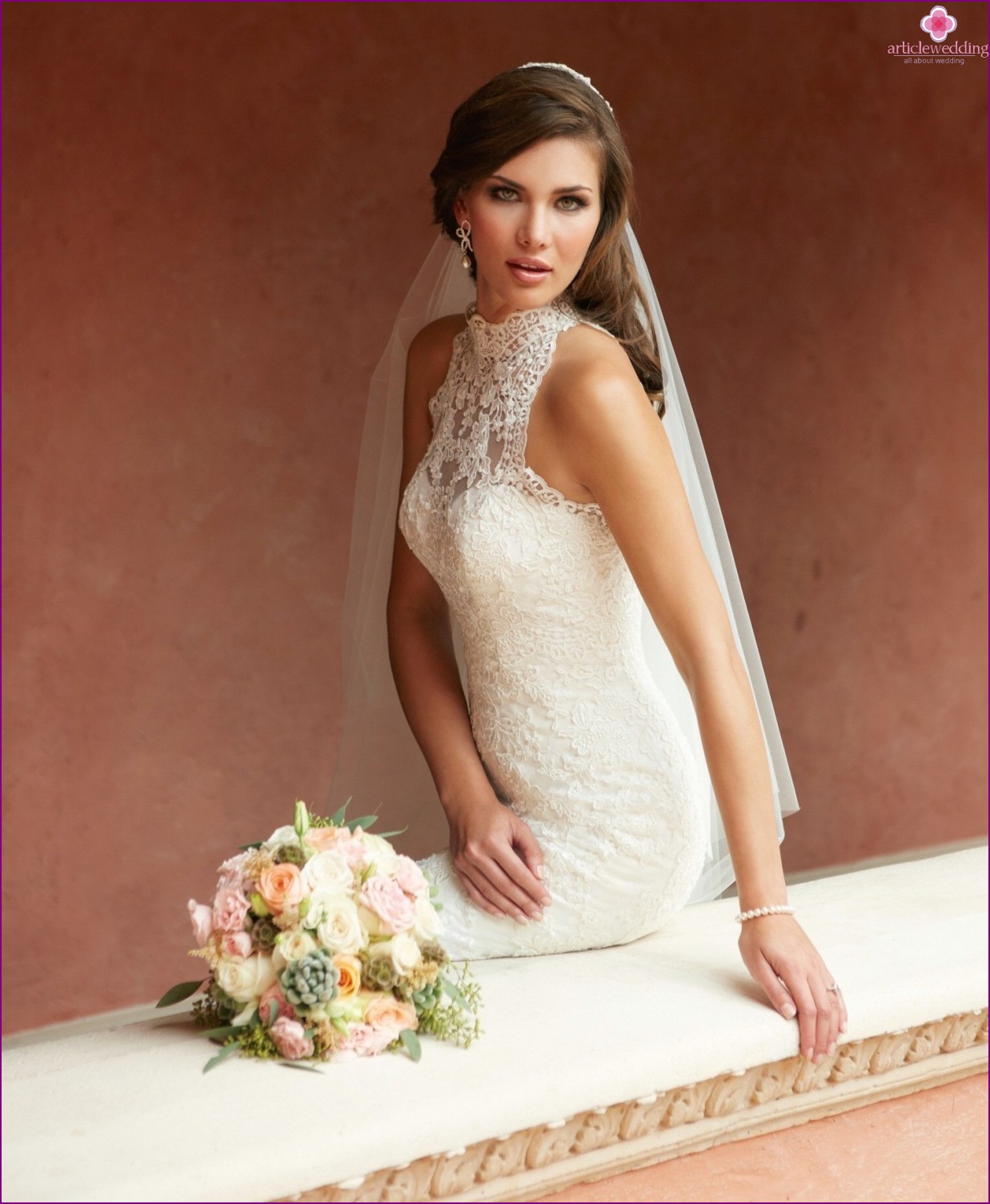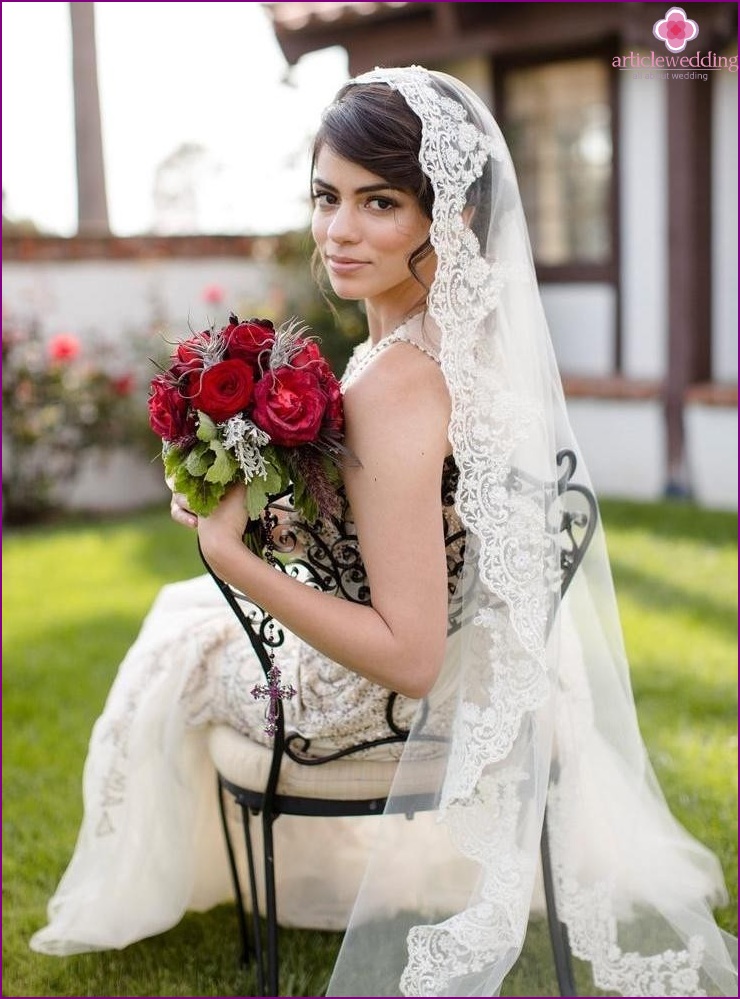 If you have tried the veil and see what it is youIt is not, discard it. Do not wear a veil in order to please others. But you can give, and quite the opposite advice: if you decide not to wear a veil at all, yet try on a few. After all, you may find that you enjoy it! Our portal www.articlewedding.com advises: do not be dogmatic and consider all possible options.