How would loudly and boldly it may sound, however,white, beige, gray, cream and other traditional colors wedding shoes for a long time are not stylish and trendy. Today, much more relevant juicy, bright colors. What they have earned such popularity?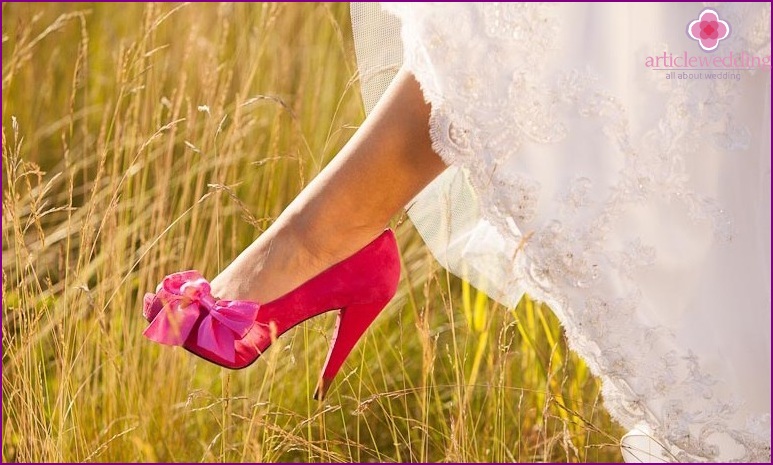 Bright wedding shoes - an additional advantage of the bride
To truly appreciate the advantage of brightbridal shoes, www.articlewedding.com portal for comparing first decided to consider the main drawback of the traditional white shoes. If we analyze, the majority of these models after the celebrations go on the shelf and almost never change their location. These shoes, which occupies a place of honor in the locker room, no more than a memory. After the holiday, hardly anyone would wear it again, in the best case, some similar event in conjunction with the evening dresses, but the likelihood of such a development of events is small. After all, someone else's marriage is not accepted to go in a white dress and a white colored outfits option is unlikely to fit.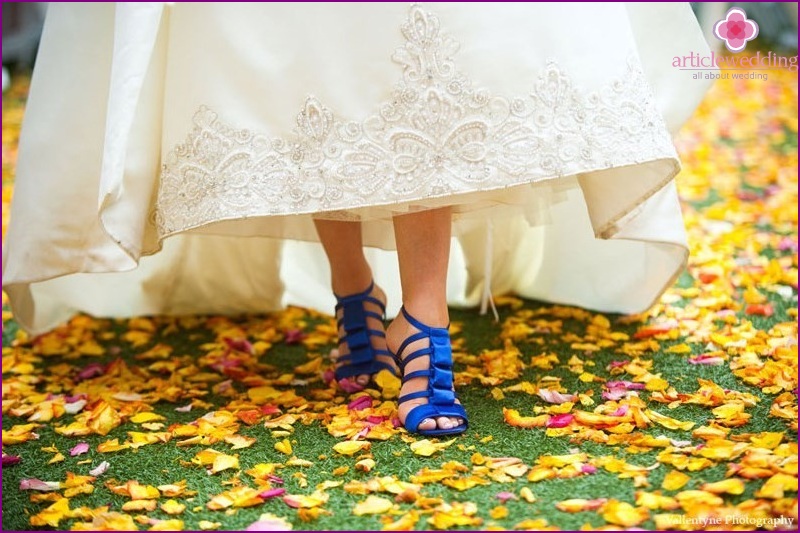 The fate of the bright wedding shoes more interesting. For example, if you choose the shoes, not only in contrast to the white as well, but in the tone of a favorite evening dress or just everyday, in the future shoes will be happy to put on more than once. In addition, each time you can wear again with joy and warmth wedding to remember pleasant moments.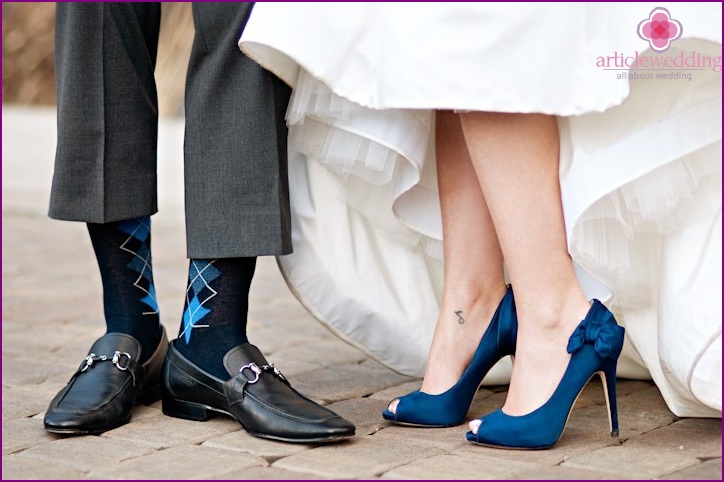 Another indisputable advantage of the bright shoesbride is the fact that white dress, beat other colors sparkle with a completely new way. This addition will add richness to the wedding dress, as well as the flavor and intrigue around the image.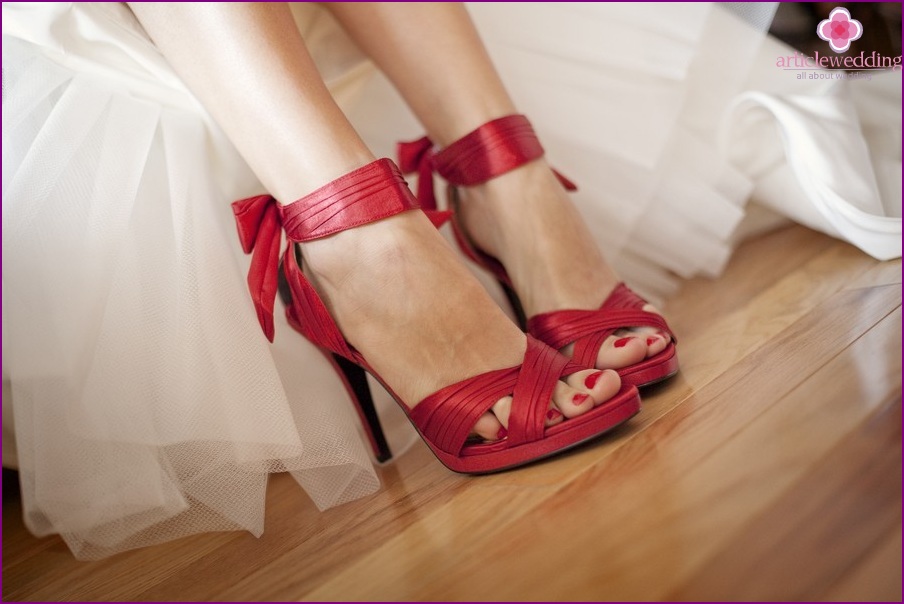 Basic rules for the selection and wear bright wedding shoes
The advantages are obvious bright wedding shoes,but not so simple as it might seem at first glance. Buy just any colorful shoes to the white dress does not work, should take into account a number of rules. For example, the selected model should clearly match the style of dress and specific topic of all celebrations.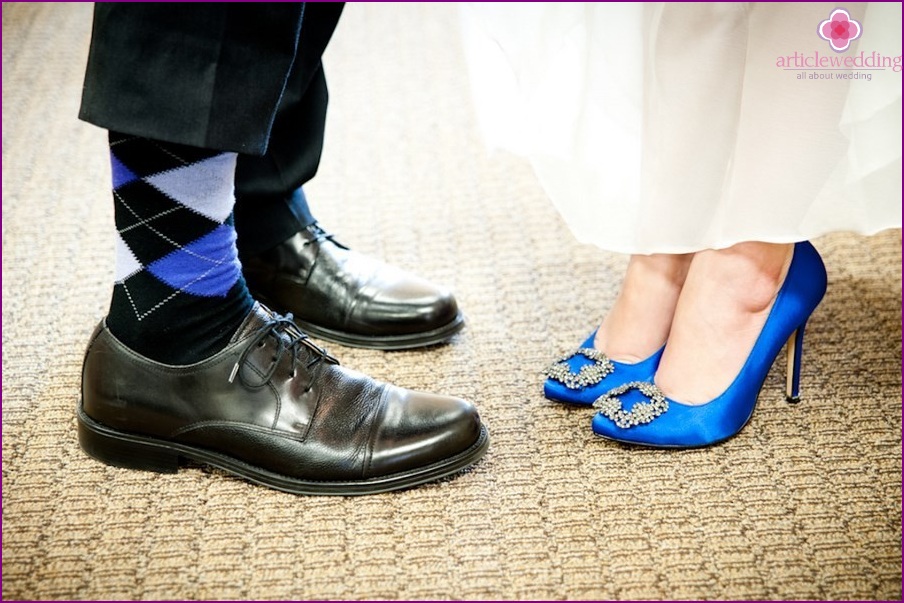 Also in the selection of shoes as jeweleryaccent wedding dress can give preference to not only color models, but also variants with polka dots or flower, leopard or zebra color and etc.
An important rule is that the shoes are notshould be the only bright accent, it is to beat the number of accessories in the same color (bracelets, necklaces, brooches, etc.). The only way to make a wedding dress for a truly harmonious, expressive and impressive.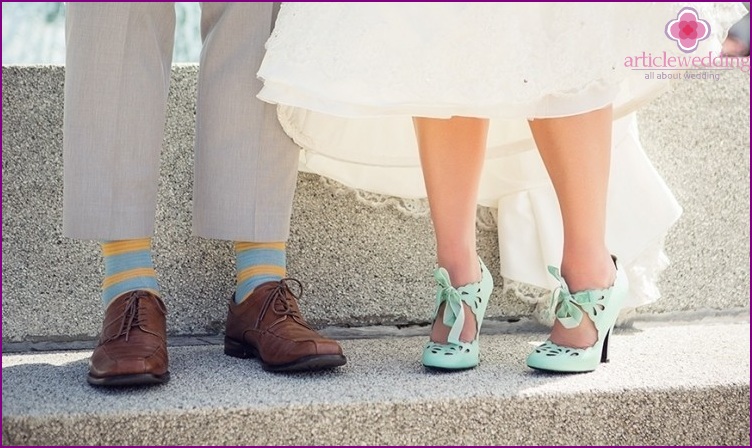 Quite a profitable course will be a combination of shoesbright colors with a bouquet of the bride. It is necessary that the flowers in the last echoed the hues matched shoes. The variant and a wedding bouquet of white flowers, but in this case it is necessary to add a decoration in the form of colored satin ribbons, especially well will look bow with long tails at the bottom.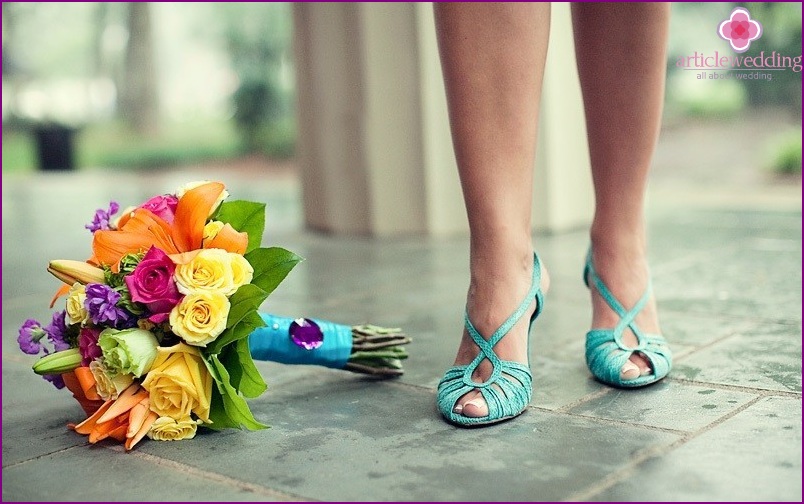 As a guideline, it is worth mentioning one morerule. Bright shoes you can pick up in color socks bridegroom, though in this case it is necessary to take into account the opinion and of the elect. If you manage to find a compromise, it is a colorful spot in a wedding dress Young will give a special touch throughout the celebration. And most importantly, will set up all the guests in a positive way.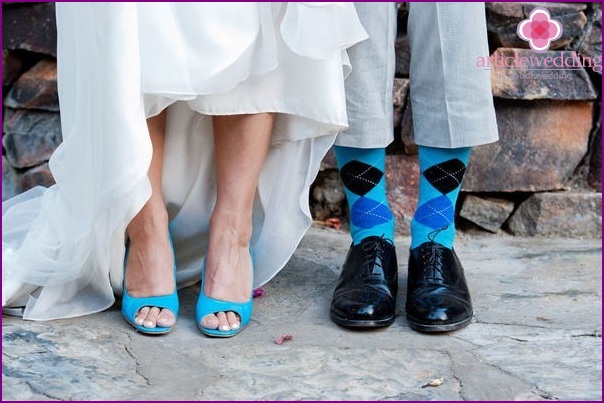 After analyzing a lot of weddings sitewww.articlewedding.com notes that the bright shoes wedding relished many Western brides. As representatives of our country, while only a few dare to such a move. But this trend is gaining popularity in wedding fashion.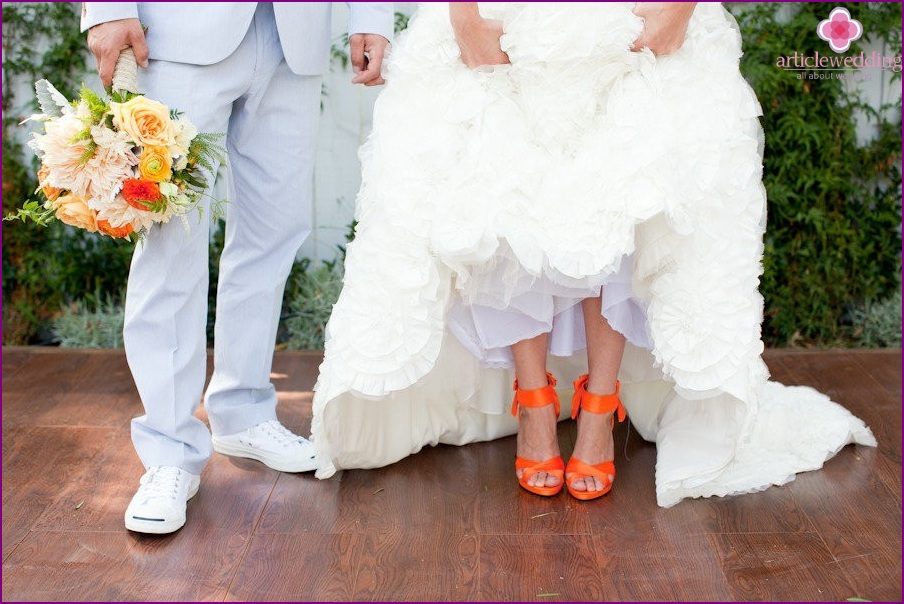 Thanks to the bright shoes bride can not justIt looks beautiful in a white dress, but effectively emphasize its individuality. This approach will allow the addition subtly show others your special taste preferences and true nature.