In the pre-wedding bustle of trouble, usually infocus is the bride. However, not only the girl should shine and be irresistible at a gala ball. No less important is the look of the bride. Do not forget at the same time that the essential components of the image of the young man are accessories - tie, watch, butterfly, cuff links, etc. Men's wedding fashion not subject to the influence of time and is not as volatile as the women, but there are certain trends.
Wedding portal www.articlewedding.com tell what men's accessory this season should pay attention to, and how to properly combine with each other.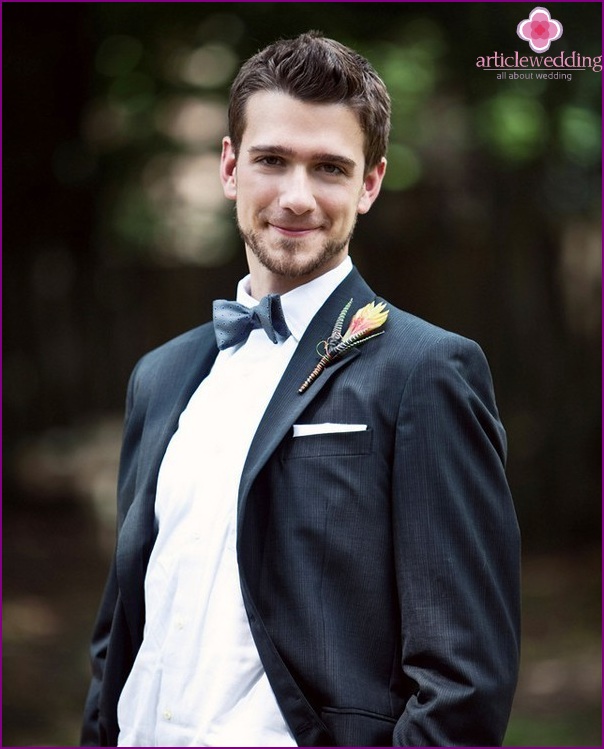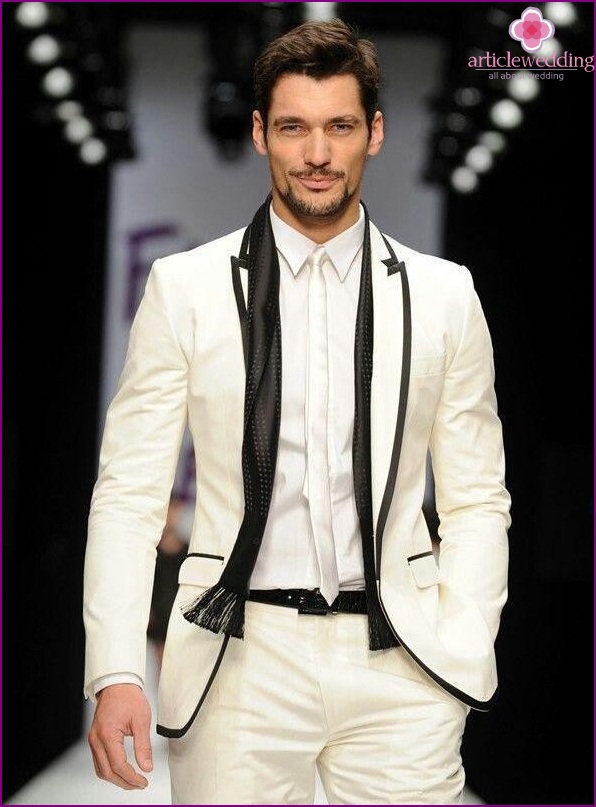 Stylish tie
Mandatory part of the male costume for anycelebration - a tie or a butterfly. Some specific fashion trends in this part of the gentleman's wardrobe is not. However, there are immutable canons, which are always relevant, and which should not be neglected if you want to emphasize the style and sophistication, not to show bad taste.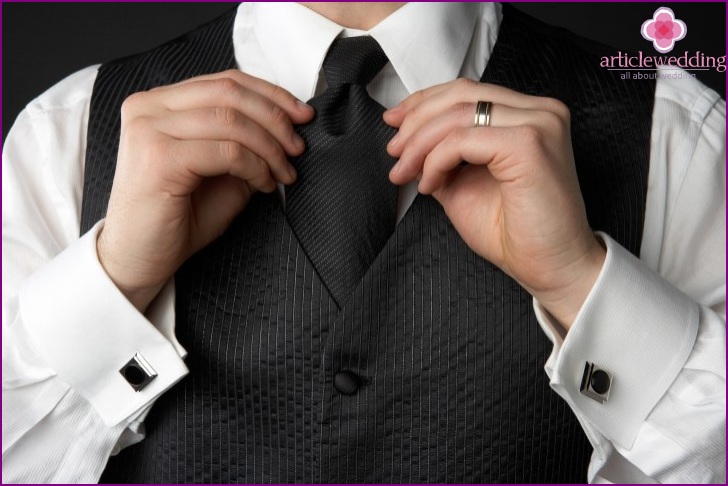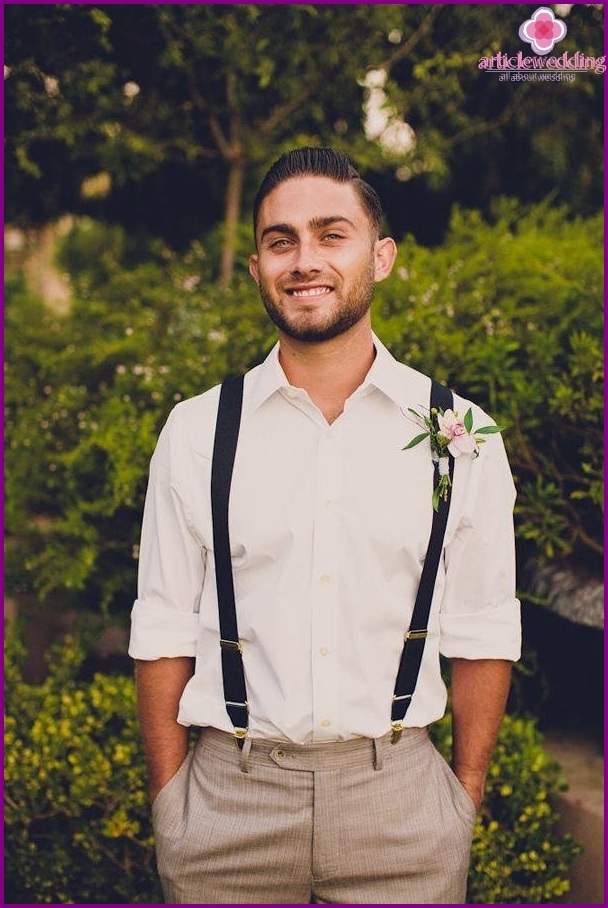 For example, if the shirt - monotonous,perfect tie with a pattern. And vice versa - if the wedding takes place in the thematic and non-traditional format, it is better to give preference to extravagant shirts with a picture. However it is necessary to balance the outfit for the bride calm and plain tie. In this case the best option for a wedding dress - tie made of natural silk.
If the bride wants to show their own weddingimpeccable taste and awareness of men's fashion, it is worth to try the game of contrasts. This season almost all the known fashion houses on the catwalk model released in contrasting ensembles. For example, using a contrasting tie many famous designers turned monotonous beige or white suit with a stylish avant-garde outfit of the modern man.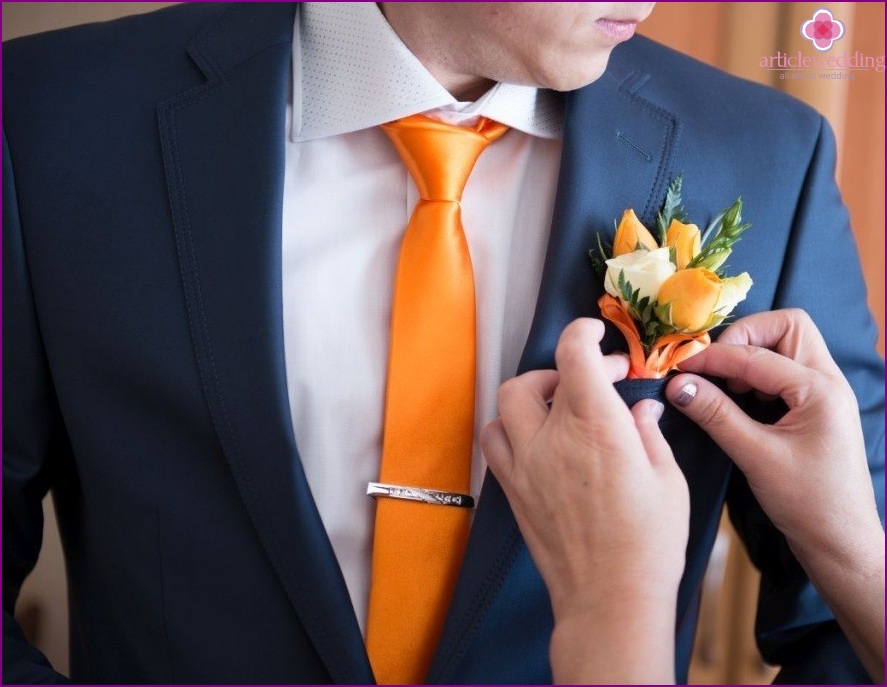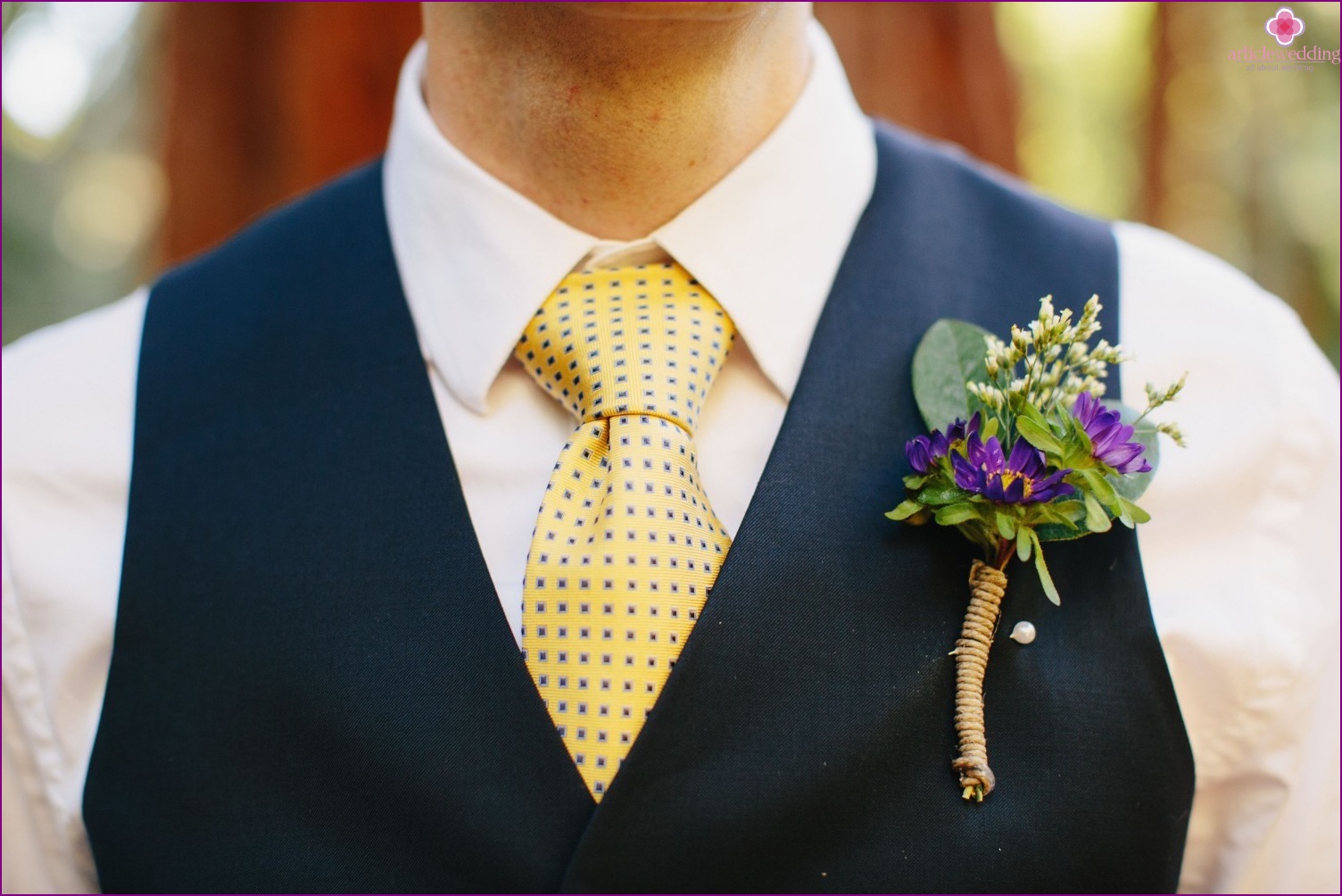 No less relevant in this year's men's fashion andvarious prints. In this case, designers offer to use a single image multiple drawings. However, for such a bold move should be resorted to only in case if you know the rules of the game. In other words - it should be exercised in all sense of proportion, and match trend trendy and tasteful restraint.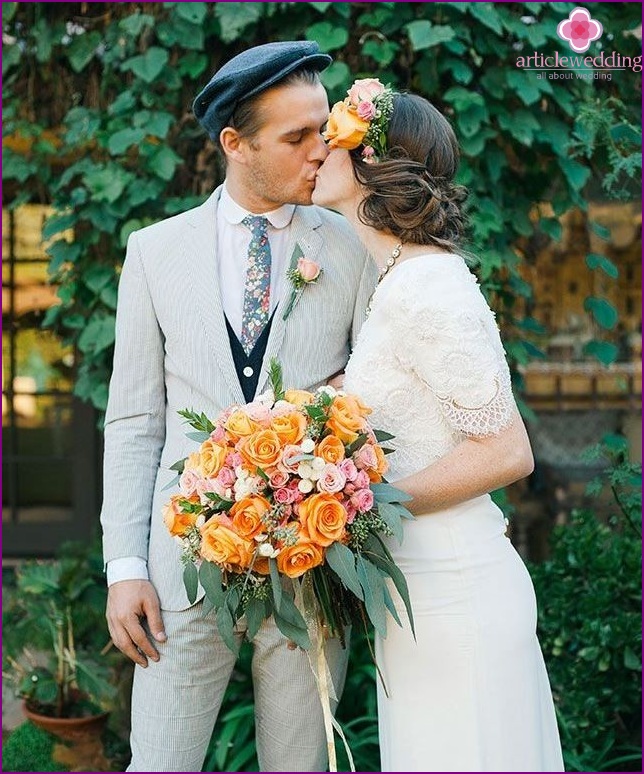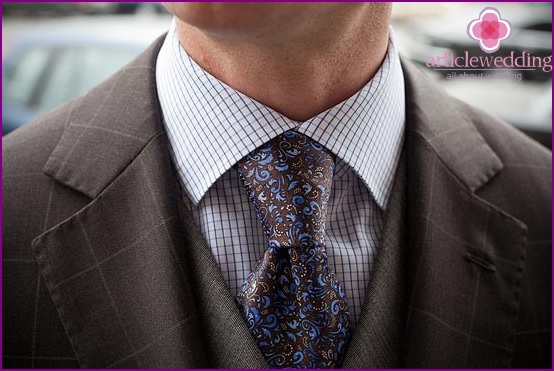 Butterfly or Ascot
Great alternative to the tie - butterfly forgroom or bow tie, which is also very popular in this season. This small, stylish accessory without undue effort will add luster and aristocracy all over the image. Today men's fashion offers a huge selection of bow ties - from the strict one-color to silk polka dots, velvet and even embroidered with sequins. The main thing that this accessory is matched suit the bride and advantageously completed the image, and does not have any dissonance.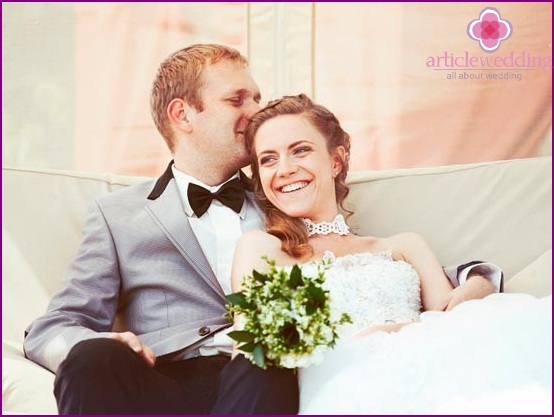 Very popular in the fashion of the season neckscarves, which will especially appreciate the creative nature, avoiding stereotypes. From such a neckerchief or a so-called bulk Ascot tied knot in the center of which stabs pearl pin. It should, however, be borne in mind that such an accessory - not the best option for the classic suit, but it will look great with a service jacket, suit or jacket, coat.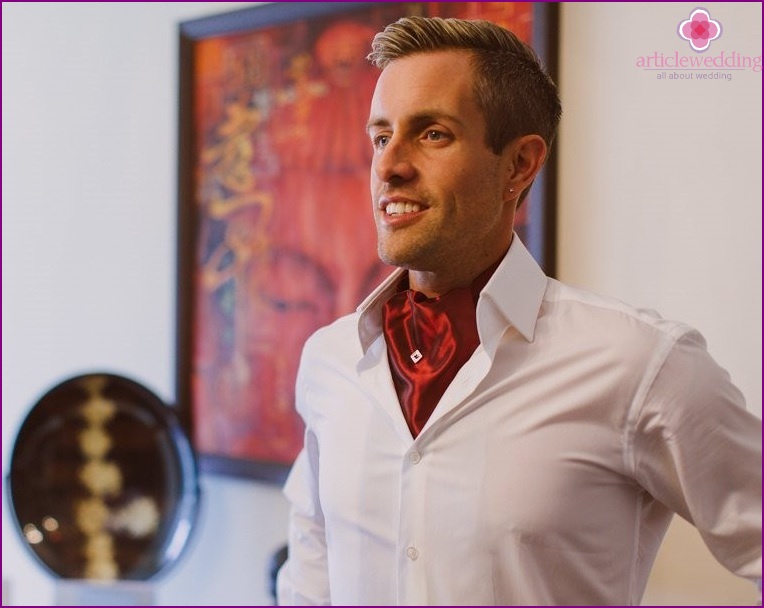 Important detail: cufflinks, boutonniere, and others.
Successfully matched cufflinks and holdertie complement the image of the modern groom. Unusual designer cufflinks today at the peak of popularity, and will be very useful if you want to add to the image a touch of extravagance. Tie clip should be in harmony with the suit and, of course, with the tie itself.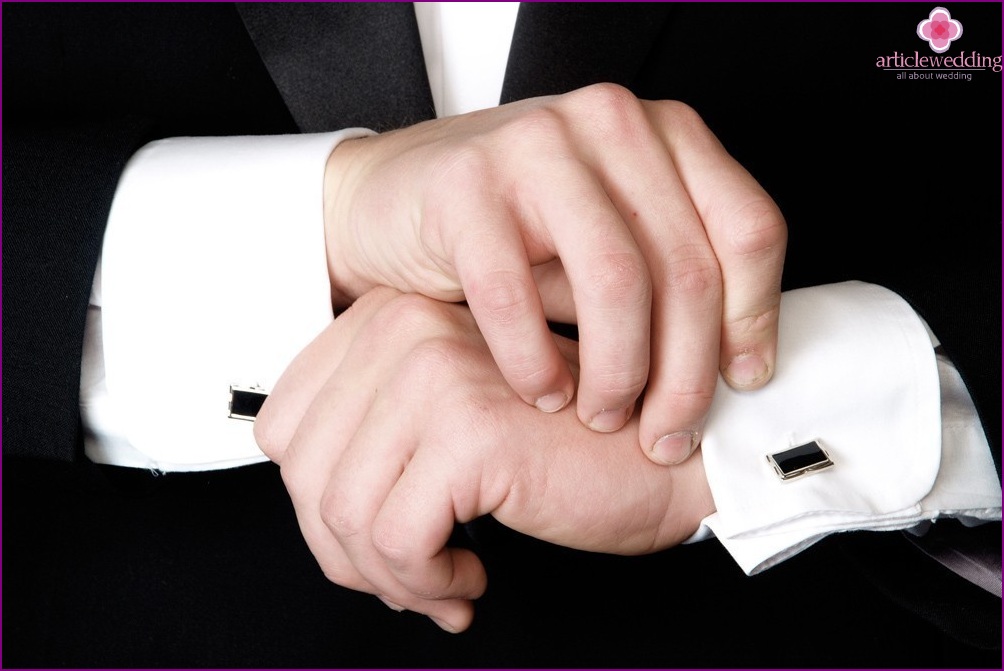 It is difficult to imagine men's wedding suit without buttonholes. Stylish and elegant solution would be a composition which will overlap with the bride's bouquet.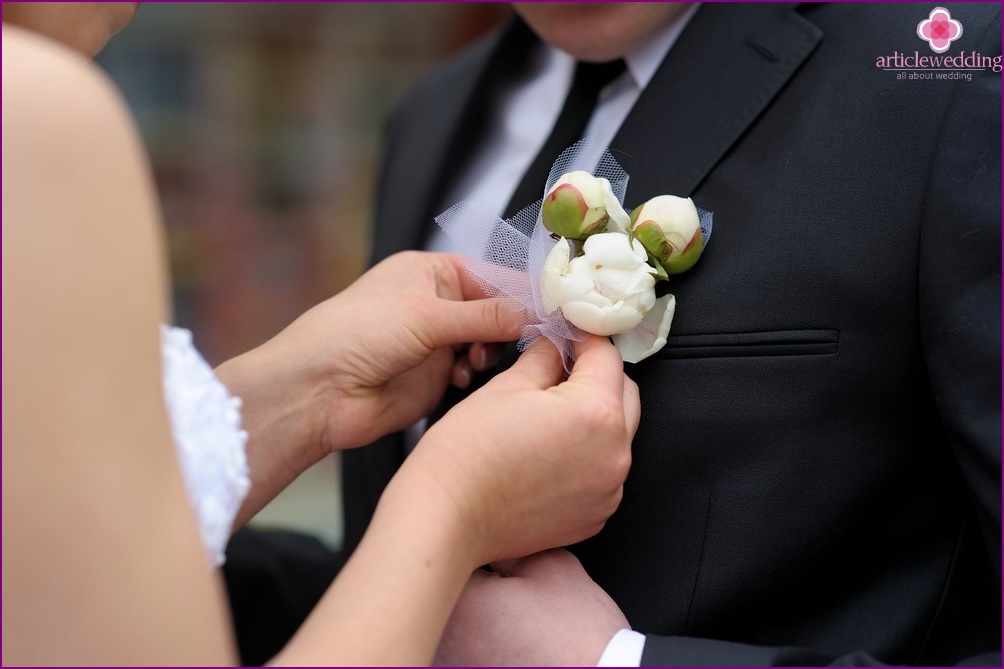 Make the image of the groom and extravagant aristocratic help hat and cheerful and positive - suspenders. What to choose, it's up to you!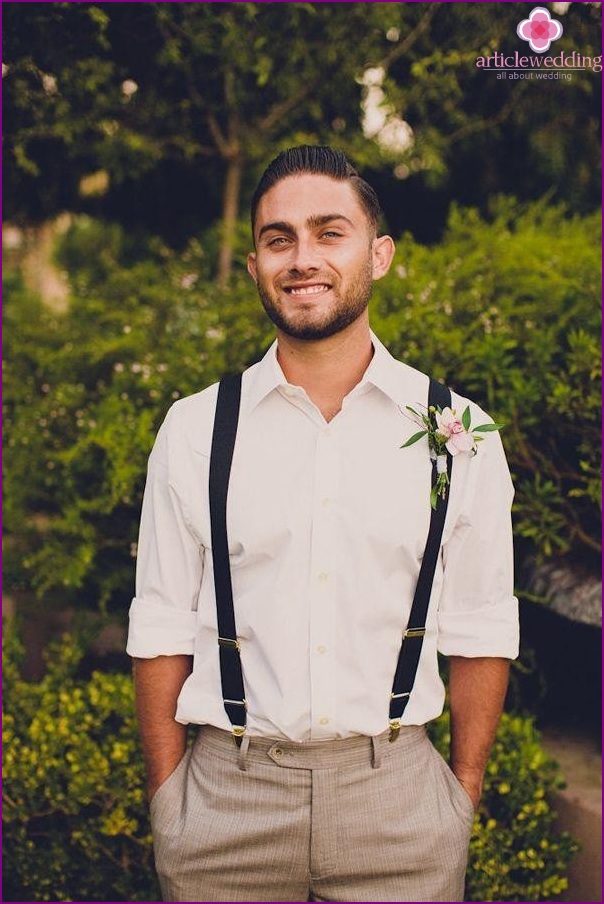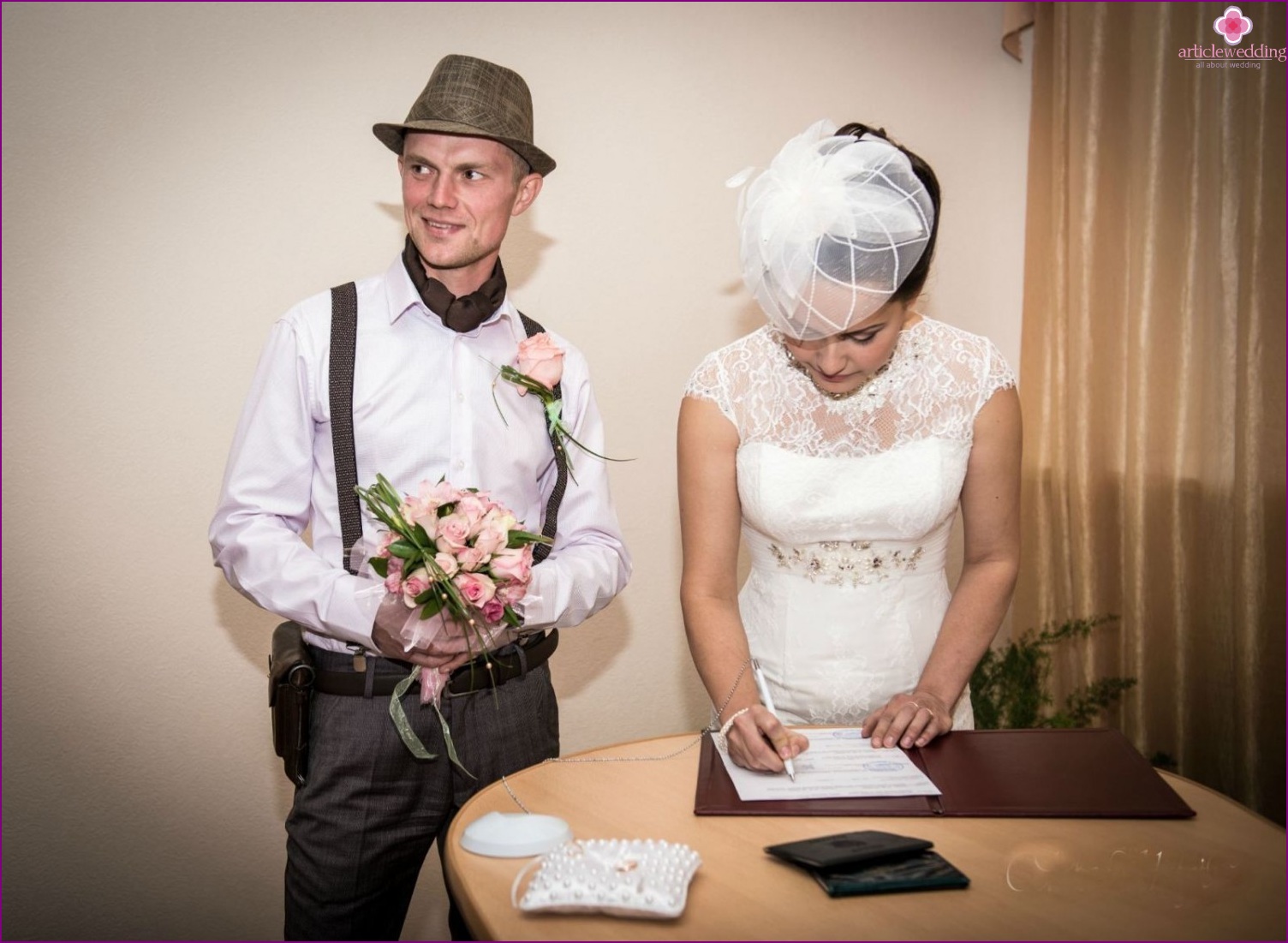 Very relevant today in men's fashion products fromgenuine leather, which has always been an indicator of taste and gentility. Leather strap or a bracelet made of genuine leather can be one highlight of which will be the final chord in creating a compelling image of the groom.
Wedding portal www.articlewedding.com recommends to focus only on any one accessory, plenty of exclusive items will be redundant and will only produce the opposite effect.