Rustic Style began to gain momentum of itspopularity since 2012. In English the word means an ordinary, rural. When choosing a wedding dress in the style of rustic inspiration look at rustic motif. However, it is worth remembering that the style has gone from the West, so the vector must be directed not at the Russian village, and on the American farm. Rustic styles are very multifaceted, extensive, so it is difficult to identify common features. The main thing - to observe the rustic style, slightly relaxed, without gloss, pretentiousness in the image of the bride and groom.
The models of wedding dresses in rustic style
Bride Apparel Rustic should beflying, air, light. It is better to dwell on a flowing silhouette, free sundress, decor hand-made lace, ruffles. The basis of style rustic are: natural materials, cream, brown, white, sand, heaven, cornflower blue, wildflowers, burlap, moss, tree. Draws its inspiration from these things. To add an image to help floral wreaths, vintage accessories, loose hair or sloppy braids.
free silhouette dress made of lightweight textile
Dress free silhouette without excessive decoration anddetails is perfect for the bride's rustic style. Pay attention to your choice of fabrics - suitable tulle, chiffon, lace. Light, natural, translucent material will create the image of a gentle girl. In addition to this, along appropriate shawls, capes, stoles, boleros that will help make the bride look more original.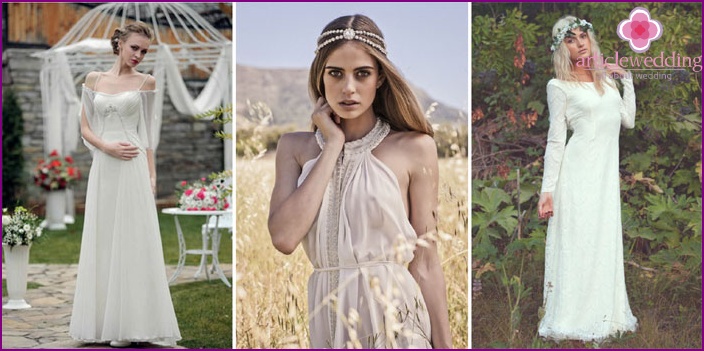 A silhouette of the translucent materials
Classic for wedding fashion A-line perfectlyIt fits into the rustic style. It helps to emphasize the shape of the bride, her youth, adds femininity, tenderness, and that pursues selected stylistic direction. Remember that the dress should not be pretentious, glossy. Do not buy a garment with glittering sequins, stones, funky decor - for this style is taboo. A suitable bouquet or wreath will be ideal accessories in this manner.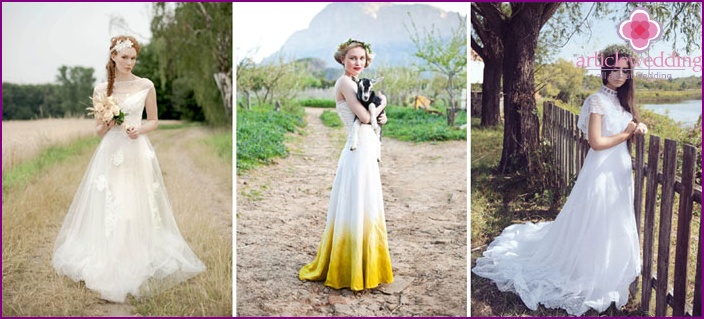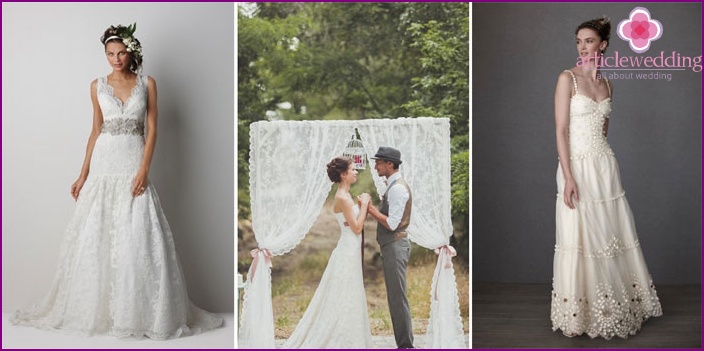 Casual dress with handmade lace
Dress made with naturalfabrics, fits perfectly into the rustic style. Choose the most simple cut, thin fabric, linen-type, calico, cotton, chiffon. Do not think that such a boring matter, show imagination and you will be able to create a true masterpiece. A handmade lace pep. Such details underscore femininity, innocence. Lace can choose a slightly different tone than the dress itself.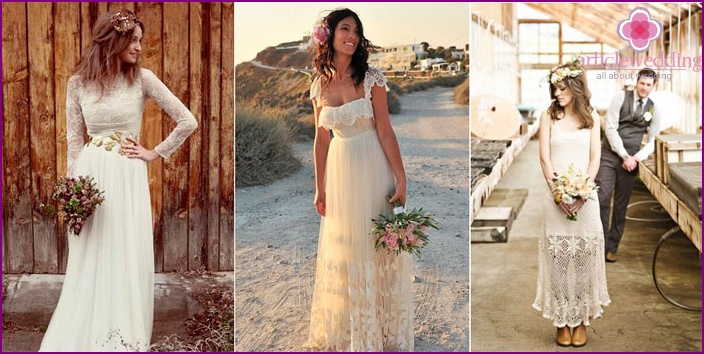 Wedding dress with a high waist and ruffles
For brides with any type of shape is suitable dresshigh-waisted style rustic. Availability frills shows robes belonging to the selected styles. Underline the chest line, light bottom - you will conquer her fiance again. The bulky jewelry, rough frills at this wedding dress should not be. It is sewn in most cases of lung flowing fabrics, crepe de Chine, or a blend of such materials from more dense.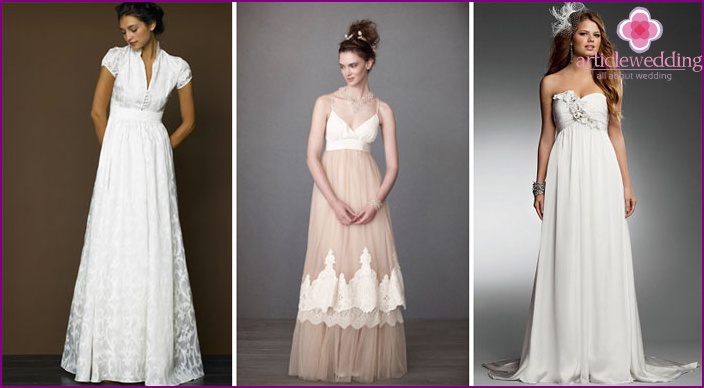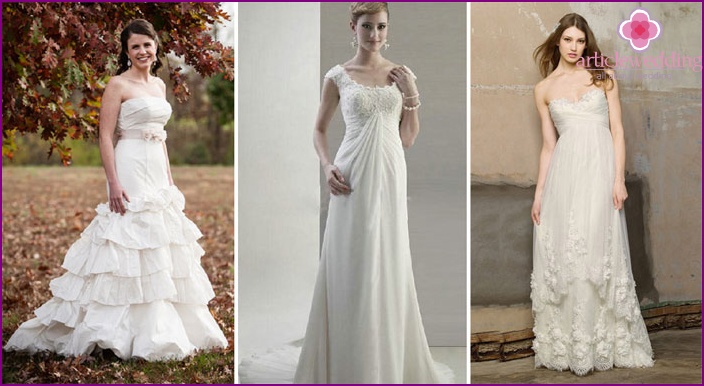 What accessories are suitable to dress in the style of rustic?
An essential attribute of a bride her bouquet. For him the ideal garden plants and wild flowers: daisies, sunflowers, peonies, hydrangeas, ferns. Rustic Style permits the use of cotton, lavender, thistle, Astilbe, eucalyptus, succulents. Dilute the bridal bouquet cones, ears of corn, berries. The leg may be wrapped bouquet lace or burlap.
Shoes rustic style - summer ballet flats,shoes low-heeled open sandals. Rough linen, burlap suitable for decoration of wedding shoes manufacturing garters. Some brides prefer boots with a wide top. Fata Rustic replaced rims, alive and fabric flowers, tressuarami, floral wreath. Jewellery must be completely invisible or, vice versa, using a massive chain, stones, wood, leather, metal parts.
What a bride without a suitable hairstyle andMakeup? Slightly disheveled, body braid spike is ideal for rustic style. A variety of weaving also fall into the selected style direction. The soft flowing curls - another version of the wedding styling, which perfectly complement the floral wreath, woven tape. The make-up should respect the principles of naturalness: berry, or coral lips, blush, ample natural eyebrows slightly emphasize the eyes.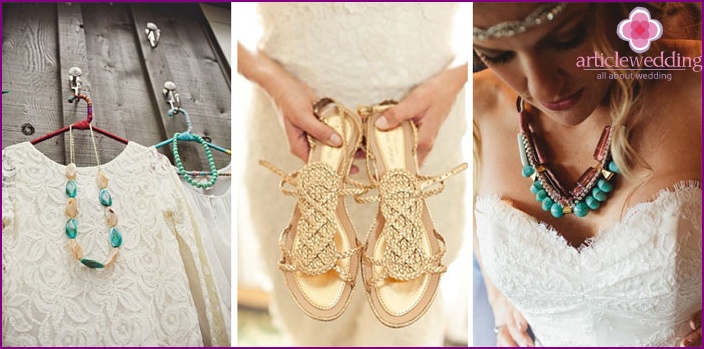 Photo of wedding dresses in the style of rustic
The main requirement for the rustic styledresses - lightness, minimalist decor, lightness, the use of flowing fabrics. His perfectly complement the accessories from your grandmother's trunk. In general, rustic wedding - the embodiment of unpretentious elegance, which is expressed in every detail of the bride and groom. The appearance of the girl should inform the audience about her tenderness, naturalness.