The world-famous movie star Audrey HepburnHe had not only great acting talent, but also a refined taste. This woman for many years to become a style icon, a role model for girls all over the world. Even now, most fashionistas seeks to recreate the elegant images of her style. Audrey always skillfully hide figure flaws (small breasts and excessive thinness shoulder), he emphasized the virtues. It is interesting to look not only evening, and wedding images of the actress who may try to translate every girl on your own celebration.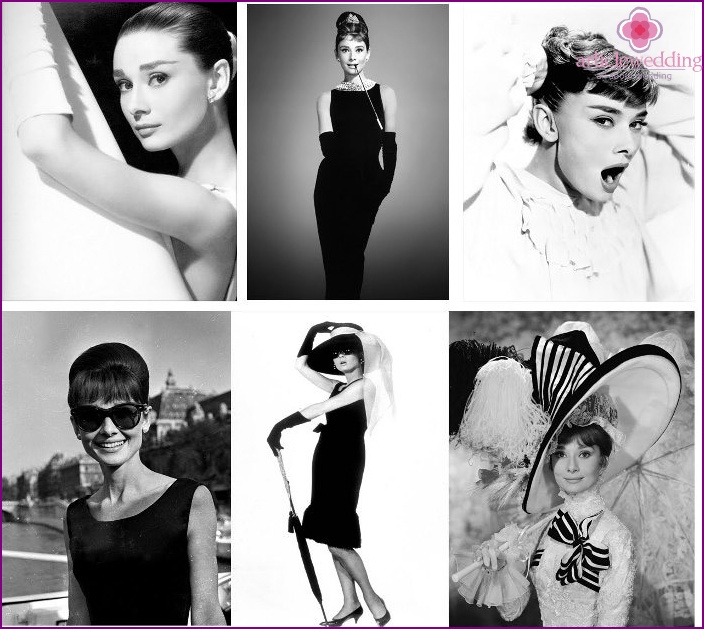 Options for a wedding dress in the style of Audrey Hepburn
Style Audrey Hepburn recognized immediately as soon asIt catches the eye. He returns back to the romantic and delicate 60th, wraps a special mischievous mood. If you prefer the image of this great Hollywood stars to select the wedding attire, you - obviously a girl with a twist, which has its own look and excellent taste in stylish things. You will have the opportunity to view a few ideas wedding dresses Audrey style, from which you can choose something unique and unrepeatable.
White lace in the spirit of the 60's
Business Card Audrey Hepburn - exquisite lace,so the wedding dress with lace corset top - this is what you need. And the corset can be concise, strapless, with a strict bodice, over which made imitation blouse with long sleeves and stand-up collar of beautiful lace. Will highly original way, if you use gates draped in "portrait" style. The dress can be fully laced, but the variant with concise satin skirt for the knee or to the floor.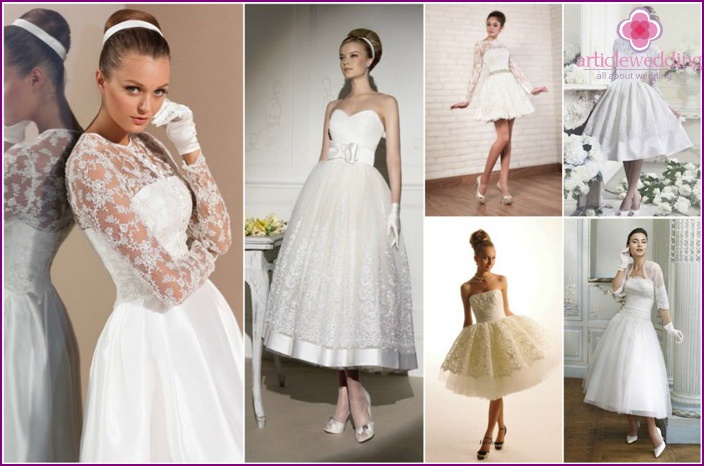 Short dress trapeze
Another option is a wedding toilet - a style"Trapeze" dress or sheath. In this case, the skirt begins on line the chest and has a short length (and possible variant on the floor), the top is made with collar-rack or American armhole. All the most concise, modestly but tastefully. This model dress is suitable for girls imperfect forms that need to emphasize the waist - their main advantage.
To match the style of Audrey, choose colorwedding dress, for example, in pink. Add a few details: short light pink or white gloves (possibly lace), a string of pearls, hair in the style of Tiffany's high "Babette" and satin ribbon. All this will create a harmonious and romantic image of the bride of those years.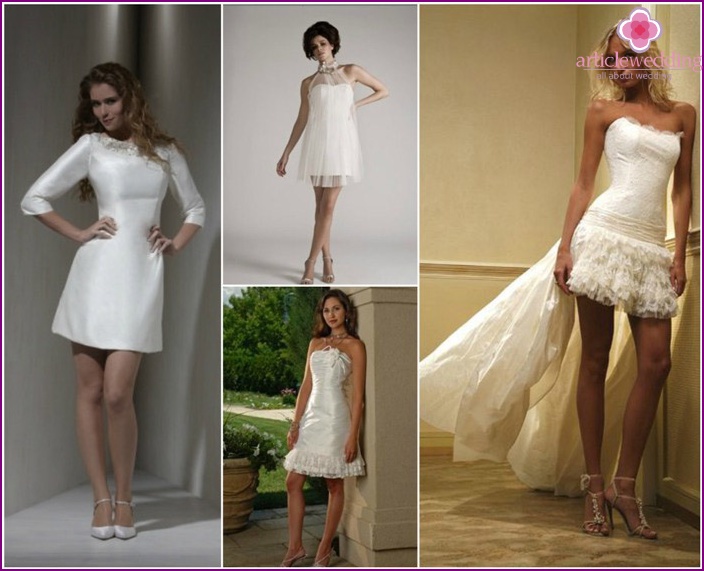 The retro style with fur boa
If your choice fell on a wedding dress in the style ofHepburn, use the classic retro-style dress that looks like this: full skirt knee and modest-fitting bodice with a low waist on thin spaghetti straps. To image looked expensive and tasteful, using real fur. It may here be used as a gateway, as well as a simple cape over his shoulders. For this evening dress preferable satin, silk, tulle, chiffon or taffeta. To add an image to be a small amount of frills, lace.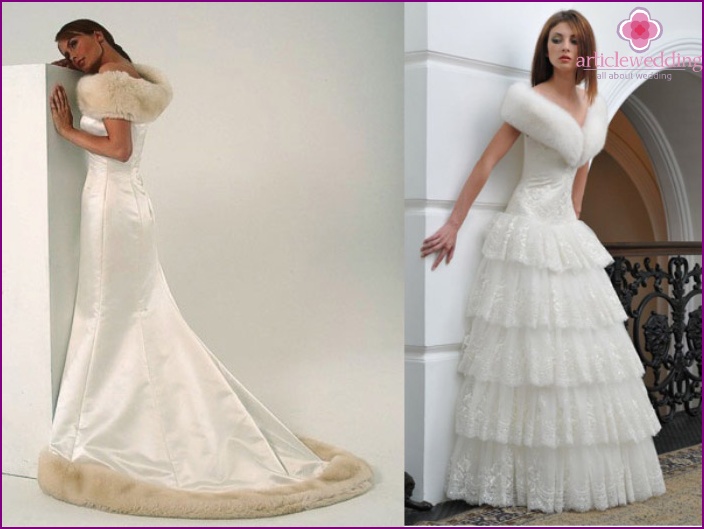 Another version of the retro outfit, which you cancomplement boa fur - it corsetry wedding dress. It will emphasize your femininity and show all the advantages of your figure. The main task - to look modest, so a variety of crystals, stones and pearls are not suitable for the decoration of the corset. Let it be concise draping on the bodice, and will complement the white satin ribbon at the waist and hem dresses in the form of edging. Length can be either just below the knee and in the floor.
Long evening dress with open back
Emphasize your femininity and exquisitesexy, wearing a long evening dress to the floor with an open back. Show your perfect figure cut on his back a little below the waist (or a little more modest - below the shoulder blades). If this old style, use thin straps and bodice closed to shoulder line (neckline-boat). In this case, you can afford fitting bottoms with a nice cut to the thigh in front and a long train in the back. To add an image to be beautiful accessories: long gloves to the elbow, a string of pearls, etc.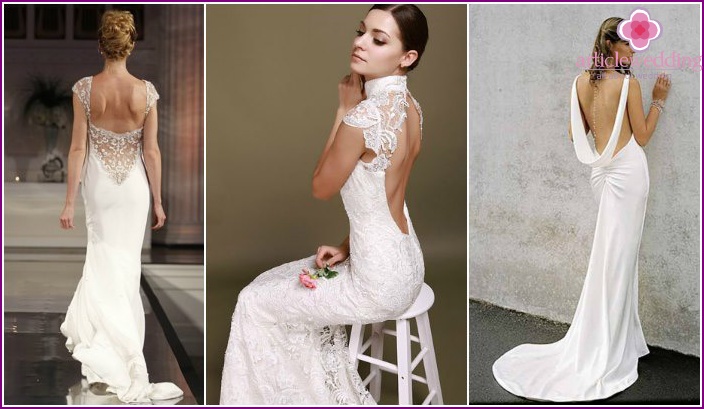 Tips on choosing a wedding dress in the style of Audrey Hepburn
The images of the actress always been easy,modesty, elegance - just such a wedding dress should be the culprit celebrations in Hepburn style. A lot of outfits for her favorite movie star has created a fashion designer - Hubert de Givenchy. He famously sewed graceful, neat things that you can wear every day - ready-to-wear. Hepburn preferred to dress designer because it coincided with the taste of his vision of women's style. A few tips on choosing a wedding dress Audrey Hepburn style, help the bride to decide on the final selection:
Minimum details. Shining rhinestones, pearls embroidered hem of her dress, ribbons, beads - are not suitable for a wedding dress that reflects this style.
Cut-boat or a collar. The actress said she is too shy to their fragile shoulders and a small breast size - it dresses this part was always closed. For the latest wedding dress elegant Audrey has prepared a boat-neckline and the previous two it was decorated with furniture of stand-up collar.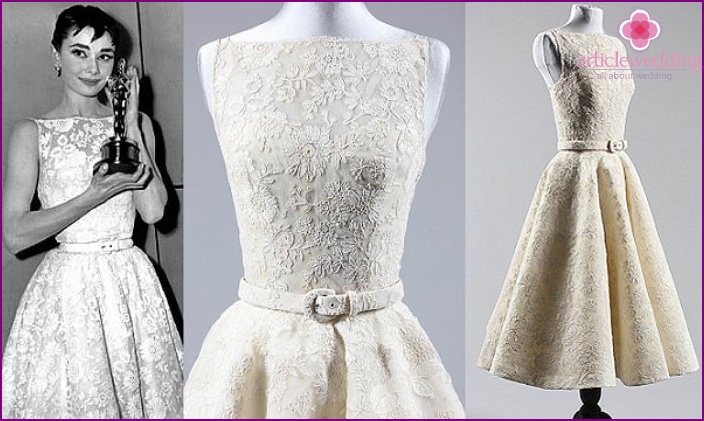 The emphasis on the waist. As the owner of the thinnest waist, the actress often showed her wearing a form-fitting evening dress, although among the Audrey Hepburn's wardrobe there are styles with both overvalued and undervalued option.
Long sleeves. For his two weddings Audrey Hepburn chose her dress with long sleeves, and for the first - air "flashlights" three-quarters, which once again demonstrated the modesty of her wedding image.
Gloves. This accessory celebration accompanied every actress.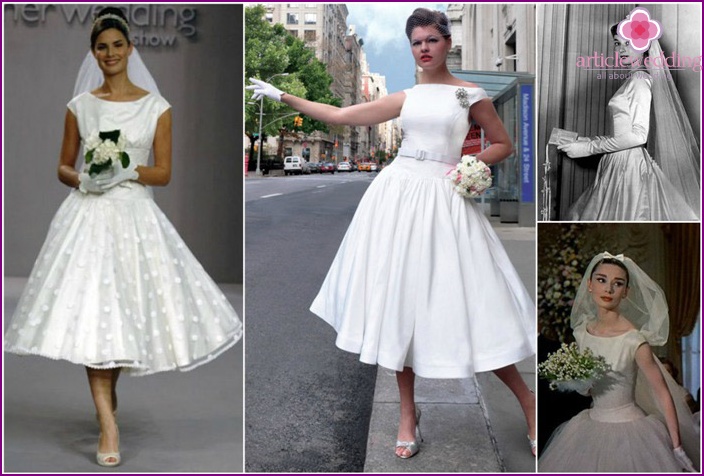 The original hair accessories. The first wedding Audrey hair adorned the beautiful flowers, while the second she wore an elegant scarf in the style of your dress, and the third - her head covered a long white veil.
Photo of wedding dresses Audrey Hepburn
To completely imbued and inspiredthe style of the legendary Audrey Hepburn, not hurt to see firsthand all the beautiful wedding dresses to put on a star, when she married several times. So check out a small selection of photos of the most style icons and once again admire its wonderful taste, which is considered a refined classic.