Wedding walk after marriage becamean integral part of the festivities. At this time you can do a lot of colorful and memorable photos, movies. It is necessary to approach with special attention to the route planning. The choice of places to walk will depend on the palace wedding location, restaurant, where a banquet was organized, and the time of year.
The list of places for wedding walk in Moscow Photo
If you spend your wedding in Moscow, youlucky is a great city with a unique history that holds wonderful memories. On its territory there are lots of places for honeymooners walks, which are characterized by incredibly scenic and original architecture. In order to have time to visit a maximum of sites, advance, make a route of several popular places.
If you have a wedding rainy autumn or winter,give preference to the indoor premises. For example, are ideal for a variety of commercial and exhibition halls or covered bridges. A summer stop choice in the open field - the museum complex, ancient manors, beautiful grounds. Talk about choosing the route with a photographer who will help you choose a colorful place for walks and wedding photo shoot.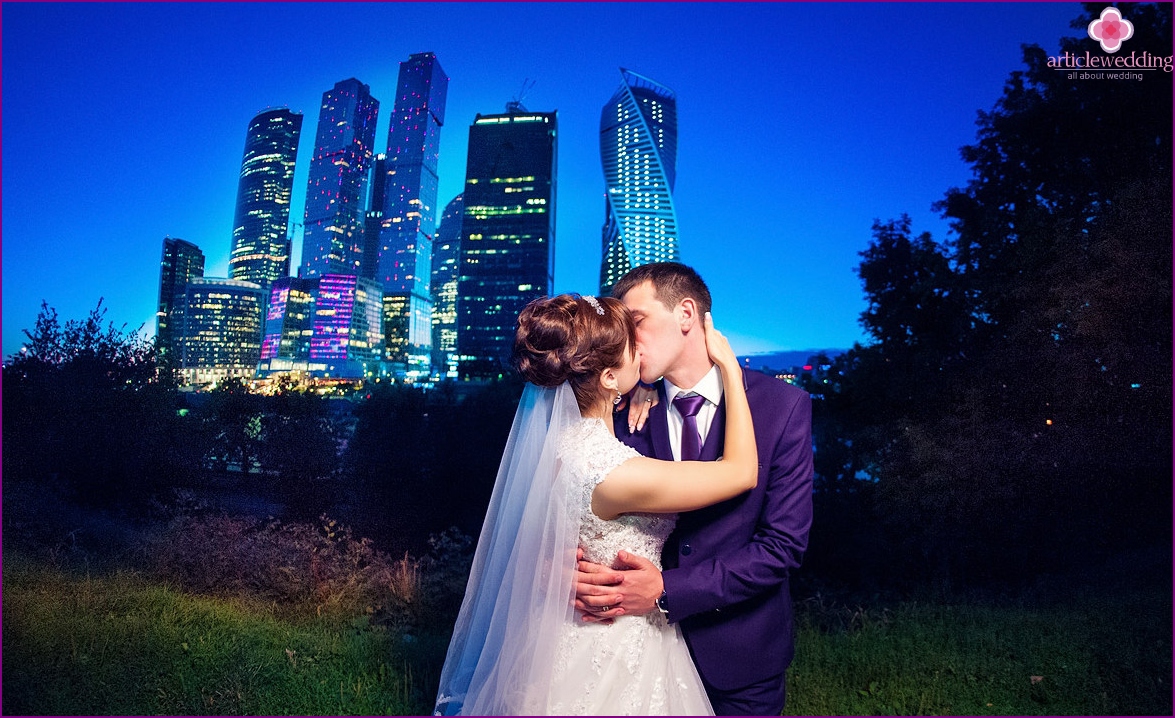 Manor Kuskovo
A real gem of Europe and a great place forthe wedding photo shoot - farmstead Kuskovo. There is a palace, which has a large number of pavilions, unique sculptures, and nearby is a picturesque pond, well-kept old park, which is striking in its beauty in all seasons. On the estate is a lovely conservatory, a grotto, a church.
Entrance fee, make an exception onlynewlyweds and their witnesses. Separately need to buy special stamps for video or photo shoot, which is necessary to take care in advance. Indoor shooting is prohibited, but even ancient facades make your wedding a memorable outing. At the entrance to guard carefully monitors so that visitors do not bring alcohol and food.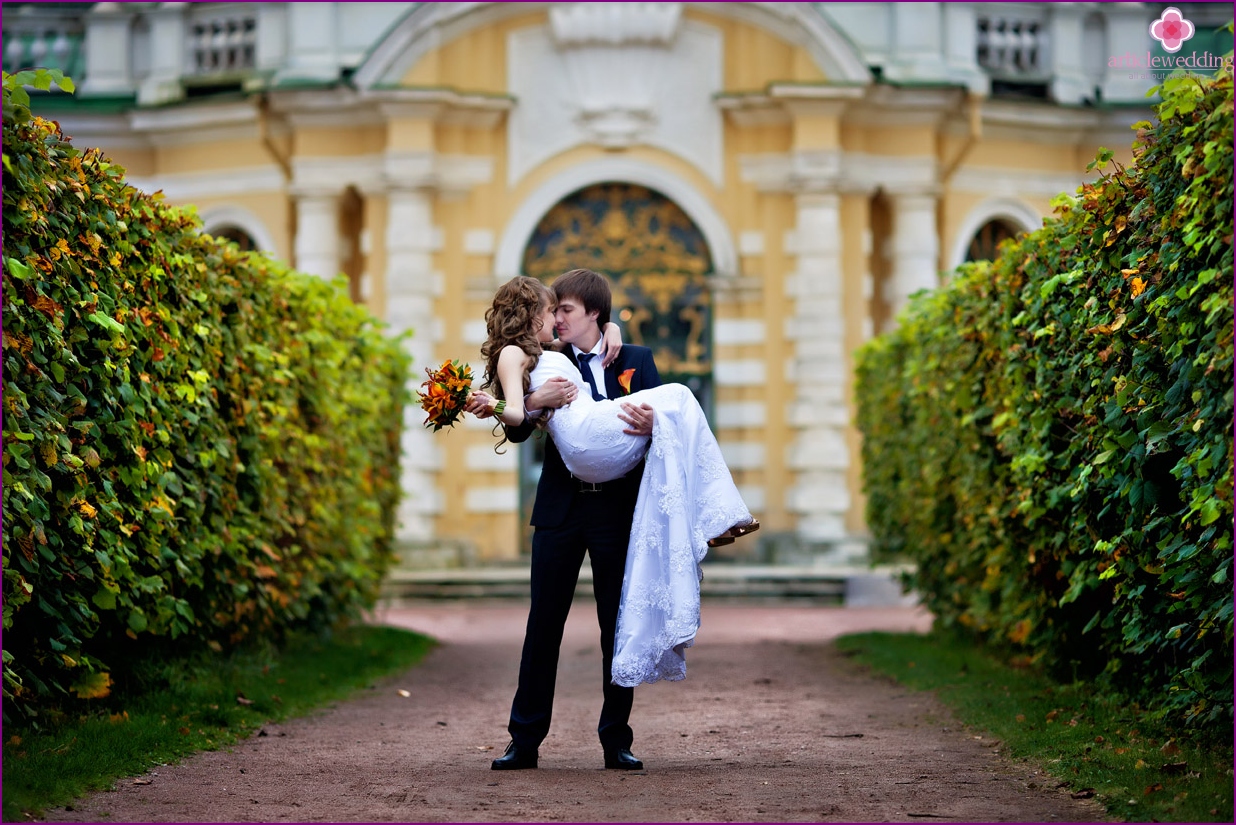 Manezh Square
Very popular among honeymoonersenjoys Manezh Square - architectural complex, built in 1817. It is located very close to Red Square, and on the opposite side of the Historical Museum is adjacent to it. There is an incredibly beautiful architecture - decorative balustrades, retail space squat, sculptural groups, which were built in the late 20th century, the Moscow Museum of Archaeology. This is just the perfect place for a wedding a walk and photo shoot on a background of a variety of interiors.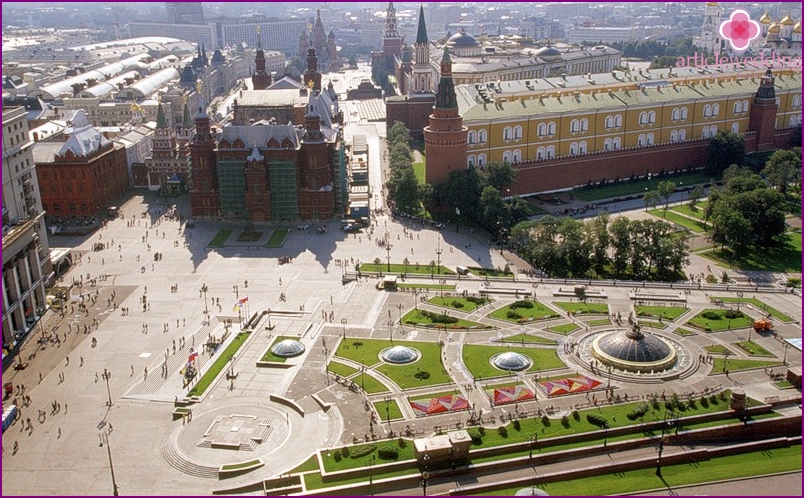 Red Square
This place is traditionally popular asoptions for the wedding walk many newlyweds. There is a huge selection of ancient monuments, which are suitable for the photo shoot - St. Basil's Cathedral, Moscow tower that can send you to a distant 15th century. The architectural ensemble is located almost in the center of the city and has a very convenient location. Beautiful photos are obtained on the background of the Pokrovsky Cathedral, which fascinates the incredible beauty of ancient architecture.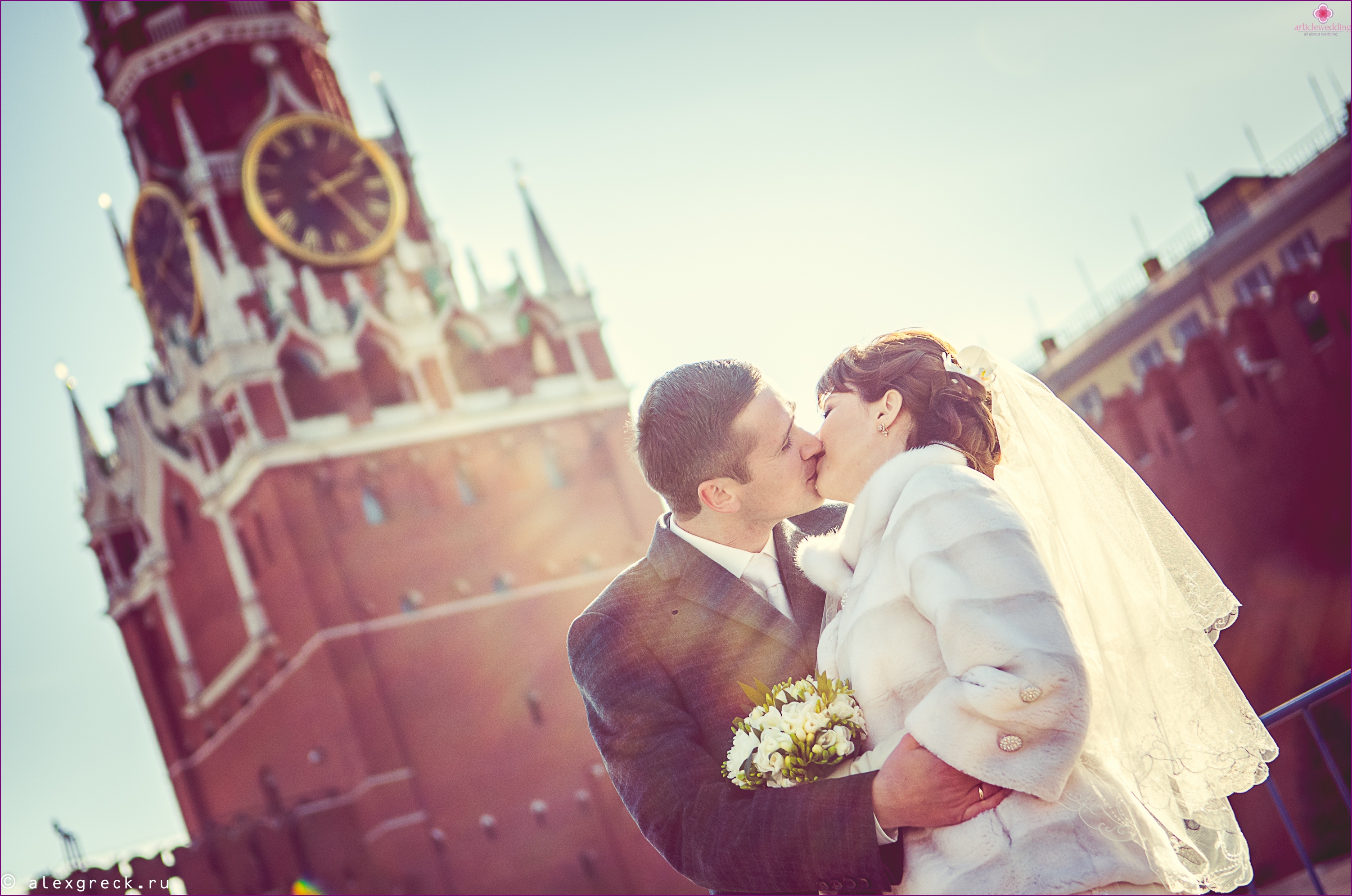 Well, maybe you can visit the Red Square andvisit the main store GUM country? On its territory you will make a lot of colorful pictures. Be sure to lay flowers at the Eternal Flame, visit the observation deck, the Great Moscow bridge, where the video operator makes raising survey spouses. In the background is a picturesque river, which reflects the Kremlin wall, and the unique panorama of the capital.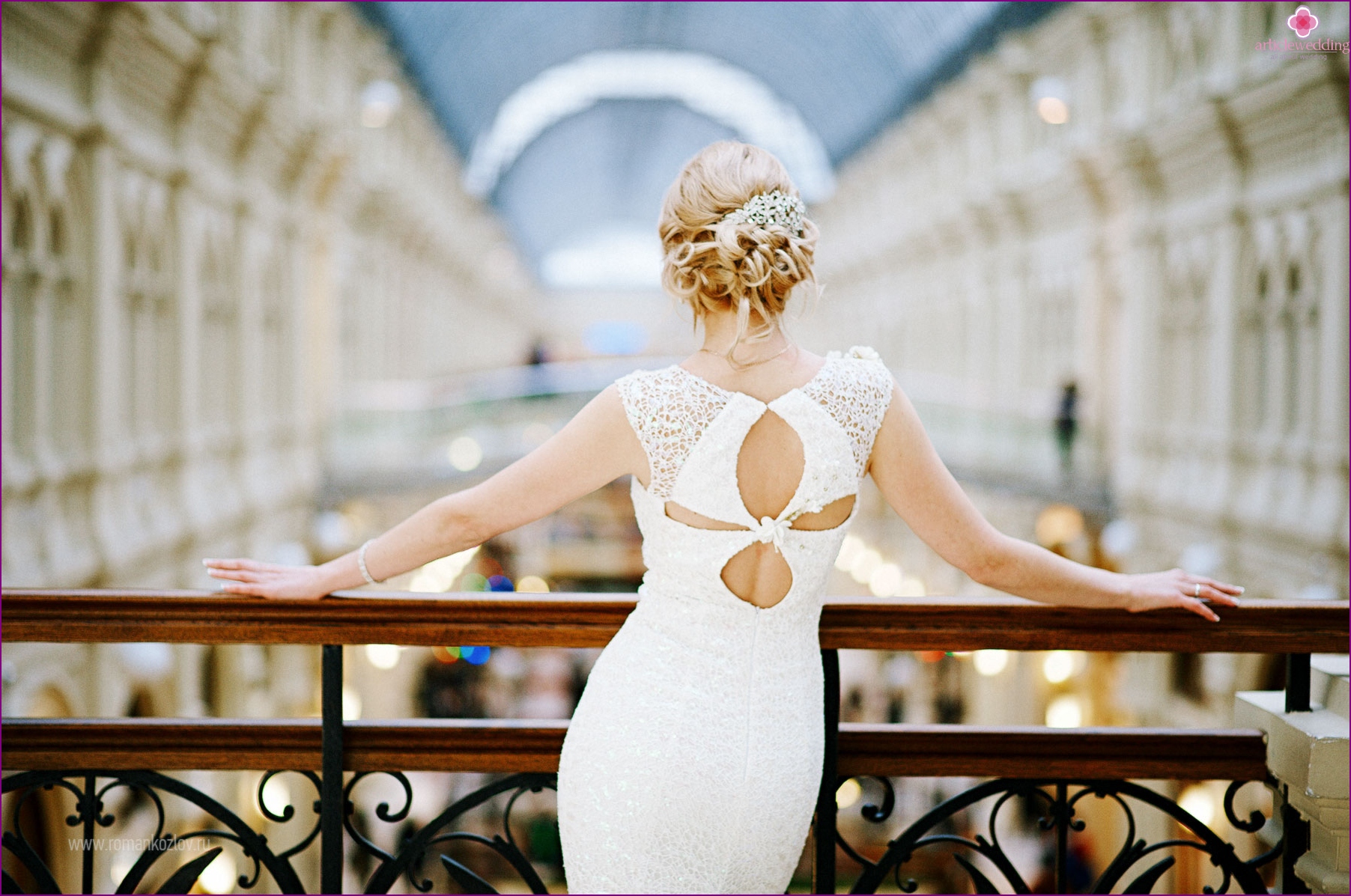 If the style of "dudes" was chosen for the celebration,one of the famous landmarks, which is carried out against the background of such wedding photo shoot, is the Kremlin. The square itself was made of stone blocks, but in the photo, it looks particularly elegant. White bride ideally combined with red walls of the Kremlin, multicolored domes of the cathedral. Beautifully lit lamps, this place looks magical at night shooting.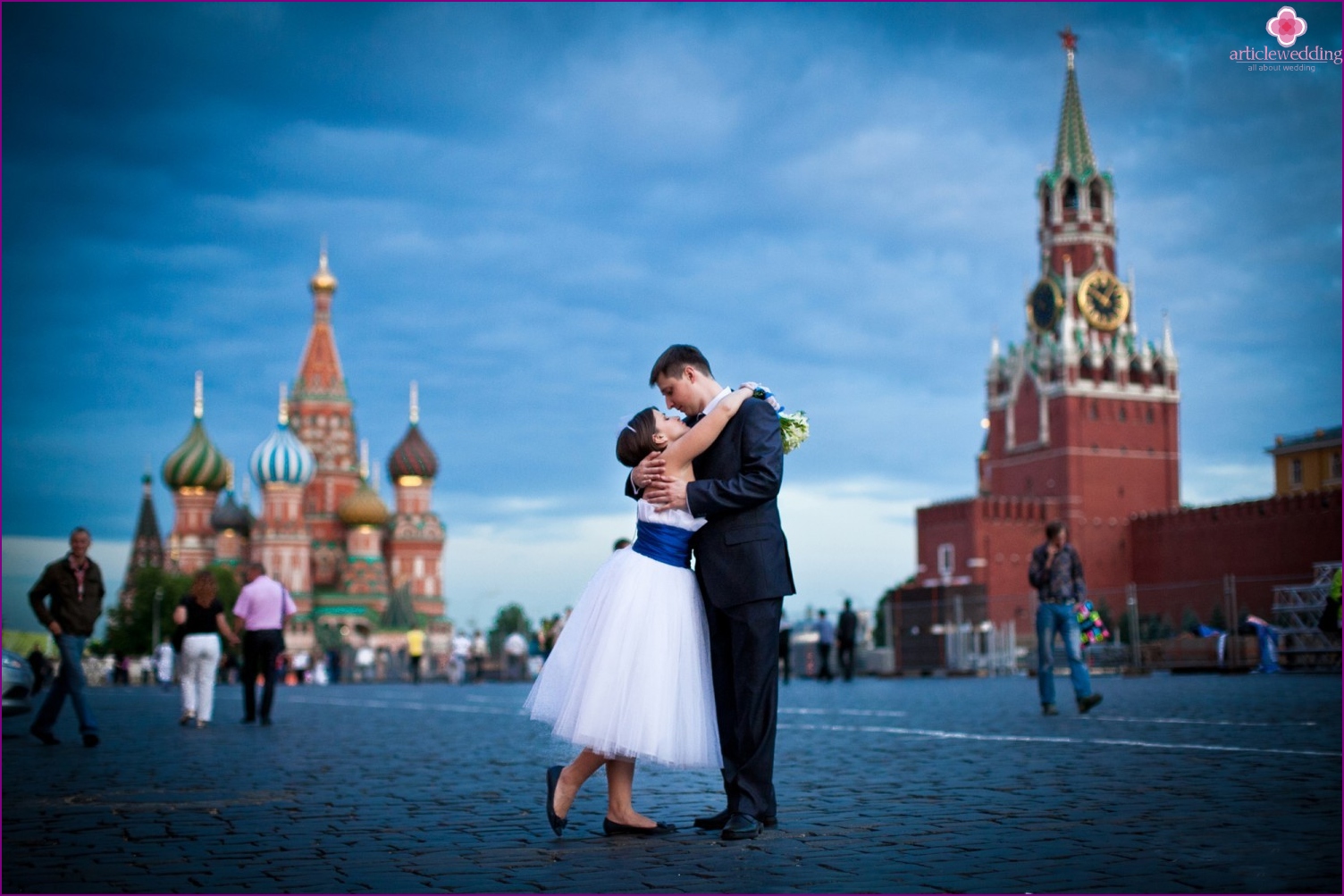 Red Square is surrounded by a unique architecturalensemble, therefore gives wide scope for creativity. If you decide to hold your wedding in the winter season, this street is perfectly suitable for a photo shoot. During the Christmas holidays, this area turns into an open-air in a big rink. But then you have to hire skates, because of its length of over 500 meters.
Museum-Estate "Kuskovo"
It is not only unique, but also very romanticplace for a wedding walk, once belonged to Count Sheremetyev. Gourmet Palace Museum-Estate "Kuskovo" fascinating unique architecture of the 18th century. The building is surrounded by a beautiful park and pond, which reflects the expanse of delightful ensemble of the manor - high columns, clear lines, moldings, made in the style of classicism. For wedding photos will certainly remain a luxury and nobility manor.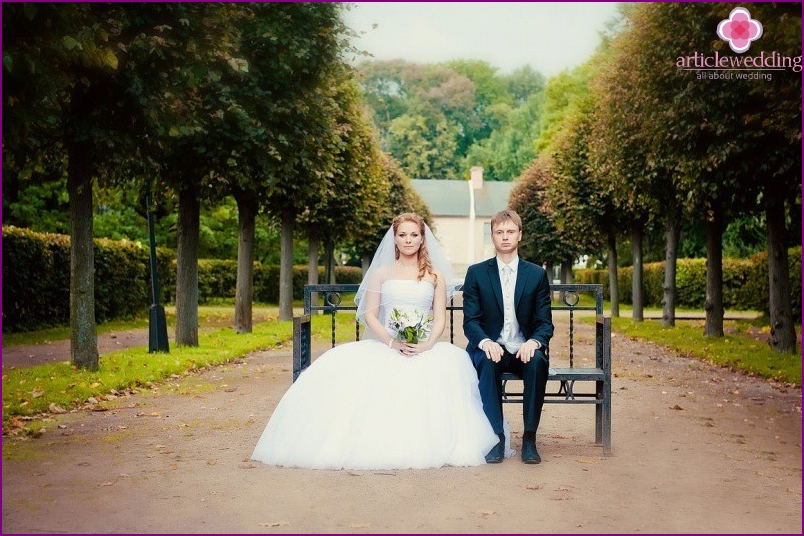 For honeymooners there is a museum, where youYou will be able to hold a wedding photo shoot. Do not forget to pre-obtain permission to film, not to be in a difficult situation. Only in this case, for ideas wedding photo shoot you will be allowed to use the pieces of furniture. The interior of the palace contains many antique elements, but special attention should be paid to the general luxury stairs and ramps, which were used to decorate the figures of sphinxes.
During the wedding a walk is worth a visitDutch house that captivates with its beauty. It is almost completely preserved pristine decor. Do not forget to visit and the Italian house - a unique monument of architecture, which gives a chance to plunge into the luxury of the distant era of the 18th century. Beautiful photos you will be able to do in the Stone and the American greenhouses. Against the background of the white dress of the bride look bright exotic flowers. Another place not to be missed during the wedding walk in the Kuskovo - a pavilion Grotto, preserved finish of the 18th century.
Museum-Estate "Ostankino"
Catching Itinerary for weddingwalk, you need to consider the time allotted for the photo shoot. Almost always, it is limited, and so want to make more beautiful photos on the memory. Therefore it is necessary to visit the Museum-Estate "Ostankino", which impresses with its beautiful architecture. This delightful palace that once belonged to Count Sheremetyev, was built back in the 18th century, but was able to maintain the beauty and unique decoration of the time.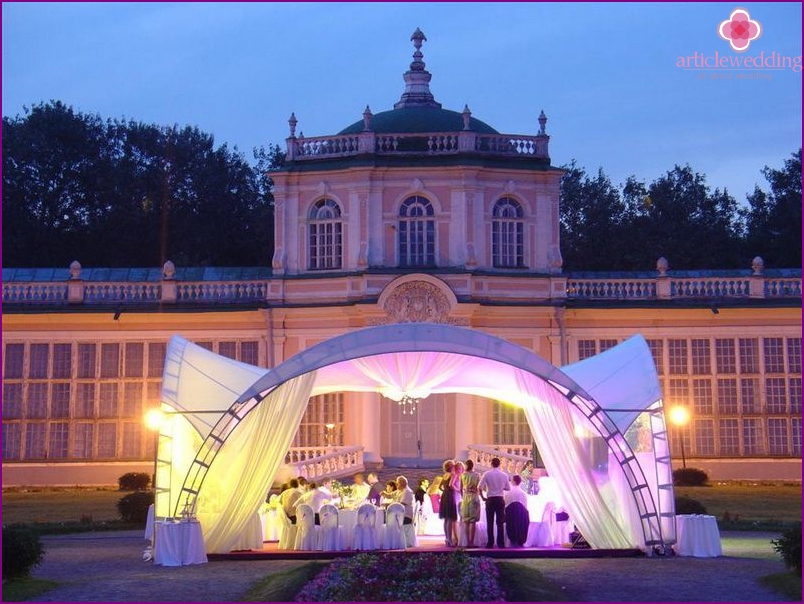 Colorful path in the park leading to the ancientPalace, which contains sculptures, paintings and unique graphics. It appears great chance to capture the beauty at the wedding photos of the architectural ensemble surrounding the manor house, which is well preserved. The greatest historical value are Egyptian and Italian pavilions.
The manor is located theater scenewhich can be an ideal place for honeymooners colorful photo shoots, as well as complement the wedding a walk, leaving fond memories. Around the palace is a small picturesque park area with linden alleys. The park is sure to be photographed against the backdrop of ancient decorative marble vases, statues, Germ.
During the wedding a walk in the park you do notpass a gazebo-temple, made in shades of white, which is located on a small hill. Climbing up to it, you will see most of the Ostankino estate. Do not forget to walk through the modern part of the park, on its territory there are white benches, which can be a great place to relax and beautiful photos.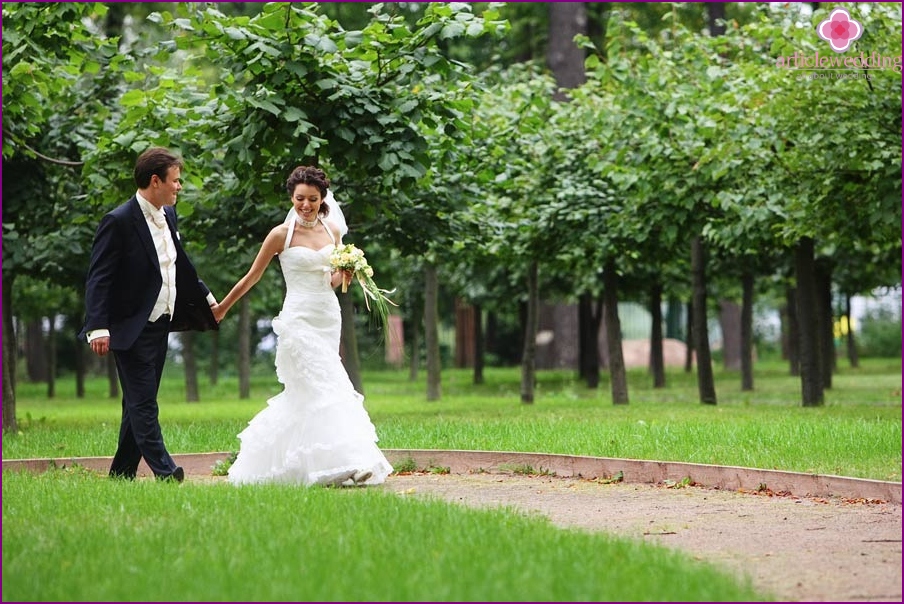 Vorontsov park
This is an amazing place that will certainly needvisit during the wedding walk. On the territory of the Vorontsov park has a lot of old trees, on the background of which is to be photographed newlyweds - unique specimens of linden, elm, oak. There are not only picturesque alleys, but also renovated buildings of 18-19 centuries, a unique cascade of ponds.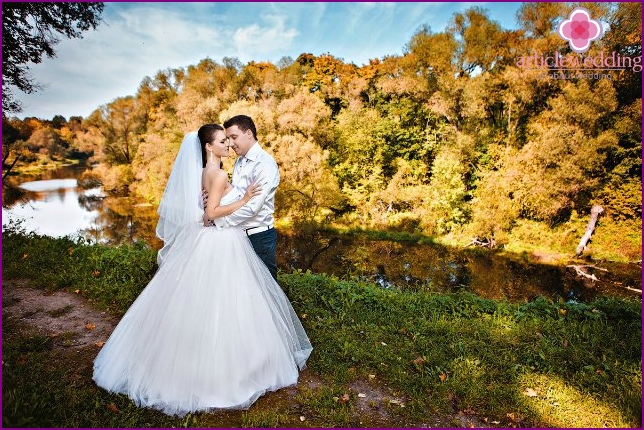 Botanical Garden Tsitsin
Wedding walk in the Botanical Garden will presentnot only colorful photos, but also an unforgettable experience. This is one of the largest parks in Europe, it contains a unique exposition of subtropical, tropical plants, as well as the arboretum, cultural, decorative plants. The Botanical Garden is a rich collection of exotic cultures, literally every 200 meters is changing the landscape - rather majestic groves appear romantic ponds, which the couple will be able to ride on a boat.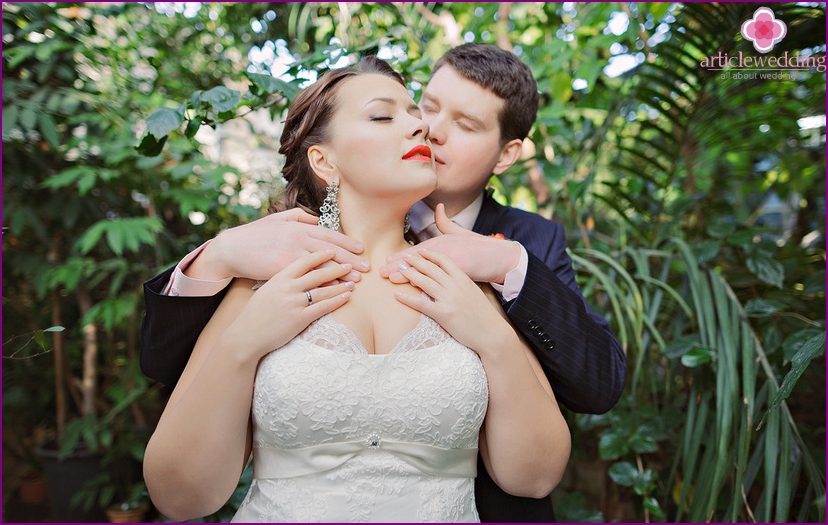 Very beautiful and elegant looks the maingarden building - column view is replaced by a mirror pond, which reflects the amazing beauty of plants. Here you can take a pleasant walk wedding, remove the mass of amazing shots, and the blue sky background will make your pictures bright and beautiful. Park is uniquely beautiful at any time of the year - nice scenery, the fresh air will make a memorable photo session.
Where to go for a walk in the winter or in the rain?
When it began to snow or rain, do not worrywedding trip will be spoiled. Even at this time there are many places where you will have the opportunity to spend a gorgeous photo session. Many newlyweds are opting for wedding walk in inclement weather gum, which does not need additional advertising. They are attracted not only a majestic architecture, but also a lot of interesting details of the interior.
Bagration bridge and St. Andrew's can bea perfect refuge for honeymooners in rainy weather, as well as serve as an original interior to create a vivid picture. If you enjoy the atmosphere of the hotel, you can arrange a photo session during a wedding a walk in one of the selected locations. But if you want to hide from prying eyes, better to stay. A good option would be to shoot and chic wedding limousine.
Unusual place for newlyweds walking
You want to walk a wedding day to remember? Then maybe you will like some unusual variant of this collection:
If your wedding is carried out in aristocratic style, opted for an art gallery, theater or museum.
Most couples opt for wedding tripslarge shopping centers. On its territory is a huge variety of entertainment venues, where you get a positive, colorful photos.
Book for wedding walk not luxurious limousine, and a tram or trolley bus, and ride with the guests of the city. But do not forget to decorate your vehicle wedding accessories.
Another interesting option for weddingwalks - amusement park. Take a ride along with a photographer on the Ferris wheel, roller coaster, swing, racetrack and other attractions that even a second will not get bored, not only young, but also invited guests.
Wedding walk on the roofs of buildings to be rememberedrest of their lives and will leave a lasting impression. By making this choice, you get not only the colorful pictures, but also examine the beauty of the city with a bird's-eye view. However, that all went smoothly, enjoy a pre-plan the wedding route, check with the photographer, do not forget to visit the triumph of all the selected locations and define more appropriate.