Modern newlyweds preferorganize a small wedding, inviting only a celebration of loved ones. When planning a modest holding of identity at home or in a restaurant, the bride and groom must first calculate the amount of meat and fish dishes, vegetables, fruits and sweets. A well crafted menu offers full table treats and good mood of the guests. It's Complicated? Far from it, we need only know the rules of calculation!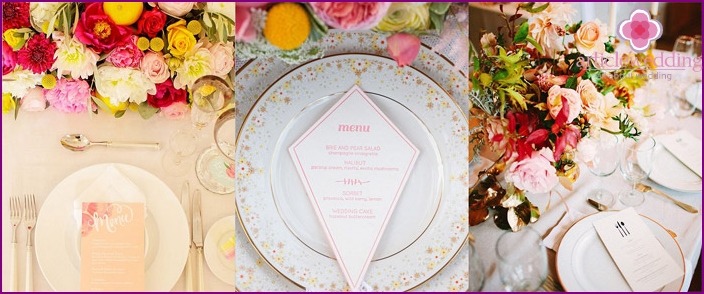 How to make a wedding menu for 30 people?
After the couple decided on the datewedding and the number of guests, it is necessary to proceed to registration of the banquet. In order to perfect the wedding was held, it would be well in advance to make the menu of treats that will be on the holiday table. A list of culinary delights, keep the balance between fish and meat, cold and hot refreshments, alcoholic and soft drinks.
If there are people among your guests, whoa diet, fasting or vegetarian prinipe, you must take into account their preferences when compiling the menu. Be sure to include in the list of salads (lighter and more nutritious), hot and cold snacks, fruit that will please all guests. Compose range of dishes so that the invited people have been able to pick up tasty and healthy food without difficulty.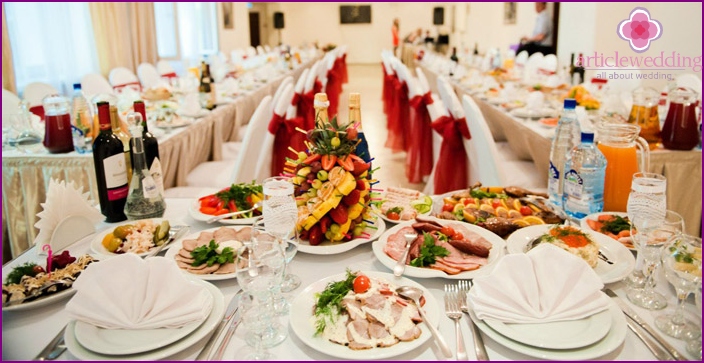 Calculation of dishes and food for 1 person
Wedding banquet on average lasts about tenhours. During this time, each invited guest will be able to eat no more than 1.5 kg of the of all the treats. Therefore, to make the right menu for wedding table newlyweds need to accurately calculate the per capita amount of cold, hot appetizers, main course and dessert. To calculation took place without errors, use the following criteria:
1. Appetizers for 1 person:
three kinds of raw sausage - 40 g each,
two types of cheese - 20-30 grams each,
red fish - 20-25 g,
mixed vegetables - 50 g,
red and black caviar - 15-20 grams of each type,
Pickles - 50 g
2. Main dishes for 1 person:
meat - 350 g,
Fish - 250 g
3. Desert for 1 person:
ice cream - 100 g,
cake - 250 g,
Fruit - 150 g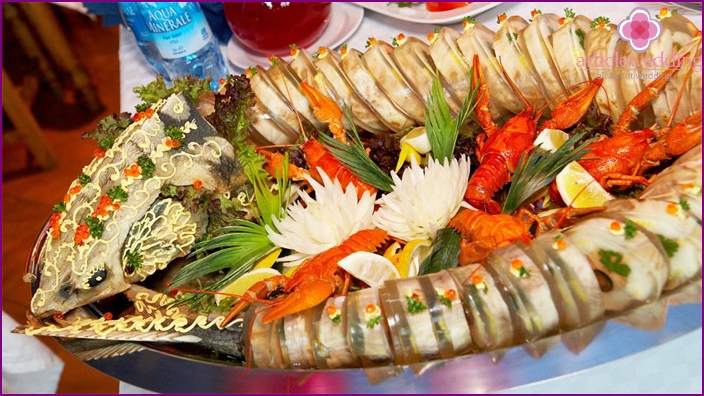 Simple menus for home wedding celebration
If a wedding on a tight budget or for honeymoonersthey plan to save money on travel, they are planning a celebratory banquet in the home. relatives and close friends are usually present among the invited guests. all taste preferences must be considered before writing for wedding table menu present. Then make a list of tasty but inexpensive meals that are going to cook and a week before the festivities proceed to purchase the necessary products.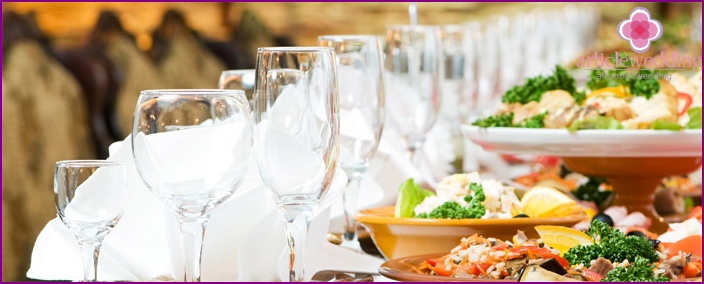 Cold and hot snacks
In preparing the wedding menus certainlypay attention to the cold and hot appetizers. The correct calculation portions ensures a good filling wedding table and no discontent among the guests. If you are celebrating a wedding at home, before the feast organize a small buffet of canapes and tartlets with fruit. You can cook on the main table:
pancakes fried,
mushrooms on skewers,
chicken chops,
eggplant slices in a spicy sauce,
meat fingers.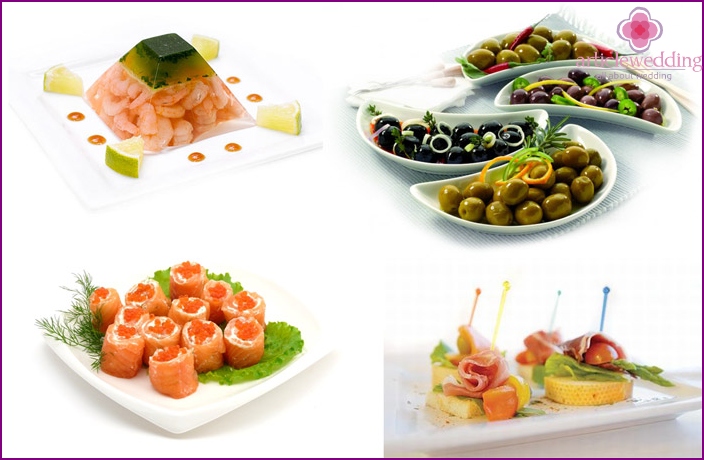 The main meat and fish dishes
Main courses on the wedding table is always served inhot. Therefore, pre-distributed among relatives, who will deal with heating and feeding these treats. Crown wedding table decoration can be a stuffed turkey, a young pig or a stack of meat in wine sauce. Choosing options for fish treats, we are sure to give preference to zander, grilled sea bass or a vegetable.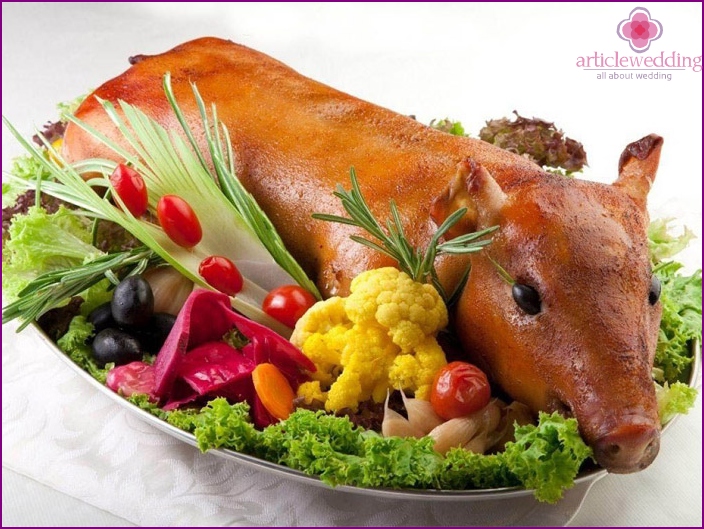 Wedding cake and loaf
By tradition, the banquet begins with a solemnmeeting the bride and groom, having presented him a loaf. Then this young cake cut into equal amounts and treated all the guests. To loaf tasted all the relatives and friends, you need to properly calculate the exact weight of the finished product. For each guest a piece of the pie should be an average of 150 grams, so 30 must be ordered loaf weighing 4.5 kg.
Traditionally, the final accent wedding menuIt is carefully selected cake. In just a few days before the celebration newlyweds need to visit a pastry shop and place an order. Skilled craftsmen will help to determine not only the appearance of a masterpiece, but also tell us how to calculate the amount. When ordering a cake, use the following guidelines:
To all the guests were able to appreciate the taste of confectionerymasterpiece, you need to properly calculate the total weight. Professional bakers are advised to allocate to each invited a piece weighing 250 grams. For exact calculation it is necessary to use a standard formula: 250 grams of finished product * = required number of guests the cake weight. For example, for a wedding for 30 people you need to order a finished product, the weight of which is not less than 7.5 kg.
Decorations for wedding cake, choose afigures of mastic, beads, pearls, pieces of lace, satin ribbons, figurines. For decoration products can use fresh flowers or berries, forming an unusual composition.
For a summer wedding, try to avoid fillings in the form of whipped cream and oily creams, preferring air, cheese or fruit filling.
When choosing the form of a wedding cake, consider options for multi-tier products. Confectionary masterpiece, which weighs 7.5 kg, confectioners can beautifully transform a three-tier proportional.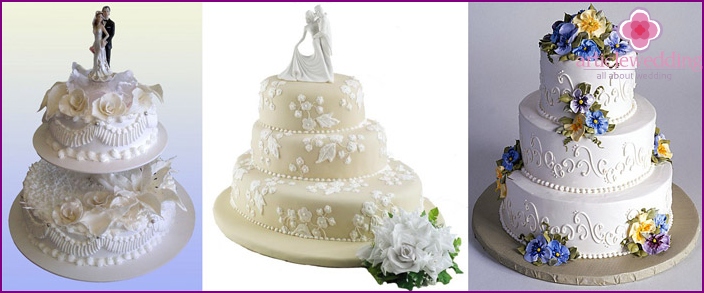 Alcoholic and nonalcoholic beverages
Getting to the calculation of the amount of alcoholdrinks, you must first discuss its range. Try to take into account the preferences of each guest, so you need to purchase several types of alcohol. The main alcoholic drink at the wedding banquet is considered the champagne. For variety, you can buy it in white, red type, dry, semi-sweet. The range of alcohol at the wedding table should consist of the following drinks:
1 bottle of red or white wine per person;
1 bottle of vodka for two or three people;
1 bottle of cognac for three people;
1 bottle of gin - for three people.
To determine the right amount of alcohol on the wedding table for 30 people, adhere to the following calculation:
Champagne - 10 bottles;
wine - 15 bottles of white and red 15;
vodka - 15 bottles;
Brandy - 10 bottles.
To quench your thirst during the wedding party helpsoft drinks. Funny mobile competitions, rhythmic dancing and heat contribute to the fact that the couple and the guests will be constantly thirsty. For a small wedding, which was organized by the house are kindly requested to include a certain amount of soft drinks on the menu. The correct calculation will ensure the absence of errors in the procurement. According to statistics, a person can drink an average of two liters of fluid, so on wedding table you need 60 liters of soft drinks for 30 people, among them:
15 liters of mineral water;
20 l of compote of dried fruits;
10 liters of fruit juice;
15 liters of lemonade.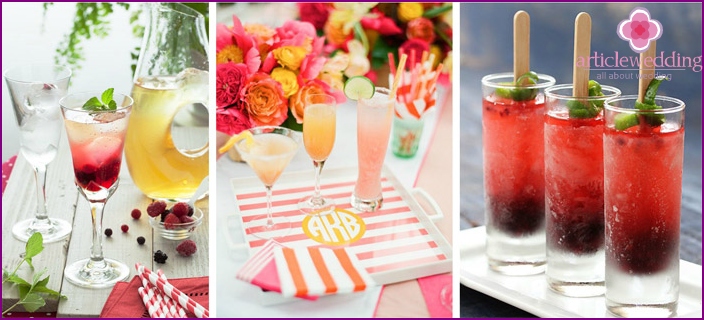 Alternative exemplary banquet menu at the restaurant
wedding celebration in a restaurant, cafe simplifiedthat responsibility passes to the administrator places the menu. An experienced employee will be able to explain in detail, how much to order dishes at wedding table for 30 guests. Do not skimp on the portions that are present are not left hungry, so order a menu with a small margin. The administrator is required to have a rough list of ready meals, specifying the number. You can adjust the menu, order the production of your own taste.

To do this, we recommend using the following list of treats:
1. Hot and cold snacks:
sliced ​​sausage,
Smoked carp,
aspic,
Caesar salad,
sandwiches with caviar,
sauces, mustard,
black, white bread,
Cod liver,
stuffed tartlets,
Vegetable skewers on the grill,
salmon under vegetables,
pork chop.
2. Key hot meat and fish dishes:
stuffed bird,
baked thighs,
mullet sauce,
breast with mushrooms,
the Kiev's cutlets,
roast in foil,
empanadas.
3. Drinks and dessert:
coffee,
ice cream with fresh fruit,
tartlets with condensed milk,
champagne,
wine,
vodka,
mineral water,
fruit compote,
cake.