Summer - a wonderful time of year when naturefragrant, the birds sing and rejoice all the warm sun. Newlyweds are particularly fond of summer, because even the bad weather in the summer will not be able to spoil the mood of the wedding. Venue of the wedding in this period is not limited to - the celebration is carried out in the open air, even in nature, in the countryside. Menu for guests can be made easy: in hot weather is better to stock up on refreshments. About how best to cover the wedding table in the summer, we will now discuss.
Tips how to make summer menu
Wedding menu for each season is differentits features. In the summer it is full of the most snacks, and with the onset of cold weather at the wedding table appears more oily, heavy foods. At wedding receptions in the summer a lot of vegetables, fruits, berries, fresh salads. But the main focus is on drinks. After a hot summer photoshoot guests need to cool off, so the board №1: stocked with ice and lots of summer beverages.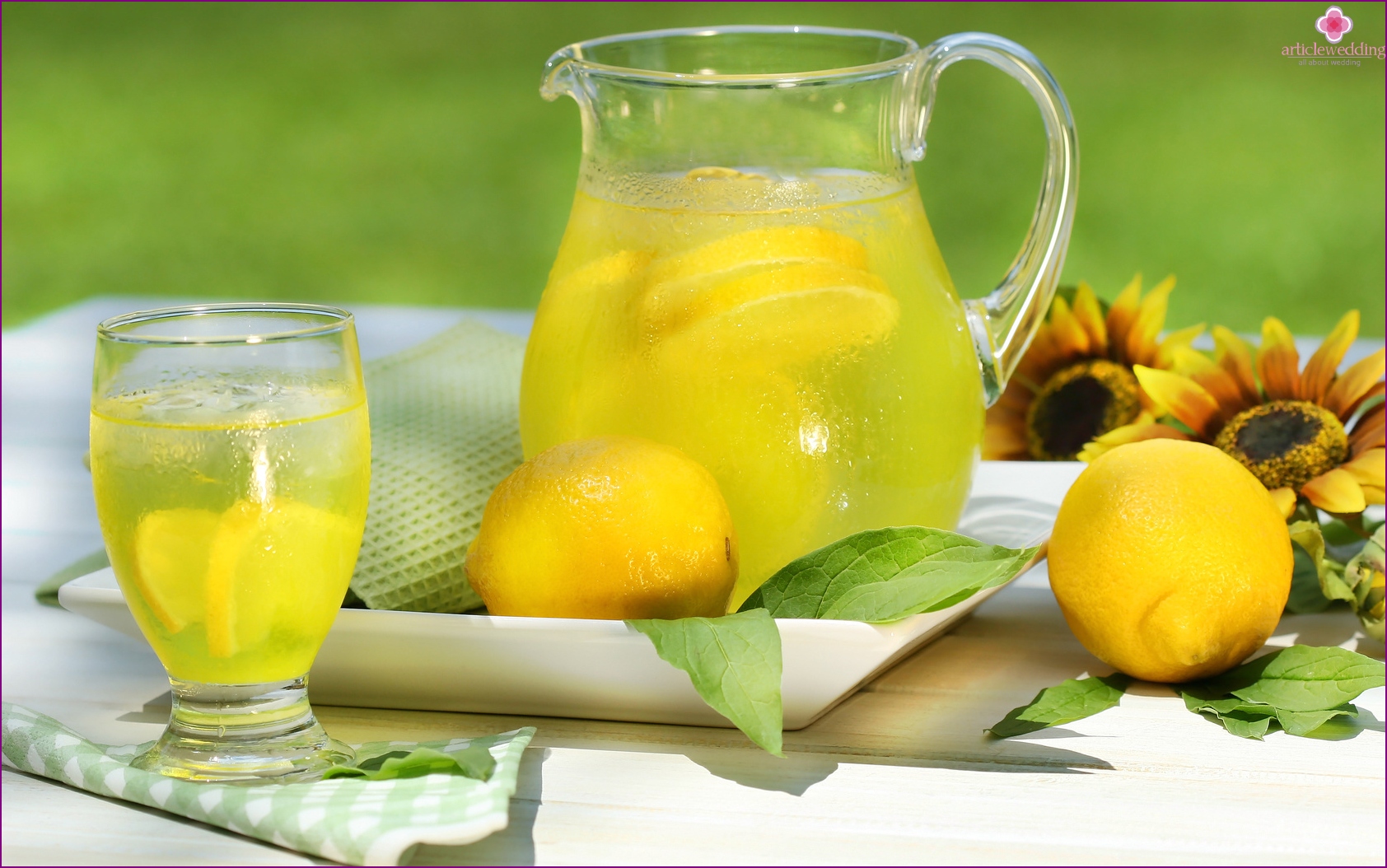 Shops juices are not very suitable for summerwedding, because after them even more thirsty. It is better to include lemon water in the wedding menu with real fruit. This drink is much more useful to store unique: it quenches a summer thirst. Serve lemonade to be in large carafes of ice, and then the guests pour into glasses. For summer lemonade choose only natural ingredients:
lemon;
mint;
Hibiscus;
green tea;
hibiscus.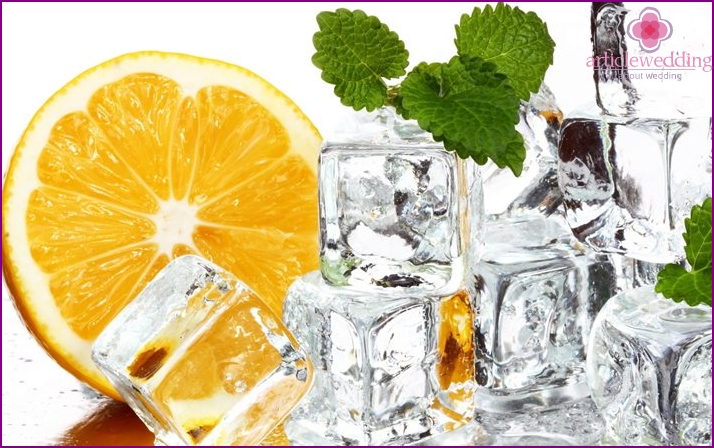 As for cold dishes, the Board №2: Serve them on a fresh summer salad leaves. Perfect for wedding vegetable dishes, seafood, cheese, nuts. Instead of meat is better in cold snacks add the fish, so as not to burden the body with unnecessary calories in the summer heat. The main condition: snacks should be served chilled, so before feeding them to keep in the refrigerator, but must be constantly on the ice wedding receptions.
Council №3: the main dish of the summer wedding should be cooked over an open fire. For barbecue or barbecue fit: juicy chops, steaks, chicken breasts, my dear fish, fresh vegetables. To the main summer dish was appreciated, at the wedding table should be sure to:
lime juice;
spicy chili sauce;
rosemary, sage, thyme;
other spices.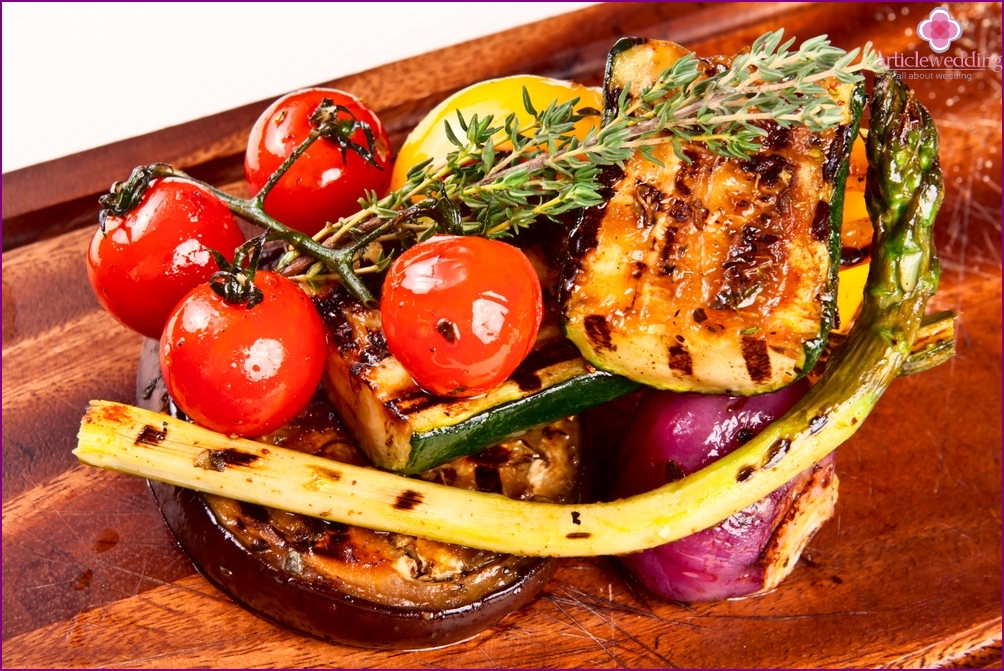 How to calculate the number of dishes and products?
With summer wedding guests do not have to go hungryor disappointed, so the menu must take into account their individual preferences. For example, guests can be vegetarians so they need to offer more vegetarian hot and cold snacks, as well as a wedding dessert - fruits, nuts, honey. Some do not eat pork, so it is advisable to include in the menu of summer dishes of lamb or poultry.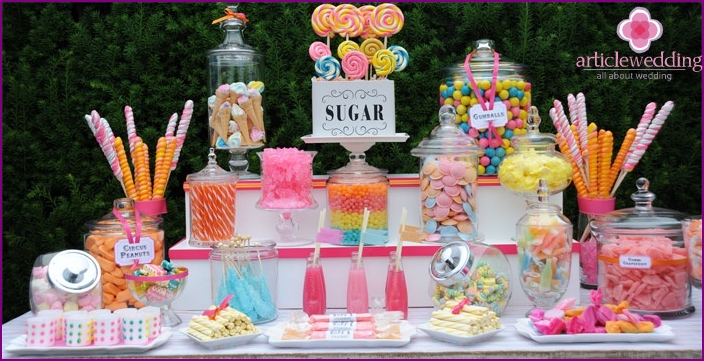 When planning a summer wedding menu, should be consideredthe number of men, women and children. Men prefer hearty, spicy food, strong drinks, and the ladies will prefer light summer wines, fish, cheese. Age guests also plays an important role. The older generation likes traditional wedding meals, and young people, on the contrary, would prefer unexpected combinations of products, appreciating new tastes.
On average, an adult person eats duringwedding feast approximately 1500 grams of different food. Therefore, on a summer wedding is usually selected following relationship dishes on the menu (for 1 adult person):
Salads (meat, fish, vegetables) - 250 g
Appetizers (vegetable cuts, sandwiches, pickles, fish, cheese) - 400 g
Hot Snacks - 150 g
Garnish - 150 g
Assorted fruits - 200 g
Cake - 150g
Alcohol: Men - 0.5 liters; women - 0.4 liters.
Sample menu for wedding table
In the summer wedding menu should be presentlight salads, such as "Greek" or "Caesar." Pofantaziruet with other summer snacks on their own, adding to vegetables, some protein components: cheese, shrimp, pine nuts and tender chicken. Latest summer stuffed tomatoes, canapés, tartlets. As for the mushrooms, then a summer wedding menu should abandon the winter mushrooms and wild mushrooms to pamper guests.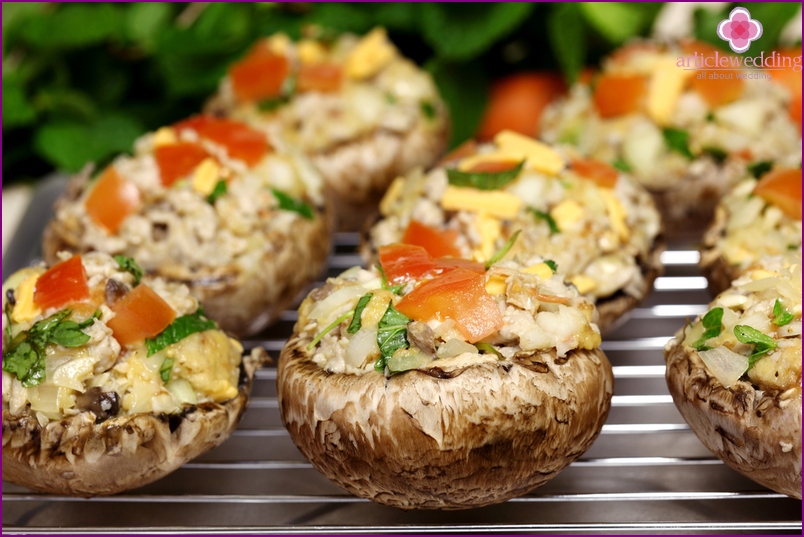 When the summer heat comes state of intoxicationfaster, so it will be more appropriate to focus on the wedding rather weak alcoholic beverages. Ideal for summer wedding cocktail menu with refreshing ingredients and ice cubes. This is a favorite fashionable lately "Mojito", a refreshing cocktail with basil or berry "Daiquiri". Organically in the summer menu at the wedding will chilled wine "Sangria" or cold champagne with berries.
Wedding cake should also match the season. Whipped cream or oil cream for the summer menu is not necessary. Prepare something ethereal, fruit and cottage cheese to dessert fit in a lightweight style summer wedding. Wedding cake without summer fruits and berries simply has no right to exist. Look great summer berry cake with floral decorations, but the chocolate will have to forget - in the heat it quickly loses an attractive appearance. Look at the video expert advice on how to draw up a wedding menu and recipes of original summer wedding appetizers:
To celebrate the house
Home decor on a summer wedding is alwayswelcome and warmer than the wedding party at the cafe. Guests feel more relaxed, and the dishes have a special taste, because they invested part of the soul heroes of the occasion. Home Summer weddings are usually characterized by a small number of visitors, as opposed to the restaurant, so we will help you come up with the summer wedding menu for 20 people.
You must first create a menu and a list of dishes that you want to see at the wedding table, as well as the number of necessary products and servings. We offer a summer menu plan:
Cold appetizers: 3 kinds of salad, 2 meat dishes, 2 fish dishes, vegetables and cheese.
Main courses on the 3 types of poultry, meat, fish.
Desserts: sweet pastries, fruit, ice cream.
Non-alcoholic and alcoholic beverages.
The menu simultaneously write, what productsIt should be reserved in advance, and you need to buy just before the wedding. Before the arrival of guests at the wedding table should already be fruit, drinks, cold dishes: bowls and salad bowls at a distance of 6 seats to each other. Hospitality - this is not a huge variety of dishes and an extensive menu is their selection of a competent and aesthetic design of summer dishes.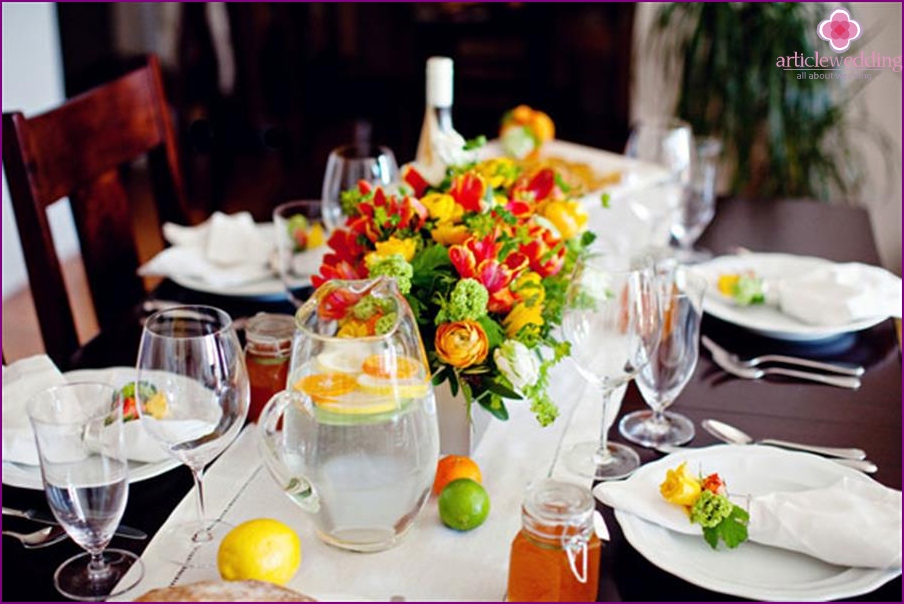 So that you do not have to wrestle with the summer menu on the home wedding, we offer ready-made option:
Salads: Fresh cucumbers, tomatoes; cauliflower; hepatic.
Sandwiches: with ham, mayonnaise; with ham, cheese, mushrooms.
Snacks: perch in wine sauce; baked fish with cheese in the oven.
Main dish: turkey with rice.
Wedding loaf.
Desserts: chocolate ice cream; cheesecake with raisins, marmalade, honey cake with walnuts, fresh fruit.
Drinks: soft drinks, mineral water with gas and without, orange juice, black coffee.
Outdoors
For newlyweds summer - a real gift, becauseThis time of year it is possible to carry out and the solemn and festive part of the wedding outdoors. The fresh air, rich greens and colorful flowers encounters romantic mood, so any wedding can not get bored. For honeymooners importantly, to correctly calculate the number of products and make a good menu for a summer picnic.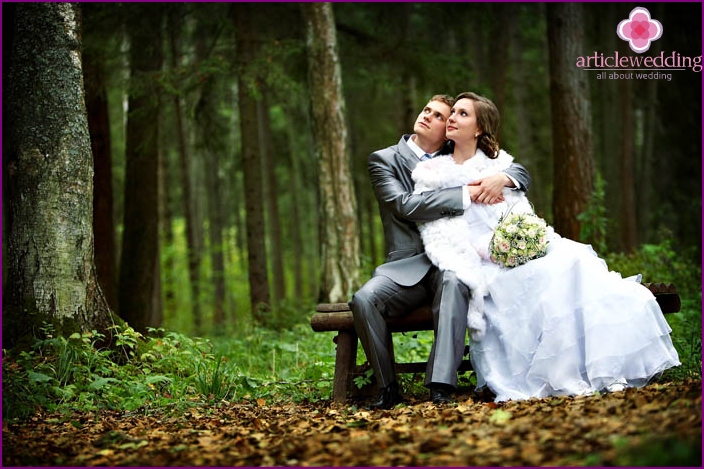 It should be remembered that the averagefeast - 8 hours, so it is necessary to take into account the guests during this time come to the table 2-3 times in between the wedding and dance contests. How much they can eat in the fresh air? Do the math. Also on the nature of the best to offer guests two hot dishes on the menu: one at the beginning of the banquet, and the second - in the end.
Under the rules of the summer wedding banquet held inthe following order: first served cold snacks (sandwiches, fish, mixed vegetables), then put on the table salad, then meat dishes (cold boiled pork, jelly, roast beef). And cold snacks must be greater than all the others, because they have a snack alcohol. During the dance on the table already served desserts, coffee and decoration becomes a banquet wedding cake.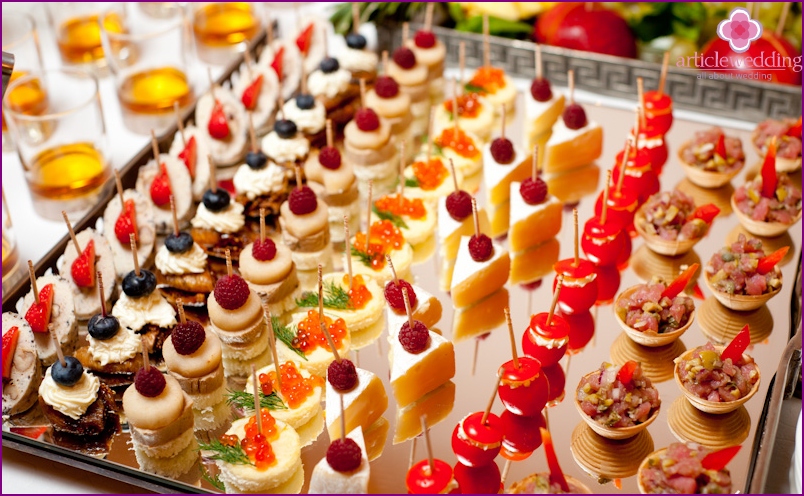 We offer for a summer wedding on the nature of the following menu:
Appetizers: acute fish snacks, sandwiches with red caviar, stuffed fish, seafood, salads, stuffed eggs, cold ham, meat salads.
Hot snacks: cakes, hot sandwiches, seafood, zhuleny.
Main dishes: baked stuffed suckling pig, fish kebab or barbecue.
Dessert; wedding cake, tarts with caramel mousse and airy soufflé.
Drinks: summer wedding provides the most soft drinks and alcohol at least, so the number is calculated based on the number of guests and preferences.
Recipes of cooking at home
When preparing a summer menu for wedding homedifficult to adjust to the taste preferences of each guest. It is better to create a more varied menu, where dishes are suitable for everyone. For a summer wedding snacks excellent canapés with vegetables and meat, or in combination with any other products. The main approach to the creative process: on toast stacked slices of cheese, ham, olives, cucumbers, peppers and pierced this tasty skewers pyramid.
Decorate the summer wedding table rangesandwiches with sardines, sturgeon, cheese or other ingredients. For example, include wedding menu sandwiches with red fish "Ladybug." To do this, take a toast or salty crackers, lightly smear with butter, put a plate on top of a red fish, on the edge of the sandwich - a sprig of parsley, half a cherry, and the head and the back of the insect garnish with sliced ​​olives.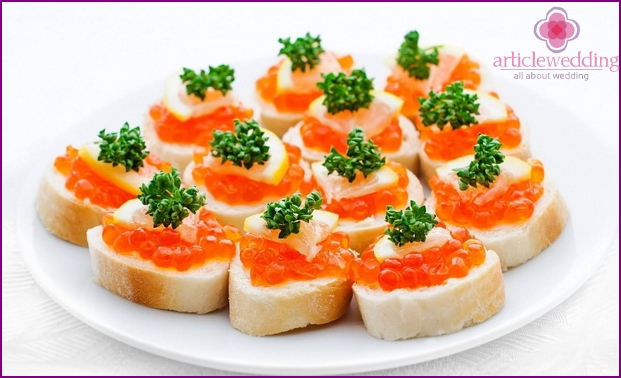 It is an exquisite combination of cheese and whitegrapes in the canapes that are sure to include in your wedding summer menu. This extraordinary taste and ease of preparation you are sure to appreciate. Just stick a small square of cheese and white grape skewer and place on a summer table. There are popular summer and canapés with cheese. Take a piece of black bread, put cheese on it, and half a cherry pierce skewer and canapes ready!
Cold and hot snacks
As cold snacks propose to include in the menu for a summer wedding eggs stuffed with shrimp. For this we need the following ingredients:
Eggs - 4 pcs .;
shrimp - 0.5 kg;
greens, fresh vegetables;
butter - 1 tablespoon;
salt.
Recipe:
Clear the hard-boiled eggs, cutin half, remove yolks. Shrimp boil, cleaned, cut into slices, shrimp and neck leave for decoration. With butter rub the yolks, salt, mix with shrimp and egg farshiruem. Top put sprigs of dill, neck shrimp, decorate beautiful and tasty dish of our summer wedding table.
Hot meals are served in the summer so as not toI had to use a knife, so they cut into slices, cubes or cubes. Prepare a wedding hot snacks fried, steamed, boiled or baked form. Turn the tomatoes in the summer wedding menu, stuffed mushrooms, which are quickly prepared and look great on the wedding table. For this recipe will need:
tomatoes;
White mushrooms;
bread crumbs;
butter;
tomato puree;
onions, garlic;
herbs, salt, pepper.
Cooking:
With tomatoes cut off the top, remove the pulp andseeds. Onion cut into, passiruem in butter, then add the finely chopped mushrooms, tomatoes, greens, garlic and continue passirovku. When ready, mix the entire mass of biscuits, dressed with pepper and salt. Filling dressed with tomatoes, sprinkle with grated cheese and send to the broiler. Once the cheese has melted, our stuffed tomatoes are ready!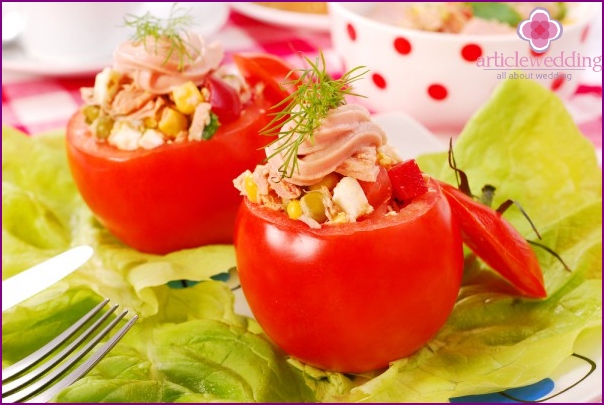 Main dishes
As a main course on a summer wedding, weWe propose to include in the menu, pork, cooked in the oven. This is a simple but effective way to feed the delicious male audience. The recipe is simple: to buy 1 kg of fresh pork, washed, make cuts, depth up the middle, add salt and pepper to taste. Cut 200 g of solid cheese thin plates, 2 slices of fresh tomatoes, 3 cloves of garlic into strips.
Add all ingredients prepared in notchesin meat. Wrap meat masterpiece in foil, place it in a preheated 190 degree oven and bake for 1 hour. An hour later, the foil must be removed and bake the meat for another 30 minutes. Cooked pork spread on a dish and serve for the summer wedding table to the delight of the strong half of humanity.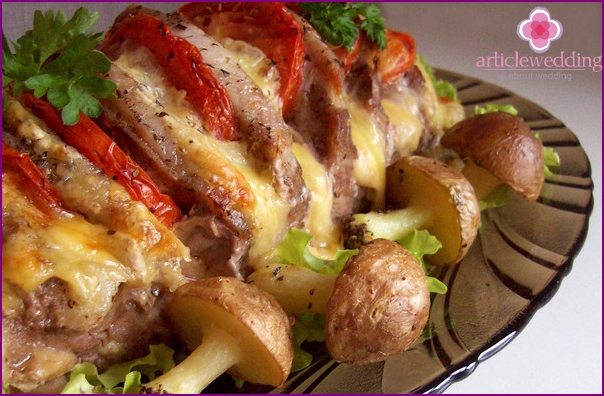 For those who do not consume pork, includewedding menu second main dish: turkey stuffed with rice. For this recipe will need: turkey, 4 boiled eggs, 2/4 cup of rice and breadcrumbs, liver, turkey, spoon butter, parsley, pepper, salt. Liver chop, combine with the yolks, butter, semi-rice, chopped herbs and mix. Then add in a lot of crumbs, beaten egg whites, salt and pepper.
Stuff turkey gutted and washedcooked meat, adhere to the body and wings of poultry legs, put it back in the pan, season with salt, mayonnaise obmazhte, pour 3-4 tablespoons of water, cover and bake in oven for 3 hours basting periodically in its own juice. When the bird is ready, remove the lid and bake without it, the crust blushed. Then put the turkey on a platter and serve for the summer wedding table with pickled vegetables.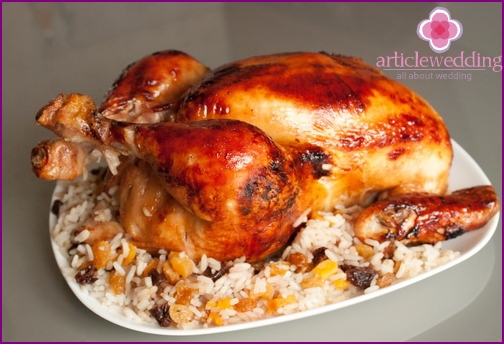 Dessert
We suggest to include in the menu as a summer wedding dessert apple pie with brandy and cream. Preparing the cake for 1 hour, but its magic taste will not leave anyone indifferent. Ingredients:
Butter - 80 g;
sugar - 50 g;
apple - 2 pcs .;
sour cream - 2 tbsp. l;
flour - 130 g;
Eggs - 2 pcs .;
brandy - 1 tbsp. l.
baking powder, vanilla.
Preparation: in a deep bowl, melt the butter, add sugar, vanilla, eggs and mix. Then, add the weight of the flour, baking powder, cream, brandy, salt and mix well again. Pour the batter into a baking dish, top along the rim nicely lay sliced ​​apples and bake about 30 minutes in the oven, so as not to dry up our summer wedding dessert.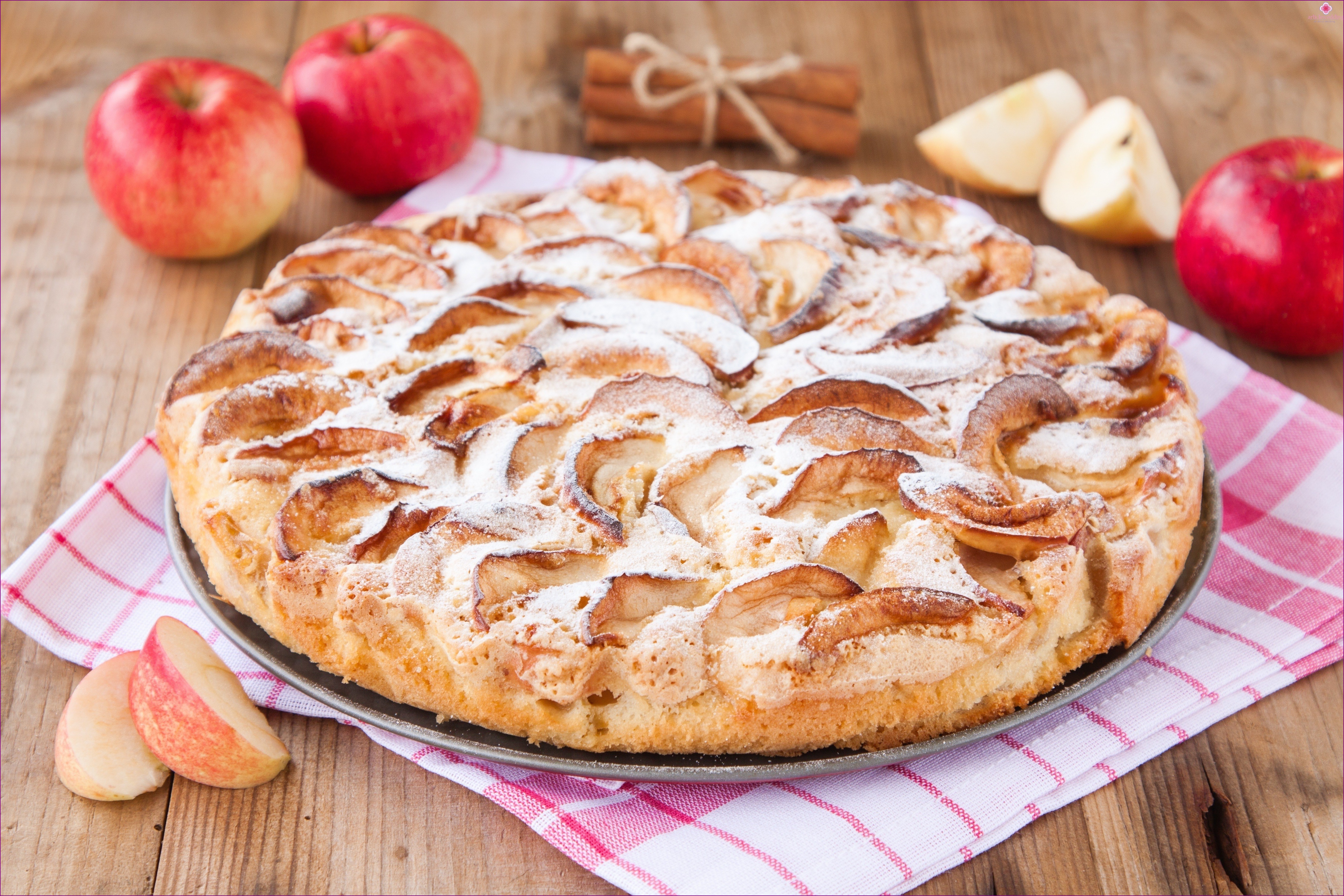 Prepare offers gentle cottage cheese soufflé,which is loved by adults and children in the summer. We need 2 eggs, 400 grams of cottage cheese and fruit to choose from: pears, bananas, peaches, apples. The flesh of the fruit rub on a fine grater, mix with cream cheese, egg and sugar until smooth. Lay out on a lot of molds, bake in the oven for 12 minutes. Dessert is ready when the touch on fingers will remain curd. The contents of the molds turn and decorate to your taste.