In such an exciting day as the wedding, it would be desirable,everything to be perfect. Carefully thought out all the details of the celebration, from the prizes for competitions to the wedding menu dishes. To the wedding has left an indelible mark in the memory of guests, you need a creative approach to the organization of the celebration. For example, bright impressions remain from the wedding, if there are original dishes on the holiday table. How to make a wedding menu? Using these tips, you can surprise your guests with tasty, varied dishes.
What is the menu for the wedding is better to choose?
Thinking options of dishes at the wedding table,We must take into account the taste preferences of the guests. Not to be trapped, it is better to find out in advance about the possible eating habits of the guests. Tastes are different. Someone does not use animal products, because fasting or is a vegetarian who is allergic to those or other products. Therefore, in preparing the festive menu, the dishes should be interchangeable.
Organizing holding weddings in a restaurant orcafes, you will greatly facilitate the trouble in the preparation of the wedding menu. Usually in such places there are ready variation of dishes. Use the services of experienced chefs who will make you a wedding menu according to your wishes. restaurant or cafe owner probably also would not refuse help and advice.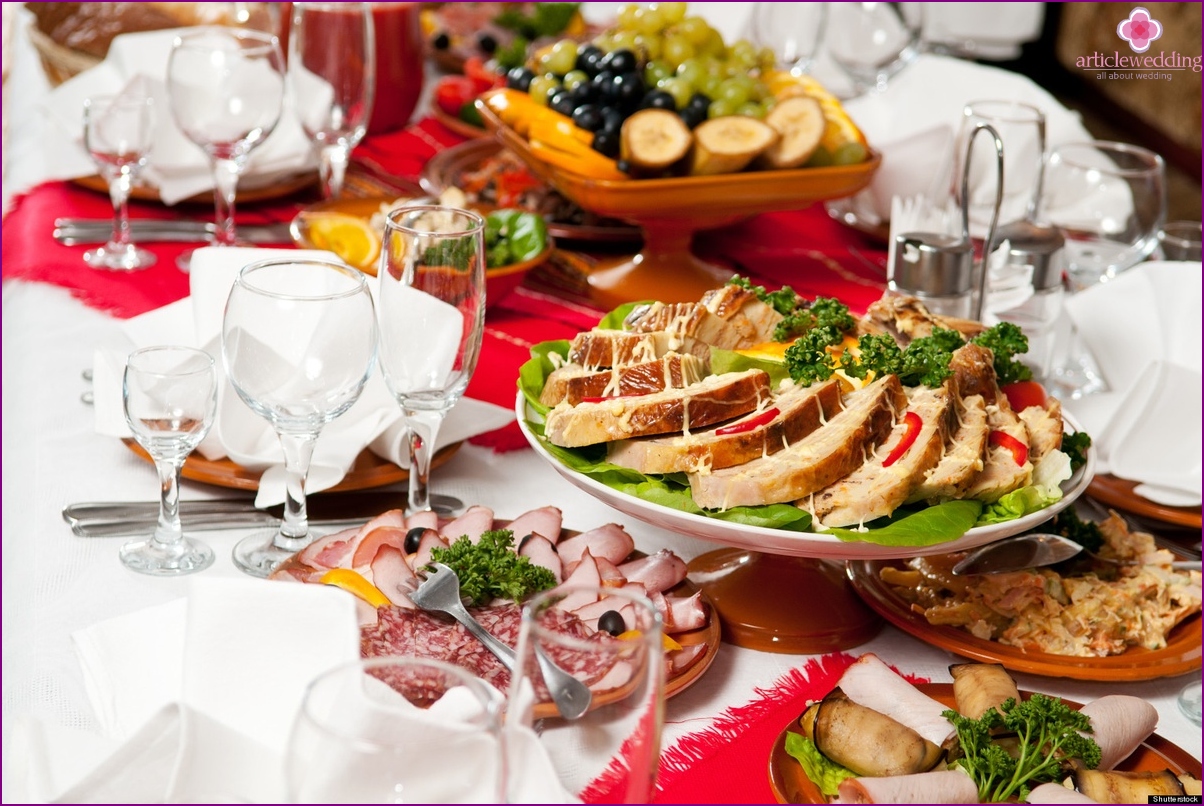 Tips on how to make your own menu
Any hostess before the wedding puzzles overhow tasty feed the guests. To the festive table was varied, but without the frills, it is necessary to make the menu correctly. In drawing up the wedding list of dishes, take a sheet of paper, a pen, and write a list of guests invited to the celebration. Next to each make a mark, his taste preferences, or other features.
Then make a list of products with the help ofwhich you will prepare the wedding dishes. Taking into account the tastes of guests, you decide with treats that will appeal to families and relatives. There are a great variety of wedding recipes, but you need to choose the unusual, not daily dishes. Surprise your guests! Let your table will be that you have never cooked and did not try. Then your family will always remember this event.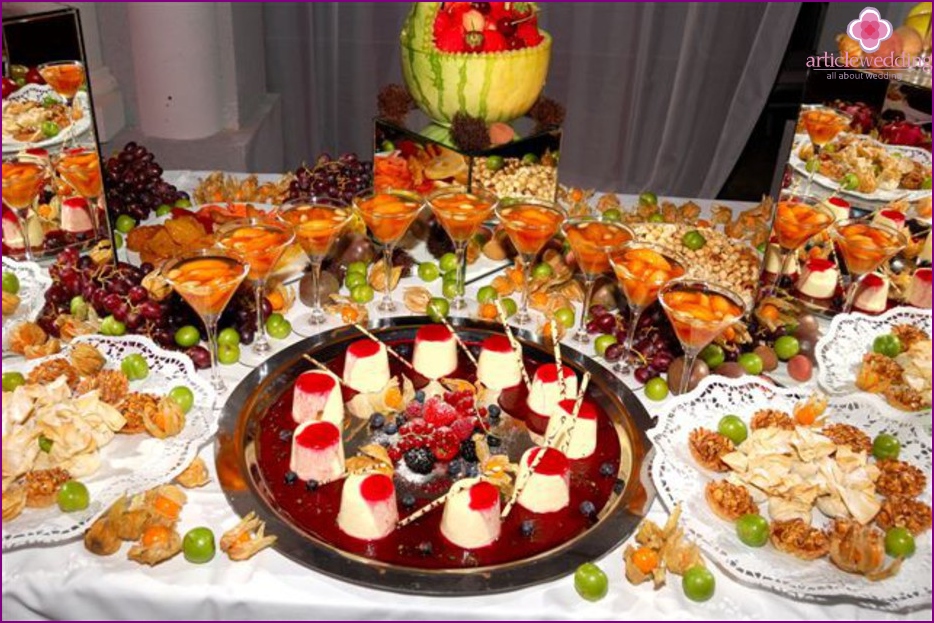 Starters and salads
Before people sit at the wedding table, snacks should stand on it. These dishes are served a la carte, ie, for each person - a separate plate with refreshments. There are snacks:
Meat cutting: baked ham, several kinds of sausage, ham, salmon.
Salted fish: herring, salmon.
Cheese cutting: hard cheeses, white cheese.
Vegetables. They served sliced ​​or in the form of salads. For vegetable platter suitable cucumbers, bell peppers, tomatoes.
Prepare for the wedding table tasty snackEggplant. For this dish need eggplant, tomatoes, cheese and herbs. Eggplant cut into strips 1 cm thick, fry in vegetable oil. Chopped tomatoes lay on straw striped eggplant on top of grated cheese, a little homemade mayonnaise and roll twist. Sprinkle with herbs, insert the skewers. Original wedding snack ready.
Another great wedding meal - cheeseballs in the green. To prepare grate the cheese on a fine grater, add the mayonnaise, garlic. The resulting mass roll balls into which you can paste olive pitted, stuffed with almonds. Chop finely dill, roll balls. Put in the fridge for half an hour. Complete the dish colorful skewers.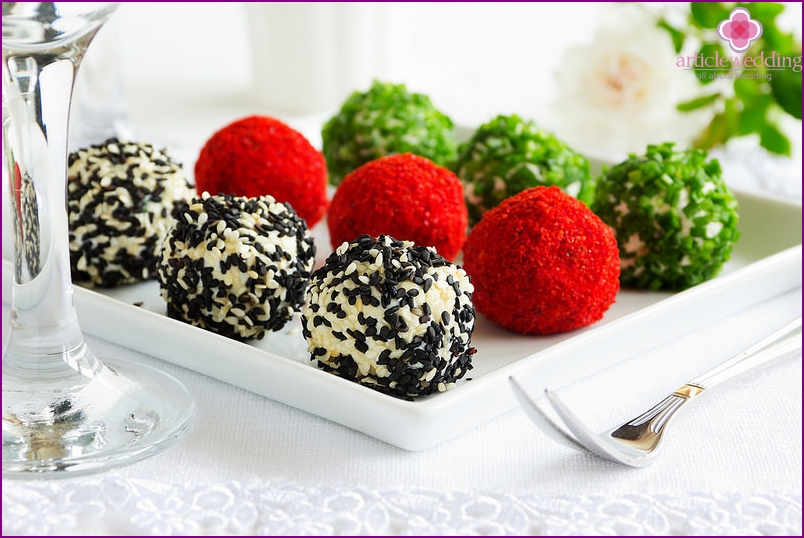 For wedding appetizers can be preparedsandwiches with cheese and kiwi. Sliced ​​loaf of toast using the toaster, spread with mayonnaise. Top fit finely chopped cheese. Kiwi rinse thoroughly under running water, not peeled, cut crosswise into slices 0.5 cm thick, place on top of cheese. This dish is not only very tasty, but also an original look at the wedding table.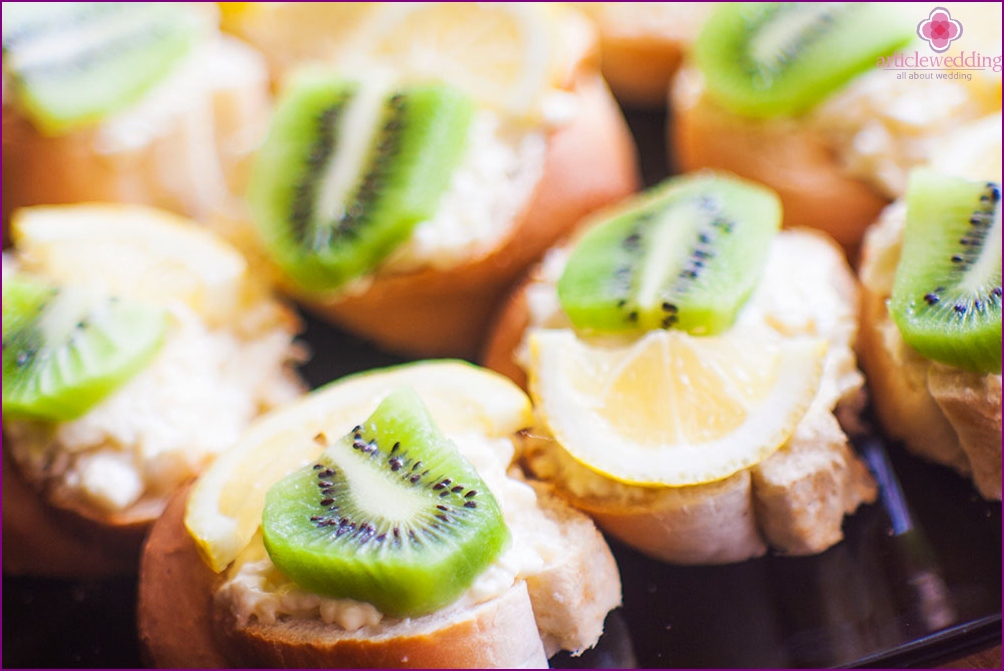 Main dishes
After the first feast at the wedding guests usuallyarrange a smoke break, dancing, chatting. Toastmasters invites everyone to take part in competitions. Events last for thirty minutes - forty. During this time, the remains are removed from the appetizers and dishes suitable time serving the second table. After an active participation in the wedding process, natantsevavshis and hungry, the guests are ready to work with forks.
The main menu of dishes should be hearty anddelicious. Necessarily the presence of meat on the wedding table. It can be meat fingers, patties, cutlets, meatballs, meat sticks, grilled. Dishes should be moderately greasy, so as not to burden the stomachs of guests. In addition sauces are usually served in a beautiful dish, is soy, tomato, mustard.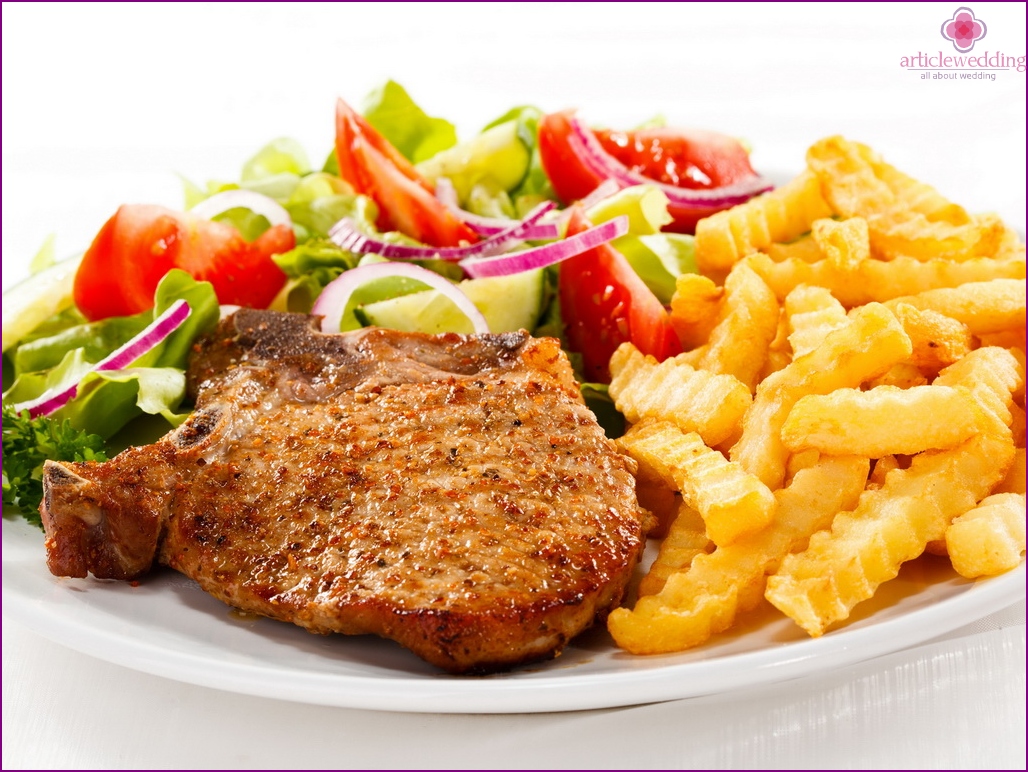 The meat is served side dishes. This could be potatoes, cooked in various forms: in the form of mashed potatoes with butter, stewed with tomatoes, baked in a pot with vegetables, fries, deep-fried, potatoes stuffed with minced meat. Rice also good complement wedding meat dishes. With an unobtrusive, neutral taste, many guests he will appeal. To figure was crumbly and cooling do not stick a lump, using high-quality cereals.
Groats are boiled in salted water, abundantlywashed with running water. Then add in the rice fried in vegetable oil or melted onions and carrots. If this side dish to put turmeric, then he will have a bright yellow color, which is unusual and elegant look at the wedding table. Supplement the dish should be finely chopped dill and parsley.
Alcoholic and nonalcoholic beverages
During the wedding feast, guests constantlytoasts, drink for honeymooners. Therefore, should be a lot of booze. Experienced organizers of weddings say that three people account for one bottle of vodka or cognac 1 liter, 1.5 liters of wine, a bottle of champagne. But divide guests on gender and age category to purchase alcohol. At the wedding is going to the company of men and women, but men are the main consumers of vodka. And women prefer to drink wine or champagne.
At the wedding, there are also children and non-drinkingpeople. On this category of guests need to worry too. For them suitable non-alcoholic beverages. All, without exception, like compote, cooked at home, from the berries (raspberries, cherries, strawberries) and fruit (apples, pears, plums), dried fruits (apricots, apples, pears, cherries, wild rose). Soft drinks should be at the wedding table and drinking men and women.
Many people prefer bottled sweetbeverages. Here the choice is very large. Coca-Cola, Fanta, Sprite - delicious and not expensive, but have a harmful structure, which is dominated by the chemical elements. Especially harmful beverages such children. Therefore, we recommend as an alternative, to prepare for the wedding table homemade lemonade. To do this, the water squeeze the juice of one lime, add any sweetener. It looks nice in the decanter a drink with a few slices of lemon.
Wedding cake and loaf
Sweet table - one of the more anticipated events on thewedding. All children, adults love sweets. Wedding cake - it is a constant attribute of any celebration, holiday symbol, the main highlight on the sweet table. By his choice should be approached very tenderly. Confectioners recommend ordering a wedding cake with a thin Korzh fluff light cream, custard, or thickened, but not oil.
When decorating a wedding cake manifest imagination. It is not just a treat, as a reflection of the events, for which we all gathered. Especially good this culinary delights, if two or three-tier, and drizzled with white icing. Top and sides is a feast decorated with flowers and figures of mastic or cream. Dimensions dessert should be proportional to the number of guests. Cake is the final part of the wedding feast and served later in the evening.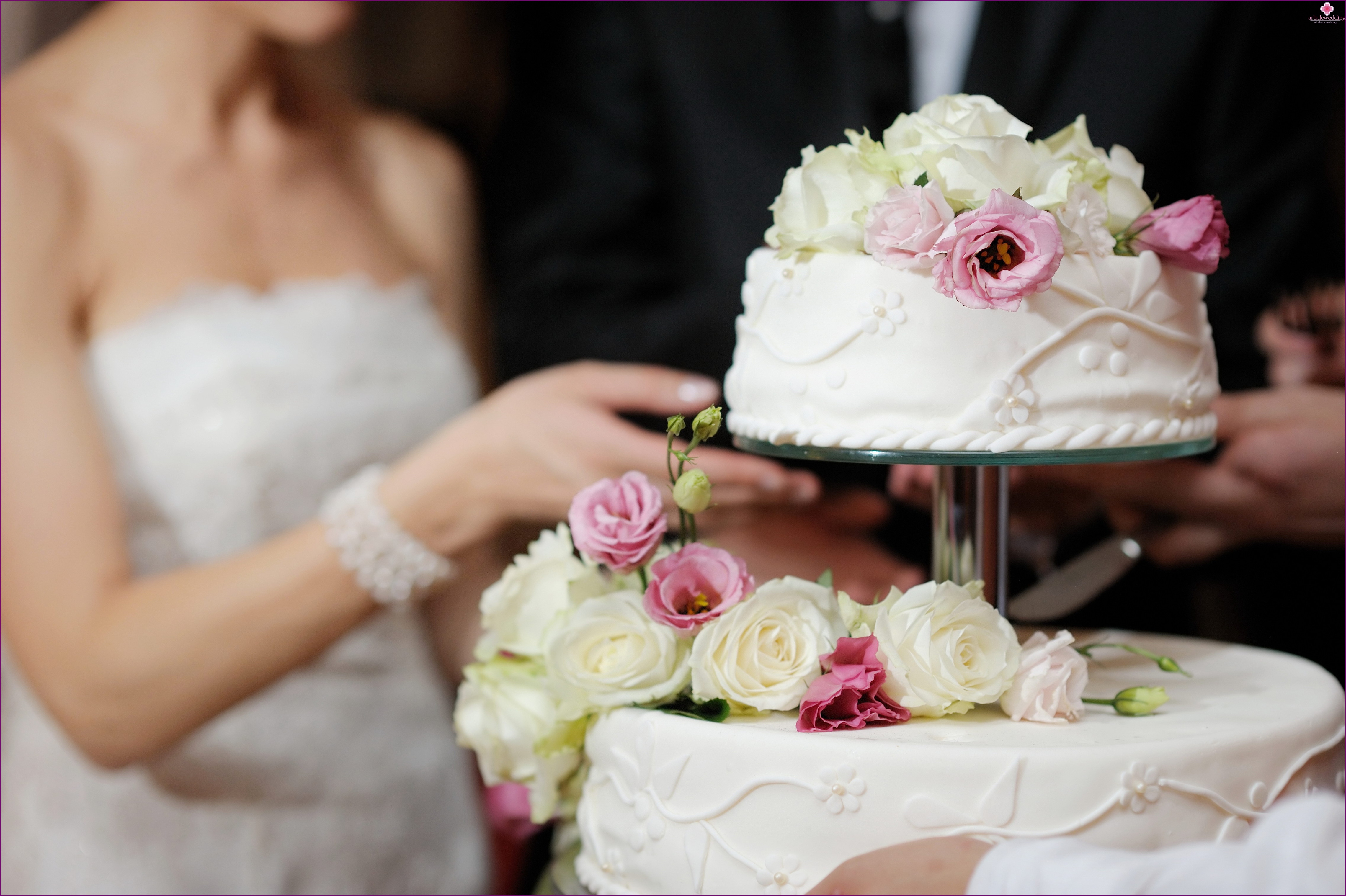 Loaf also takes pride of place at a weddingtable. They greeted the newlyweds from the registrar, blessed in the way of family life. In ancient times the wedding loaf entrusted to bake a happy woman in marriage. So the cake was endowed with beneficial energy. The tradition before the wedding loaf oven and remained in our times. This bakery is a certain symbolism of a happy family life. Confectioners offer a large selection of jewelry for wedding loaf - each figure made of dough, has its own meaning:
Spikelets symbolize fertility, wealth.
Couple kissing doves talking about marital fidelity.
Spit - a symbol of readiness for marriage.
Grape bunch - a rich offspring.
Flowers - beauty, wealth.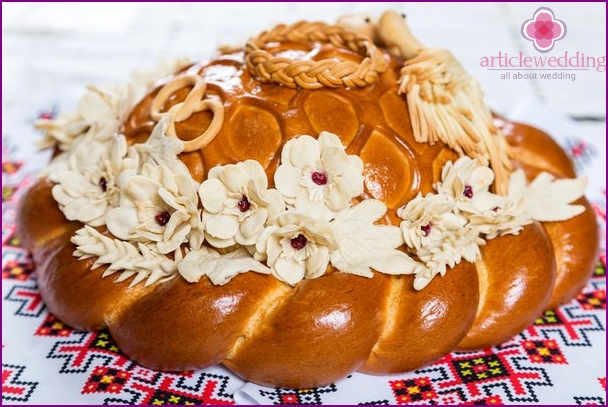 Calculation of the banquet menu for one person
How to make a wedding menu toall have enough food, and excess products do not have to throw away? Experienced chefs and organizers of festivals say on the wedding party, each guest can eat one kilogram 300 grams of food. For convenience, a sample calculation is presented in tabular form:
How to calculate the wedding banquet menu

Food

amount

(1 g per person)

appetizers

400

Salads

200

Hot appetizers

200

Hot dishes

200

Garnish

200

Cake

100
Recommendations regarding the selection of the wedding menu in a restaurant
If you decide to invite guests and celebratetheir wedding in a restaurant or cafe, you make it easier for the trouble in the pre-holiday bustle. For you will have to work a team of chefs, waiters, decorators, DJs. You will only need to specify in advance with the staff places your preferences. An important point in the conversation will be the wedding menu for your table. To prepare it you will along with the main pastry chef of the restaurant.
You will be offered a catalog of wedding meals, fromyou have the right to choose a favorite. Wedding menu in the restaurant is not much different from home. The first thing that should be on the table at the entrance of the guests in the restaurant - delicatessen. Here the choice is wide: from cold cuts to the vegetable platter. The second - the main dish. This includes meat, fish with a side dish.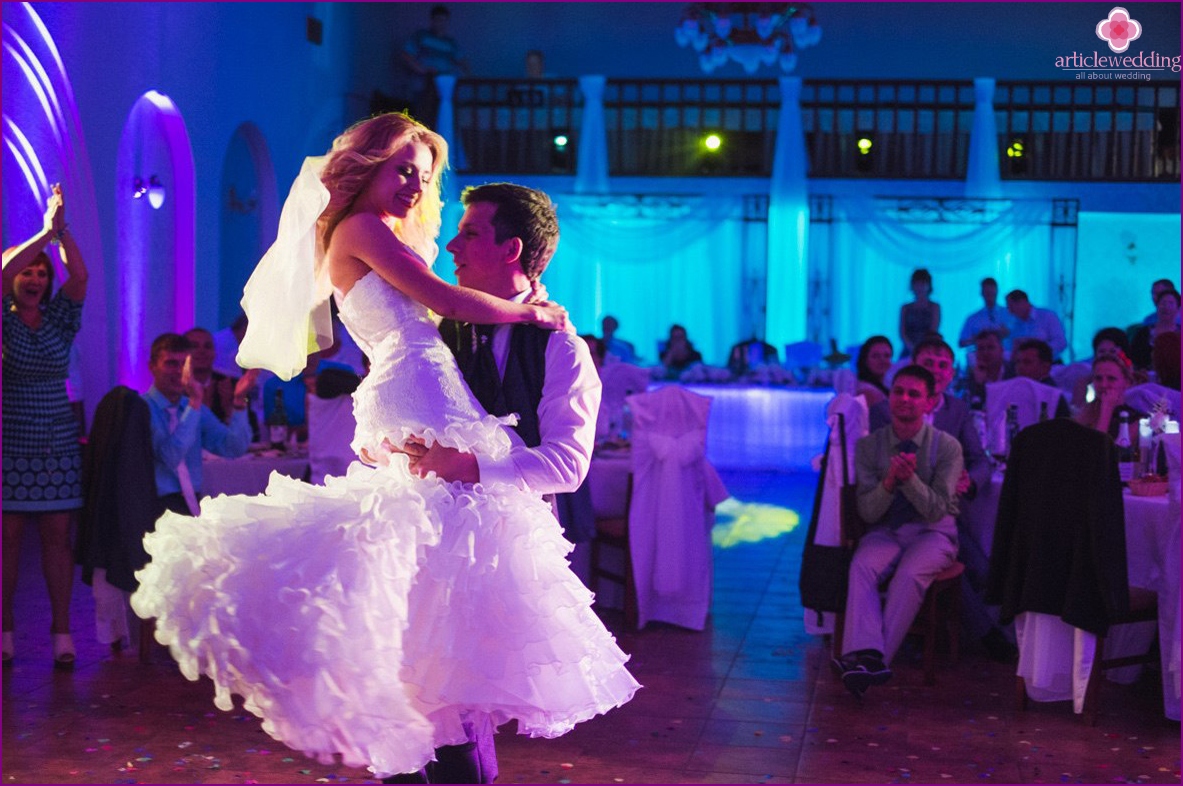 The third table - the final stage of the banquet,sweets. Confectioner in the restaurant will offer you a huge selection of various delicacies, from bagels to the wedding cake. Since the wedding is always a lot of children, and baking on the holiday table should be a decent amount. Particular attention should be paid to the fruit. They not only complement and diversify the feast, but also decorate their views ballroom. Fruits (apples, bananas, oranges, pineapples) are suitable for a snack between meals wedding feast. They are also well-served with alcoholic beverages.