Wedding cake - dish, which pays specialaccount when planning the event. It is decorated with figures of a pair of doves, swans, bride and groom. In the last decade there is breaking traditions, and to replace the cake come composition of cupcakes. This trend gives more opportunities for chefs and confectioners. Cupcakes for a wedding is collected in a huge pyramid or small groups to decorate the table. The compositions of the mini-cakes match the overall design, style and color decoration celebration.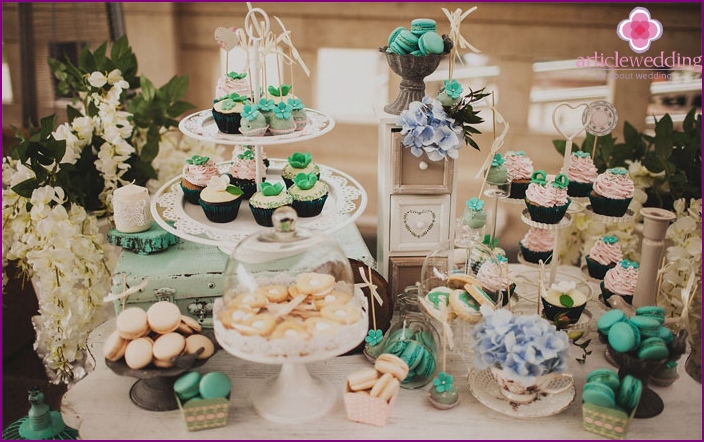 Advantages of cupcakes at a wedding
According to one version of the origin of the name, the 3 rd centuryago dessert baked in an aluminum cup, so named because of its unpretentious "Cake in a cup." This is not just a "cake with cream" and a miniature cake lately except that culinary masterpiece will not name. The popularity of this dessert for weddings grows, cupcakes and now the height of fashion. Mini cakes adorn the tables on anniversaries, anniversaries and other celebrations. Advantages of cupcakes at a wedding are obvious:
No matter how much effort is spent on pastry cake decoration for the wedding - on the plate will be a banal piece with a layer of cream. Mini cake composition and looks great on their own.
The most important advantage - it is not necessary cupcakesdivide into portions. For the bride and groom cutting the cake accurate at the wedding - this whole ordeal. No need to worry that someone does not have enough dessert: Each guest will receive your cupcakes.
The composition of such a small wedding cakes(50 - 60 guests) you can nicely placed on the desk, even consisting of 4 storeys, it is impossible to do in a variant with a cake (three tiered cake weighs 15 kg, it is up to 150 people).
Cupcakes are easy to transport to the siteweddings. Large cake is very difficult to transport, a sharp turn or brake can be fatal for him. Cupcakes easily packed into boxes, and even if all of a sudden it happens that some items lose their form, they are easy to remove from the composition. But it must be ordered slightly larger number of cakes.
The ability to prepare different kinds of cupcakes. Each guest can choose the mini-cake, which is more like it. For example, to give Weight Watchers a good idea to order low calorie confectionery products for children - Fruit cupcakes, etc.
If you want to keep the tradition of cuttingnewlyweds cake, then to the top tier of the composition hoisting a small cake with classic figures of doves or swans, and lower tiers stand filled with cupcakes.
Sweet - this final wedding dish onwhich guests have "no place." The ability to take home with them in a convenient package cupcakes will be a pleasant end of the celebration. For this cake before serving about each guest put a little paper bags.
Tips on choosing a wedding cake with cake
Wedding Cake - this dish, which will be rememberedlong newlyweds and everyone present. Confectionery product must be in harmony with the chosen style of the wedding, but, more importantly, it should be to the taste of the guests. Cake cake is best to book at the very end, when we know the number of guests, the wedding style and color. To cope with this difficult task will help the following tips.

Stand and the number of storeys
Cupcakes are convenient in that the number of tiers of the standIt determines the design of the composition, rather than the number of mini-cakes. Even with 60 cake easily create a pyramid in 3 and 5 "floors". The industry produces a wide range of supplies for cupcakes. But due to the fact that we have such desserts just come into fashion, the choice of accessories is still limited. The problem can be solved buying palm mini cakes through online stores or independent of its manufacturer. There are several approaches to the choice of the number of tiers of the stand for cupcakes:
Take a basis already exists in the presence of the stand. Then everything is simple: it is placed cupcakes and complete composition decorative elements. Confectionery often offer beautiful Stand mini-cakes for rent for a modest fee.
If the wedding cake with cupcakes willcreated on their own, the cradle of all sizes to easily make your own out of cardboard or other material. Then we must build on the design of the composition itself, the materials that will be used for the manufacture of a "pyramid", the number of cupcakes. Very interesting and easy solution is shown in the photo below.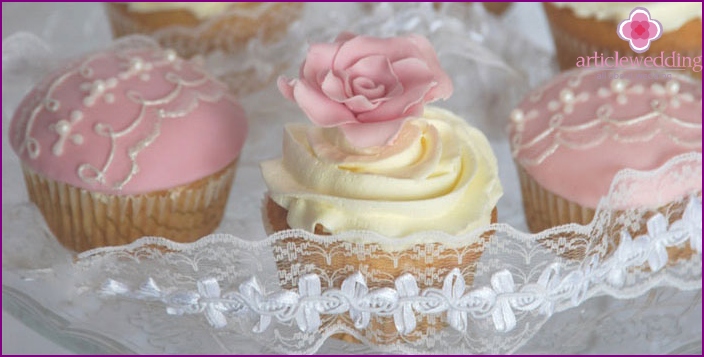 The color of decorations and toppings
Pyramid with cupcakes at a wedding can bedifferent shapes and colors. Depending on the option chosen wedding decoration, think through the basic tone of the composition. The shape and color of the cake cupcakes can be symbolic in nature on a national or theme party. Taking the following ideas, choose a color scheme design composition with cupcakes will not be easy:
Tint mini cakes coincides with the wedding COLOR selected. If the celebration is organized in a classic style, it is best to choose a different concept.
The color scheme cupcakes is in contrast to theWedding decoration. This is perfect for a classic wedding or if the prevailing white, pastel colors. The saturated bright color composition with cupcakes at a wedding will cause a real sensation and noticeably stand out against this background.
The color and shape of a pyramid with a mini-cakes repeat the bride outfit.
Make cupcakes according to the time of the year. Very unusual look Winter, summer, spring or autumn composition.
When choosing color solutions need cupcakesremember about the psychology of color perception of food. Psychologists have found that the most mouth-watering shades are yellow, magenta and red. These colors improve digestion and encouraged to try the dish. Avoid people products, painted in blue, black and purple colors. Top of the most unappetizing colors blue heads. Products dyed green dye, are perceived as bringing health benefits. White - neutral. If you can not do without the blue, black and blue, it is not necessary to do their background.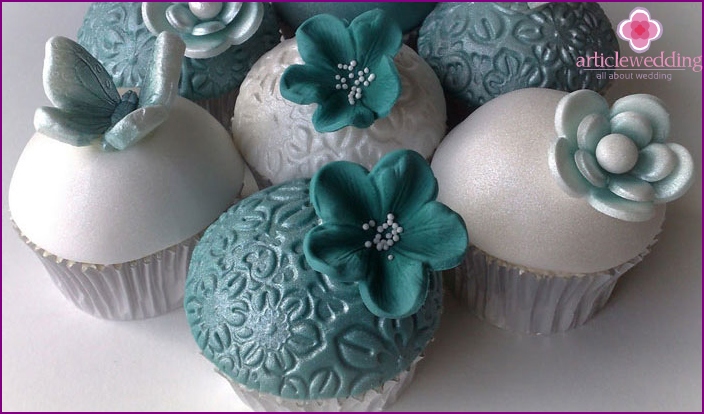 Confectioners have accumulated a huge amount of recipescupcakes with even more numerous fillings: vanilla, chocolate, fruit, carrot, etc. Many cooks have their own specialties, the composition of which is kept secret. It is very convenient to order cupcakes with different fillings, but made in the same style to every guest at the wedding cake could choose to taste. Try to avoid heavy fatty creams based on butter. If possible, make a small amount of pre-cupcakes "on trial" in order not to be disappointed at the festival.

How to cook cupcakes for a wedding with his own hands
For the preparation of wedding cupcakes productsmust be of the highest quality: butter, margarine can not be replaced, you need to choose the freshest eggs and sugar - finely ground. Particular attention is paid to the design of a cream beanie. As molds for baking cupcakes using colored paper molds for cupcakes, which are also packed cakes. Non-stick or silicone molds will also work, but then you need to consider clearance sides cupcakes. You are about to make a mini-cakes? Use this step by step directions:
The main rule when cooking cupcakes - starting materials should be at room temperature.
Oven for baking cupcakes heated to 180 ° C.
Butter weighing 110 g at room temperature whip until fluffy white mass state. Then slowly pour a glass of fine granulated sugar, continuing to beat until it is completely dissolved.
One put in a lot of fresh eggs in the amount of 2 pieces, continuing to whisk.
Gradually pour in half a glass of milk, and mix for a lot of cupcakes, achieving complete homogeneity.
2 teaspoons baking powder sifted with 200 g of flour.
Gently stir the flour mixture into the oil.
Divide dough into two parts cupcakes.
To one part add 2 tablespoons cocoa powder, diluted in 20 ml of water.
The second part can also add vanilla, lemon or orange peel, cinnamon, almond extract, or a tablespoon of cherry brandy.
In the filling of molds for mini-cakes are the options: Put the white and dark dough in half and fill in the form separately chocolate and light weight.
Form the dough dessert future immediately after filling send in preheated oven for 20 minutes.
The traditional recipe cooled cupcakes "muffin" top cover trim "cap" any form of holding cream.
If you move away from the classics, then using a syringe into each pastry cupcakes you can enter the fruit puree or cream and then place the top of the cake with cream, icing, mastic, fruits and berries.
Video - cupcakes recipe
There are many recipes and many more optionsdecoration for wedding cupcakes. To prepare yourself these wedding cakes, you need to have a minimum of experience and visionary. But production of the classic chocolate cupcakes technology with banana cream filling and cake decorating options you can learn by watching video from a professional chef.
Ideas of wedding cakes cupcakes - Photo