Little kids behave naturally uninhibitedin any process. Therefore, at weddings, they become the subject of attention of all those present. From these little guests are also waiting for the children's greeting words. They are like real adults, can say the whole speech or solemn verse. Baby beautiful congratulations for a wedding, and, more precisely, the vast majority of them, simple, unpretentious, but there are also funny options. Kids can make a real scene with a recitation of congratulations or birthday song to perform.
Funny greetings from the children to the wedding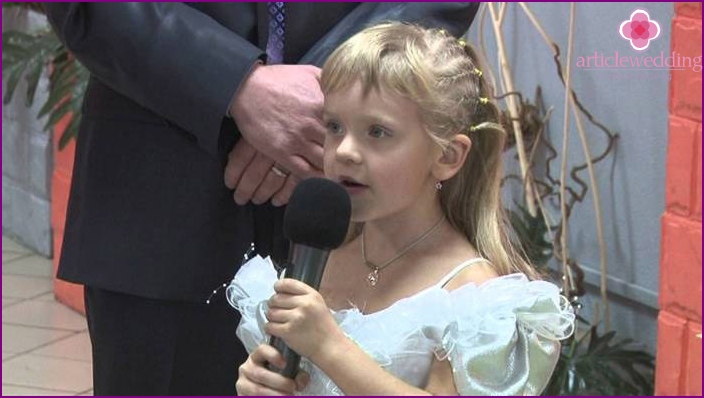 Parents who come to the wedding ceremonywith the children, trying to find them funny, beautiful and interesting children's congratulations. It looks fun: from the mouth of the little girls and boys, dressed real bride and groom, wedding congratulations to sound very nice, touching. Not all adults can resist such a scene without tears. After all, kids represent love, and when they talk about happiness, true feelings in congratulations for a wedding, it is impossible not to be touched by these creatures.
Parents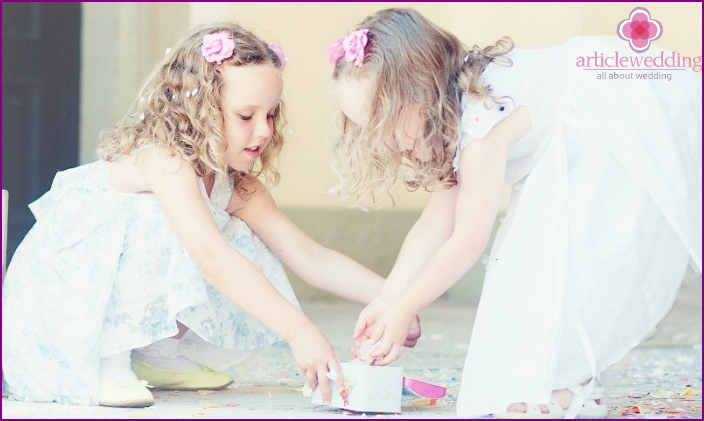 When the kids greet their parents withwedding, you can not cook them in advance. If the child is unselfconsciously, active, he will be able to express their best wishes: it will look cute, touching and, most importantly, sincere. If in doubt, ask your child to write down everything in advance what he would wish on a piece of paper. If you want to help him, tell me the right words. If a child has talent, he himself will be able to compose a poem dedicated to his own parents. Below are options for children fun greetings.
Merged two hearts together
And two hands into a single merged
The Union shall be inviolable
For the rest of my life.

What in life can be more beautiful -
Her hand in his hand
The fire of love, but will not go out
In your family hearth.

Big road, not trail
You will go hand in hand
And let gait will be easy
And smaller stones on the way!

Mom and Dad, I hasten to congratulate you,
And the most interesting gift I give.
You brought me up perfectly,
And I lived with you very well.

And on your wedding day, personally,
Congratulations I write not laziness.
You live together in perfect harmony,
And you have no "dark cloud."

You are an example of a family for each of us,
This holiday is only for you.

Since the wedding I am pleased to congratulate you,
Now I want to add a little bit:
To be together you happy,
And, as of now, always beautiful!

No beautiful words "forever"
You - in the wedding dress.
Here it is a paradise,
Take pozdravok!

Let it be a long time your union,
Favorite parents!
There will be stronger these bonds,
Happier abode!

Heart let beat in unison,
In the heat of love burning.
And life is beautiful as a dream,
Valentine surrounds!
From nephews uncle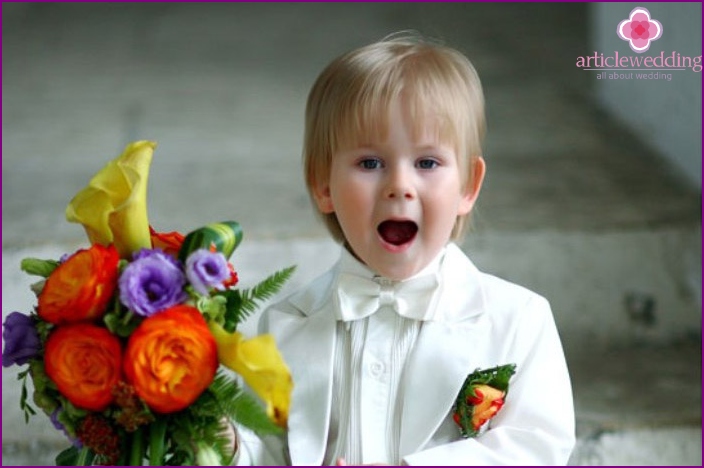 If invited to a wedding the groom's nephews, theparents should consider pre-baby congratulation. If the children are adults or teenagers, give them the opportunity to prepare yourself: let come up with what would like to wish loved ones (for example, a beautiful castle, a happy family, etc...). If a child has a brother or sister, then let them read the verse together by roles. And what do you do when the kids are not the children compose a congratulatory poem for a wedding? Come to the aid provided following poems for the wedding.
Sparkling gold ring,
And your feelings so tender:
Love the beautiful, young!
Let there will be days full of happiness!

Honeymooners congratulations,

Love and happiness they desire,

Husband - wife to obey

And love her one.

And his wife - to give birth to children,

Lovely, glorious shalunishek!

We are waiting for you to heroes

And beauties daughters!

And we wish you

Young forever be,

We were at a wedding Gold

Do not forget to invite!

Maintaining loyalty to each other,

All my life I only go around,

Unaware of bitter, angry insults

And reproachful look.

Let the sun shine you always

And the days are cloudless.

Never left,

Let your hands tenderness never forget!
From godchildren
Godparents would be glad greetingsfor the wedding of their godchildren. Therefore it is important to prepare the children for this moment. Kids can play a small skit, tell children's birthday poems godmother and her chosen one. This moment is very moving, emotional, brilliant for couples, especially if they have no children of their own. It is better to rehearse with the child learned congratulations for a wedding several times, so it is not stopped when the excitement do not forget the words.
Let there never fades

Happy life of Dawn,

Let it be sweet to you always,

And now you sad!

Life for you - a wide road,

Hundreds of miles way.

You are now on the threshold of happiness,

Wedding door you enter.

So open the door a little wider,

To make it bitter wine,

To be your best pair in the world,

To drink all the happiness of life to the dregs!

We wish our newly married,

To way of life was a good one.

We wish to live in love and peace,

In a separate own apartment,

To out of it sounded for all

Cheerful ringing children's laughter!

Palace will become any hut,
Reigns where the good wife!
More than all the wealth it
The most expensive pearls and gold!
And I have a glass of vote
For the selection of the groom - the young!
Possible short greetings from young children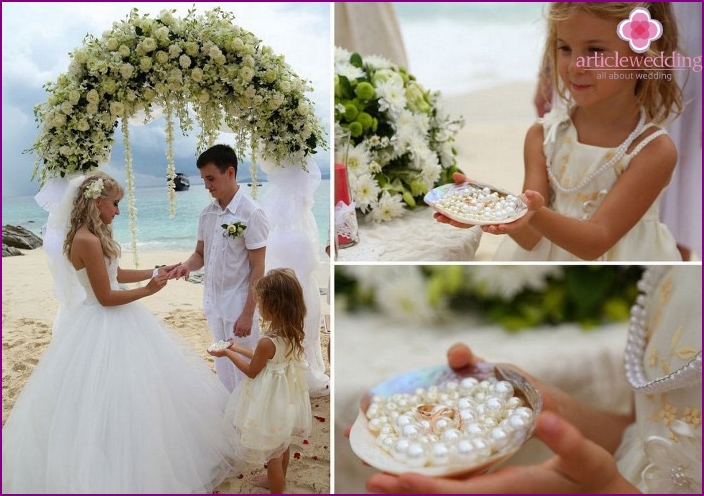 The youngest guests at the wedding can tellsmall children's poem. It will be interesting and nice, if a child at home with my mother prepare hand made card, for example, with application. Believe me, this surprise will please very young. It is better if the baby will be in the children's congratulatory speech, far from their parents, so that they could give him a clue, if he is caught.
For you, young, blue palaces
In all the cities create,
That memorable were the days of gold
When you call your family!

We wish to live in love and peace,
It seems that it was, to a fairy tale!
And to place in it enough
Diapers, pacifiers and strollers!

We wish you to live without boredom
Happy happy family
Until the day when you have your grandchildren
Congratulate with wedding gold!

We want to wish you
Most smile
And each other every day
The newly fall in love
Equally divide always
Joy care
And to add to the best of
Stork work!

You have a big celebration,

Raise a toast family and friends,

After all, it is fortunate that you have become two,

Let there be a solid new family!

Let the family will be okay,

And in the soul it is always gratifying.

Let always accompany

Love, smile, kindness.

I want to wish you always to be together,
But apart forever without getting tired!
To smoothly passed the honeymoon
In honey a year, then - in the age of honey!

I wish you to live in the city of love,
Outside consent
To the windows looked out on the Avenue of Dreams
Leading only happiness!

We warmly congratulate you
On the day of the joy of a large,
From the bottom of our hearts we wish you
Being a strong, happy family!
Funny children's poem wedding day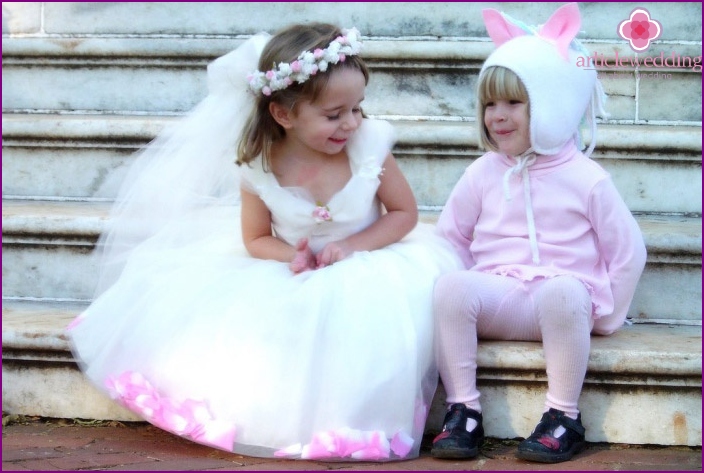 Funny baby congratulations weddingceremony will amuse all the guests, the newlyweds. It will be a good discharge, the opportunity to throw out the emotions. Be prepared children for the performance. They can simply tell the nursery rhyme to the wedding or to accompany his theatrical stage, dance and can sing at all. Several times rehearse greetings in verse to the crumb was sure, calm. Also, explain to the child how to behave.
Congratulations, young, and want different:
Tacit in-law, mother-in safe,
TEST kind to sponsor,
Well-law to invest in you, too!

Happy wedding Happy Wedding guys
Suppose that are found in the house of moolah,
Nights to now have not slept,
A wonderful children gave birth!

Happy wedding Congratulations from the heart!
You gotta change priorities:
She loved you and goodbye flowers,
Learn to cook borsch, meatballs ...

The newlyweds, congratulations,
And wish Handing:
Live together always together,
For this bit need
Husband to wife flowers gave,
Exaggerated time wore!
Wedding video greetings in the form of a song from a child
In the following video shows a touching greeting from the child in the form of songs. So wonderful way each kid can congratulate the young to the wedding, giving them a song.