­
No wedding is complete without a comic competitions, games, quizzes. To diversify the feast, to cheer up the guests suggested to hold an original, fast trickle competition for the wedding.
­
­
­
Number of participants
­
­
­
To participate in the competition leading to invite a few young women dressed in a skirt or dress, which is proposed to pass through the brook. Sam "trickle" is a track wallpaper, 2 meters long.
­
Each of the participants is tested by one -The first contestant is being prepared, the rest go to another room, waiting their turn. It is important that the second and subsequent girl did not know about the background of the match, otherwise the joke will not succeed.
The event begins: toastmaster determines the first contestant and the other girls asked to go to another room. Assistant event spreads track wallpaper simulating river flow.
Toastmasters offers a girl who willto participate in the first task, to walk along the brook imaginary, legs wide apart, so as not to come into the "water." If the participant has successfully passed the test with their eyes open, offers leading her to wear a bandage.
The second phase of testing - contestant sinceblindfolded, makes the passage along the stream, holding his hand assistant. When the movement member along the brook is suitable for the final, on the track instantly goes to the witness or a clever man, so that the girl, who shot the blindfold, have the impression that the man was lying there from the beginning.
After removing the bandage after the test, the contestant begins to hesitate, blush, and the guests poured loud laughter.
Then the leader of the first Member State offersjoin the guests and invites the next. When the test is held the second contestant, first, laughing with other guests, do not feel embarrassed.
As a contest Brook, look at the video:
Brook - the game, so there is no winner or loser. The event ends with the awarding participants with gifts and a storm of applause.
Details for competition
For the competition you will need:
A strip of wallpaper.
Blindfold.
Funny music.
Imitation stream can be made with your own hands,cut off from the roll of wallpaper piece of 2 m. For the dressing, take a nice shawl or a scarf made of thick fabric, not light-transmitting, do not look to the contestants.
Music for the competition, choose a dynamic, with lively motifs, uplifting. Use music, thematically related to water, such as the song of Dirty Rotten Scoundrels "And by the river."
Challenge options
Prizes - small souvenirs and gifts. Well cheer up: a couple of chocolates, candy bars, chocolate medals. Lovely plush toys dispel confusion brook girls after the test.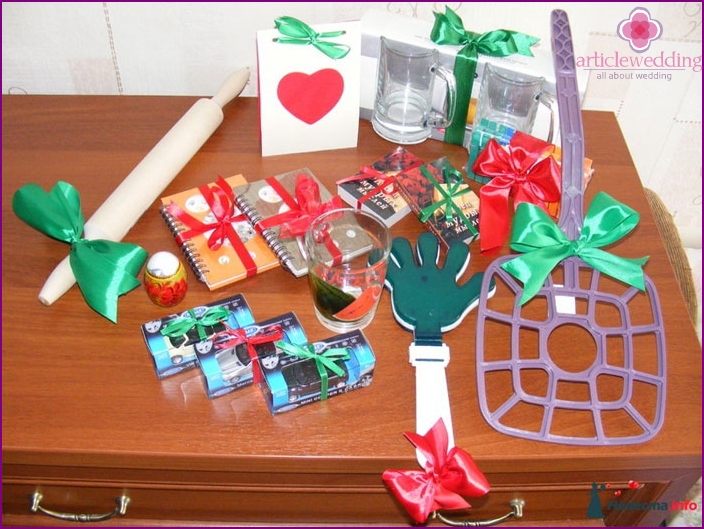 Specially selected for this eventcheap women's jewelry: rings, brooches, earrings, pendants, bracelets. After the competition give each girl a glass of champagne and hand small souvenirs.
You have already taken part in such a contest? Share your experiences and ideas, leave a comment.
­