Wedding competition, in which the mainprops is orange, so diverse that we present several options for. The first competition of orange: the participants form a circle, which pass each other citrus, holding it between your chin and chest. The second - a dance event: a pair of moving while holding an orange foreheads. And the third: the guests are divided into two teams, the task of each participating team - how to pass citrus soon as possible from the first to the last competitor without using their hands.
Number of participants
Depending on the type of fun game on the holiday, you will need a different number of people involved:
1. For the first version of the contest are invited to an even number of competitors - must be the same for men and women. Guests participating in a circle - man-woman-man-woman. According to the team, participants begin to communicate with each other subject who dropped - is eliminated. The winner is the last person dropped fruit.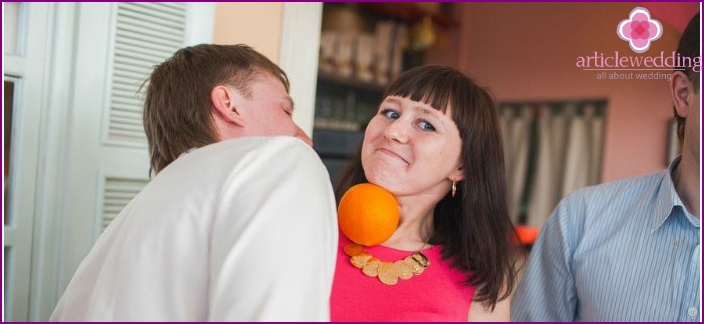 1. For the following types of competition need couples, not necessarily family. The contest will be held, if the part will take from three to a dozen pairs. Moving with a partner to the beat of the music played, the team need to keep their heads orange. Complicate the task of cutting the tracks of different tempo, shoot down a pair of contestants confused, makes me dance speed several times. Will win a couple, not to drop bright orange citrus.
2. Last competition requires two teams with an equal number of guests participating. The contestants are in the order ranks. On the instructions they need to pass the orange from the beginning to the end of the ranks faster than the opposing team. The main condition of the test, which makes the process difficult - you can not use your hands.
Props Competition Orange
For all of these exciting competitions will be neededOnly oranges and cheerful music, which greatly facilitates the process of preparation. In some cases, the fruit will replace other equipment - rubber or tennis ball right color, sham or toy fruit.

Prizes
After the orange Tamada contestsolemnly gives prizes to the winning contestant or guest-participating teams. Loser participants are given the comforting gifts. Prizes may serve as:
Baskets with a variety of citrus.
A bottle of expensive alcohol (or a bottle if the winning number).
Small souvenirs - such as artificial gold medals.
Boxes of chocolates with orange flavor.
Other areas we launched the comic.
Video
Watch the funny video, which shows a fun test with citrus:
Interesting citrus competition - the real funfor the invited audience, arouse laughter and unbridled joy. Having this competition part of the holiday scenario, the organizers of the celebration will not regret: the game will cheer up the audience, a variety of photo and video wedding.