Customize the bride price or weddingfeast will help entertaining quizzes, games, serving source of fun and enjoyment of guests, for example, light competition "know their narrowing." This test is performed during a foreclosure or a wedding banquet, and the protagonist of the drawing becomes a bride. How to organize the competition to the public was fun?
Number of participants
If a large wedding, then to participate in thecompetition leading some girls choose to complicate the task of the groom when selecting constriction. Participants of the drawing are selected witness, bridesmaids and other wedding guests.
How is the competition
Competition for a wedding "know their narrowing" begins with a question to the young: "Do you recognize narrowing? Let's see! "And toastmaster witnesses or offer him find his beloved.
During drawing girl hiding behind a screen,poking holes in the arm to the elbow or leg to the knee, and the master asks his wife: "Come on, find out whether the handle (foot) is the most tender, that your favorite?". The bridegroom must find your favorite among the other.
To not recognize the young bride on the wedding dress, it is carefully disguise, covering a piece of cloth. If there is no screen, then tie her husband's eyes, like in the video below.
The groom can guess his lips narrowing of a print on paper (photo below), on children's photos, shoe - choose any of the options or express their imagination.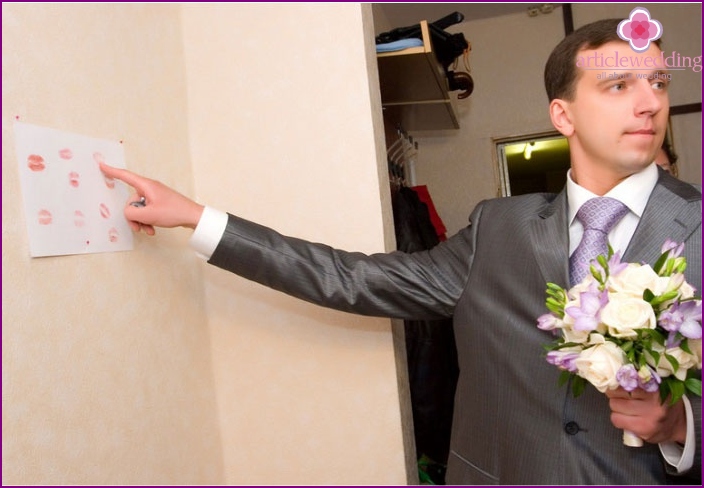 During the preparation of the groom are asked to test out the door.
Props
Based on the scenario of the competition, prepared the following requisites:
lip prints, palms, feet on paper
women's shoes
baby pictures (the bride and her bridesmaids)
screen
thread
staples, clips
table
tablecloth
Objects are arranged for the beloved recognitionon the table, laid by a beautiful festive tablecloth. Photos suspended for colored thread for attaching selected beautiful clips or clamps. Samples lip prints are prepared in advance, for this a few girls lipstick colored lipsticks and left "kisses" on paper.
Screen behind which to hide and girlfriendbride, easy to make your own hands of a beautiful fabric. You will need obtyanut wooden stretchers thick cloth or paper (if screens are made holes for the hands / feet).
Prizes
Prizes depend on the conditions of the event. If the competition is held at the time of redemption, the reward may be a newlywed alcohol promotion and the role of penalties - payment of a sum of money in the bank a wedding, as in the photo below.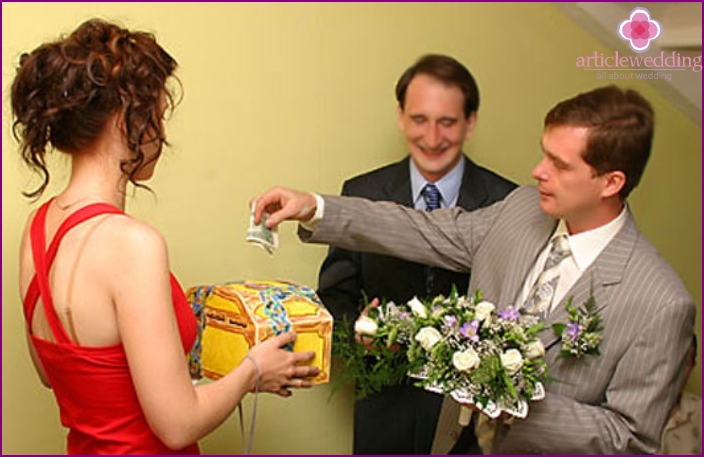 During the draw at the moment feast, prizes kits for girls - symbolic gifts, a glass of champagne, and the groom - a kiss betrothed.
Leading the competition ends with the words: "Congratulations to the young! He found his favorite! ", And offers a toast for the young.
You have already taken part in such a contest? Share your experiences and ideas by leaving a comment.