Wedding - is not just a ceremonyWedding bride and groom, but also a happy holiday with a feast, dances, songs, original games and exercises for the audience. Diverse competition program will provide a joyful mood of the participants, as well as the laughter of the audience watching. Adam's apple - one of the most fun contests in celebration scenario. Toastmasters invites contestants couple (man and woman), they will be on two sides vgryztsya an apple, and then at the speed of eating it without hands.
Number of participants
Number of participants to the wedding of Adamapple varies depending on the total number of visitors during the celebration. To participate can only 2 couples or even dozens. Over the course of the event the following prompt toastmaster or master of the wedding the main characters friends who pinpoint the exact time member winning team. Well, if you take part in the competition of wedding witnesses - it will certainly taste the young spouses, watching for fun.
Details for competition

Necessary props for Adam's apple:
Apples - Toastmasters are kindly requested to prepare a basket of fruit mytymi, where the team will take them before the competition, to be divided among themselves. They can also be used by other fruits or vegetables.
Music. This game can not be carried out without fast fun music that provoke the contestants will make the game even more funny.
Stopwatch. The device allows the drive accurately record the time of victory, although you can do without it.
Prizes to the wedding contest Adam's apple
When the toastmaster will decide the winner, the loudHe says: "Attention, dear participants, you can split up - we have victory!" The first couple to cope with the task, give pre-prepared prizes. Examples of gifts: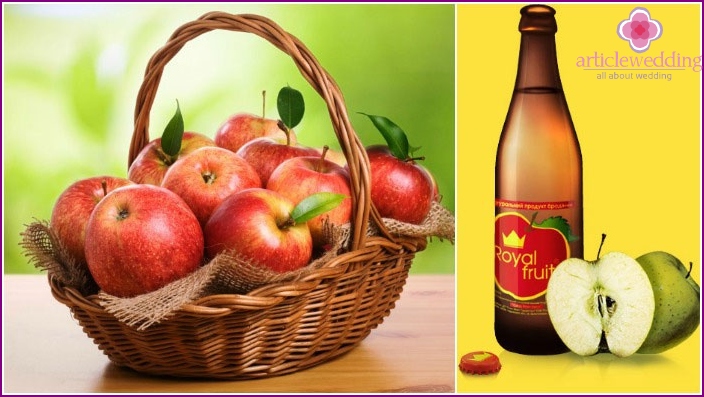 basket filled with tasty apples;
expensive alcohol;
souvenirs - figurines couple, happy tree, box;
other things at the discretion of the organizers.
Video
Funny, original game in the middle of the bustlingfeast allows guests plenty of laugh, spend time actively, thus shattering the slightly alcoholic intoxication. Photos and a video of this part of the celebrations will be a long time gay couples participating competitive events.