Choosing a wedding cake Newlyweds pay specialAttention. Sweet confection - is the logical culmination of the entire celebration, so each couple tends to choose a beautiful, eye-catching, stunning dessert corresponding color scheme and theme of the event. In place of the classic three-tiered products come fancy cakes that resemble the design of a variety of small portioned desserts. What wedding cakes and cakes gained such popularity among honeymooners?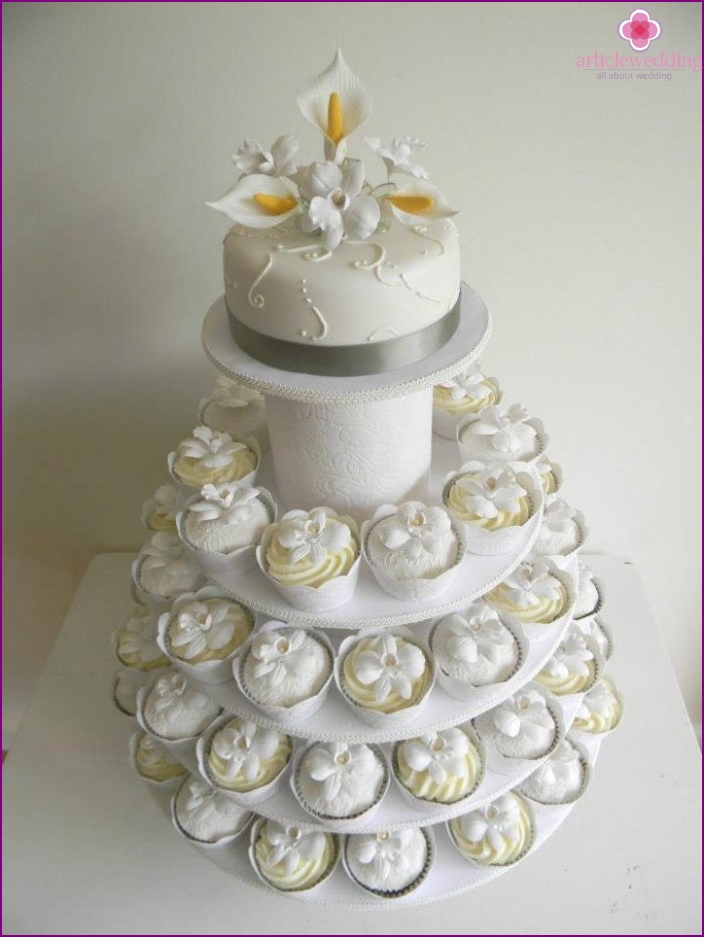 Advantages of a wedding cake of cakes
Ease in cutting. When the bride and groom at the end of the festive evening was cut tiered cake, it sometimes causes difficulties, plus the process itself takes a lot of time. Cut pieces of the same size at all easy. such difficulties would not be at all a la cakes.
Identical portions. All guests shared the same mini-cakes, so disgruntled inherited portion of the dessert will not.
Easy to transport. To carry the folding design with a dozen cupcakes is much easier than to deliver from the bakery to the banquet hall a massive confection.
The correct calculation of the weight. When ordering the usual cake have to guess at how many grams you will need a dessert for each party feast. When negotiating the purchase of modular design of cakes, you need to know only the number of guests. Bake the cupcakes will be based on the number of invitees.
The choice of fillings. Piece wedding cake baked with one or two flavored and portioned cupcakes can be made with different fillings. So each guest will get their original and unique dessert.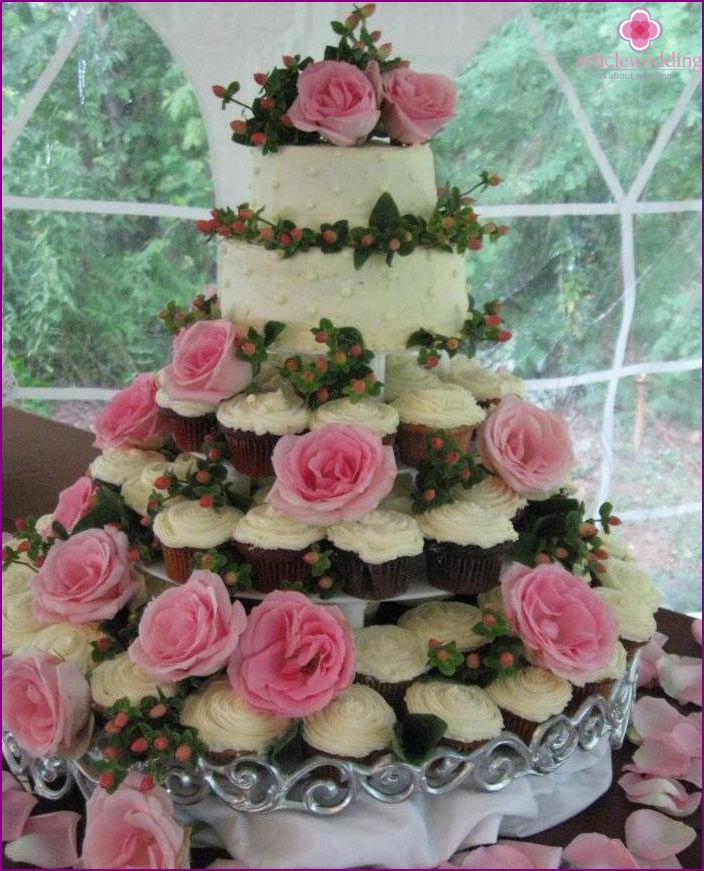 Tips on choosing a wedding cake
To wedding cake impressed everyone presentGuests at the festival for its taste and appearance, it is necessary to choose the right version of the dessert and to entrust its production experienced confectioner. There are some basic rules for choosing a wedding confection:
Trust only experienced cooking cake confectioner checked. Be sure to read reviews about the bakery, which are going to order.
If the couple chosetraditional multi-tiered cake, the weight of the product should be calculated according to the number of guests. The average dessert portion is 150 g per person. When ordering a wedding cake with cake, cupcakes small amount should be equal to the number of guests, or have a few pieces more (in case of the presence of a sweet tooth, who may want to supplement).
Wedding cake should be easy on the palate. After a hearty feast, not all guests will want to eat a piece of dessert with thick butter cream and lots of sugar. An increasing number of couples choose a light dessert on the basis of sponge cakes with whipped cream and fresh berries.
Tasting. Only the pre-test to help you accurately determine the choice of fillings for cakes and impregnation. Book a miniature version of your cake (weighing about 0.5 kg) or more cakes. After tasting it, you will be able to make some adjustments to the recipe, as well as to express their wishes for the confectioner.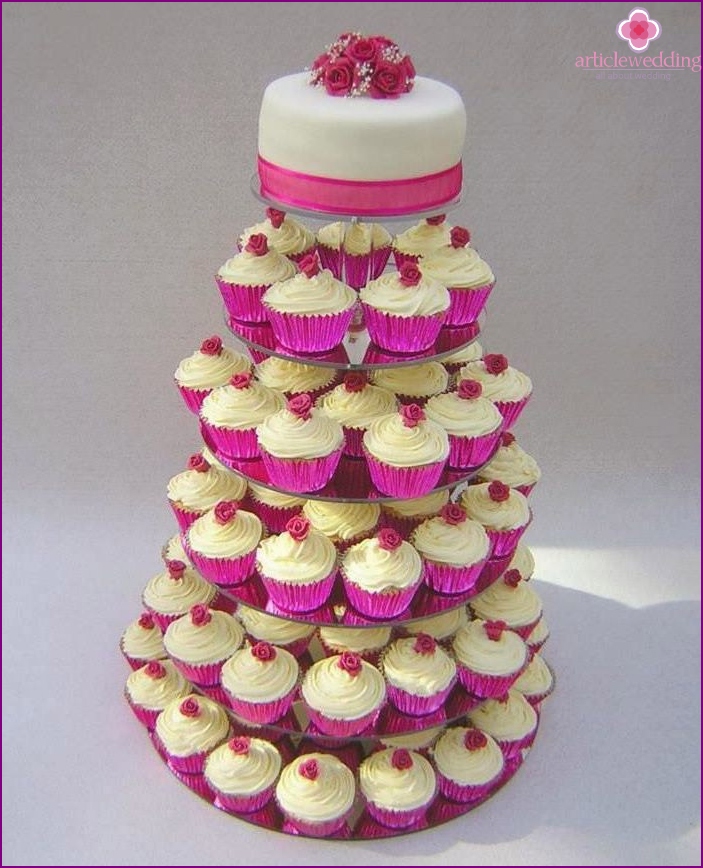 Stand and the number of storeys
Stand cake and the number of storeys will bedepend on the number of guests. To start with, calculate the approximate weight of the whole confectionery construction, considering the fact that the weight of the cake is an average of 200 grams, and a cake or cupcakes - 150 g Next, decide the whole dessert is assembled from cakes, or on top of the structure is a small cake. Some newlyweds prefer when ordering dessert, wedding cake, the last tier to make a small cake, which they can take home with them to feast on the following day.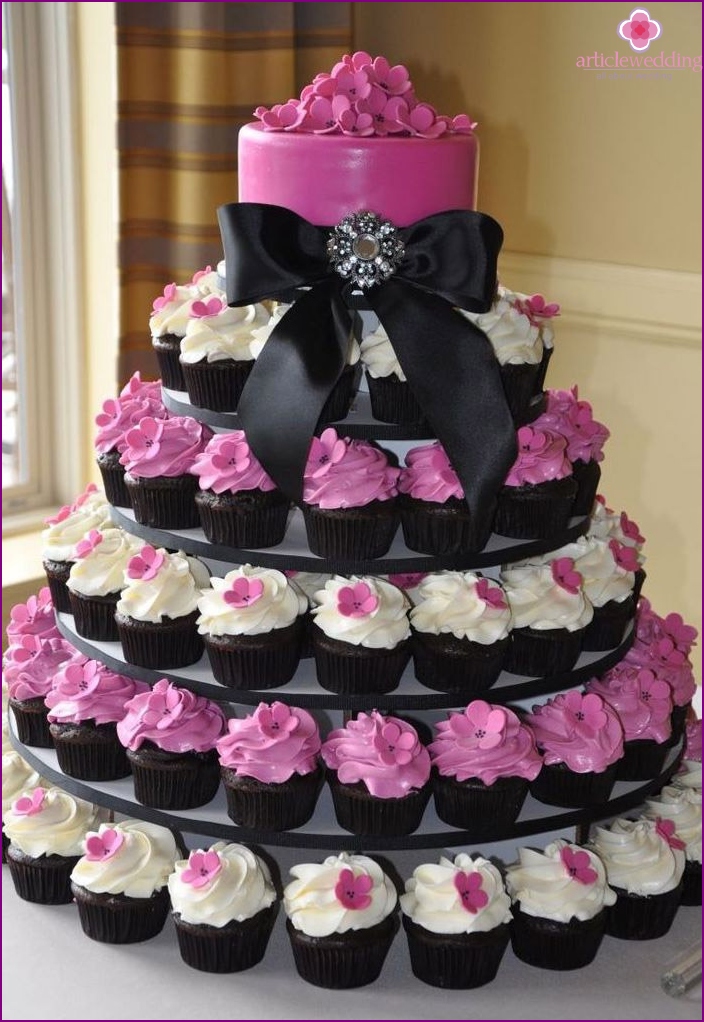 For weddings with twenty weight invited dessertIt will be no more than three kilograms. Create it on two levels, or the cakes are laid out at the bottom and the middle tier, and a small cake for the bride and groom will be the third tier. For the celebration for 50 people order the dessert weighing about 8 kg. In this case it is convenient to arrange cupcakes on a three-tiered rack, wherein the bottom tier has a diameter of 25 cm, average - 20 cm, and the upper - 10 cm Dessert 100 operate on four-tiered stand:. First tier - 30 cm, the second - 25 cm third - 20 cm, the upper - 15 cm.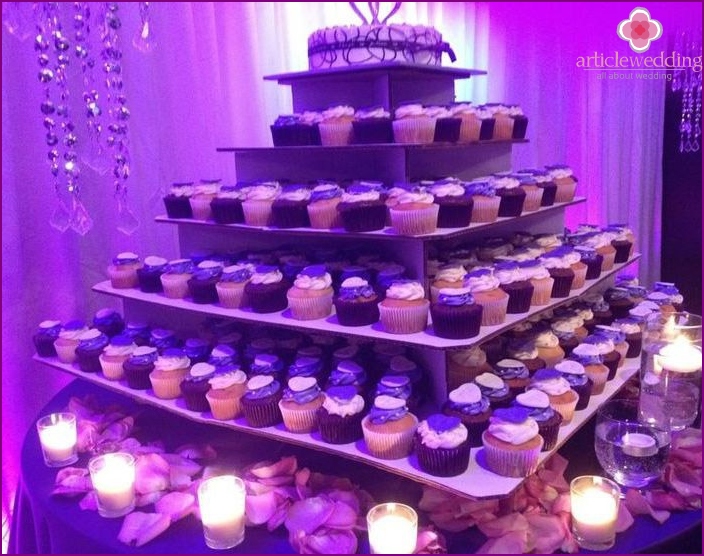 Color design
The color scheme of the wedding desserts allowsnewlyweds choose not just a favorite cake, and order it in the event theme colors. Note that excessively bright confectionery design elements typically include its formulation dyes. To avoid embarrassing situations it is better to make sure that there are no allergy at all your guests to such ingredients.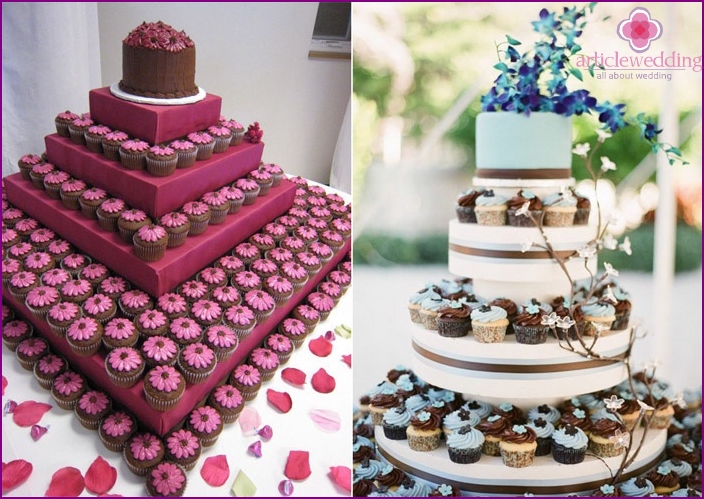 No need to rush to the other extreme -book absolutely white wedding cake. This dessert can be looked blankly at the wedding photo and video shooting, it will not be clearly visible decorative elements. Traditionally, to decorate wedding cakes with fresh berries, cream, nuts, frosting, mastic. It looks beautiful desserts, decorated with a combination of pink and blue shades.
The most popular kinds of cakes and pastries
Choosing wedding confectionery huge. You can order one that fits your taste and ideas about the quality of wedding cakes. In summer banquet in honor of the wedding cake should be served with shortcake dough supplemented with fresh berries, custard or cream. Bright look products with jelly layer. Guests will satisfy cupcakes with tiramiru, cream with mascarpone or ricotta. But the great demand for well-known confectionery and macaroon croquembouche.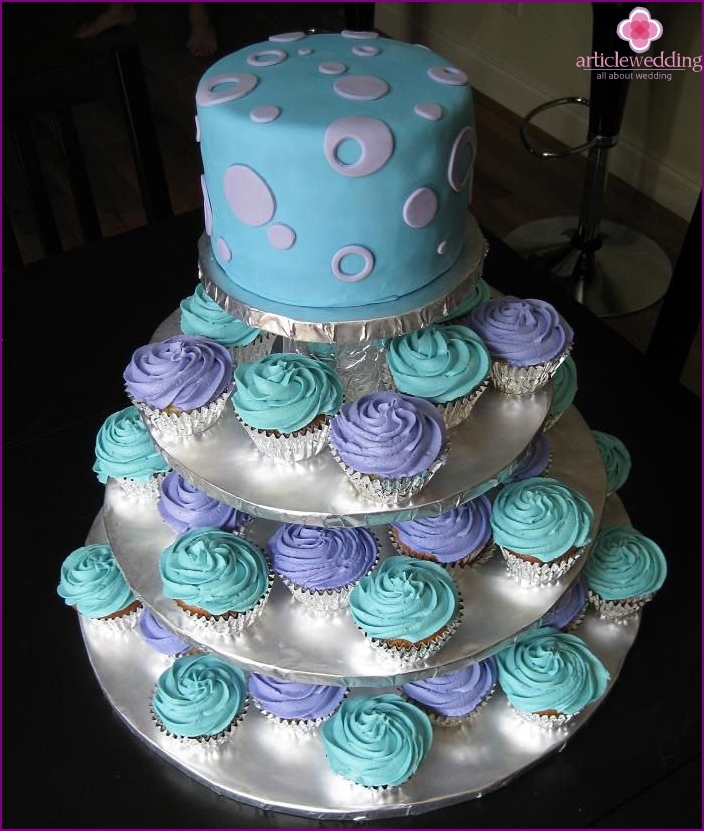 croquembouche
Croquembouche - a constant attribute of classicalFrench wedding. Stylish Parisian bride celebrating his wedding bought refined cone dessert. Many small cakes - profiteroles - spread cone-shaped structure. Within each there filling: custard, curd, melted chocolate with nuts or berries, all depends on your wishes. The solemnity of the holiday confection give golden caramel threads. Such an exquisite accent making cakes especially festive and lush.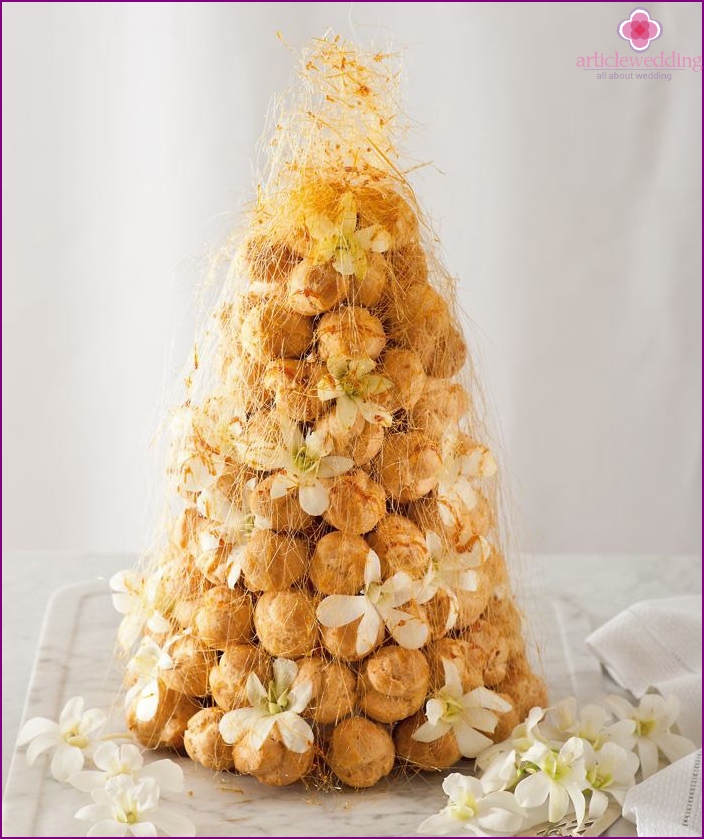 macaroon
Another French dessert which willlook beautiful at the wedding - a small light macaroon cakes, which are made on the basis of almond flour and egg whites. They have a nice soft texture inside and crisp outside. Macaroon made of different colors, you can easily find the right shade of dessert, which will be combined with the color style of the celebration. These cakes can be a complete substitute for the wedding cake, or to become a beautiful addition. Unusually stylish looks and a combination of different shades macaroon dessert in one design.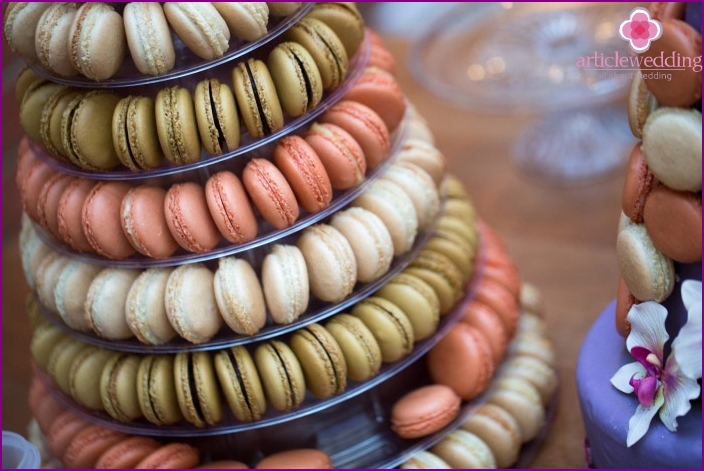 Video recipe croquembouche
With our tips you can easily cope withselection of wedding cakes. But do not hurry to book a nice dessert for the wedding day in a candy store, try to do it yourself at home. After watching a video workshop below, you will learn how to bake and build classic French croquembouche.
Photo ideas wedding cakes pastries