You chose the wedding instyle of Provence? Great! To undertake the preparations necessary to take care of the appropriate design of a wedding cake. Everything has to be in a rural but elegant and attractive. Made using a sponge or honey cakes, cake decorated with pale lavender, green, sand paint through a variety of field herbs, sweet berries and fruits. Light, airy, like the original, he takes us into the French province called Provence with endless lavender fields.
Ideas cake decoration in the style of Provence
To the wedding a success, you will have aroundrecreate the most distinctive features of Provence. When making the confection Pick up low-key, modest, pastel shades. Do not try to do bright accents, albeit dominated by muted, restrained tone. Basic color - lavender, with it perfectly match pistachio, cream, wheat, olive, gray, blue.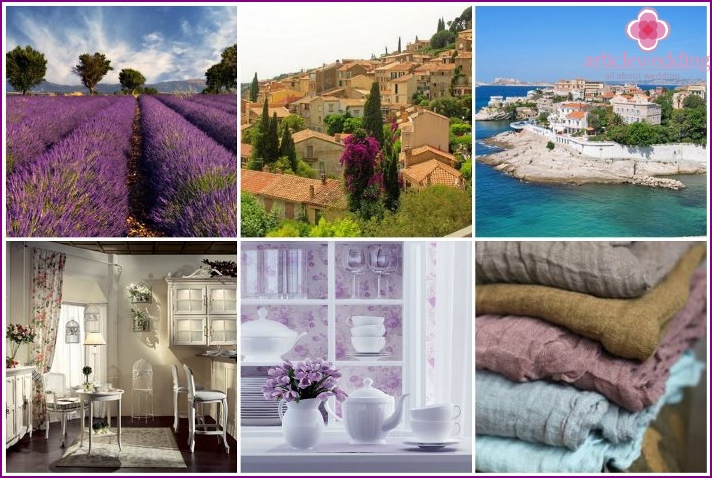 The tip can not recoat cream andleft open, which is quite acceptable for this style. Wheat-colored cakes, decorated with blue sprigs of lavender, will magically look at the dish. Cheese cake in the style of Provence, shining in different shades of purple, will surprise guests with its eccentricity. A snow-white multi-layered dessert, which adorn the composition gently blue, beige roses, win the hearts of the most sophisticated palates.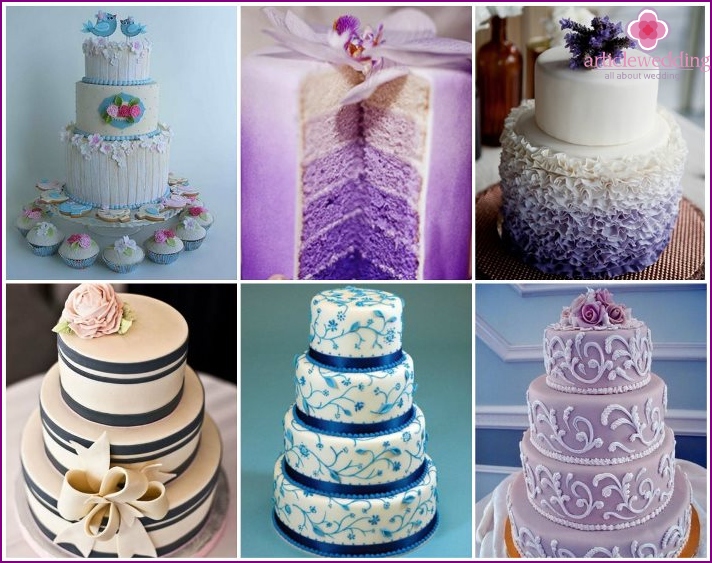 Cake, made in the style of Provence, recallsmother's or grandmother's cakes, which once seemed to be the best in the world. Delicate sponge cake layers, smeared whipped cream with the addition of a variety of berries - a delicious treat. Fans Medovikov swallow salivating at the sight of aromatic layers impregnated with spicy syrup, sprinkled with powdered sugar, decorated with floral patterns or living stems of lavender.
Decorated with real herbs
Provence - extraordinary, romantic place. Who at least once I saw the boundless steppe plains, endless lavender fields who breathed in deeply magical sweet flavors that will seek to convey the mood when you make a wedding cake. Stop one or sprigs of lavender bouquet on flat shortcake, bathed in white icing to feel the atmosphere of Provence.
In the natural, the approach to the village,style adorn the sweet miracle of a variety of herbs and flowers, fragrant scents of divine nature. The main condition of style - compliance with purplish-blue color scheme that characterizes Provence. After a few seconds a normal cake becomes a work of art, worthy of public attention.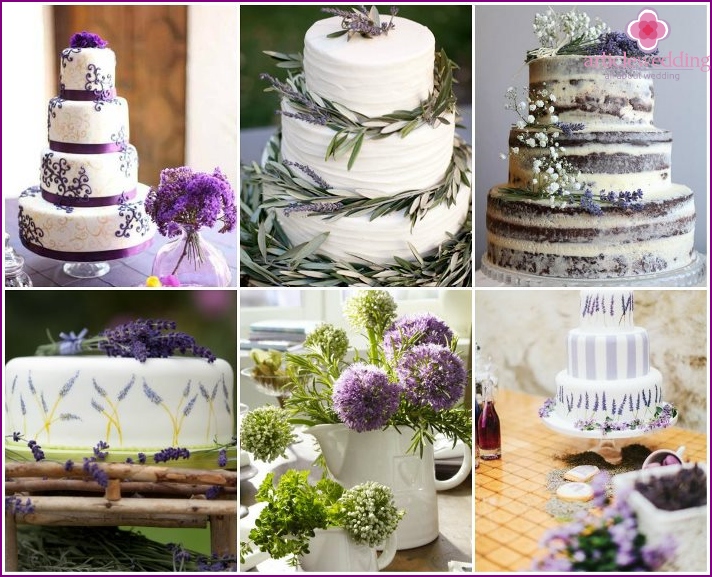 Covered with an ornament in the form of lavender sprigs
Sprigs of lavender alive Confectioners successfully replacedwonderful ornament purple flowers with green leaves. Figure looks nice on the background of monochromatic light glaze covering cakes. Confectionery with ornaments have several tiers, from what look bright and festive. The variant of purple or blue background, which is white ornament.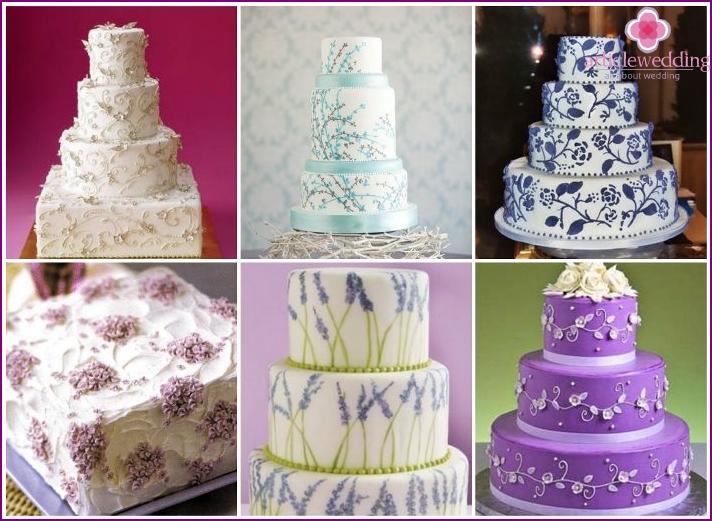 Wedding cake pancakes
For a wedding in the style of Provence is perfectpancake cake. The idea was born in France and spread throughout the world. There are many recipes of desserts that are prepared in different ways, but they all have one thing in common - they are composed of a variety of pancakes and would be appropriate at a wedding where there are only relatives and friends of the young. Wedding cake pancake dessert is more like the original.
Thin pancakes can be stacked both one andin several tiers, smeared with condensed milk or a specially prepared cream. To the product looked brighter and more interesting, it is better to make a cream color. Top baked traditionally falls out with powdered sugar, decorated with berries and fruits. Nothing prevents you fill it with liquid caramel or chocolate frosting, make a pattern of whipped cream.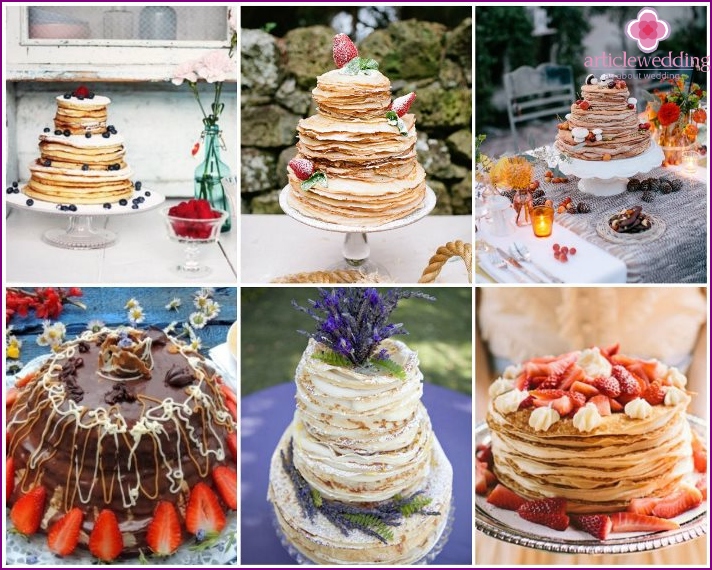 Naked cake
The new trend in wedding fashion - "naked cake" thatthere are not covered by a layer of cream or frosting. For a wedding in the style of Provence, which implies all natural, suitable baking without frills, looking appetizing, homemade simple and attractive. natural ingredients used primarily for the manufacture of such confectionery. Instead of artificial colors - fresh juices, as well as the decor - fruits, berries and flowers.
At the request of the main heroes of the occasion, "naked cake" is stacked, several cakes of the same or different size, or single-tier. Applying fancy, you can cook:
Berry pie. It is indispensable during the summer and early autumn weddings. sweet miracle secret that is used to decorate a lot of fresh berries, which are laid out between shortcakes and on top of the product.
Chocolate pie. Dark cakes make a good contrast with the white or purple cream. Delicacy looks festive and elegant.
Naked cake decorated with natural flowers. They do not eat, but only spread on top of or on the edge of the tiers if cakes of different sizes.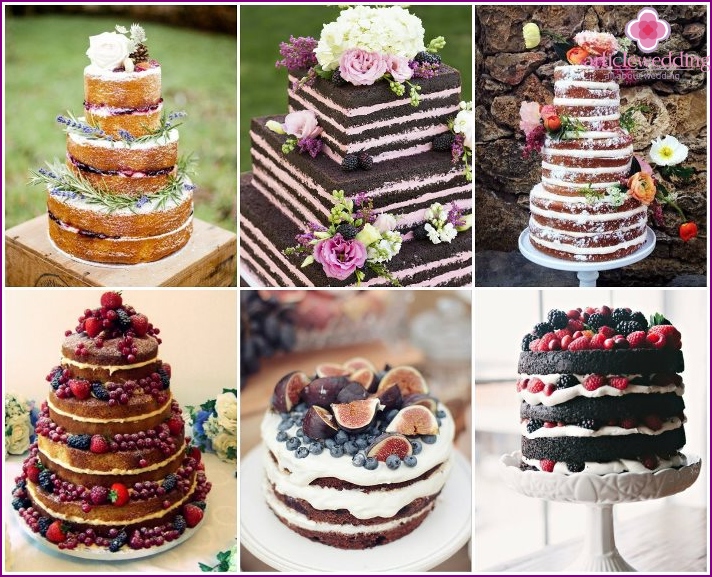 Photo of wedding cakes in the style of Provence
Cakes made for style weddingProvence, evoke memories of the endless blue and purple lavender fields, clean air, clear water and sweet fruits of this magical region of France. Mandatory their ingredients are milk, honey and a variety of fragrant spices. Form cake can be the standard, but the design requires a lot of imagination. To the culmination of the festival was a success, look at the photo below, and inspired with the spirit of the old Provence, handing it to her culinary masterpiece.