The famous film "Breakfast at Tiffany's" is soI liked by the audience, which has become a life style: luxurious, refined, with the charm of a bygone era, with an elegant combination of colors. Basic colors palette of the film - it's mint, blue, turquoise and white contrast with chocolate or black. Weddings in this style is now very popular. They are held in the spirit of retro, which perfectly opulence, elegance, minimalism and modern glamor. Wedding cake in the style of Tiffany deserves no less special attention, because it is the hallmark of the solemn feast.
Palette Wedding cake decoration in Tiffany style
Trend wedding season - confectionerycold blue and green shades of silvery-blue color. This corporate color brand Tiffany & Co., which is the international color palette corresponds to number 1837. In the world, this color is considered a symbol of romance, so the couple often choose it as the main tone for the wedding cake. It is ideal for a traditional white wedding or for any occasion in pastel shades. Decorate the cake Tiffany color white chocolate or mastic, from which the confectioners make:
roses;
tape;
bows;
figures.
Decor turquoise wedding dessert can beonly white or brown. The basic tone perfectly combined with all pastel shades, and even with ornaments in red. The contrast cooks can add a sweet gray decor, bright pink or coral shades to make a clearance dessert even more spectacular, exciting and glamorous.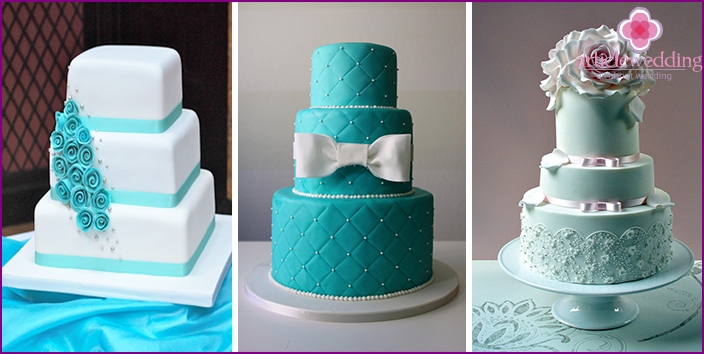 Ideas wedding cake decoration in Tiffany style
At any wedding cake - it's not justthe long-awaited dessert, but also an important decorative element of celebration. Its taste is always out of fashion, but the clearance depends on the design of new findings, current trends and fashion trends. Therefore, every year the master of confectionary art represent to the public the new design ideas wedding cake Tiffany colors. Watch the video, which shows one of the many options for decorating the cake Tiffany:
In a square gift boxes
Stylish Tiffany-style dessert is quite possiblepresent as a wedding gift, because a classic design - a single or multi-level gift box, tied with a white ribbon glazed. Sometimes it is served on a wedding table with small cupcakes decorated with identical details. They are laid out to each guest as a small personal gift.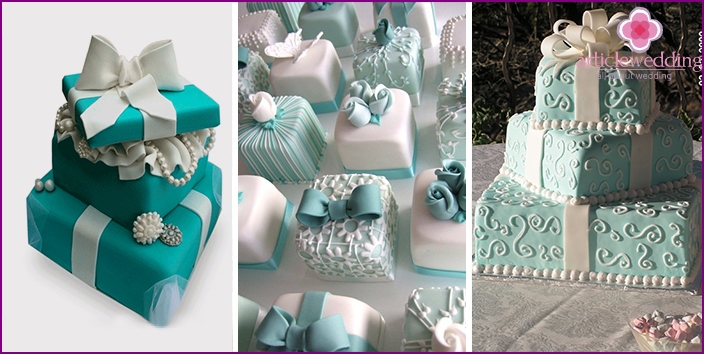 With decor in the form of bows
Sweet white bow on blue mint serving,It looks amazing. Sometimes decoration is made out of satin fabric, but often prefer to couple dessert completely edible. Regardless of the form, Tiffany-style cake with a bow on each level looks unusually solemn. Small mastic beads create an original accent. Decorate the cake turquoise in the selected style does not interfere with brown bow, made of chocolate. Form for dessert with a bow is allowed to choose any:
A circle.
Square.
Horseshoe.
A heart.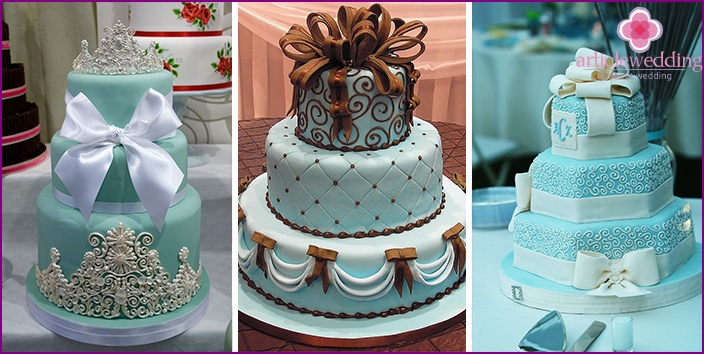 With flowers in pastel shades
Refreshments mint pastel shades with flowersshades - it is very fresh, light and beautiful choice for a wedding. Flower Decor any selected: the volume of mastic or cream painted on special paper culinary colors or even fresh flowers are inserted. Ornaments are placed at the very top or scatter cascade downwards. It looks great so decor, situated on the circumference of each layer. The advantage of edible flowers is a unique taste, which, no doubt, want to try each guest.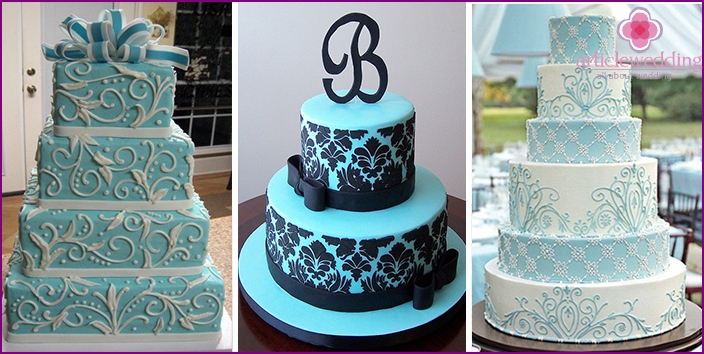 With openwork painting
Lace wedding cakes have always beendemand, so the bakers do not go away and released Tiffany holiday desserts with openwork painting. Cooks sure that white lace should be not only to dress the bride, but also on the main culinary masterpiece. Openwork motives perfectly fit into the style and complement their white pearls, pastel roses and pink lilies, which can twist in a spiral all tiers dessert.
Look beautiful brown lace on turquoisecolor made from chocolate. Chocolate - an indispensable component for the Tiffany-style desserts. In addition to the beautiful appearance, this product is rich in a variety of flavors: from expressive of bitter butter until soft. Chocolate also opens for cooks a wide scope for creative flight of thought, thanks to range of colors from dark brown to a soft white.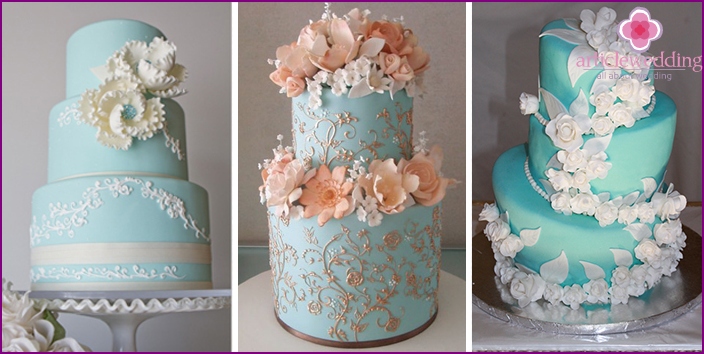 Photo of wedding cakes in the style of "Breakfast at Tiffany's"
All style shades create a summer mood,positive, kindness and spontaneity. Turquoise dessert at a wedding in the style of Tiffany symbolizes purity, faithfulness, spirituality, and is not without a certain glamor. Color "aqua" and creamy-white - is the basic nuances of style, which blends harmoniously with the brown. Ideas for cake at a celebration, there are many, and not necessarily on the wedding classic book "Gift Box". See a selection of photos, which shows interesting variations Wedding Tiffany style desserts: