Wedding cake - it is always the culmination of the holiday. To make the right choice, you should consider a few important aspects: the overall wedding style, personal preferences, time of year and their financial capabilities. On ordering a wedding dessert, care should be taken in advance as good confectioners are always a lot of orders, and are loaded with work for a few weeks in advance. If the bride and groom want to have extra cake decoration - it is also to look in advance.
Recommendations for choosing a wedding cake
To find a suitable wedding cake standsvisit local pastry, to familiarize with an assortment of online retailers. If the bride and groom have already decided what kind of dessert they would like to see at your wedding, ask advice of professionals, check out their offerings. After that, select pastry that suits you, and calculate the budget, taking into account all the stages of preparation of the main wedding feast.
Perfect Honeymoon dessert should be:
Tasty and fragrant.
Fantastically beautiful.
Be original, unique look.
The basis of the cake

Often the basis of a wedding cake is biscuitcake - it is soft, light and very fragrant. However, if the couple want to enjoy multi-tiered dessert biscuit will not be able to withstand the weight of the whole structure and the upper crusts easily crush the lower tier. In this case it is possible to go in two ways: select as lower tiers stronger cakes (walnut, honey) or order a multi-tiered cake on a stand.
When using a special stand tiers is notwill exert pressure on each other - each of them a separate dish is intended. Therefore, the couple will not have to worry about the integrity of the holiday dessert. In addition, the stand looks very beautiful and solemn, with their help, the wedding cake is easy to transport, cut and serve. But the high biscuit design will have all the time to worry.
cake Filling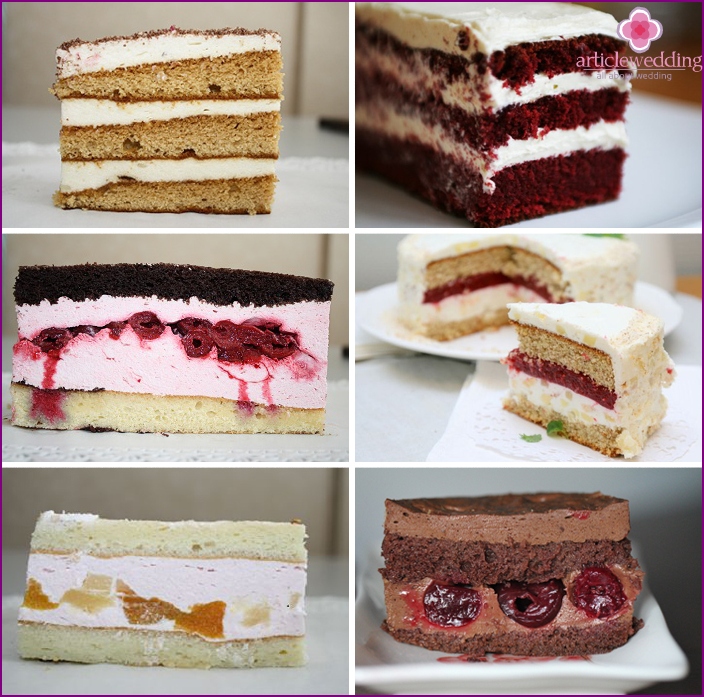 Cream wedding cake can be anyanything, the choice depends entirely on your preferences Suite. However, the bride and groom should think not only about their own tastes, but also that the guests enjoyed dessert. And, although it is impossible to please everyone, there is a more versatile toppings that are popular with almost everyone. The main rule - to avoid too bright, unusual flavor combinations.
It is better not to choose for your wedding baking toofatty stuffing, because by the time of dessert, all guests will be already full. So, if the cake is too "heavy", the majority of those present at the banquet simply can not even try to bite. The ideal option would be filling cream, yogurt, berry, fruit souffle and jams. If the celebration is scheduled for the summer, pick the ingredients for such a cream, which is not so quickly spoil in the heat.
Number of levels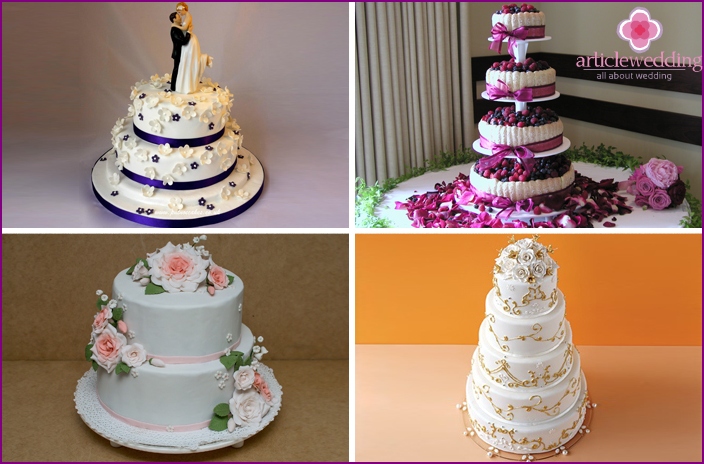 Some brides come to a confectionerphotos chic three-tiered cake, and invited to the wedding only 30 guests. For so many people, and five-kilogram enough dessert, but the problem is that the cakes, consisting of 3 tiers, must weigh at least 7 kg. This requirement is due to feature the technology: to support the weight of the first cake top and not broken, its weight should be more than 3 kg. If young still want to enjoy multi-tiered wedding cake for a small number of guests staying in the form of 5 kg with one crappy Korzh.
The decor and the form of wedding cake
Wedding cake should delight and surprise. It not without its supply is one of the brightest moments of the holiday. Guests were not disappointed, it is necessary to take care of a decent toppings. Today's confectioners are a huge selection of different decorative elements, figurines, natural or artificial flowers, mastic, edible beads and ribbons.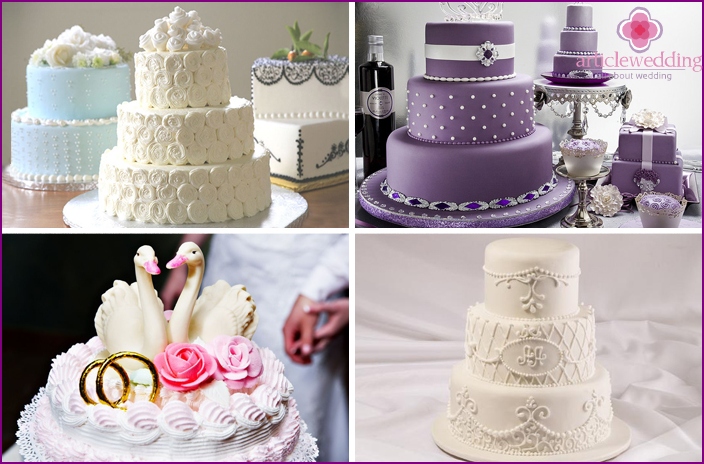 The choice of bridal cake can be decoratedany icing and cream roses. The décor tops can serve even fresh flowers, or the classic version - the bride and groom figurines. And these figures may have a different form to be executed with humor or in the romantic style, have a traditional look, or look like your favorite cartoon heroes Suite. If the bride and groom do not want to use the usual ornaments, decorate the top of the dessert perhaps two wedding rings, hearts or swans.
Many couples prefer to make jewelryyourself using plain white or colored paper. Learn how to create figures using origami techniques and original decor wedding dessert will be provided. However, the most popular at the moment is the decoration of the cake sugar paste. The plasticity of the material allows to create any kind of figures, without limiting the scope for creativity. With mastic, dessert can be painted to match the primary colors of celebration and is decorated with elements related topics wedding.

What values ​​should be a wedding cake?
Before ordering a wedding dessert,the bride and groom need to know the exact number of guests, as required weight may be calculated solely by this indicator. Most confectioners are advised to lay about 150 grams of cake for each guest, but there are aspects that should also be taken into account. If the cream or cakes are light and airy, then this rule will be enough, but when the dessert is saturated with liquor, and top generously watered with chocolate and mastic, then for each guest is to provide up to 250 grams.
For example, young bought light weddingdessert for 50 guests, while the weight is calculated as follows: 0,15h50 = 7.5 kg. Do not worry that this dessert will not be enough, because there are always people who do not like sweet or simply abandon their portions. However it is better to calculate the amount of the cake so that each guest got a piece and have a few more (in case of presence at Sweet holiday).
How to choose a cake, depending on the time of year?
Depending on the season, the weight and stuffing weddingdessert may vary. So, for a summer wedding is better to choose toppings from fresh fruit: strawberries, peaches, raspberries. Yoghurt dessert will also be a great solution for summer celebrations. For autumn cake would be appropriate decoration of flowers, at this time, guests will have the taste of vanilla or creamy filling. Winter dessert characterized by an abundance of chocolate. It is advisable to use white - baking it will give a festive appearance. Spring is appropriate strawberry wedding cake with butter cream or a protein.