When we talk about the Chicago style, we makecurrently 20-30 years of the last century. While in America established the prohibition, which did not allow people to have a good time, legally, so there were bandits, gangsters mentioned, and in addition, does the Italian mafia was operating, open underground casinos, bars, liquor smuggled. All these conditions are allowed to create a unique atmosphere that inspires people to this day. Dive into it to help ransom bride Chicago style.
Preparation
To prepare such an event separate from the generalwedding concept is difficult, so is ideal if all of the celebration will be held according to the Chicago or retro style. To recreate the extraordinary mood of Chicago in those years, the organizers would have to try, because you need to consider everything: the appropriate costumes, design space, music. Much time will be spent on the creation of the script bride price, rehearsal, inventing original competitions and tests for the groom.
Typically, the entire repayment falls on girlfriendsbride, but if the financial aspect does not allow to implement it yourself, it is appropriate to join with friends from the groom's side. Redemption bride in an elegant style Chicago - event preparation process to which different labor input.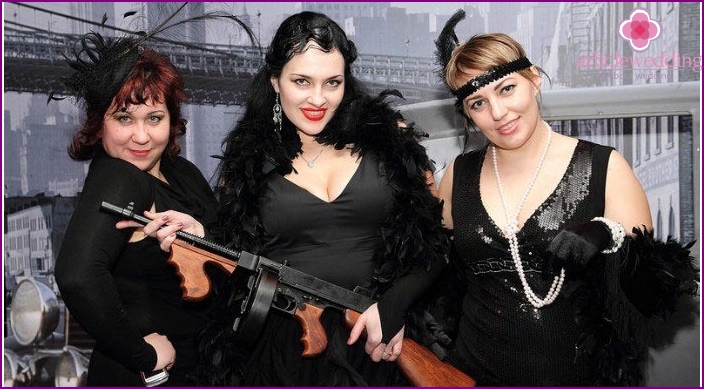 Details for redemption
Contradict props, which is essential for creating an atmosphere of Chicago 30's during the bride price:
Clothing - an important part of Chicago foreclosure. Until now, an unusual, free style of those years inspired trendsetters.
Style women's dress - a dress to the knee orhigher. Girls thirties just got rid of corsets, lush skirts, so the cut should be straight and simple. However, they do not skimp on the accessories - feathers, adorn headband, low pearls, hats, veils, tights or stockings, mesh, rhinestones, which overflowed the whole image. As for shoes, suitable conventional pumps. Do not hesitate to do bright makeup - highlight the lips, eyes, but the skin should be pale.
Style male attire - a suit-deuce ortrio of blue, gray or brown. This suit has to sit perfectly, to be ironed, neat. Other parts of the image - suspenders, cufflinks, gangster hats, smooth polished shoes. Allowed cloth costume decorated thin light strip.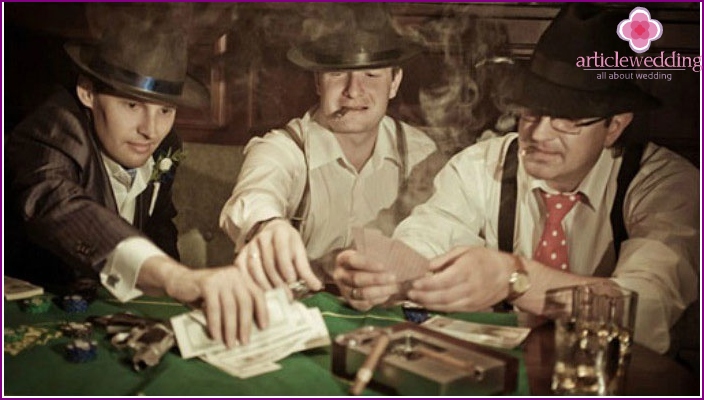 Gun (Tommy-gun or revolver) -an integral part of such redemption Chicago bride. They need to groom, who will come to redeem his beloved and her friends, who will protect the girl, until a ransom is not paid, and the groom will not pass all tests prepared.
Music. To feel the mood of Americans to Chicago, you need to prepare a playlist that will delight guests. It is a slow and long-drawn female vocals and gorgeous sounds of the saxophone, are also suitable extraordinary jazz, foxtrot. In the presence of Finance is perfect to invite musicians who will accompany what is happening in the scenario.
A car. Instead of the usual limousine fit old models - Fords, Citroens.
Suitcases with a key code password protected safes, terrain map, stylized antique, thematic style of cards for the game Q & A, and other details for the competitions.
Characters
Depending on the scenario, the current Chicago bride price persons can be different. Examples of images that can try on the leading and participants: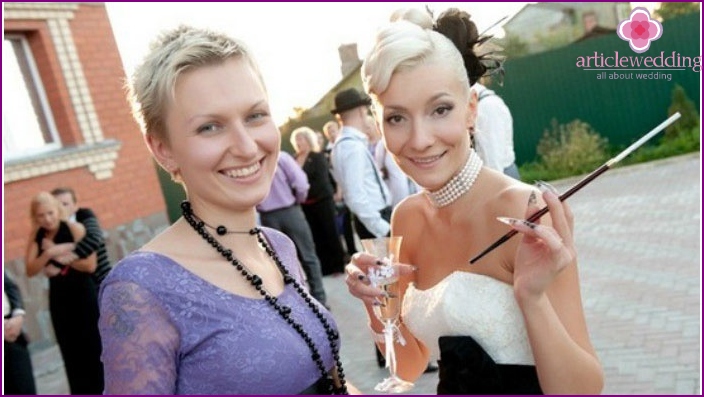 The gangsters, Mafiosi: Don Groom, Bride Dona and two of their family, which will witness heads. Throughout the foreclosure clans will have to agree on a transition betrothed to another family. The role of head of the family can also play on both sides of the parents, if they want to participate, to help implement the scenario.
Police. Do not forget that the action takes place during Prohibition, because spicy touch can give the police that suddenly appear during the redemption: the groom certainly brought a little alcohol to a neighboring clan to honor. Also, the redemption may be built on the basis of two opposing forces - the police and gangsters.
Photographer. This character must be present at this original redemption bride to capture all the details in the photo and video.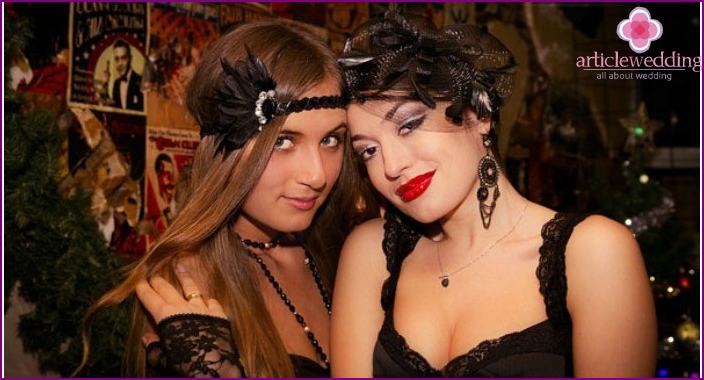 Making room
The mysterious atmosphere of Chicago 30's, first of all, is based on prohibitions, so the bride's ransom could be held in a makeshift underground casino.
Playing cards and dice on the table, with kettlesalcohol (during Prohibition in a bowl to serve alcohol), pictures of wanted criminals and popular artists on the walls, dark cloth curtained window, cigarette holders, ashtrays, cigar table - all the attributes of the Chicago style. All room should be decorated in black and red tones, and the door to the entrance to the "Casino" is hidden under the dark curtains.
foreclosure scenario in Chicago style
Redemption begins when the bride arrives at the housebride, rises to the desired floor. There he sees the table at which sit bridesmaids dressed bandit 20s Chicago. On the table are cards, dice, and the girls drink whiskey (in the role of an alcoholic beverage can be a strong and iced tea) cups of tea. As the leading pay attention to the groom, one of the bridesmaids, picturesquely leaning back, he said:
- Oh, wow, what a meeting. A long time since you, Don (name of the groom), with your beautiful suite was not in our area. You will whiskey, boys? We have excellent quality drink - just yesterday the father sent the next batch of smuggling, we also got a few boxes ... And, hey! You're up for it and came, right? What casino bends without alcohol, and get nowhere?
The bride says that she does not tell, they came for the bride. Bridesmaids laughs:
- You have decided to take our beauty? What an interesting move, right, girls?
Leading turns to the girls, they laugh with her.
- You know what the laws are strict in our clan. Just like that pass our beautiful bride in someone else's family, we can not - too much love her. Say, the groom, you are worthy of beauty (bride's name)?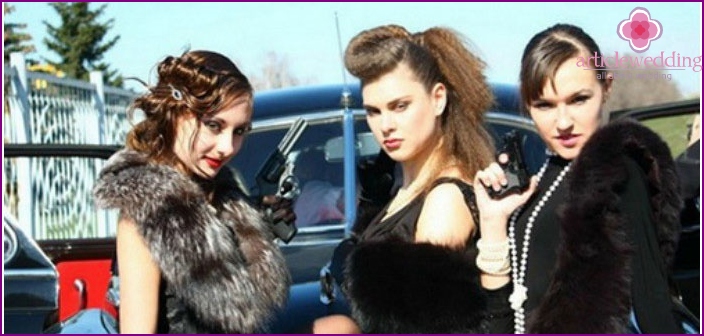 Betrothed replied that he was not worthy to find.
- I heard that you're a good business, but notsure as well will be able to get along with the bride - her character rebellious. However, we will give you the opportunity to prove that you really deserve it, but then how do you deal with her whims - not our business. To begin with you need to make a short presentation to us.
She pulls out boxes of matches, so begins the first test of the bride price. Bridesmaids says:
- As long as the match is lit, you need to tell me how good, useful qualities you possess. The clock is ticking!
Leading strike sharply the match, the groom is tested.
- Yes, you love yourself - but you can not be yourself notlove, right? You came to the team that decided to support you. Now we see how they treat you really are. Well, the witness, come here. While lit a match, you have to tell the best qualities of this man, who has not been named. Begin!
bride price competition is repeated with the witness.
- Good! Well, the groom, you earned the respect not only in criminal circles, but also among his closest friends and associates. That says a lot. However, you must pass several tests before you will be able to see his beloved bride. Are you ready for them?
Betrothed says he is ready.
- Then we proceed to the next competition. Say, if your house is surrounded by a pack of cops, if you can deal with them and protect his beloved? If they shoot mercilessly to kill! Now we will check it. Look at the wall.
The groom looks at the wall and see a hanging darts.
- You need three attempts to hit the target. You prove their accuracy and true intentions. Keep your arms!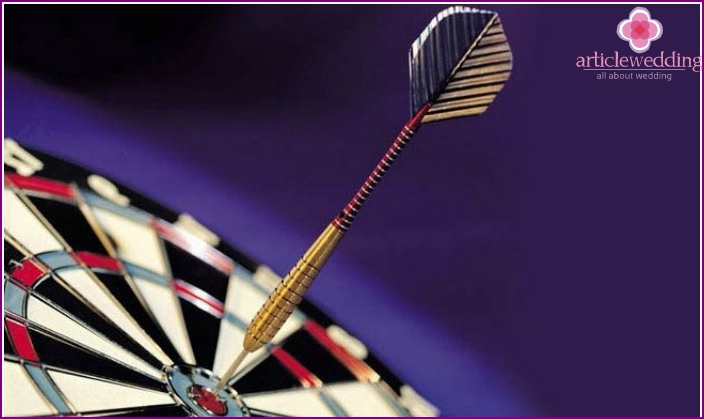 The bridesmaids give future spouse darts,he tries to get into the "apple". Each zone corresponds darts reason for which he decided to marry (godfather forced clan advised, for love). To get to the center should be - a zone which corresponds to the reason "for love."
If the groom falls, bridesmaid says:
- You're a good shot, and emotions do not dim your eyes! With each step you become more and more respected by our clan. Proceed to the next test.
If the hero of the occasion misses, leading redemption says:
- You did not shoot, but I see that inside the burnof love, so I close my eyes to your mistake for a fee, but I advise you not to be greedy! After all, our beauty-bride requests will be much higher: it is not used to living in poverty.
When the test ends with the bride price, the girl pulls out a few sheets of paper that make up the portrait of the bride.
- The fact that you're a real fighter, we believe. Now, I'll check your worth as a loving husband. Hundreds of men were lying at the feet of our bride trying to win her favor, poets dedicated poems to her, the musicians - songs ... And you devote to it a few sweet words.
Leading conveys sheets with pieces portrait groom:
- You need to create a portrait of these partsmosaic. But the essence of the job is another - each time by substituting a new worksheet, say something nice about the bride. What it you won? What features do not allow you to live without her? Come on, start.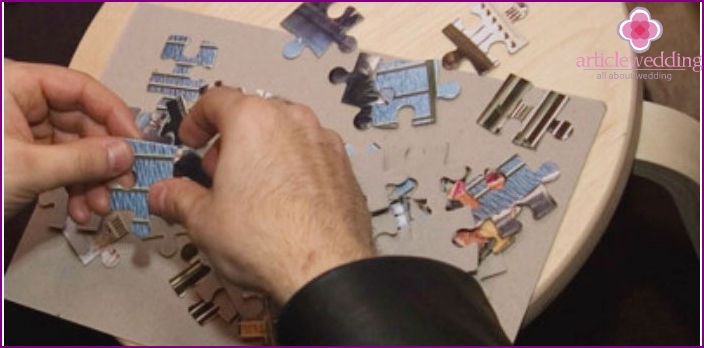 The future husband passes this test bride price. Leading pretends to cry:
- Even my cold heart your words couldmelt! I understand why you will be worthy of a party for the bride. Well, it remains the ultimate test - to guess which of my hands is the key of the door to your future wife.
Regardless of whether or not guessing the groom, bridesmaid holds betrothed key. Finally they say is:
- Our families for a long time could not find a common language, butwe simply do not know each other. Now I see that you will trust. I'll talk to our father - after all these years, we are finally able to become one big family. Girls, follow me.
Bridesmaids goes away with their girls, the groom opens the door to the room where the bride is waiting for the redemption ends.
Video process
Watch an interesting video that perfectly illustrates the style, mood foreclosure Chicago bride:
Chicago ransom lovely bride perfectlysuitable for unusual activity wedding. Dangerous gangsters loaded pistols, an incredible atmosphere - all this interesting presentation, which will be attended by all those present. This style of bride price will culprits celebrations fun and original way to spend the beginning of the wedding day.