At the wedding reception everything must be perfectthought out and prepared, starting with an aperitif and ending with dessert. Tasty snacks on wedding table can vary the holiday menu. It is important to take care of hot and cold dishes in advance, discuss the menu with the chef. Pay attention should not only taste banquet dishes, but also take care of their original design, whereby the holiday table will look more appetizing.
Recipes appetizers at a wedding with photos
In order to make the wedding tableunique, you need to cook a variety of dishes in terms of taste, which will be remembered and guests after the banquet will be the favorite dishes for many people. Here are recipes for tasty and unusual appetizers, everyone will find something to your taste, and perhaps one of the dishes will be a family signature dish of a young family.
Variants of cold appetizers
Delicatessen on wedding holiday tableIt should be about six or seven dishes. Forming the menu, it is worth remembering that the dishes have to be different, to cater to the taste preferences of each guest. Delicious, original snacks do not have to be expensive. For example, in cold snacks on the menu must be present:
Dishes with mushrooms.
Vegetable snacks (salads, fresh vegetables in season - tomatoes, cucumbers, bell peppers).
Cold cuts - neck, salmon, ham.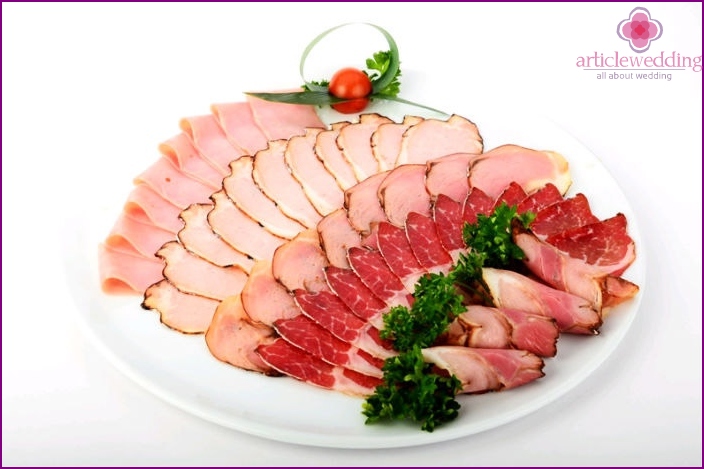 Assorted fish - sturgeon, salmon, salmon.
Cheese plate.
Canape sprat
A worthy replacement for the usual sandwiches with spratsat the wedding table will sprat canapé, which are not only delicious, but also look appetizing, original. Such canapés, even with a small number of ingredients and a very simple preparation technique, certainly like many of the guests at the wedding banquet. What does it take to cook unusual sandwiches?
Ingredients:
300 g of hard cheese;
200 g of cottage cheese;
50 g butter (softened);
? lemon;
6 pickled gherkins;
100 g sprats;
Half beam watercress.
Preparation sprat canapé:
Using a blender, you must grind the cheese, softened butter, sprats. As a result, should get a homogeneous mass.
Hard cheese cut into squares in a couple of millimeters thick.
To create canapes need two slices of cheese: one piece is put cottage cheese and sprat weight, and the second piece of it is covered. It turns out a kind of "cake", where the "cream" serves a mixture of curd and sprat, and the role of "cakes" performed cheese slices. Making canapés, you should try to make the edges smooth and beautiful, and the layer has the same thickness as cheese.
The top of canapés should decorate a slice of lemon, gherkin.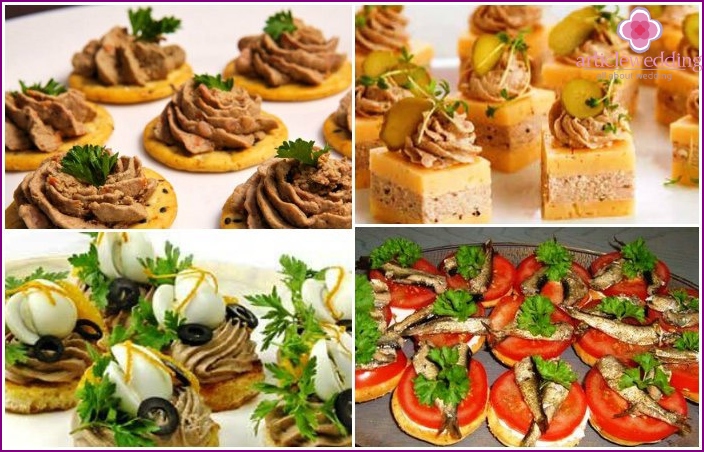 Stuffed squid
Seafood lovers will appreciatestuffed squid, because this dish is not only the original design, beautiful and appetizing feed views, but also exquisite delicate taste. Complement the taste of squid products, such as eggs, cheese, shrimp as part of the filling. Appetizer of stuffed squid is relevant at any time of the year and will be a real decoration of wedding table.
Necessary ingredients:
3 carcass squid (ready to use);
200 grams of shrimp;
80 g cheese (durum);
2 tablespoons of salt;
1 onion;
50 ml cream;
2 cooked chicken eggs;
Salt to taste.
Cooking Stages:
To prepare the filling must be chopped onions lightly fried in vegetable oil. Peeled, sliced ​​shrimp combine with onions and fry a little more.
Cooked eggs grate, combine with shrimp and onions.
Carcasses of squid stuff the stuffing, put in a baking dish, pour the cream and sprinkle with grated cheese. To prepare the required 10 minutes in an oven preheated to 250 degrees.
Before serving, decorate with greenery. Serve the squid can be whole or cut into pieces.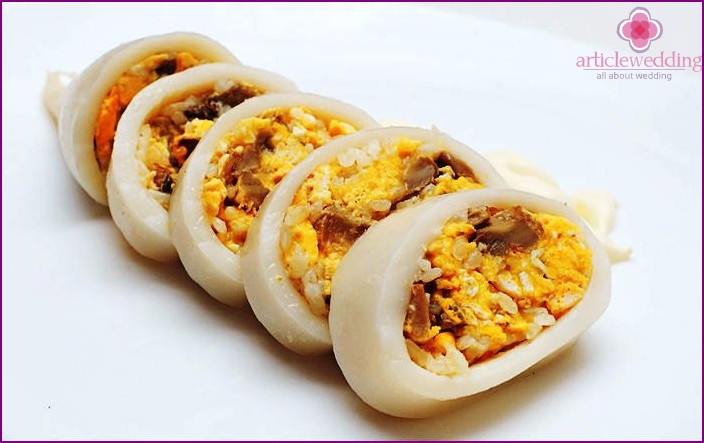 Cheese snack on chips
Tasty snacks for wedding table helporiginal issue chips. To create a culinary masterpiece you need a small amount of toppings to put on chips and garnish with greens. Options for filling can be very diverse: from crab sticks, chicken, seafood, caviar, fish. But the classic recipe for a cheese snack on chips, will surely enjoy all appreciated.
Ingredients:
potato chips (preferably whole pieces of medium or large size);
100 grams of cheese;
300 grams of fresh tomatoes;
2 medium cloves of garlic;
2 tablespoons mayonnaise;
herbs to taste.
Cooking method:
Cut tomatoes into cubes, excess liquid (juice) to remove.
Cheese durum grate.
Green chop, garlic clean, pass through spadefoot.
Connect the cheese, tomatoes, greens, garlic and mayonnaise - mix.
Stuffing put on the chips. It is important to remember - the filling should be put directly before serving snacks on the table as chips quickly soak.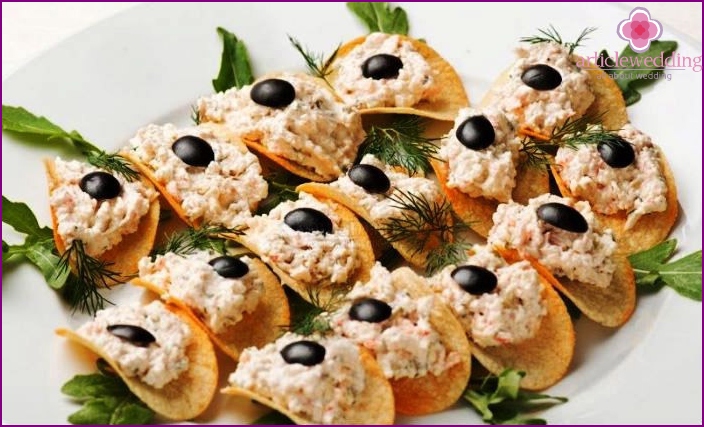 Canape with cheese Dor Blue
For guests with exquisite taste shouldprepare original dishes. An example of such snacks for wedding table will serve as canapés with cheese Dor Blue. The combination of unusual tapas taste salty cheese dor blue, mango sweet and sour grapes will create a unique flavor. To prepare canapés need: mango, grapes (preferably without bones), cheese dor blue.
Preparation:
Cheese, mango cut into slices. In the original recipe foods are cut into cubes, but in a desire to make possible different forms, using your imagination and a variety of molds.
Skewer or toothpick is put grape, mango, and at the end cheese dor blue. Often, instead of using grapes or olives olives, pineapple and mango instead.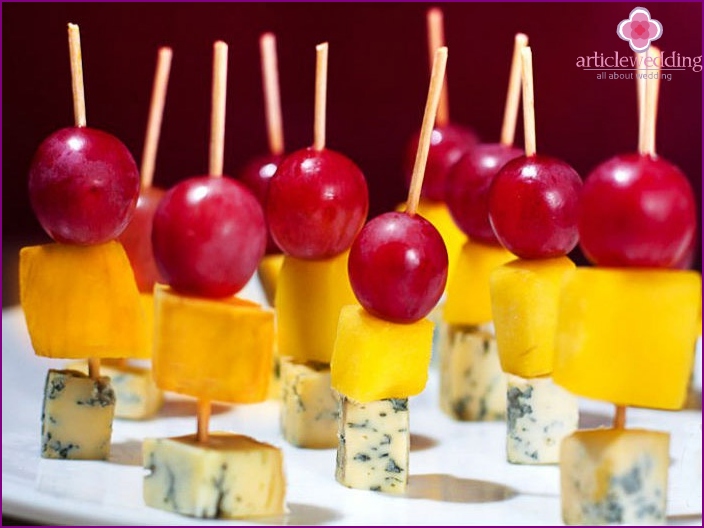 Recipes hot appetizers
Wedding - happy holiday, which is unlikelypass without strong drinks. Alcohol should be a snack than a meat and warm, so hot meals on the holiday table are essential. Unlike standard dishes, hot meals are usually served already chopped, which eliminates the need to use a knife. Include hot menu not only snacks but main dishes. For example, the supply of whole roasted pig or duck stuffed cause incredible delight of the guests and everyone will want to try a piece of such dishes.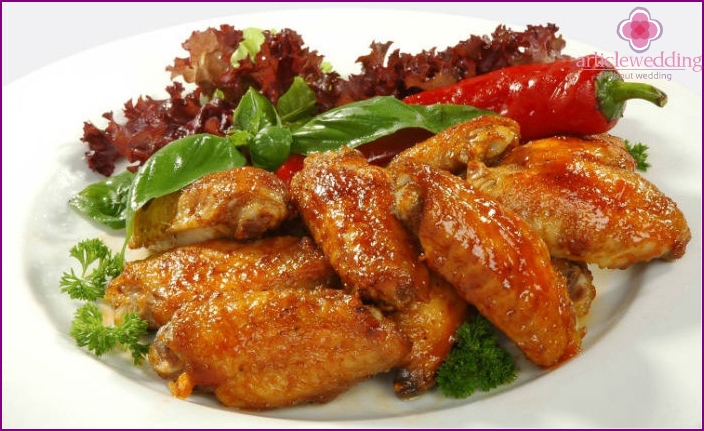 Cancer of the cervix in shells
Unusual wedding hot snacks can beoriginal dish - crayfish in shells. The unique design and supply will surprise guests, it will be interesting to try a new dish, and the unique taste of the snacks they will be remembered long after the banquet. Thanks to the recipe of the original starters, everyone can prepare their own crawfish at home.
Necessary ingredients:
10 cancers;
75 grams of sauce cancer;
100 grams of mushrooms (best to use white or button mushrooms);
to taste - salt, herbs.
Preparation:
Rakov cook, neck and claws separated. From the shell, remove the insides, and then rinse them in salted water.
It is necessary to pick up the shells of the same size, put them together so as to form an oval box (similar in appearance to the boat).
Mushrooms fry until half, chop with a knife, fill with crayfish sauce.
Connect peeled and chopped claws, neck and mushrooms. Fill with a mixture of shells.
The shells lay on a plate, sprinkle with herbs. The dish is ready to be applied to the festive table.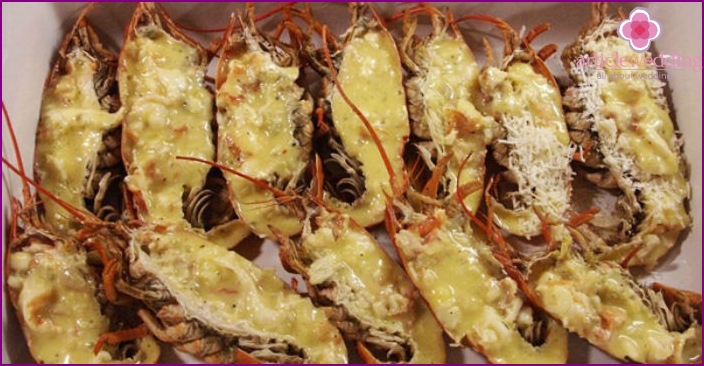 Baskets with perch in tomato sauce
As a rule, used for cold tartletssnacks, but in some cases the baskets are indispensable for hot dishes. An example of a hot tasty snack for wedding table in a tartlet perch in tomato sauce. It is unlikely that such a fish appetizer leave anyone indifferent. How to properly prepare tartlets with perch and what ingredients are needed for this?
Ingredients:
12 baskets (approximate capacity of 20-25 g each);
300 grams of fillet of pike-perch;
50 grams of mushrooms;
150 g of tomato sauce:
Salt to taste.
Preparation:
The ground perch fillet, cook until half cooked, add the mushrooms.
The broth is poured, and the capacity to add tomato sauce, boil.
Put the mixture into the tartlets with puff pastry or.
Decorate the tartlets before serving with greens and slices of crab.
Crab Croquettes with Rice
Crabs have always been in demand in the cooking,because any banquet menu, including the wedding table, not the exception. Crab meat is tender, and also contains a large amount of useful minerals, so the dishes with crabs not only delicious, but also useful. Crab Croquettes with rice - hot appetizer, which is perfect for a wedding feast. For its preparation is required:
80 g crab meat;
? cup of rice (better to choose kruglozernisty);
100 g of vegetable oil;
2 eggs;
20 grams of flour and bread crumbs;
spices (salt, pepper, rosemary) - to taste;
parsley, tarragon - on? tsp .;
80 grams of butter.
Preparation of hot meals:
Rinse well with rice and boil in salted water. Boil until cooked until a crumbly rice porridge. Add 40 grams of butter.
Crab oil chop, combine with rice.
Add to the mix an egg yolk, spices.
From stuffing to make the finished balls, breaded in flour, dip in egg white and then in breadcrumbs. For frying require a large amount of vegetable oil to croquettes were fried like fried.
Ready-made croquettes with a piece of butter, put on a platter and sprinkle with herbs. Snack is ready for submission to the wedding table.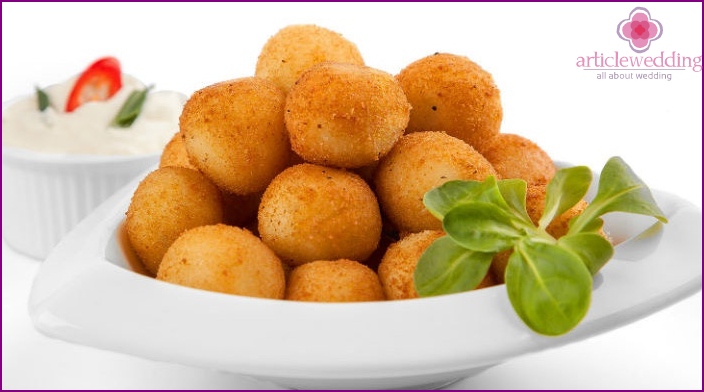 How many servings of snacks must be a man?
Calculate exact number of snacks thatyou need for a wedding holiday table, it is difficult, because each person has different taste preferences, appetite. Roughly calculate how many servings of food and better order, will help the administrator of the restaurant, which will be held a wedding banquet. For example, approximately the weight of a portion snack per person is approximately 50-70 grams.
While training, you need to take care ofsnacks that will entertain guests after the redemption of the bride from her home (eg, small canapés or sandwiches). It should be borne in mind that the guests during a party actively eat the first 20-30 minutes, then drink more and use food as a snack. If after visiting the registrar was a long walk, it is likely that visitors are tired and hungry, so cold snacks are served at the beginning, to be eaten with pleasure.
Video appetizer recipes for wedding table
Prepare original snacks help tipsrenowned chefs, one has only to decide what kind of snack food like newlyweds and guests. Watch the video, where one of the top chefs from Spain - Hector Jimenez-Bravo - learn how to cook real culinary delights of French cuisine, which are ideal for the festive wedding table: