Bouquet - it is not just an accessory, perfectblending in with its image. A floral arrangement future wife can reflect your character, the language of flowers to talk about the feelings of the groom. It has a certain symbolism as the flowers themselves, the selected attribute for the holiday, and their shades. Shades of red and white bridal bouquet symbolize sincere, warm feelings between the spouses, their loyalty to each other and at the same time passion, a strong attraction. This option accessory bride looks contrast, attracts the eyes and looks great in the wedding photos.
Options bouquets bride in white and red colors
White-red palette of flower arrangementIt allows the bride to create a truly unique image. Optionally, use only pure white and red colors, this range perfectly combines elements of green - graceful branches arborvitae, aspidistra leaves, asparagus, Verdure, fern, touching the white-green gypsophila. To create a white-red bouquet fit:
Amaryllis. Some species of this plant have a stunning white and red coloring, monobuket of these colors will look great. With amaryllis florists create beautiful geometric forms of floral arrangements.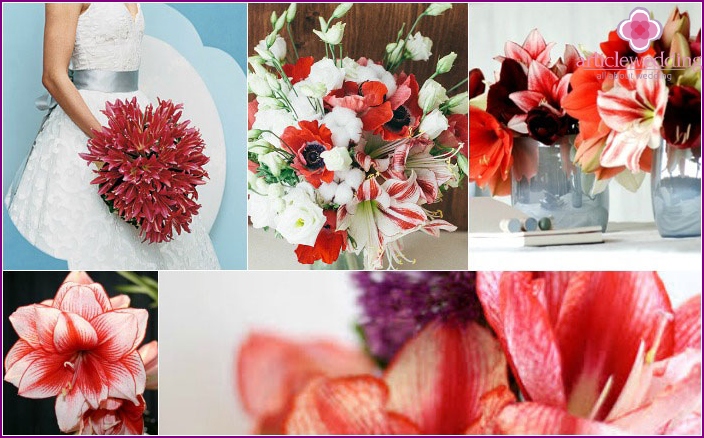 Hydrangeas. These colors are popular in Japan. Their round lush blossoms in combination with red flowers give way future wife lightness, tenderness.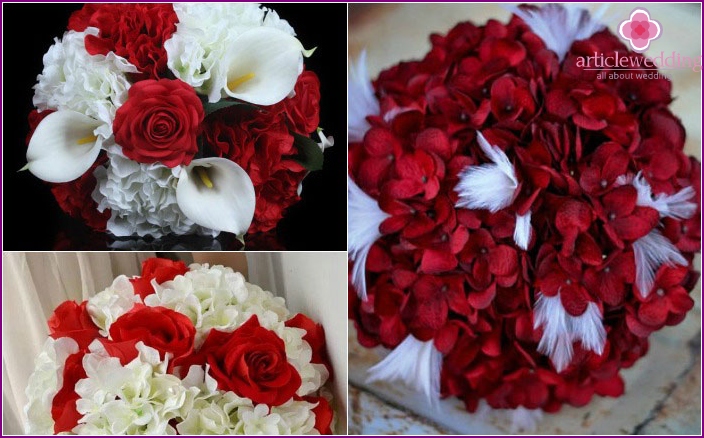 Lilies. These exotic flowers look great in combination with red roses. The bride can choose a completely white lilies or the more unusual types of buds - with a slight greenish tint.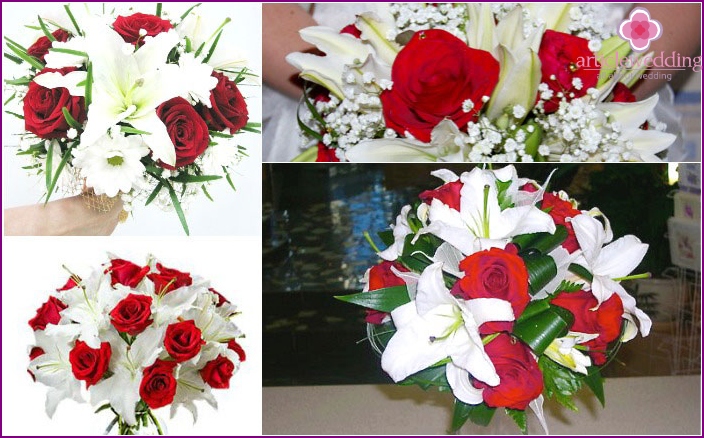 Maki. This flower can become a foundation or complementary red and white wedding attribute future wife. Make a bouquet of these poppies is difficult, these plants are fragile petals and thin legs, they can quickly lose a beautiful view or break. Often florists use artificial plants to decorate the bride's flower composition. Poppies are made of paper, plastic.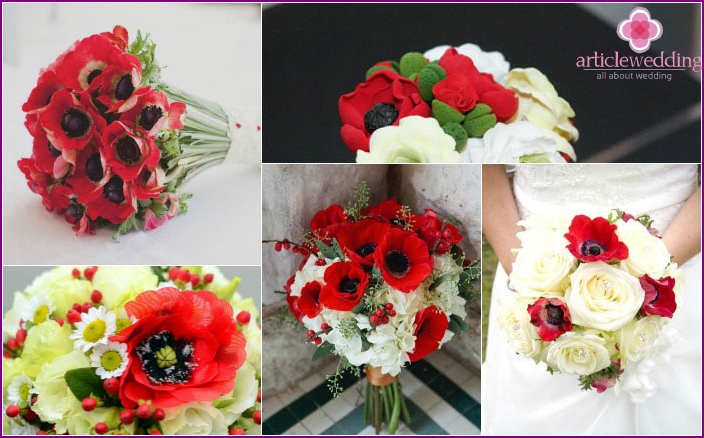 Ranunculus or Buttercup garden. This flower is a great element of wedding flower attribute culprits celebrations, as long retains its shape and looks great. Form bud and petal arrangement resembles a peony garden buttercup, but it looks more simple.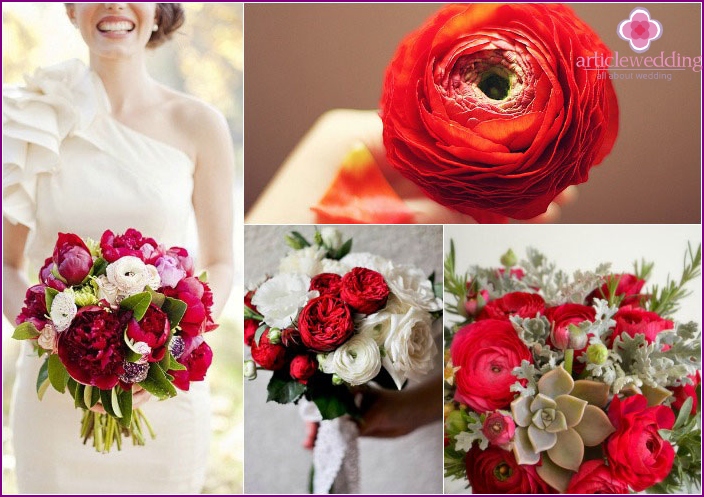 Berries and other unusual items. Flower Arrangement, which includes flowers with berries, looks interesting. This accessory will bring a piece of summer in the winter season and during the warm season accentuate sunshine wedding.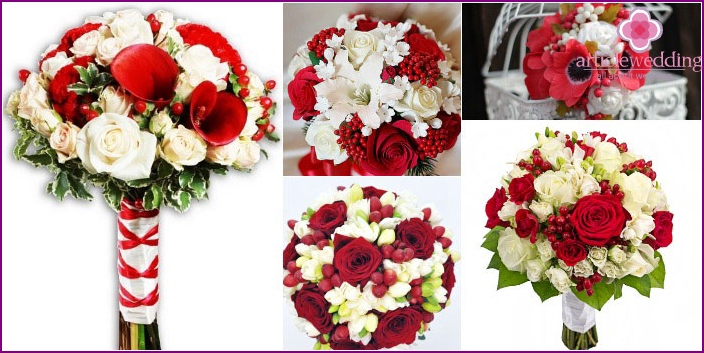 The combination of red and white roses
Wedding flower bride oftenpose of roses. The combination of red and white buds will help the girl to create an elegant, romantic, touching image. Flower accessory can be severe, have a clear geometric shape or take a free look. For example, it looks great bit "disheveled" cascading bouquet. To give a natural look of the wedding attribute, florists use several kinds of plants, combining rose garden shrub with their relatives. It looks nice and gently.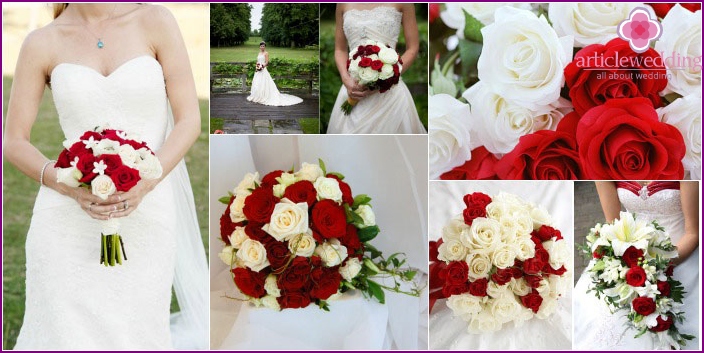 The composition of calla lilies and tulips
They look great together such componentswhite-red bouquet as calla lilies and tulips. Thanks to a smooth texture similar, these two kinds of flowers not only in harmony with each other, but still help create an elegant, low-key way of the future spouses. Flower bride accessory with calla lilies and tulips usually has a strict form of a semicircle. Good looking both variants color combinations: red with white calla lilies tulips and vice versa. These plants have an interesting symbolism:
Calla talk about the purity of marriage, the beauty of newly-wife, mean youth and rebirth.
Tulips - Eastern symbol of perfect love. According to legend, the flower grew from drops of blood spilled in love.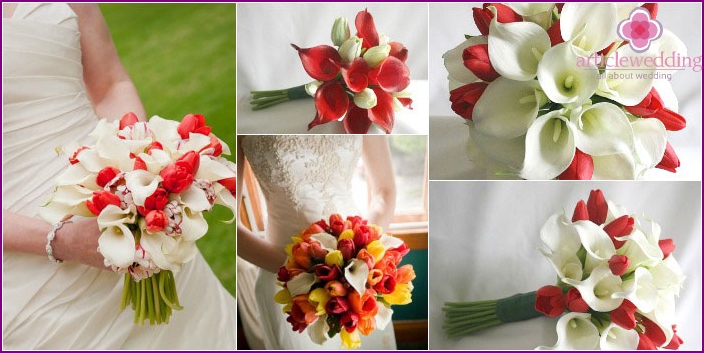 Calla - a plant that has an amazingasymmetrical shape. Florists create unique compositions with this flower. White, red calla lilies look good not only with tulips, yet they form a beautiful composition with the queen of flowers - roses. Look at the following examples of original photos of red and white flowers with calla lilies and roses.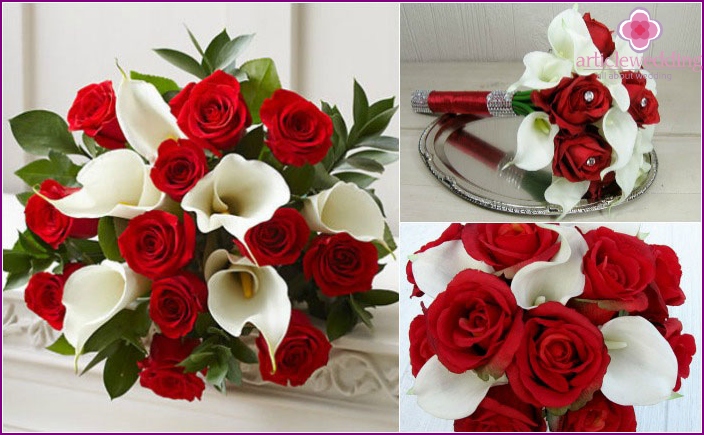 Bouquet of roses and freesias
By creating a bouquet of roses and freesias, expertsbe sure to take into account the wishes of the bride. If the culprit celebration wants to get air, romantic wedding accessories, florists add more white freesia inflorescences, only slightly diluting with pure white cover with red roses. If you need an emphasis on brightness, saturation bouquet of scarlet hue, use a large number of buds of roses and only slightly attribute is decorated with gentle, touching freesias. Examples of different types of floral accessories, see the photo below.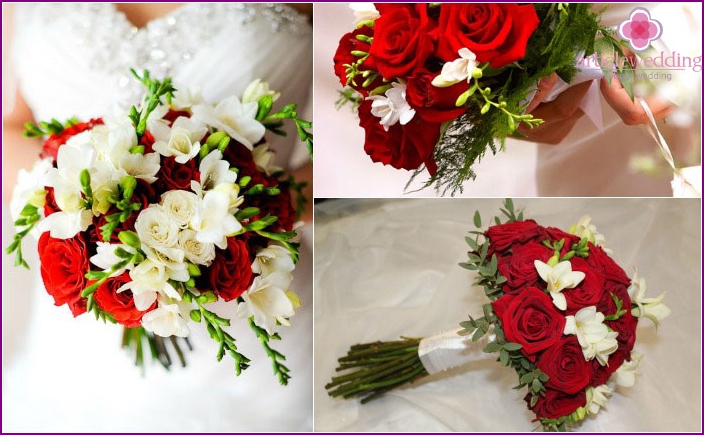 From tulips
Beautiful flowers, marks the beginning of spring - tendertulips. If the future wife loves this plant, there is nothing better than creating a sophisticated composition Tulip. Variations white and red flower set of accessory: it can bunch of white buds, tied with a red ribbon, a combination of red and white colors or combination of elegant tulips with other plants in one composition. Whichever option is not chosen celebrations culprit, her wedding attribute with tulips will look great.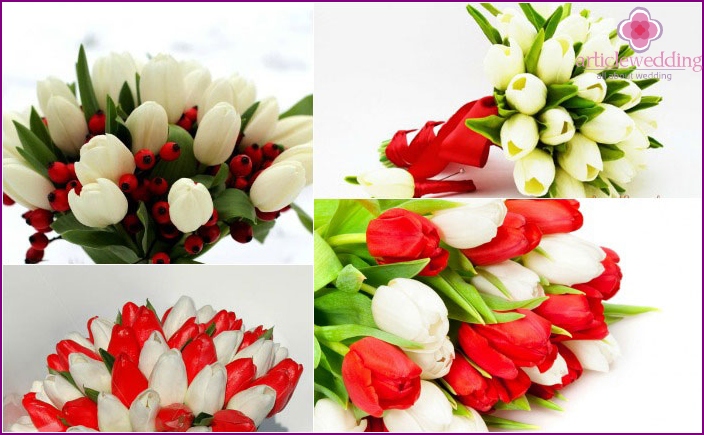 Pictures of the bride's bouquet in white and red
Task white and red bride's bouquet - expressreflection of her tastes, love for his wife, as well as to emphasize the exquisite wedding image. To an accessory looked great, she should use other red parts in his attire. For example, it looks nice ribbon on the waist or a bright red manicure. Bridal bouquet should be chosen for a future wife along, all the elements necessary to harmoniously combine with each other. Look at the photo below a selection of beautiful flower arrangements in white and red colors.