The tradition of the bride wedding flowers to give a veryancient: in ancient Greece, the bride walked down the aisle, holding a branch of the orange tree and ivy. It was a symbol of wealth and eternal love that waiting for a new family. In ancient Egypt the bride composition were using sprigs of fragrant garlic and rosemary, which promised the couple a happy and rich life together. Modern bride was more fortunate, because it is not limited by the rigid framework of superstitions and make wedding flowers with your hands can with anything.
How to make a bouquet of flowers: step by step instructions
The happiest day in the life of a young couple mustto be perfect in all things, and there are no trifles. An important element of the ceremony is a wedding floral arrangement bride: she first holds it in his hands, and then throws into the crowd on luck lucky in his personal life that will catch the bouquet. This accessory you can buy, but much nicer to do it yourself. Wedding bouquet with their hands with fresh flowers will be the most unique.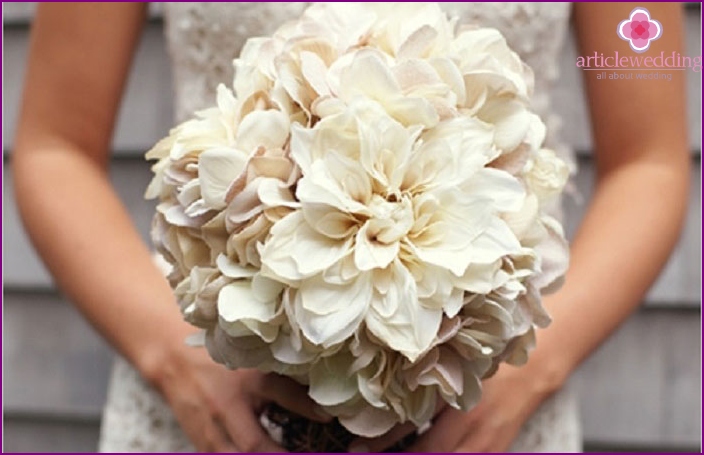 Necessary materials
To make your own hands with wedding flowers will need these materials: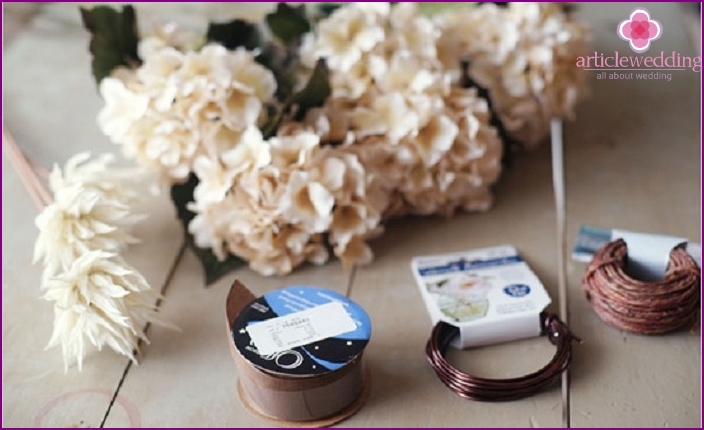 3 chrysanthemum white;
7 white hydrangeas;
Packaging of natural twine;
packaging brown wire for flowers;
brown organza ribbon coil, a width of 5 cm;
pruner;
Office button.
Stages of Development
Secateurs cut off all the leaves near the stem. Three hydrangeas make up together to make a triangle. Attach three hydrangea, placing them on the sides of the triangle a little lower. The center will be a small place for the last flower hydrangea. We put the last flower a little higher than the others to form looked a little rounder.
Adding three chrysanthemum close to the center so that they turned from open delta, that is not close to each other.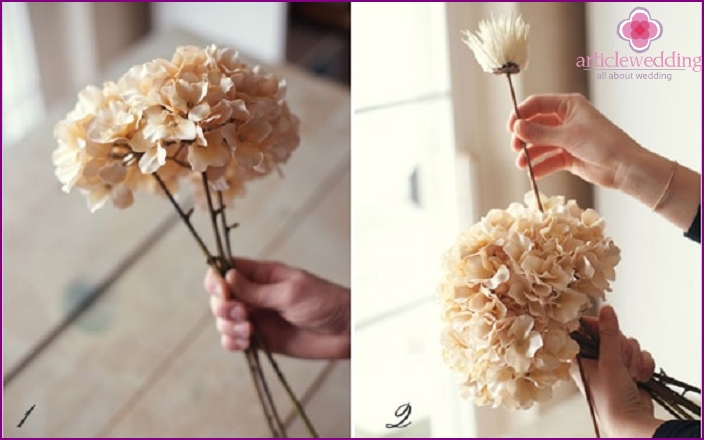 At the top of wrapped floral wire. The ends of the stems equate shears.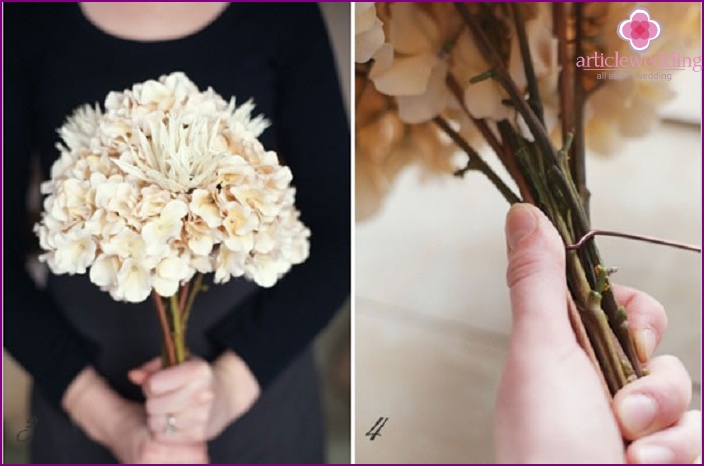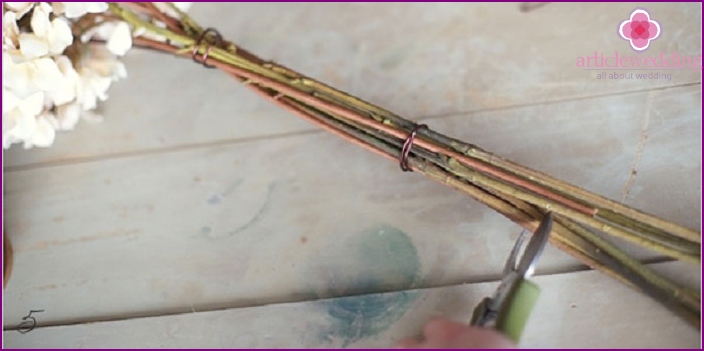 Organza wrapped tightly, fasten the top button tape.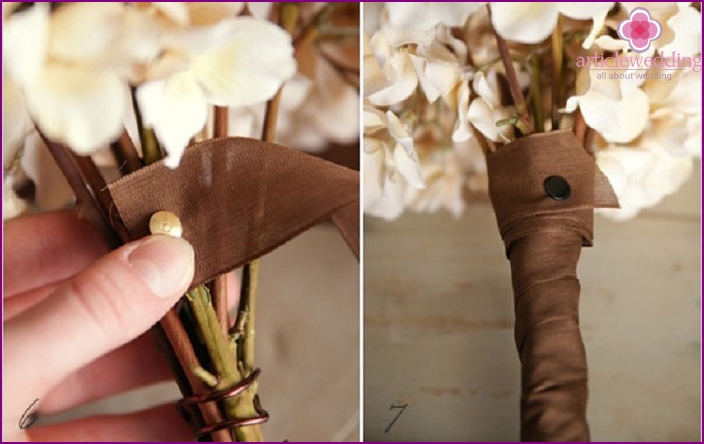 Available twine wrapped over organza.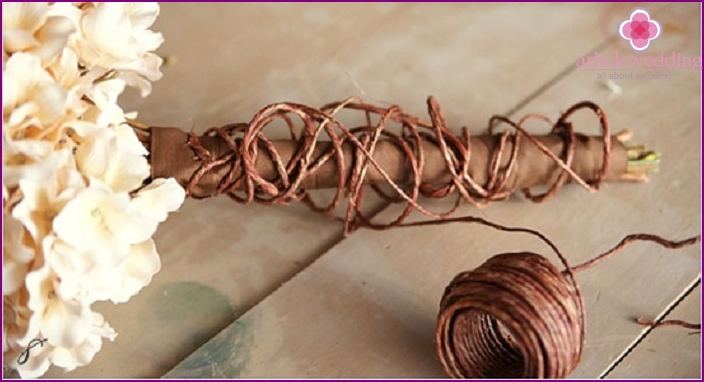 After weaving twine miss the rest of floral wire.

Wedding brooch bouquet with their hands
Wedding bouquet brooches with his hands to conquermany brides for their originality, beauty. Their manufacture and design takes a lot of work and time, but the result will certainly be pleased. These flowers look very festive, bright, impressive and most important - is unique. It you can store plenty of time, because it does not lose its charm.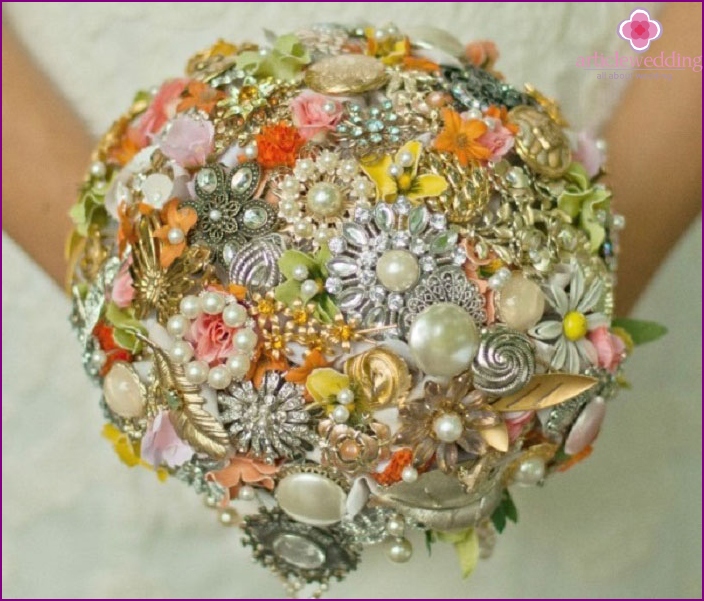 Necessary materials
To make a bouquet with their hands need the following:
pliers;
Floral wire;
80 brooches;
glue gun or glue;
artificial flowers;
teip floral tape or adhesive tape;
safety pins;
satin ribbon.
Stages of Development
Soapy water and an old toothbrush clean brooch, carefully dried.
Each brooch with wire do stem, while for each accessory you have to come up with your mount.

Each stem is wrapped with a ribbon-teip that the wire has been hidden from the eyes.
Artificial flowers divided by petals, glue gun from the bottom of each brooch fastens on two petals.
Collect 5 brooches fastened together teip-tapeFurther anchoring them as you add them to securely held in place. Make sure to get the spherical shape. To dilute the composition, insert some artificial flowers.
When the bridal bouquet is ready, then I align the stems.

Wrapped with satin ribbon stems from the bottom. If desired, add an additional decoration in the form of pendants or beads.
Balloon Bouquet of satin ribbons
Wedding bouquet of the ball with their hands isa unique composition. He looks very stylish, and the size, color, and you can choose the components you wish. With this song the bride is extraordinary and unique. Bouquet composed with the help of satin ribbons, not dry up, not wither and will delight you with its appearance for many years. The above step by step guide will help you create a unique composition.
Necessary materials
To make a bridal bouquet with your own hands, you will need these materials:
dense fabric type canvas or canvas;
satin ribbon pink or other colors;
scissors;
thread;
needles;
handle base in the form of a ball of foam;
beads, lace and other decorative items for decoration.
Stages of Development
On the canvas draw a circle that will serve as a basis for the colors.
Cut a circle of radius cut on the line, add up at an angle of 30 degrees. Sew, to get a cone.

Edge sew satin ribbon at the top of the cone, anchoring on all sides.
Fold the tape around the corner, fasten again - the first petal ready.

Again it is necessary to lay down the tape area, secure the thread.
We continue in the same way to form a rose, folding the corners of the tape securing it.

When you reach the edge of the base, cut off the tape is folded under the rose. Doing so also 5-11 buds.
Core wrapped with satin ribbons, fasten the foam ball. Glue it ready satin roses. Decorate with beads.
What kind of wedding bouquets can be made with your own hands
Wedding bouquet with their hands - the main element floral bride. You can make a completely different composition, using paper, artificial flowers, beads, ribbons, and other materials:
mini bouquet is a little song;
round bouquet spherical shape;
Cascade composition which hangs down;
in the form of a ball on the ribbon;
vertical composition, compiled with the help of flowers on long stalks;
bunch of arbitrary shape;
large flower, which is made by hand from individual petals;
original forms as fans, belts, bags, etc.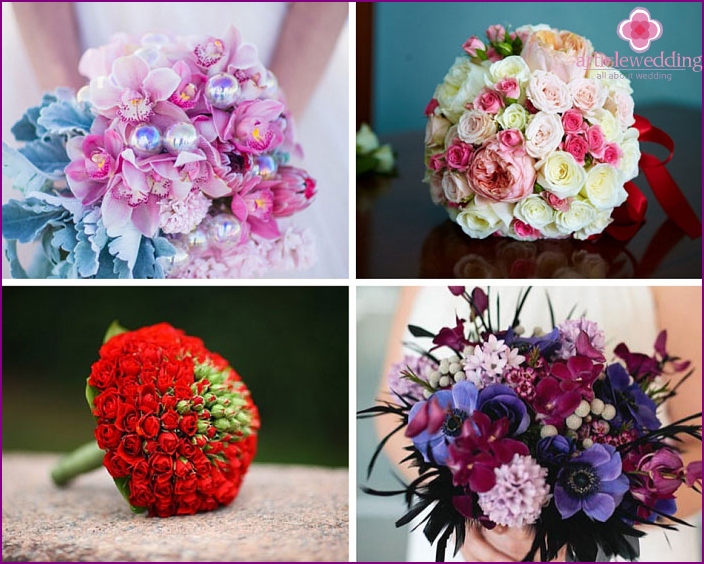 From beads and beads
If you want everything at once beautiful,exclusive, unusual bouquet, pay attention to such material for its production, as the beads. Compared with natural flowers, the present composition has several advantages:
he will sustain all weather testing;
bouquet will be the exclusive, made up according to your wishes;
He will stay with you for life as a memento of the happy day.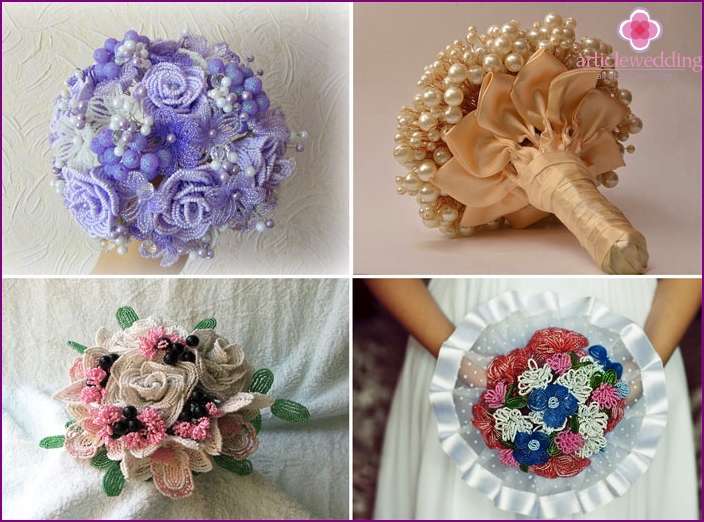 Bouquet of corrugated paper
The basis of flower arrangement can servea variety of flowers made with crepe paper. This material allows you to create a variety of shapes. They look very nice and true, a celebration fit any style or trend. Wide range of corrugated paper of different colors gives embody the boldest creative ideas.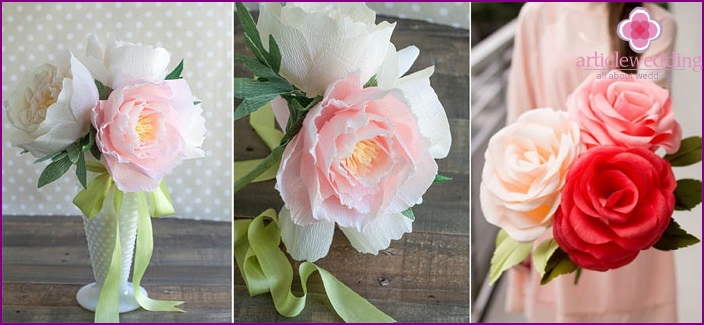 Using artificial flowers
Wedding bouquet made with the help ofartificial flowers with his own hands, quite durable. It will survive many hours of walk, photo shoot, stuffy restaurant, all-weather. At the end of the celebration bouquet will not lose its splendor, and you do not have to worry about what flowers will break or fade. After the wedding, the bride will be able to keep the bouquet of a long memory. In addition, with different shapes and colors of artificial flowers, you can feel free to experiment.

Wedding bouquet of cones and candy
Wedding bouquets with their hands, made athelp chocolates are considered original, interesting solution that will attract attention. It is suitable for those brides who are allergic to pollen. There are many options for setting such a composition: monobukety with expensive candy with treats, made to order, with fun candies. Such compositions can fit into a wedding with different themes.
Cones - a symbol of winter, so they are perfectlyIt is appropriate for drawing up the bouquet to the winter wedding. In addition, such compositions are successfully entered into an ethnic wedding or rustic style. They can be fir, hardwood, pine, cedar, fir. Very nice and bright look cones in combination with red berries, fir branches. Conventionally such compositions are divided into two categories:
Monobukety compiled using cones, decorated with a minimum of other elements.
National composition, where the bumps are the not the only element. Such bouquets can include ferns, flowers, spikes, branches ate berries, artificial materials.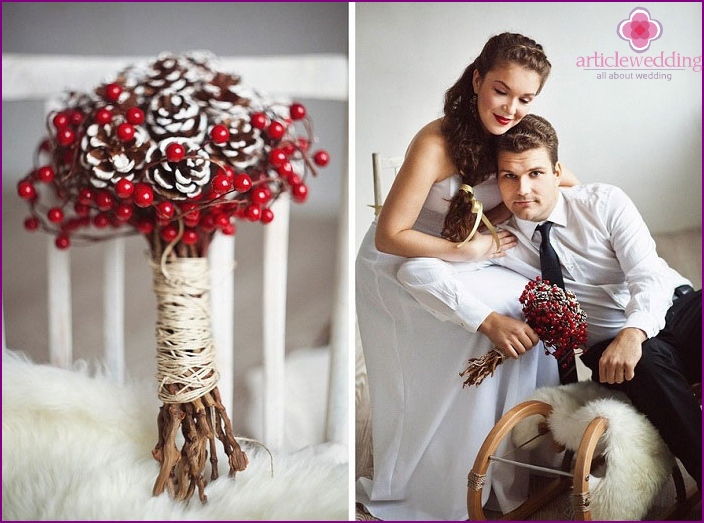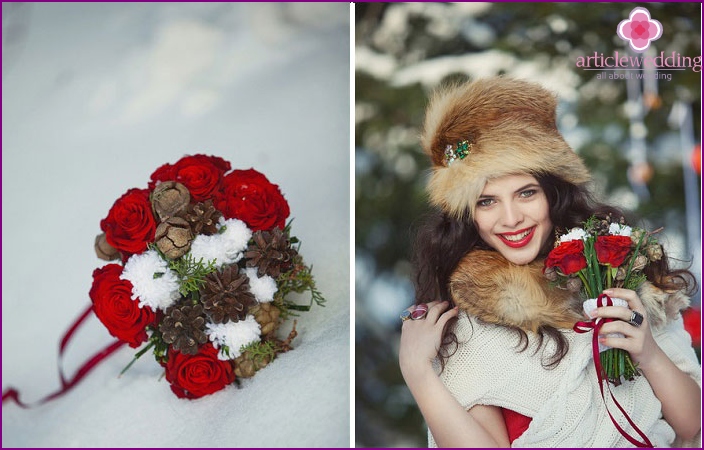 Video: Master Class to create a bouquet in the form of droplets
Flowing bouquets in the form of drops - holidays,solemn, look great with lush, silhouette dresses. Such compositions can be strict, classical, stressing the playful bride her slightly disheveled views. The form itself was born in England and has become very popular among today's brides. The presented video demonstrates the process of creating such a variant of the bouquet. It has a slightly loose structure, so it looks graceful and air.