Each dreamy girl wants herwedding was a gentle, beautiful and stylish. Always the bride's desires are considered by law, it depends on her mood at the festival, and even throughout the marriage. An important addition to the wedding is the bride's bouquet. Look closely at the composition of cornflowers. It can complement your image and make it a highlight.
The meaning and symbolism in the bride's bouquet of cornflowers
Flowers for your bride's bouquet is not selectedonly based on their own preferences, coloring or appearance. Very much influenced by the choice of symbols that carry the plant. Cornflowers denote affection, friendliness, loyalty. Their color - male, strong, so the union is supposed to be with these characteristics. Cornflowers chosen not only for weddings with themed field, even for French-style, this flower will be a good addition.
The story goes that in ancient times was a boy,that in every field tore all the blue flowers with bells. The strength of this guy moved in plants, and since then they have gained its name. Cornflowers - very friendly flowers, so they can be combined with other plants: roses, peonies, daisies, irises, poppies, and even ears of wheat or barley (although such an addition is used very brave couple).
Possible wedding bouquets with cornflowers
Wedding bridal bouquet can be not onlymonotonous and consist of one kind of green. It allowed a combination of different kinds of plants and ornaments. Bouquet runs as a portbuketnitse, and without it. Very original leave bouquets of cornflowers fabric, paper, or other man-made. Their peculiarity is the look of the little leaf-bells.
The combination of cornflowers with roses
Since the rose flower is considered to be universalfor the wedding, her presence in the bride's bouquet is very common. Combination with cornflowers would be ideal if the rose is chosen white or milky. Interestingly it looks Connect blue roses and the same tone cornflower. In addition to these colors, any greens and various accessories can be used. Very stylish look bouquets with a brooch in the center of the handle.
To the composition of cornflowers and roses organicallyfit into the interior of the wedding events, it is worth to consider other elements using these colors. From the same combination, you can perform and groom boutonniere, decoration of tables for guests, decorate its presidium, invitations, seating cards. If the tuple decoration is performed using fresh flowers, then cornflowers will also be a good addition.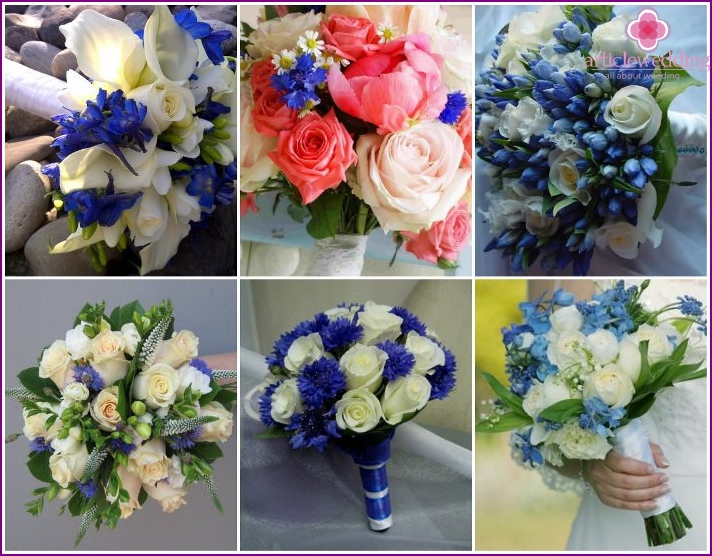 The composition of cornflowers and daisies
Wildflowers are ideally combined together, socombination of cornflowers, daisies so popular among brides. Connecting the white plants and blue gives a feeling of freshness and freedom, which perfectly fit into the theme of the wedding celebration. In this combination, there is a place for irises, poppies, all field crops, even cereal spikelets, such as wheat.
When using fresh flowers should payattention to their durability. Freedom-loving herbs very little time stand without water, so it is better to make out such combinations using portbuketnitse or other fasteners, which is inserted into the mass of water. Daisies with cornflowers can provide a theme for the entire wedding to be performed in a natural style.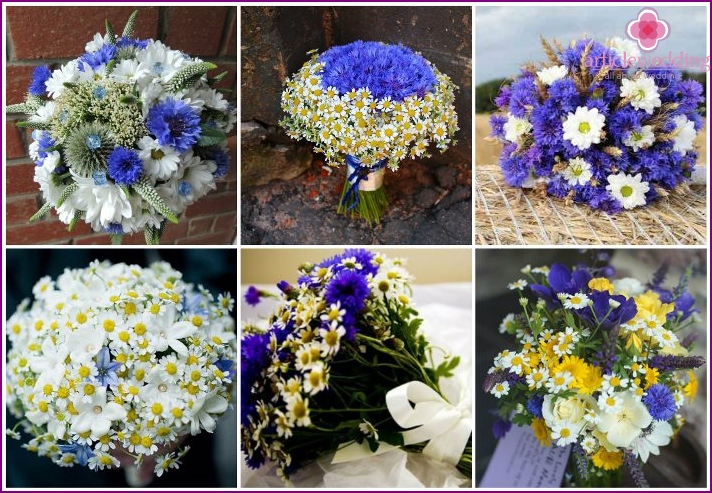 Delicate bouquet of cornflowers and eustomy
At first glance, the combination of field flowersblue cornflower and greenhouse, farmed eustomy almost unreal. But this is not the case. Eustoma is very different colors, and is often possible to select a combination that will bring to mind not only the newlyweds, but also all the guests present. There may be a flight of fancy, unusual solutions.
Very stylish looks blue or purpleeustoma white midway. It will not only emphasize the beauty of cornflowers, but also create wealth effect. Cornflowers can be collected in the center of the bouquet or "scattered" across the combination, according to the bride's request. The main thing that buds the size of the selected plants was related, on average, it will range from 2 to 4 cm.

Monobuket of cornflowers
If the bride prefers onlycornflowers, monobuket will also look great. The composition will not have anything extra, cornflowers its coloring will complement the image of the bride. Monobuket them supplemented by any greenery, accessories. You can use crystals, stones, brooches, ribbons, lace or satin, choose a florist or your taste.
Style Cornflower flowers may make itdecor. It is worth to take a bright paper under the bottom of the bouquet and the composition turn in front of an incredible masterpiece. The original complement may be the ears, they will add freshness. Think about all the details of the wedding, so that they fit together. For example, with a cornflower bouquet will be well in harmony blue shoes of the bride or the same color bow on her dress.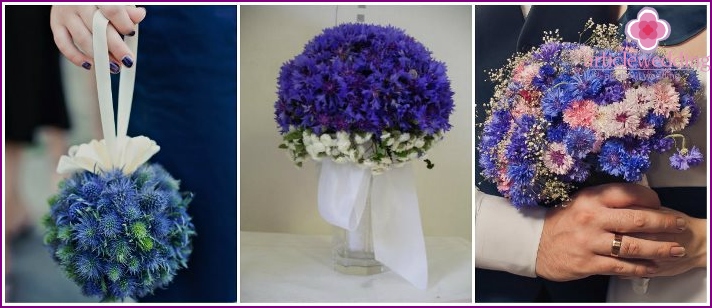 Which wedding dress fit a bunch of cornflowers
Cornflowers very friendly and suited to anyimage. But if you want to create a very gentle format for the bride, it is best to choose modest dress, embroidered with small stones, beads. Allowed satin ribbons, bows blue and white colors. The dress does not have to be a lush, even if the skirt fabric is a fall, a good complement to everything together becomes a brooch and delicate handling. It may be present as a dress, and the leg of the bouquet.
Photo of wedding bouquets with cornflowers
Before you can create a masterpiece of their wedding orconsider ordering ready-made versions of songs. They can touch up on the idea of ​​what should be your perfect wedding bouquet. All the flowers of the field very well dried, so cornflower decoration you can keep for years to come, to show his children and grandchildren. It is important that such a composition has added confidence bride made her happier.