Flower Arrangement bride - it is an integralpart of the wedding ceremony, the bride which gives the image of solemnity. Choosing flower accessory, girls pay attention to the components, size and color. Pink - a popular bouquet color. Highlighting the femininity and tenderness of the bride, he captivates with its beauty, goes well with many other colors, thanks to the variety of shades - from light to rich.
Meaning pink
This shade prefer delicate dreamynature, prone to idealism and romanticism. Pink flower arrangement at a wedding symbolizes a long family happiness. Flowers with a shade will be perfectly combined with classic white and other outfits. Young girls better to choose a pale color that emphasize youth and tenderness. Brides are older more than dark shades: fuchsia, crimson, purple.
The ancient pink color was a symbol of the goddessAphrodite. People believed that it helps to calm down, giving vitality. In esoteric culture - the color of the heart chakra, which is the birthplace of love. Psychologists believe his calm color that can calm even the most aggressive person. Natures who prefer this color scheme, very vulnerable, susceptible, but talented and refined.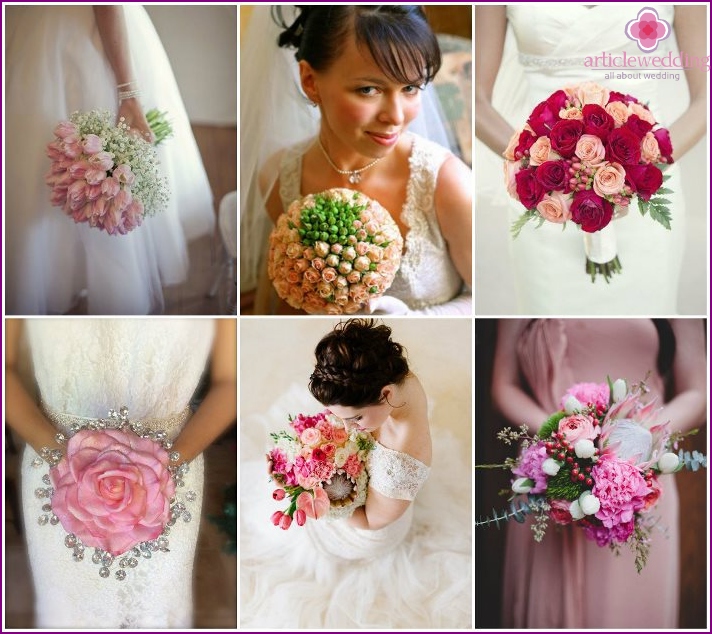 Tips for choosing a bouquet with pink flowers
Beautiful flower of peach,lavender, coral shade can not be ignored brides. The variety of pink suggests the initial choice of the bride dresses, and then a bouquet. For images of the bride and groom harmony, elements and color enhancement should meet in the garb of the bridegroom, hair and dress the girl. Style of dress is important: if it is too magnificent, decorated with rhinestones, embroidery, the composition for the bride to be without any contrasts.
The shape of the wedding bouquet is determined taking into account thebride external data. With the growth of small girls is better to choose a short, round accessory. In this case, avoid cascading compositions that are visually "will shorten" figure. They are more suitable for high-brides. Modern compositions have a chaotic order of arrangement of colors, mimicking the confusion during assembly - this is their special charm and fascination. This option is suitable bride of any height.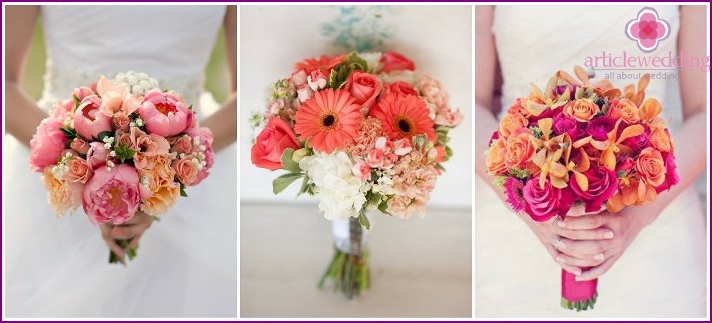 Filling the bouquet is also important. Choosing a song, proceed from seasonal materials and plants. Autumn composition Fill berries, leaves; winter - dried flowers, cotton, berries Bruno; spring and summer - ranunkulyusami, anemones, roses and tulips. Pink shades go perfectly with blue, brown, green, white flowers.
When selecting a shade of color, do not forget aboutthe groom. Use the pink color in the selection of any of his garment. It can be a suit, but in many cases limited by the shirt or tie. Boutonniere on the lapel or pocket must also contain inclusions of the same color. For this purpose, types of flowers from the bride's bouquet.
Variants pink wedding bouquets
Almost any sort of flower has pinkshade. This makes it possible to combine them into a single bouquet of tulips, peonies, ranunkulyusy, anemones, dahlias, hydrangea. The compositions combine several varieties of greens decorating, decor, or make monobukety playing with a color scheme. Use color one shade (eg, peaches) or different: fuchsia, pale pink, crimson.
The composition of pink roses
A classic choice of modern Suiteare bouquets of roses. The delicate peach, pink shades of these colors look both stately and elegant. A good option is to design the composition glameliya, decorated with rhinestones. Superbly will look bicolor bouquet of flowers with small green fern leaflets. Modern florists combine roses with peonies, orchids, ranunkulyusami, creating compositions of different textures and colors.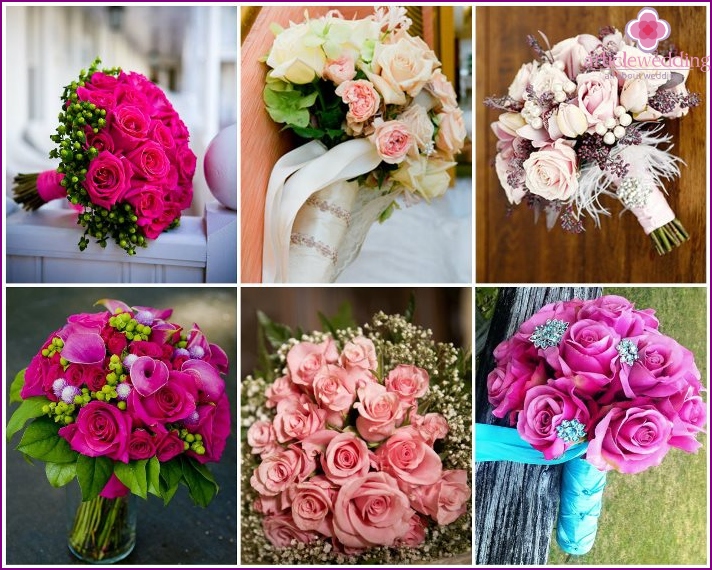 Bouquet of peonies
These large multi-colors - frequentcomponents in bouquets bride. Pink peonies luxurious and gentle. They combine well with roses, ranunkulyusami, lavender twigs, berries, roses. These plants are laconic, elegant in monobukete. Exquisitely looks composition using varieties of peonies Coral charm, on a background of white flowers. Flower accessory is decorated with lace, satin ribbons with the addition of rhinestones, brooches, pearls.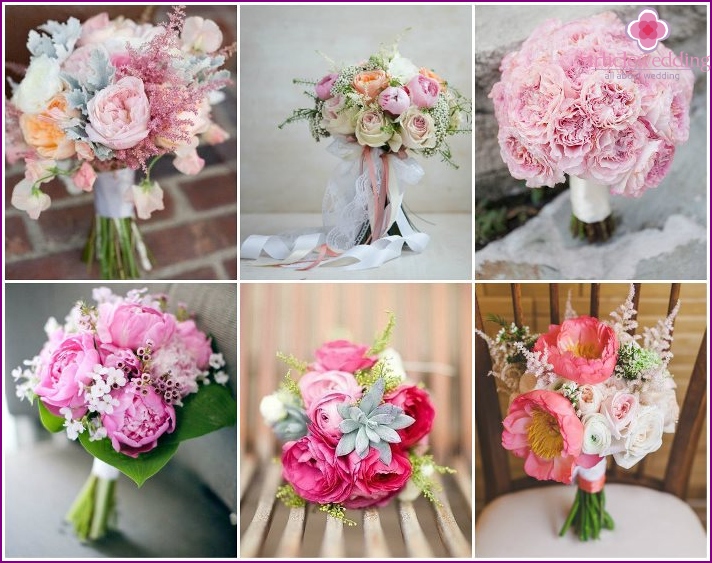 Pale pink bouquet of tulips
This simple flower plays an important role inthe compositions of the bride. Laconic bud pink tulips with fringed branches framed baby's breath - a bright and gentle at the same time. To suit bright tulips flowers of contrasting colors, such as black or blue, that will add elegance and glamor of the composition. For a more traditional brides the perfect solution would be a combination of a Cullen supplemented with pearl thread.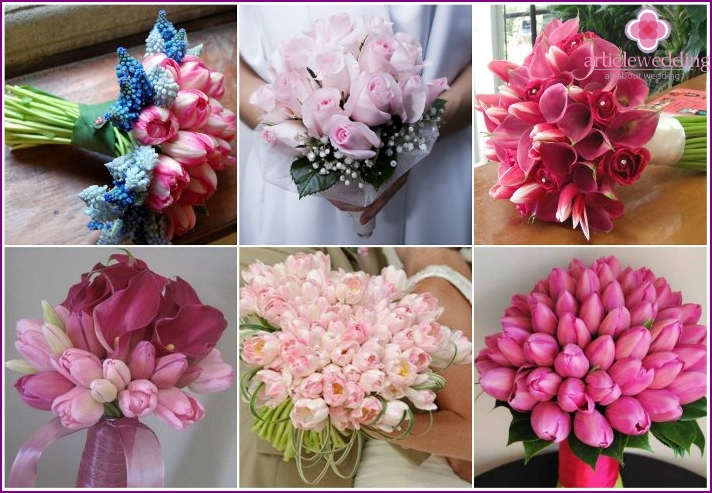 From lilies
As a symbol of faithful love, lily oftenused to create the bridal bouquet. It is considered a princess among the flowers, which require even magical abilities. Pale pink lily varieties Lacemaker, Svetlana, Watercolor, Amalia underlined charming bride, her finesse. These beautiful flowers look great in monobukete, but if you want to add florists blue and light blue delphinium, platikodon, small bells, jasmine carnations, daisy. Often added to the lilies green asparagus, carnations, irises.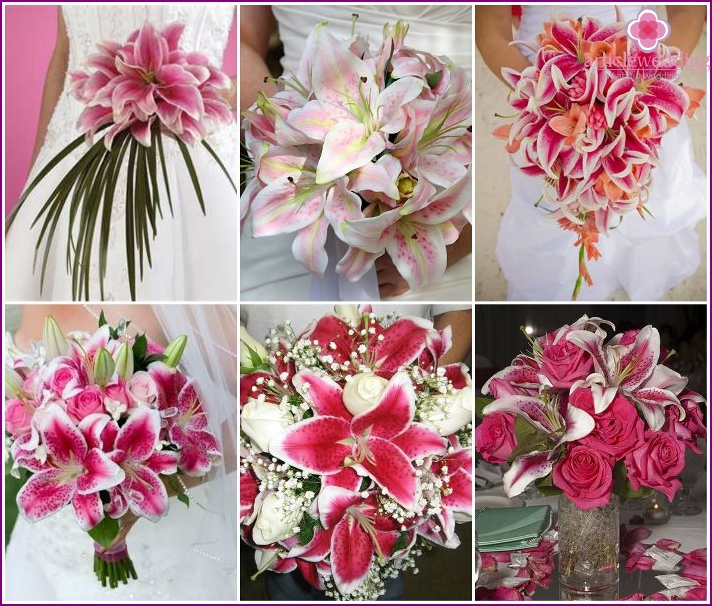 Bouquet of callas
Symbolizing feminine beauty, purity,calm, pink calla lilies are increasingly being used for the decoration of the wedding bouquet. These stunning flowers are not necessary to overload, so they are often used in monobuketah just bandaged satin ribbon adorned with a pearl strand. However, some brides choose to connect them with other species. The ideal solution would be the use of roses, orchids and hydrangeas.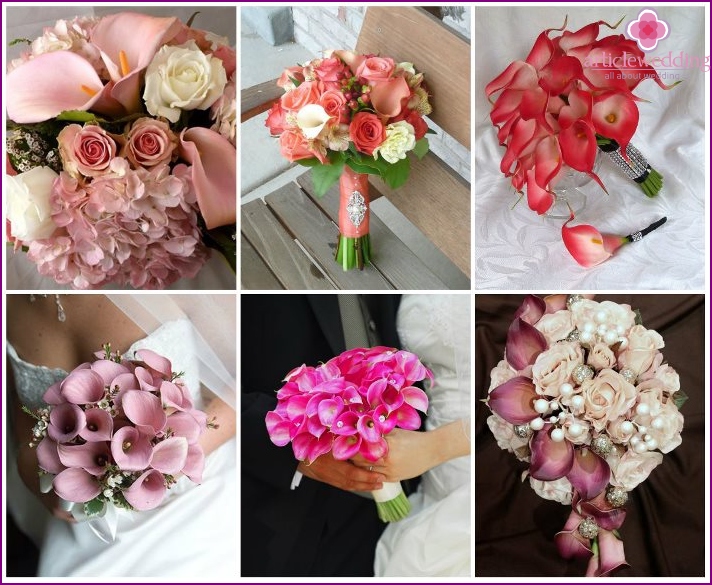 Photos bridal bouquet in pink
Today, before the bride gets updifficult choices in determining the type and color of flowers. A huge number of proposals can be put into a stupor. To avoid this, prepare in advance, check out the various options and select the desired bouquet. Knowing about how it should happen, you can greatly save time. Making entrust florist, relying on the taste and skill.