Flowers in the hands of the bride - a symbol weddingceremony. Every girl dreams about the unusual bouquet from the groom, who will give the entire depth, the brightness of the senses. Traditional roses on long stems, ball-shaped baskets perfectly matched colors have become so familiar that create a sense of monotony. Do you want to move away from the cliché? Disheveled bride bouquets - unimaginable shapes, sizes - are increasingly gaining the hearts of girls who are going to tie the knot. Before the miraculous field daisies and marguerites impossible to resist!
Options disheveled wedding bouquets Bride
Stylish, extraordinary disheveled weddingfloral arrangements create the effect of slight negligence. Like a bride on the eve of the wedding ceremony came to a magical flower where collected the most unusual flowers, often varying heights, shapes. On the way to his own wedding she looked into the garden, adding to the composition of green twigs with berries, or walked through endless lavender, wheat field, picking up fallen ears and inflorescences.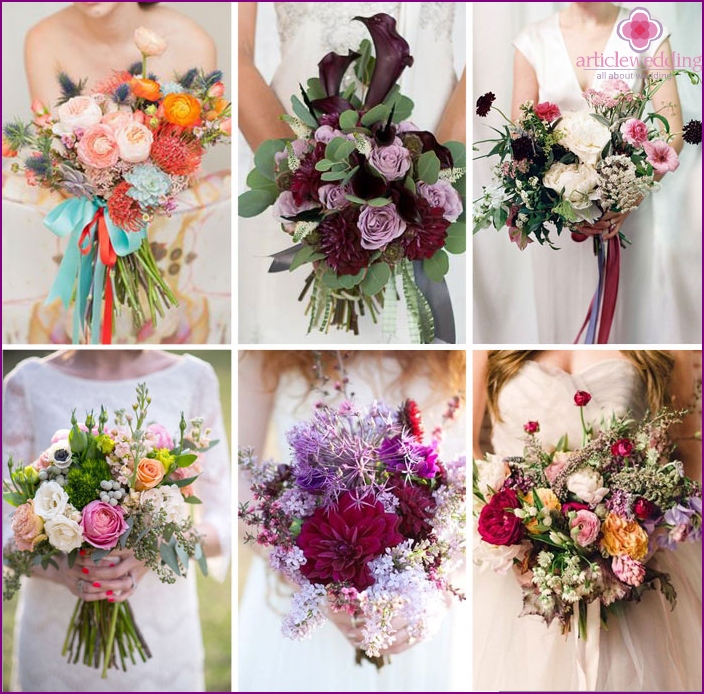 For disheveled flowers impermissibleuniformity, the beauty of the composition is "a combination of incongruous": strange peacock feathers, garden roses, wheat spikelets, peonies, wild daisies, sprigs of greenery and berries. Wedding Rustic style, eco, Farm imply the respective type of bouquets: simple and unusual at the same time, only occasionally decorated with matt or satin ribbons.
The combination of large flowers, small inflorescences on short legs, glossy green, garden and field plants allows you to create unusual composition: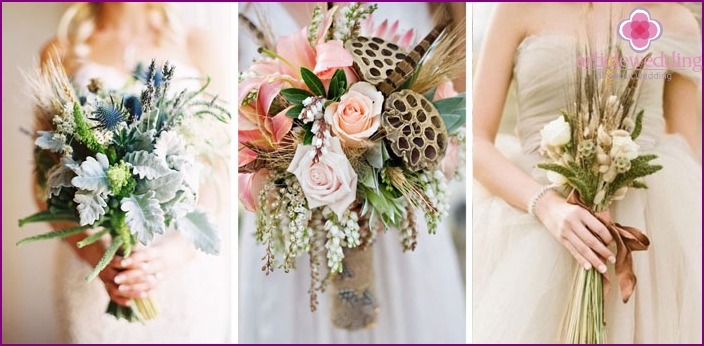 Spherical disheveled composition of roses, peonies,hibiscus diluted ruskusa twigs, ferns, berries, rose hips. Ideally emphasize the image of the bride, refresh the wedding ceremony organized in the village and in a classic style.
The original bouquets for the bride, whose wedding is held in eco-style. Formed on the basis of field flowers, ears of corn, lavender sprigs.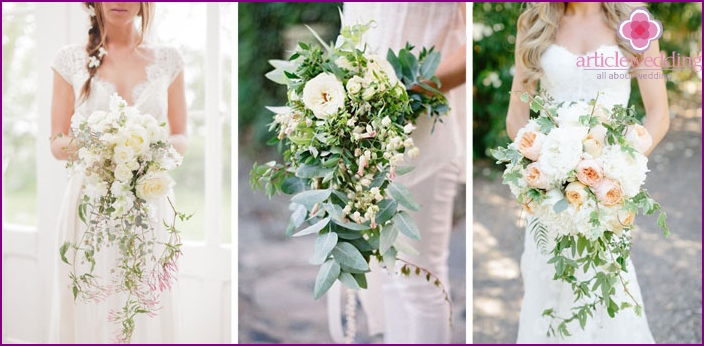 Large composition as a waterfall. Reflect flight of fancy florists: wild vines, rigorous dahlias, chrysanthemums decorated with green leaves of a fern, heather.
Delicate peony roses, ranunkulyusy, combined with cornflowers, daisies. These flowers are in disheveled corsage accessory will become a unique addition to the bride for the wedding style "Provence".
The compositions of the wildflowers
Are you tired of "sleek" rosettes, neatelegant orchids? Planning a wedding eco-style? Incredibly beautiful wild flowers give a natural way, will bring an exotic touch, decorate the face of the bride. Lavender disheveled composition will wrap warm gentle aroma; daisies, cornflowers Otten rich purple robes; green fern leaves complete the refined image.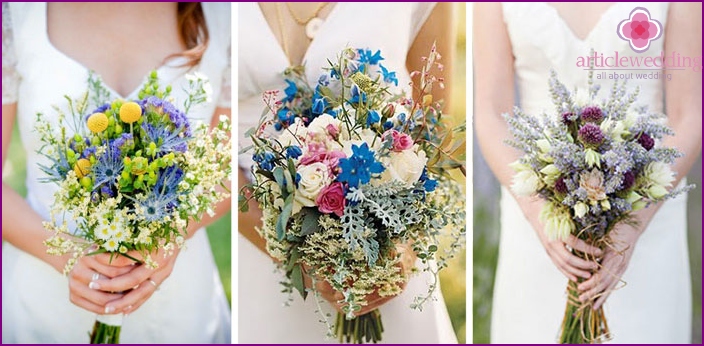 Sky blue cornflowers, daisies on a mottledlong-stemmed harmoniously fit into a bouquet for a wedding in a rustic style. Fine cup lilies accentuate the elegance of the bride, dizzy delicious aroma. Ericaceae composition with dry twigs variety of ears, feather will be a stylish piece to create the image of the bride. And as you look at it, to hold it in the hands of chamomile field? Large garden flowers, framed by small field daisies, do not need additional decoration.
The combination of large peonies and green
Fine peonies for wedding songs easily compete with the roses and orchids. The advantages of these garden flowers are indisputable:
Wonderful flavor delights both saturation and delicate notes.
The palette of various shades, from white to maroon, scarlet, gives a chance to choose disheveled bouquet for every taste.
The unusual shape of the cup, play of flower petals remembered for grace and style.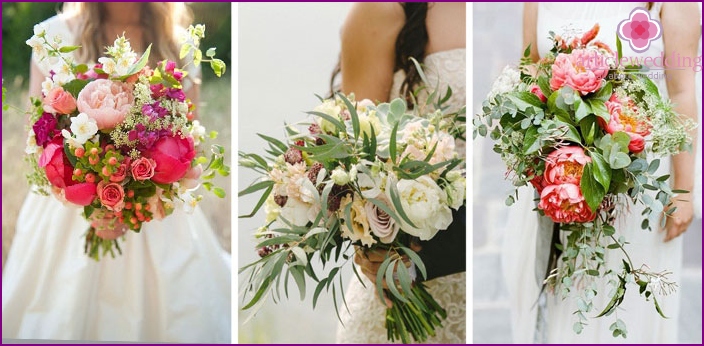 The white peonies are perfectly combined with yellowchrysanthemums, ornamental sunflowers, creating a light composition with a bright accent. Garden usual peonies, woven into a wreath, bouquet, create a delightful image of the bride-villager. Strict dahlia, chrysanthemum on long stems Otten coral-red flowers, and ferns add airiness composition.
Heather twigs, buds pions and semi ...dandelion leaves remind us of the beauty of wildlife. Stylish matte peony petals of roses in pastel shades, fringed glossy ruskusa twigs, decorated with berries, discreet colors florists provide the ability to create incredibly elegant bride's bouquet in the style of Provence.
Disheveled bouquet of garden roses
Achievement of recent years has been the floristpropionic appearance of roses, combining elegance and gentility of peony roses. These white flowers up to compete with orchids, Cullen, often "winning" the last marvelous light aroma and tenderness petals shades. They perfectly look like the bride's wedding party accessory on any direction and style.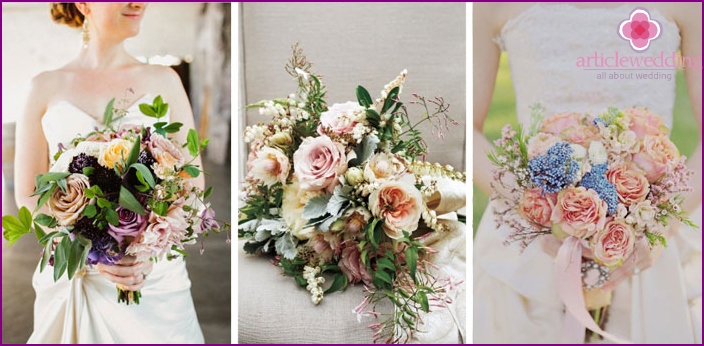 Unmatched disheveled composition createflorists of garden roses in pastel colors, white peonies with bright patches of green. The non-uniform in size buds, some of which are about to bloom, while others have opened petals, creating a false impression of the bouquet, the bride had just collected his hands in his own garden. Roses with stems of irregular shape, different sized buds that the natural image of the bride. Scarlet, yellow, cream, lilac, united in a disheveled bunch of greens, they are reminded of the beauty of wildlife.
The lush bouquet of ranunkulyusov
The unusual name ranunkulyusy - Europeanversion of the most common buttercups. External similarity with peony roses, orchids, lilies made them kings among the wedding flowers. Disheveled flower compositions for the bride, both mono and teams, occupy a leading position in the world of European floristry. No flower can not boast such a wealth of shades.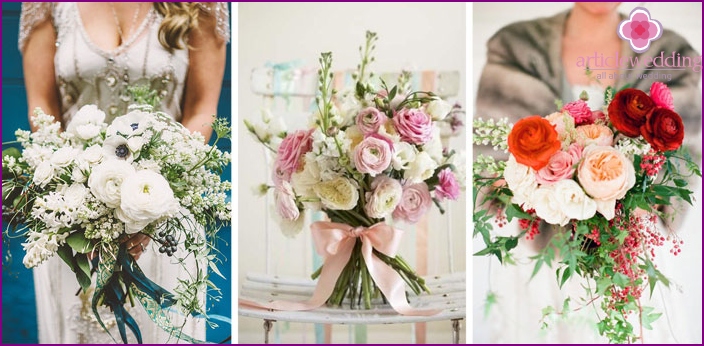 White, cream, pink, pale lilac buttercupsaccentuate tenderness, romance bride; saturated yellow, orange, full of energy, and burgundy will give elegant image of the femme fatale. Ideal combination ranunkulyusov with hydrangea, anemones and rose; beauty mono bouquets Otten delicate lilies, baby's breath, Verdure, succulents.
Cascading bouquets disheveled
fashion trendsetter on tousled weddingcascade type bouquets became Lady Diana Spencer, by a similar composition to the wedding back in 1981. Flowing graceful waves rose in a frame of greenery become traditional classics; dahlias, chrysanthemums give brightness and eccentricity as well as the bride; Orchid - aristocracy. For these flowers are typical ornaments in the form of satin ribbons, feathers, pearls.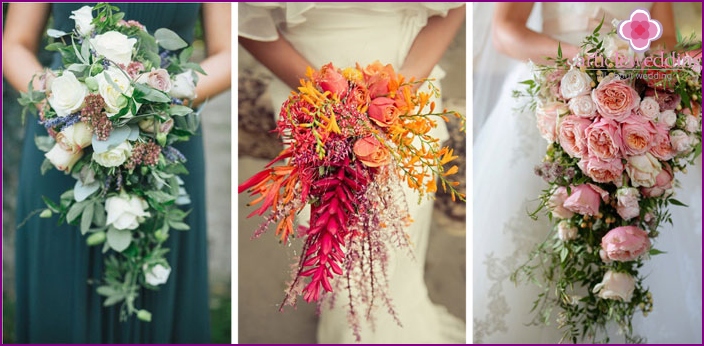 Unusually look disheveled compositionsjewelry: silver threads strung sequins, stones. You want to impress guests, emphasize love for wildlife? Select for wedding cascade bouquet made with decorative ribbons and streamers. Bright colors will allocate you among the crowd, and the composition decor will make it unforgettable. Disheveled teardrop bouquets preferable to choose the bride and groom medium and high growth.
Photo disheveled bride wedding bouquets
The variety of flowers disheveled, their incrediblebeauty, naturalness led to the increasing popularity among brides. Do not get lost in the vast sea of ​​wedding songs proposals to help the photo below. Bright, unusual colors, combined with spikelets, green, decorated with rhinestones or feathers, become elegant and stylish accessory for the bride.