Wedding bouquet - the most important accessory in dressBride. If this attribute wedding to make your own hands, then it ceases to be merely accessory, and turn into a kind of talisman for your future family. After creating his own hands the things you put in them the soul, and the charging energy of happiness. In Europe and the US is very important and fashionable to make bouquets of artificial flowers, because it is fashionable, original and inexpensive.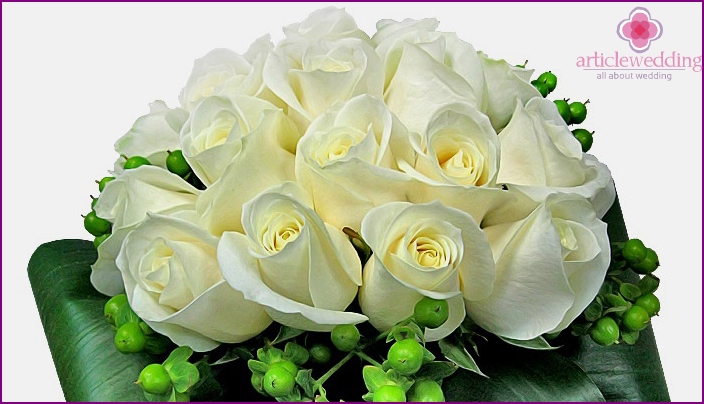 Advantages of a bouquet of artificial flowers
Most brides do not think about the fact, thatcreate an artificial bouquet. Following outdated stereotypes, most people believed that inanimate flowers are easily distinguished from the real thing, because they look poorly, unnatural and cheap. Artificial analogues in many ways superior to their "real" counterparts. Experienced florists are able to transform materials such as plastic, wire, paper, fabric, etc. - in real floral masterpieces, which does not yield to their "living" counterparts, except that they will not have natural fragrant floral aroma.
Artificial attributes for the bride has several important advantages:
Quality. Modern artificial flowers are mostly made in Europe under strict quality control with the latest technologies, in strict accordance shapes and colors of natural colors. Dyes used in their manufacture, environmentally friendly and does not cause allergic reactions, and do not fade during long. Your guests at the close inspection will not be able to guess that the beautiful flowers in your wedding bouquet created by man. Choosing colors with sequins, stones or beads, stamens, rest assured - they will cling to throughout the celebration.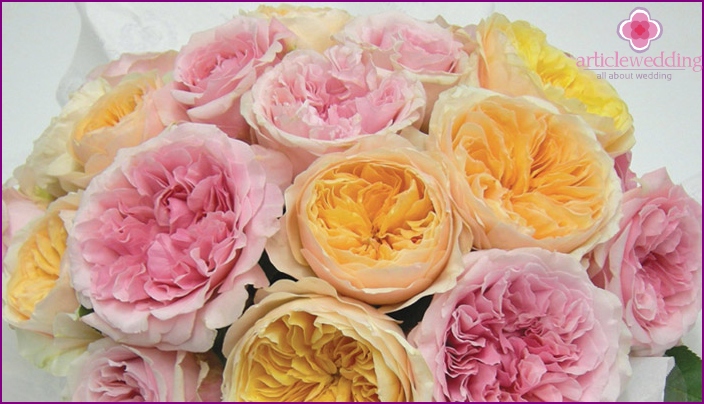 Persistence. A major problem when using live flowers is their susceptibility to environmental conditions such as heat, wind and frost. Fresh flowers are very sensitive to mechanical stress and a lack of water. This problem has brought many disappointments sweet brides, bringing a lot of trouble in his "reviving". When improper packaging, he can not even "live" before the start of the celebration or appear unsuitable to this event.
The main plus of wedding songsartificial flowers - do not lose their beauty during a long ceremony of the day, no matter what time of year your wedding takes place. This wedding attribute will retain its charm and beauty, even for years, until it will be stored on your memory of the happiest day in your life. This bride accessory is used when it is necessary to transfer the photo shoot the next day.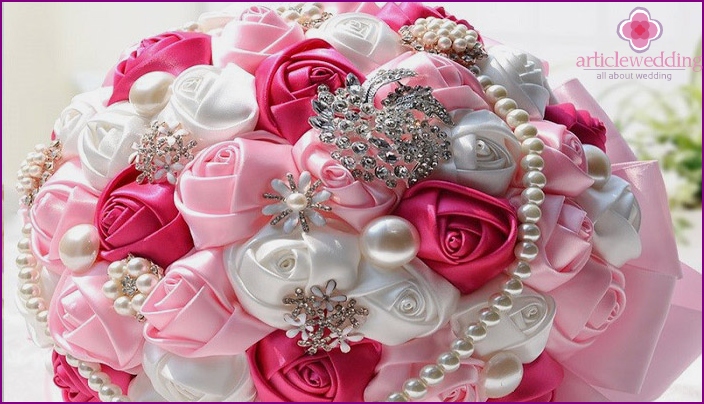 Versatility. The proposed version of the bride's bouquet is ideal if the wedding dress together, or hard to find accessories, the corresponding color and texture. Fresh flowers are often unable to comply with such requirements or extremely difficult to pick up. Variety of colors of artificial flowers is amazing. You can easily pick up the colors in the composition up to the slightest shade of the corresponding color and shade of your dress and celebration. Such formulations allow you to make a bold complement to a variety of jewelry, stones, pearls, jewelry.
Comfort. An important aspect will also be comfortable using this accessory at the time of the wedding celebration. Artificial flowers are much easier to live, they are easier to transport. This wedding composition does not "flow" and not to get your outfit, do not fade and do not pomnetsya. For your peace of mind, a wedding attribute is better to do in advance to be absolutely sure that it will be exactly as you have in mind, regardless of weather conditions or flowering plants you needed.
Price. The cost of a wedding bouquet, too, is of considerable importance. Quality fresh flowers, especially if they are rare, and cut only 1-2 days ago, will cost dearly. The price range of modern high-quality artificial flowers will be significantly lower. In addition to the already mentioned advantages, the price of the finest wedding bouquet and accessories will be lower than their "real" counterparts. And if you make a bouquet with their hands - it will help you further reduce your wedding budget.
Bouquet understudy for the cast of artificial flowers
Why do we need a bouquet of understudy? If your bridal bouquet has a complex shape, such as teardrop or a handbag, or even a bouquet-fan, then throwing him over his head can be difficult. And if he is still heavy, it will cause concern for the safety of the health of your guests. Many girls are of the opinion that the bridal bouquet is to keep as a souvenir and give it to somebody else - it's a bad sign. You keep all the day in the hands of a wedding bouquet and gives it its power. Just to address these issues and superstitions have been invented bouquets-doubles.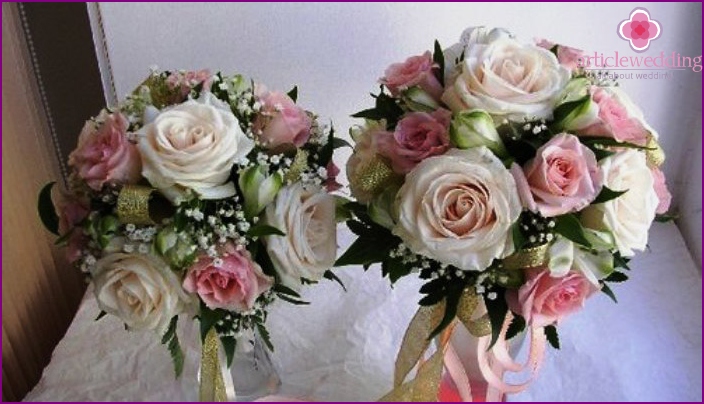 Bouquets made of artificial-doubles, becausea bridal bouquet will be a long memory of the girl, which to him, over the years, he will not lose its form nor its shape. These bouquets are much easier to create, giving them any shape and adding to them a variety of decorations. A variety of colors and shades will create a bunch of understudy, ideally suited to the color scheme of your wedding.
Bridal bouquet of artificial flowers with his own hands
Creating a variety of beautiful artificialbouquets, use your imagination, give vent to emotions. Do not hesitate to feel free to use a variety of materials: thin paper, cloth, silk, ribbons, cold porcelain. You will need almost any decoration: beads, pearls, stones, lace, feathers, jewelry. If you prefer, so it was simple, but tastefully, then you into a master class on creating uncomplicated but elegant and stylish bouquet.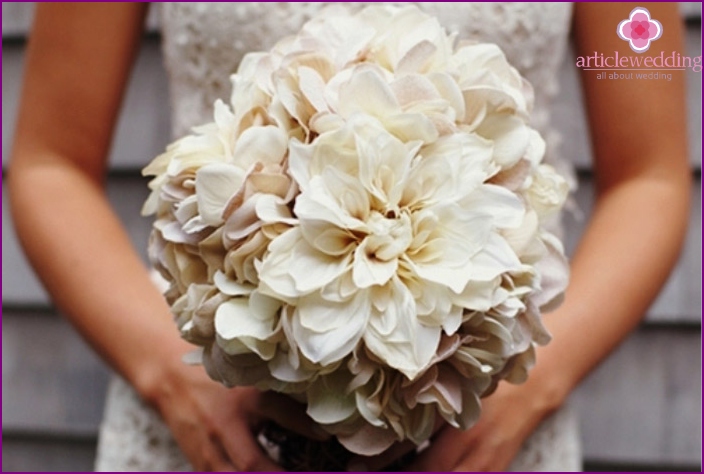 Step by step instructions for creating a wedding bouquet. Starting materials:
Artificial hydrangea and Chrysanthemum maximumsimilar to the present. Color, when creating a composition, preferably white, but it is permissible to substitute more appropriate for your color scheme;
Floral wire for flowers;
Natural linen or jute twine. He should approach the color of the floral wire, but different from her shade;
Floral ribbon or organza, a width of about 5 cm;
Several buttons;
A sharp knife or secateurs.
The course of the process:
Cut with a sharp knife or secateurs all the leaves and twigs with artificial flowers. Try to make trunks flat colors.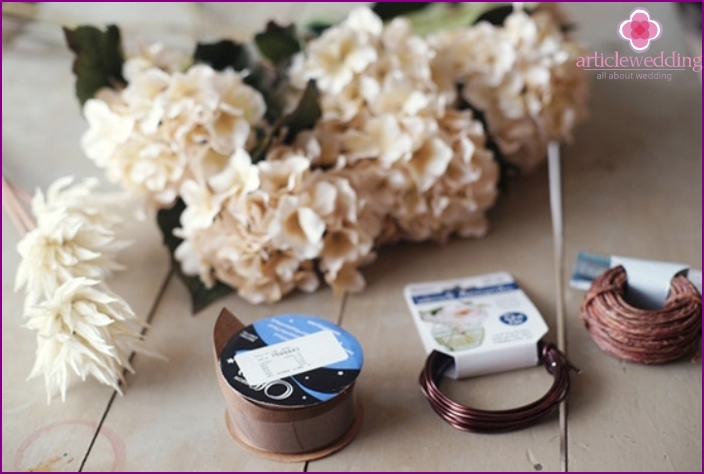 Then take 3 hydrangeas and put them in a tight bunch so as to obtain a triangle.
Add to these three hydrangea, placing themso that they were a little lower "sides" of the triangle. It is important that in the center there is not much space available - it will be the last hydrangea flower. Last flower should be placed slightly above the rest, so that your wedding bouquet had a round and neat shape.
Next, take three artificial chrysanthemum andadd them to flowers, but not on the edge, and the closer to the center. Try to keep the chrysanthemums were not located close to each other, it is desirable to place in such a way that they form open delta.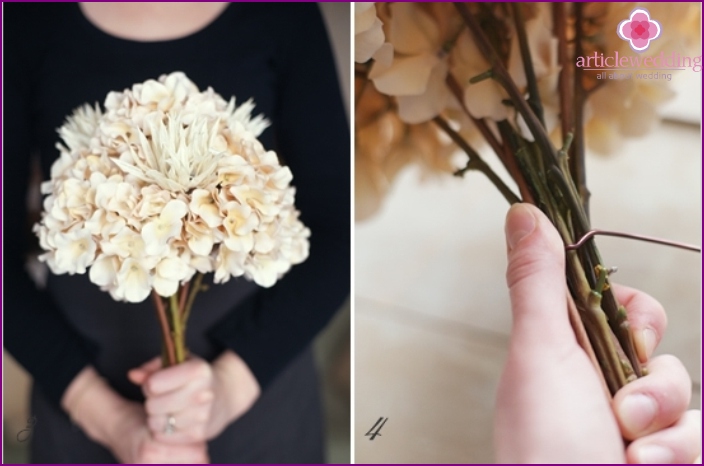 To your wedding bouquet is not out of shape, flower stalks should be tightly wrap the floral wire on top (almost under the most colors), center and bottom.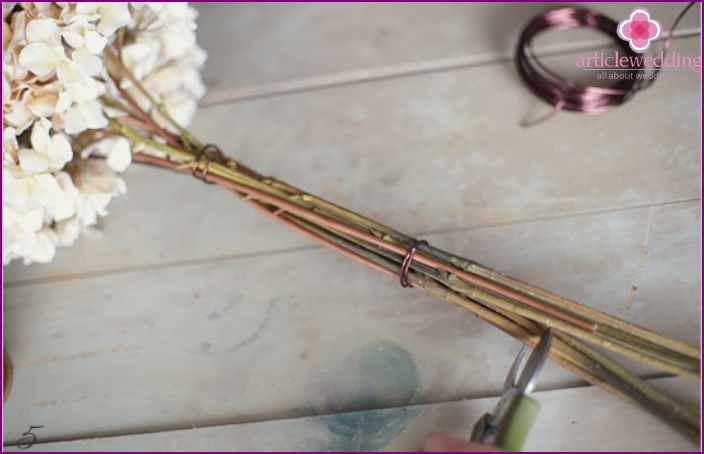 Cut stems up to that length at which you will be comfortable to hold bouquet. Trim them.
After that you need to tightly wrapfloral organza ribbon or trunks. Begin to wrap the top, departing about 2 cm from the flowers, climbing down. If you want to base the bouquet was thicker, then you should wrap the tape two to three layers. It is important to carefully secure the tape up and down buttons. In the final version of the buttons will not be visible, because they hide cords. You should get a tight grip.
For the decoration of the handle can be attached to itribbon or lace wrap. Will look elegant, if you handle wrapped with twine. Winding should be freely and with imagination - twine should be plenty.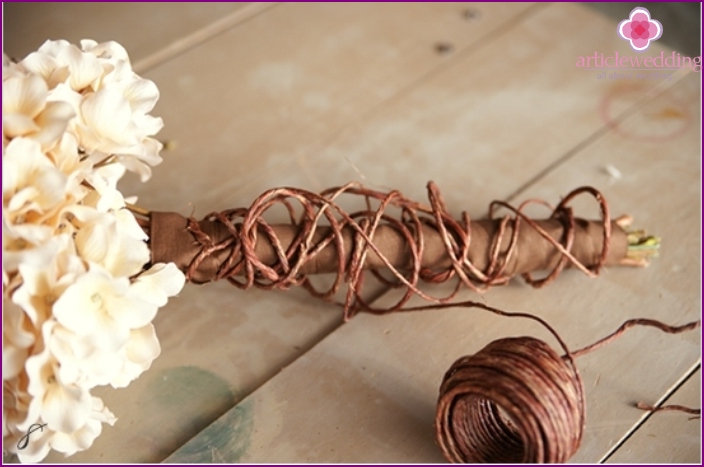 In order to secure the cords to prevent itunwinding in the celebration, skip the rest of floral wire through the weave twine yarn, securing it the ring with each other and with stems.
For greater clarity, see the video master class on making accessories for the bride:
Beautiful bouquets of artificial flowers photo