One of the main characters of a wedding celebrationbridal bouquet considered. Modern girls are suitable for his choice very seriously. Catching up on the organization of the holiday, the bride is committed to do everything in a special way, to create their own fairy tale. And the flowers must comply with her wishes and dreams. Considered the most fashionable bridal bouquet on portbuketnitse. He is lightweight, compact, and you can safely make a song their own hands.

Benefits bouquet in portbuketnitse
Flower arrangement for the bride to portbuketnitse has many advantages. Here are the main advantages:
Ability to select any colors - small andlarge buds and inflorescences blossoming, field and greenhouse, even potted indoor options. All that came up with the bride, it is easy to place on portbuketnitse.
Compactness. Each received a bouquet will be not very large, because the very basis is not large. Colors easy to hold with one hand, they will not interfere during the whole wedding day.
Durability. Since portbuketnitse has the ability to mount an oasis, flowers will be fresh for a long time live view and decorate not only the first day of a holiday, but also the following.
Ease of creation. Floral bouquet with a strong desire of every bride can do on your own, contact the masters is not required.
Variation. Do not make a bouquet on portbuketnitse standard. Due to the fact that there is a special attachment for each bud, the ability to trim legs, your composition may acquire a completely unexpected design.
In some cases it is better to abandon it?
There are times when a bride instead of a bouquet onportbuketnitse prefer another alternative design of flower arrangement. On this they have their reasons, such as the desire to keep the flowers for their immediate stems, rather than a plastic leg. Or when the bride prepares some flowers for celebration: in the painting or the party. Then there is the opportunity to make different versions of bouquets - let alone be on portbuketnitse, and the second - without it.
If you choose an artificial flowercomposition with sequins, stones, butterflies, while the base is simply not required. Often, these elements are mounted on a metal wire, and tied at the bottom of the cloth tape. If the bride chooses a few living stalks, it is better to issue without using additional fastening. Just tie a wedding bouquet with satin ribbon and portbuketnitse use.

How to make a bouquet with their hands in portbuketnitse?
By creating a bouquet for the bride, it is important to take into accountevery moment: dress young groom costume jewelry, the style of the wedding. Make your own floral arrangement easy, furthermore, you will be able to realize any of your fantasy wedding. All that is needed to create a classic bouquet on portbuketnitse - is a great desire and a minimum number of materials: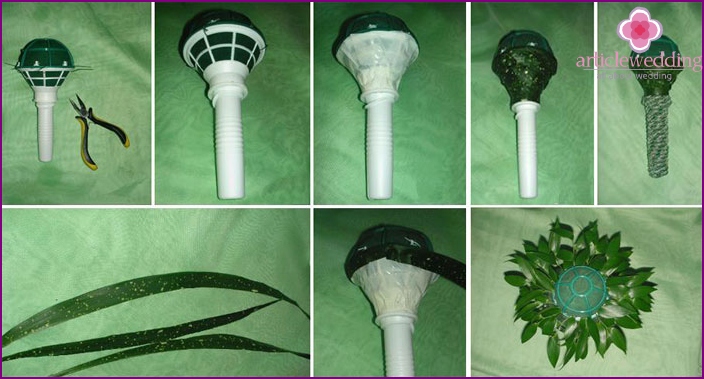 portbuketnitse;
little oasis (water absorbing sponge);
ribbon to decorate the handle;
twisted cord;
ornamental pins;
Scotch double;
glue gun;
clippers (shears);
pieces of copper wire.
The colors for the wedding arrangement youlimited, but often used for this case: roses, peonies, Ornithogalum arabikum, green shepherd's purse, Italian ruscus, carnations sheets. Permission to take any options beautiful plants that you think will look good in a festive bouquet. Such flowers should be left for the groom's boutonniere, which is also easily accomplished.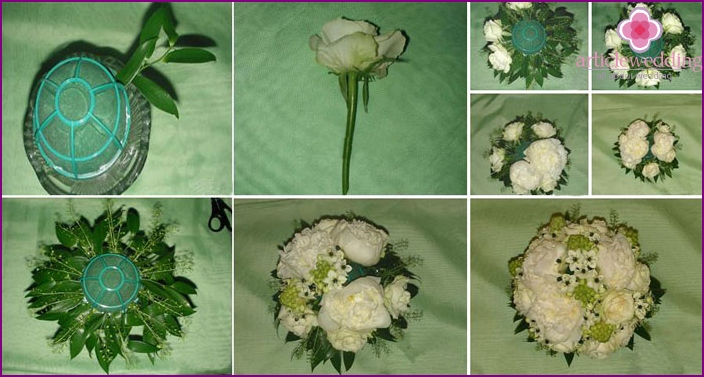 Preparation portbuketnitse. Remove the protective grille and pull out the oasis that must be immersed in a container of water to absorb the liquid. Sponge must absorb large amounts of water to maintain moisture in the plants and flowers in a bouquet. When Oasis sinks, it means that it's full. Feet portbuketnitse material necessary to fill the water flow for this use paper towels. We obtain an oasis and set into place, fix it with wire.
Making bouquet legs. Verdure cut into several flat parts and glue them with adhesive tape. Expanding the sheets should be to one another and overlap. Decorative ribbon wrapped the leg and fix the edge glue gun. If you find that the handle looks simple, it can further decorate with sequins or beads. The bride's wedding flower compositions to be used basic colors of the event.
floral design - the most interesting work. Here you can fantasize as you like: they are allowed to decompose in a circle, or start from the center. Do not be carried away by greenery, it should not overshadow the flowers, but it should be a lot to create the effect of naturalness. You can decorate a wedding bouquet sequins and crystals, and use the nail to create brilliance. For a long time remain fresh flowers, their stems should be cut at an angle and keep the size of the leg about 5-7 cm.
Master-class on the creation of the bouquet without portbuketnitse
If you prefer a wedding song withoutportbuketnitse, do it yourself. For the literate bouquets is important to consider their symbolism. For wedding event can be used as a live and artificial flowers. They should fit into the dynamic style. If natural colors, it is important to keep the longer their original fresh look. Consider the sequence of creating flower compositions bride.
Necessary materials
white hydrangeas with long stems - 7 pcs .;
Chrysanthemum white, with long stems - 3 pcs .:
1 pack of floral wire;
1 pack cloth tape - its color should match the wire;
1 packing twine of the same color;
buttons office;
pruner.

Stages of Development
Pruners, cut the leaves from the stems. Pick up three hydrangeas and put them in a bouquet in the shape of a triangle.
Take a few more and attach them a little lower than the first.
Last flower insert in the middle, make it above the rest, because you will add roundness of the bridal bouquet.
Chrysanthemums place symmetrically between the hydrangeas, preferably closer to the center. They will create a common background and saturation in the wedding composition.
To the stems are gathered in a bunch, they must wrap the wire in three places: the bottom, top and middle.
Trim colors feet using secateurs.
Step back a couple of centimeters from the bud and wrap the stems with tape. Its edge attach a button or a beautiful stone.
Wrap the stems with twine. Do not be afraid to use it all, turn on the imagination. The more twine wound, the thicker will be the base and easier to keep the wedding bouquet.
Video tutorial on making bouquet "on their feet"
If the above guidelines for the creation ofwedding bouquet little, check out the video below. In the illustrative example, you can see how easy it is to issue a beautiful composition inexpensively. Even if you did not work in the first test just to make everything perfect, do not worry. In subsequent attempts you can make a beautiful wedding bouquet with their hands. For accuracy you can consult with experienced florists.
A photo of beautiful flowers in portbuketnitse and without
To accurately determine the desired weddingcomposition, look at already implemented ideas. Examples of bouquets in the photo below inspire you to think about what should be your choice. It has everything - unexpected solutions, different colors, beautiful and unusual color options. Choosing a wedding song, please note the following tips florist:
Form a wedding bouquet can be any - square, rectangular, oval. Most often used round portbuketnitse and appropriate bouquet in the end.
Before you make of flowers composition, it is necessary to trim the ends at an angle, so that the plant is well nourished.
Combine green options need in color, not by type. Looks nice bouquet of roses and peonies one shade.
Do not be afraid to use different pens to decorate themselves or colors. Very good-looking satin bows, delicate ruffles, brooches of gold and silver, crystals, stones.