Every girl who gets married, it would be desirable,to her way everything was perfect - luxurious dress, elegant hairstyle, beautiful shoes, trendy makeup, stylish jewelry and accessories. When the selection of these elements is completed, it is the final touch - a choice of manicure. It must integrate harmoniously into the image, combined with all parts of the dress. If you have not decided what will be your wedding nail design for a celebration, see photos and videos of fashion trends and unusual solutions.
Wedding capacity acrylic nails, gel
If the bride - the owner short nails,build an experienced craftsman using gel or acrylic will be for her salvation. These two materials are not only helping to find the desired length, shape, and have a high durability against scratches, minor injuries, that is a huge advantage of acrylic or gel coat. After the wedding manicure will long to please culprit celebration - varnish marigolds looks good up to three weeks, then you must make the correction.
It may look wedding design acrylic, gel nails, look at the photos.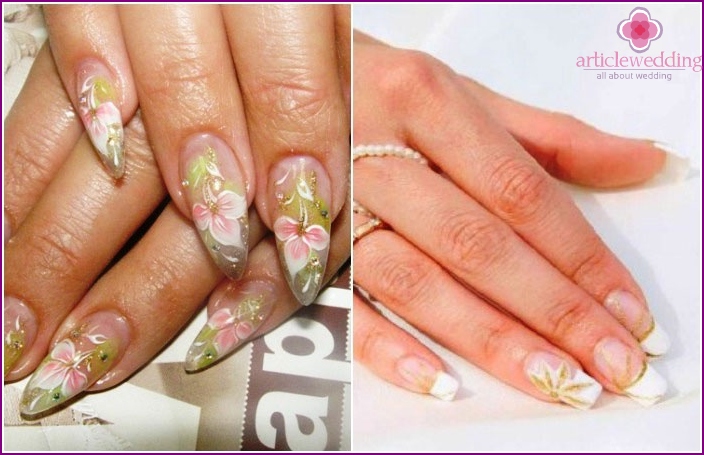 Wedding nail designs with lace and rhinestones
Decoration nails painted lace becameclassic decoration wedding manicure. Graceful, delicate compositions emphasize the fragile image of the bride. Use imagination to create this nail art with the master, pre-spend a few manicure sessions to decide on the style. Well, if you nail design will match lace decoration dress.
Garnish with openwork painting can sequins orrhinestones, which are fastened with a toothpick. Not brilliant accent elements, because the main decoration of hands - a gold wedding ring. See photos with lace nail art.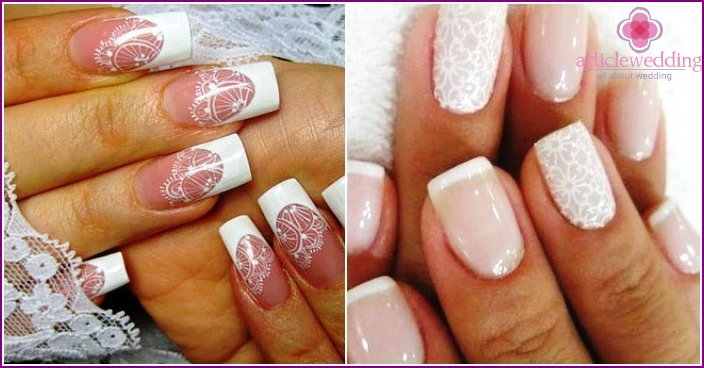 Wedding nails jacket - with a pattern design ideas
Elegant French-manicure looks elegant. You can use it a classic version with a transparent and white painted or applied to the tip of the nail other pastel shades that match the color of the dress (peach, beige) and emphasizing the skin type (light, dark). Decorate french fairy flower painting: let the plants comply with what is in the buttonhole of the groom and the bride's bouquet. See the photo below - french manicure.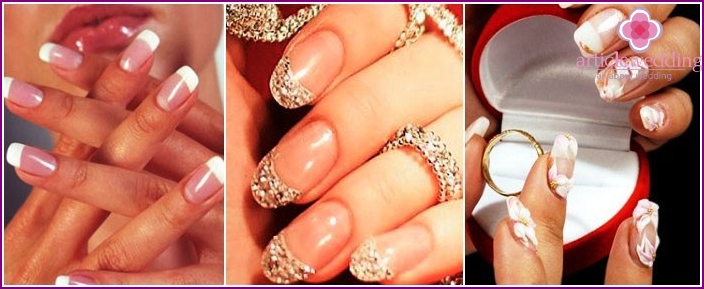 Elegant trend along with the jacket - a monotonous nail art, when the plates are covered with the same paint. This nail decor easy to implement your own hands, it looks elegant and discreet.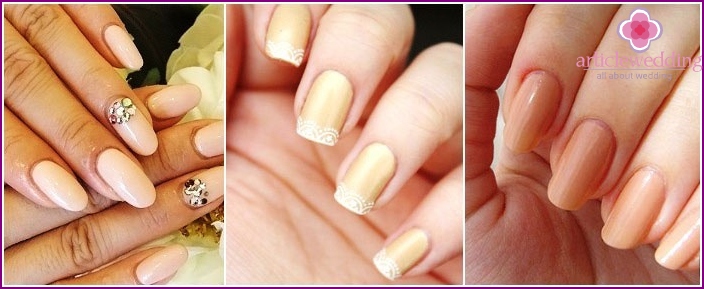 Modeling on the nails
By decorating nails modeling should be approachedcarefully, because it is visually heavier nails, making them cumbersome. If you go too far with this element modeling for a pleasant view manicure at the wedding and future photos. Let her decorate a small area of ​​the ring finger, it will suffice to emphasize the elegant image.
Another option is the surround decoration - molding. Using gel and foil master molds extraordinarily beautiful patterns. To this decoration looks beautiful, high-quality work is required, so please contact an experienced specialist. See detailed photos with a molding and casting.

Video tutorials on creating wedding nail design
Types of wedding nail bride
The first impression at the hands of a girl posing shapenail plate, as it will give an opportunity to present the character of the bride. Brave girls can choose bold acute form, soft - a classic oval variant is following fashion - popular "blade". Give your marigolds suitable type help specialist manicure in the salon.
Acute
Brides often choose to form a sharp nailswedding day, because the girl who marries, symbolizes purity, ease, tenderness. However, if your image - a daring, bright, the acute form of the nail plate may be ideally suited to him.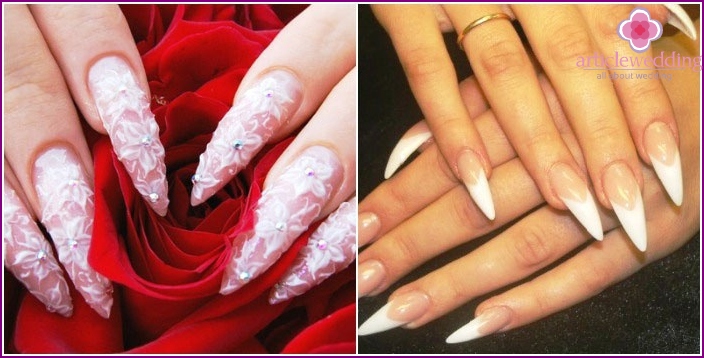 square
The square shape having rounded corners, suitable for any outfit. It also allows the use of an unusual diamond-shaped decor. What manicure nail with a suitable form, look at the photos.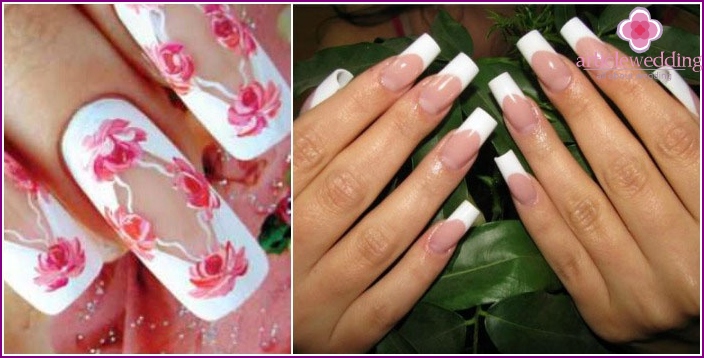 short
Short nails can look just as elegant as long. This modest length best suited monotonous design, emphasizing the fragile gentle hands culprits celebrations.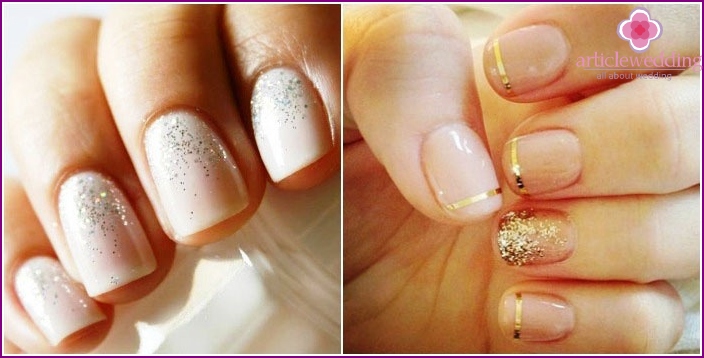 Video: Wedding nail design by Miroshnichenko
PHOTO wedding pictures on nails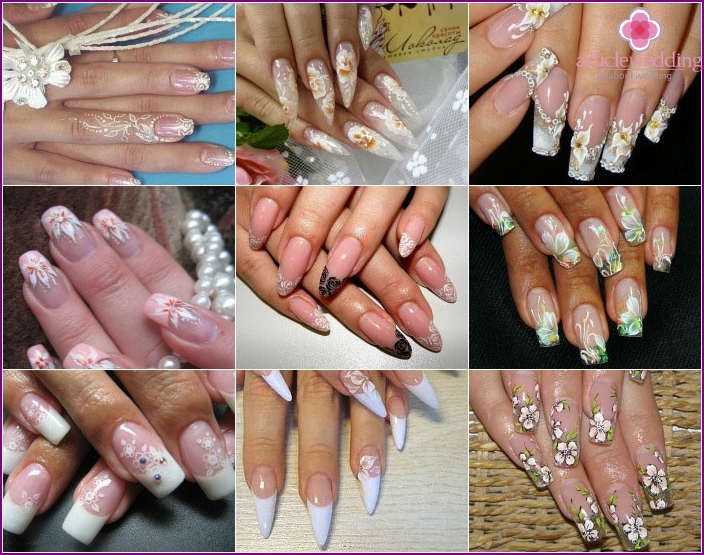 Wedding accrued nails photo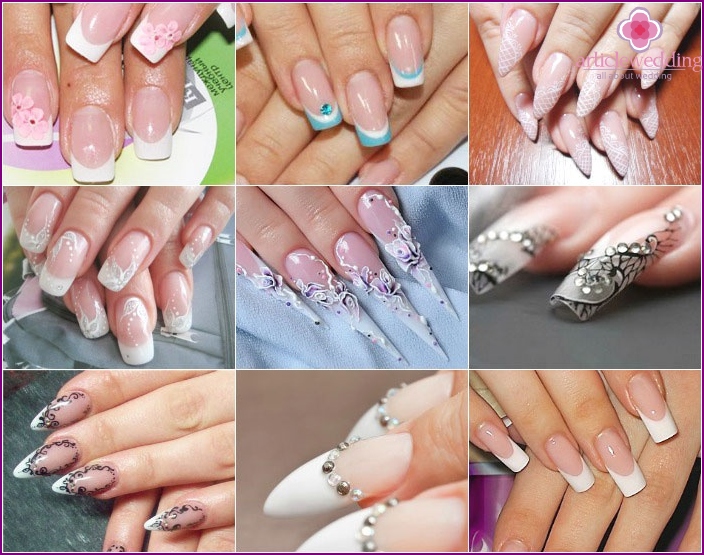 Choosing wedding design for your nails,lean on its lightness, delicacy, harmony with the whole outfit. In your imagination there should be a framework, but remember that the wedding - a touching triumph connect two loving hearts, so too catchy or flashy nail art will look ridiculous.
What ideas nail decoration for a wedding like you? Leave a comment.