Long hair is always considered an attributefemininity, so if the bride has decided to dissolve their long hair for the wedding ceremony, it is just give her the image of romance. But they need to prepare for the event, otherwise they will look unattractive. What kind of hair do on loose long hair?
Types of hairstyles with her hair with photos
Splayed long hair - it's the bestoption for wedding hairstyles, but so that they looked harmoniously, they must be put right. There are several types of wedding hairstyles for flowing hair: hair, "bow", the Greek, "Babette" other. In this article we will look at popular types of hairstyles, as well as step by step instructions on their creation.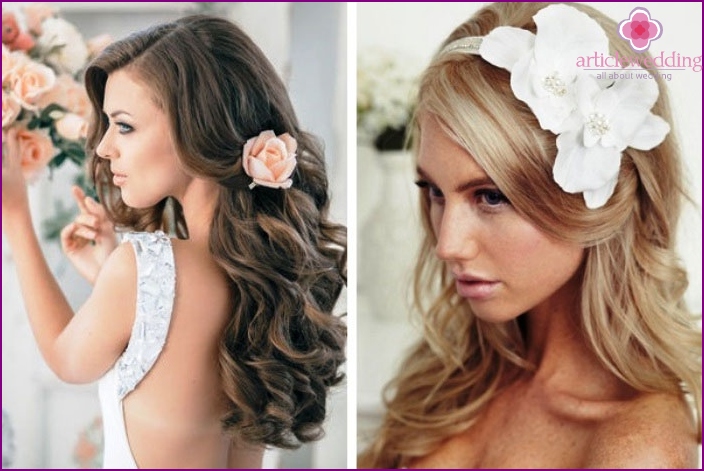 curls
Romantic large loose curls neverdo not go out of fashion, especially as a hairstyle made for the ceremony. Voluminous curls falling down on his back and shoulders of the bride will blend in perfectly with the dress. Consider the technique of their creation for a wedding at home:
Divide the hair into two parts by an oblique parting.
Next, using a thick nozzle pliers to create curls. It is important that the width of the strands to curl reached at least 1 centimeter.
Start to wind the strand from the roots, so loose curls are obtained voluminous, large.
By nightfall braid them into two tight braids (on parting), attach them to the top. In the morning gently comb the hair, hair and secure in position using the varnish.
The elegant curls are perfectly combined with a veil, andIt looks great without it. If you do not plan to combine the veil with them, do not forget to decorate the hair with original decorative elements - beads, feathers, ribbons.
This video workshop will help you to make a beautiful wedding hairstyle with curls:
"Bow"
"Bow" has gained a lot of popularity due to itsstyle and elegance. It is perfect for both the wedding ceremony and for the wedding. This hairstyle involves loose hair at the nape, and the presence of an improvised bow on top of them or a little below.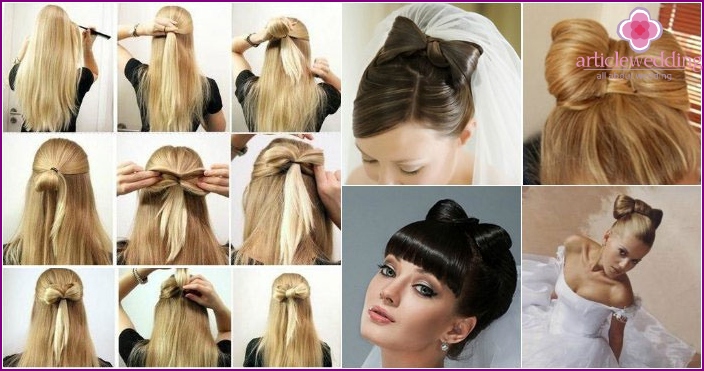 Step by step instructions will help you create a masterpiece on their own:
Secure long hair in a ponytail at the crown using the gum. Some long hairs in the neck should be disbanded.
Divide the tail in three parts. The right and left strands nacheshite, put in the form of a bow. Secure locks pins.
The remaining strand in the middle form a central part of the bow. For this perekin'te strand back and secure it with bobby pins, invisible.
The remaining part in the neck is recommended to wind, creating curls.
It is worth a little effort to "Bow" has turned out as if it were doing in a beauty salon. For clarity, see a video tutorial on how to make a wedding "Bow" by yourself:
With weaving
There is a lot of pilings, which provideweaving on long hair. For example, a beautiful braid "fishtail" looks great with a wedding dress, but also opens up the neck and shoulders of the bride, in addition, a form of "fish tail" allows you to decorate the elegant head veil or hat. How to make a "fish tail" for flowing hair?
Zacheshite hair back, separate the two strands of the right and left side of the temporal zones. Their width should reach two centimeters.
Cross the right strand over the left. Hold them.
Again select the two strands only crisscross curl left over right. Continue to weave braid, alternately crisscrossing strands of long hair.
When the strands run, secure the braid band.
If you plan to decorate the rim of the head,tuck into a braid, and then secure it with pins. So to get your head kind of "nest", which is convenient for attaching decorative hoops bud artificial flowers.
Try to make a "fish tail" asymmetric - it will give a special kind of pigtail. It is also a good wedding hairstyle is considered a "spike": You can experiment with this hairstyle.
After watching this video, you will learn how to do a romantic hairstyle "fishtail":
Greek
Greek haircut will suit brides whooval face shape. In addition, long-haired girl is sure to be comfortable this hairstyle, because it provides a cleaned strand. Consider how to make the Greek haircut with a bandage on their own:
Comb your hair, separating them. Choose a beautiful bandage white, executed with pearls and beads.
Because of the temporal select two strands twist them into bundles. Thread the harness in a bandage.
Next, create bundles and tuck them into the bandage. When you get to the middle, braid strands remaining in the pigtail, and tuck them in a bandage for a few turns. Secure hair pins.
Hairstyle in the Greek style will create an unforgettable romantic image.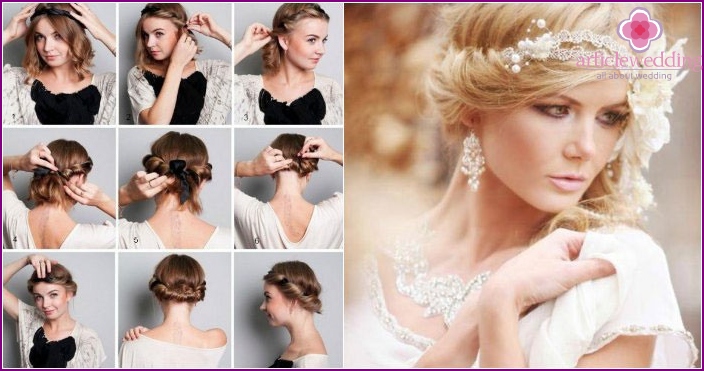 With a bang
Owners Direct smooth bangs bravelyexperimenting with wedding hairstyles. According to stylists, with bangs go perfectly crimped hair. New hairstyle "ripple" is simply: it is necessary to get a special utjuzhkom. By applying a red-hot iron is to the strands for 30 seconds, you will achieve the desired effect, but the bangs should be straight. Do not forget to lock the resulting ripple hairspray.
Babette on long flowing hair
Hairstyle "Babette" or "shell" is formed onand the top is a small mound. "Babette" came to us in the 60s of the last century and is still a favorite of fashionistas. Step by step instructions tell you how to make this retro hairstyle on loose straight long hair:
Separate the upper part of the occipital, fixing the back ponytail.
On the inner side of the upper part of the head makes fleece, which was subsequently sprinkled nail fixation.
The resulting bundle of bound rubber and is fixed to the head with hairpins invisible.
Remaining on the temporal area utjuzhkom strands need to align and attach them to the beam pins.
The hair on the back of his head is to transform into curls with a large curlers.
"Babette" recommended accessories to decorate, to get the original hairstyle.
Do you want to learn how to quickly make "Babette" for long hair? Watch the video:
With straight hair
If the bride does not want to curl your hair,it is possible to keep them straight. But in order to hair on your wedding day looked interesting, you need to decorate it with any accessories. Straightened strands look great with special pastes they are strung on a strong fishing line and attached to the base of the strand with the help of the silicone fixture. Rhinestones will create the effect of light flicker, so your image will be filled with mystery.
With a tiara
The bride should feel like a princess inThis will help her hairstyle with tiara. Diadem must be secured with a comb on the basis of such hairstyles as "Babette," "Bow", as well as lush and large curls. It will be combined with a veil, which is attached to the neck.
With the veil
Fata - an integral part of a romantic dressgirls, so many brides prefer to combine a veil with a festive hairstyle. But the hairstyle "Malvina" is considered the most suitable for the hair, which will be attached veil. Here are step by step instructions create this hairstyle:
Select a temporal zone two strands and tie them in a knot with a rubber band.
Divide the unit into two symmetrical parts, and fix them with hairpins, invisible.
Pick up the free end of the tail, which is obtained from the node, and cover them middle of the resulting bow. Secure with pins.
Remaining in the neck screw the hair using curlers or ironing.
This hairstyle will add to your image of romance and elegance.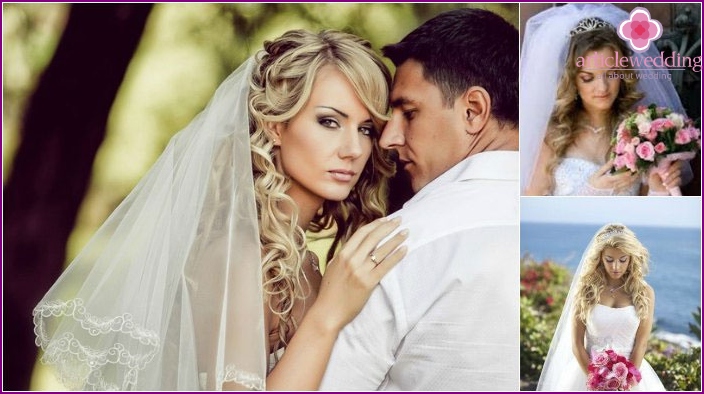 With flowers
Hairstyles with flowers on the right are the titleoriginal. To decorate, you can use both artificial and real flowers. If you want to use as a decorative element of artificial flowers, it offers all kinds of hair accessories with decorative flowers: it may be pins, elastics, headbands and so on.
Unusual and extravagance of your installationadd fresh flowers: they are fixed on a multi-tiered hair using silicone gum. If the hair does not differ splendor, you must create a wreath of flowers - so you make more than the original hair. Do not forget that the composition of the colors should be in harmony with the dress. For the wedding ceremony is best to choose the colors of white and cream shades.
On the side loose hair
Splayed long hair look great,if they lay on its side, and it is desirable to curl in large or small curls. Fixing her hair in this position must be by means of pins and hair spray. A good option is considered to be a braid "fishtail", woven at the side, but for the wedding ceremony and other suitable weaving techniques with unusual pattern. Such stacking is desirable to decorate with flowers or rhinestones.
Options for wedding hairstyles for long hair look in this video:
side barrette
Long shiny hair that fell on his back, andalso shoulders girls - decoration image of the bride. But just loose hair is not suitable for a wedding ceremony, it's unoriginal hairstyle. But if you divide the side parting, and then draw one side of a beautiful hairpin, you get a cute image. Earrings desirable to select the design to match the clip, then they will be accentuated by hair and oval face.
Video tutorial: hairstyles with your own hands
Now trendy styling is considered a "spike"or "fishtail". These hairstyles look great with a wedding dress and decorations. In addition, the braid "fishtail" bares the shoulders and neck of the bride, showing off their splendor. Many women are skeptical that they will be able to independently create a weave, although the "spike" drags easily.
You can easily learn the techniques of creating plaits "fish tail" in the classic version by viewing the video master class:
Photos hairstyles
Wedding hairstyles bride should choosebased on the structure, color, hair length. Owners of the long head of hair were more fortunate of all - they are suitable for almost all the variants of hairstyles. Splayed hair perfectly suited for the wedding ceremony, but it is best to curl into large curls that will add a romantic image.
Wet effect also does not give up its position. To create a varnish is used, the cream-mousse strong fixation, as well as large-diameter curlers (about 4 cm). By night it is necessary to wind the strand on the curlers, then fix them mousse. The next morning hair should sprinkle nail fixation, further comb.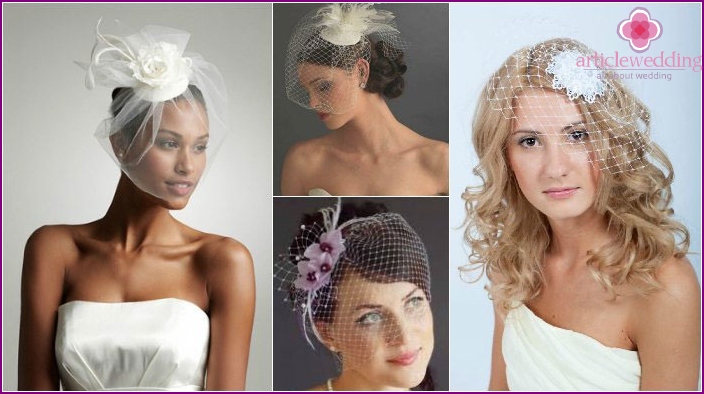 Hair Accessories play an important role increating hairstyles. Decorative items for the marriage ceremony considered the beads, crystals, whole bunches of small flowers - artificial or live. A white veil will add a special charm to your image.
Turn imagination and the imagination: to experiment, play forms, styles - and you will create a compelling image of the wedding!
Do you have ideas about the creation of the original wedding hair? Share them in the comments below.