Girls with short hair at the selection of hairstylescelebration may bring some difficulties. But, despite the fact that most of the options in the long-haired girls, wedding hairstyles for short hair can also be varied and interesting.
How to choose a wedding hairstyle for short hair
To have a wonderful appearance on the holiday, picks up her hair to the shape of your face, and keep in mind the image of a wedding as a whole:
Brides who are lucky enough to have regular features, fit almost all hairstyles for short hair.
Consider the style, model dress - if it is complex, with many details, it is better to lay the hair as simple as possible, and vice versa.
Girls who have a high forehead, bangs with options suitable.
Cheeked ladies need all kinds of curls, curls.
Short hairstyle focuses all attention on the girl's face. It is therefore important to find the right make-up - it has to be discreet, the ideal option - a natural make-up in nyud style.
If you want to appear at the wedding of a long-haired beauty - do not despair. False hairpieces, increased locks or even beautiful wigs can help you look as you wish.
Types of hairstyles
The assortment of wedding hairstyles for short haircompared with long, not as wide, but that does not stop owners of small length to choose among them a suitable option. Depending on how you will be laid hair, girl with a short length may seem playful, elegant, cheeky, touching or innocent. Variety will make hair accessories.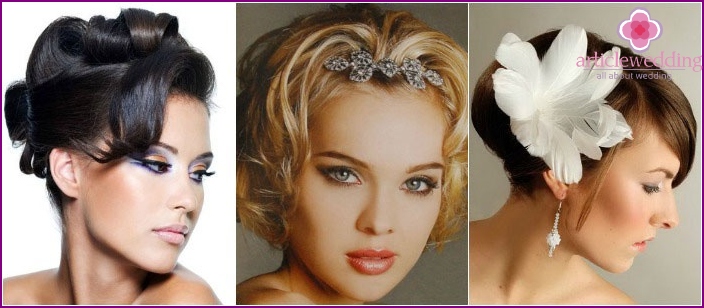 With a bang
Girls with bangs look flirty, playful. Wedding styling with bangs create a space for creating images, as bangs can put whatever you like - to make a perfectly straight, to wind, to stab the side, lift up. Straight bangs will make vintage Babette, asymmetric oblique add romanticism, torn - playfulness. It bangs a good fit small accessories - hairpins, tiaras and veils nepyshnaya short.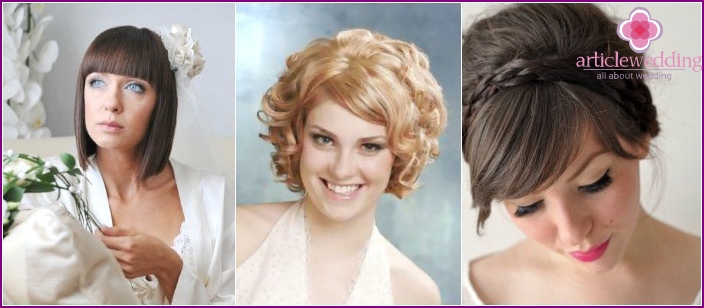 With the veil
Fata - one of the most important wedding accessories. It is necessary to choose it, taking into account the bride's outfit - dress and veil should match the texture and length and splendor are no restrictions.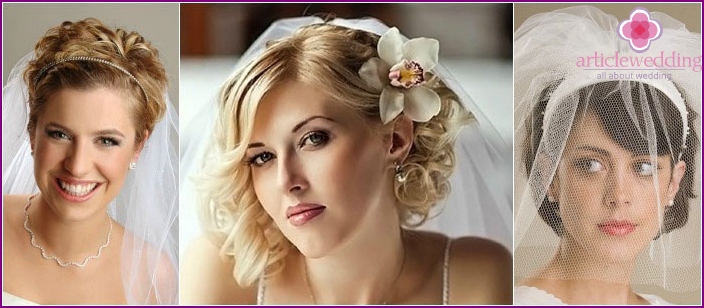 Elegant
Hair short length decorates eleganthair-shell in the retro style or a neat styling, opening the neck, the face of the bride. To do this, you need to rinse them, dry, apply mousse and put a hairdryer as you like best. Part of the hair can be killed in one side, decorate the flower bud. From jewelry, choose large earrings and necklaces can be dispensed from.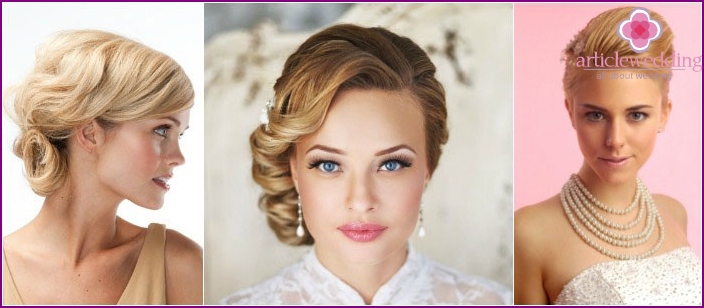 Romantic
To create a soft, romantic look,Use all kinds of curls, curls framing the face. Screw their best on special cloth, but the fit and curling iron or curlers (this option is ideal for creating large volume). Delicate wedding hairstyle with curls also add romanticism.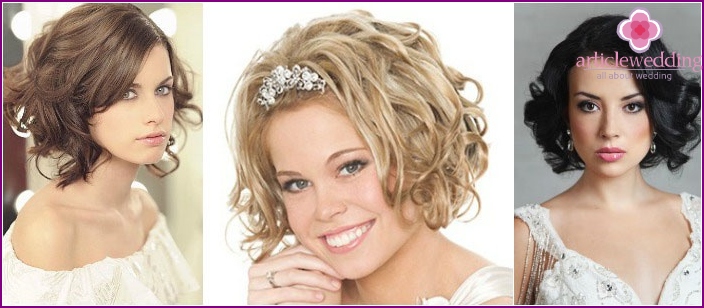 Daring
Previously haircut "a boy" or a penalty consideredinappropriate for women because they destroyed all kinds of stereotypes. To this day it preserved the belief that women who choose a short haircut style, distinguished by their inappeasable character. To emphasize his rebellious spirit, the bride can turn to daring styling hair.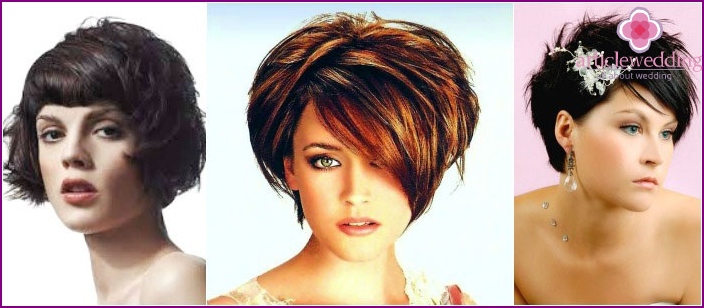 shaggy
To give your hair volume in many weddingbouffant hairstyles used. This option is suitable for those who are trying to stay in the elegant vintage style - bang, if any, side slaughtered or hide ago, and in the top of the area make bouffant comb. The additional volume also helps to give hair diffuser.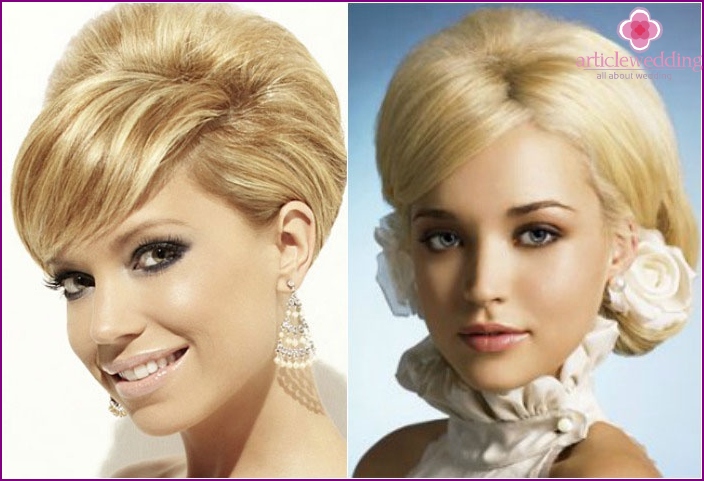 Retro wave
Retro waves were all the rage back in the twenties, butThis hairstyle is not lost its relevance today, showing a beautiful image of the past. Hairdresser to style your hair with mousse or gel. The second means of helping to create the effect of "cold wave". Well here are suitable accessories - feathers, large stones, studs.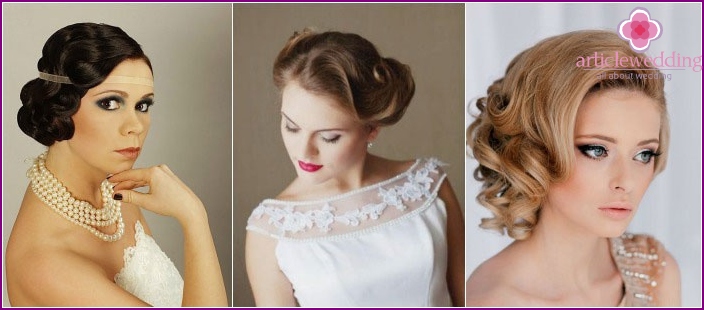 Stylish styling
A variety of trendy styling help the brideIt looks amazing. Original solutions depend on the ability to master the preferences the bride herself. Straighten the hair iron, or make an unusual parting, split into strands, carefully lubricate the ends with wax to give them a natural look. Make a parting on the side and give the hair volume at the roots - and your haircut bob-bob will turn into a real masterpiece. Unusually look styling "feathers" when one strand straighten, curl and others.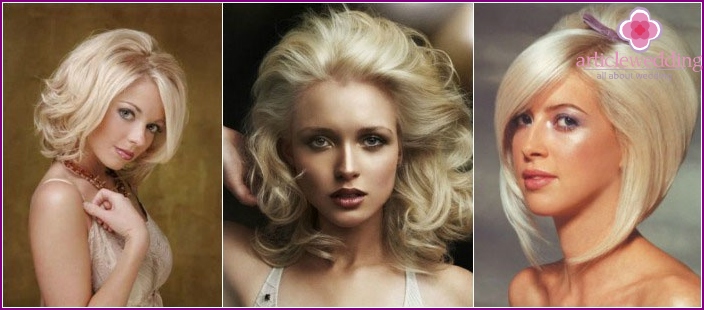 The original wave
Stylists have learned to not only lockslong-haired ladies. Beautiful curling easy to achieve and a small length haircuts. For example, the perms "flower" is stranded strands, which are collected at the back in the form of a flower. Even tresses, which are wound normal curling, an experienced master can elegantly stow.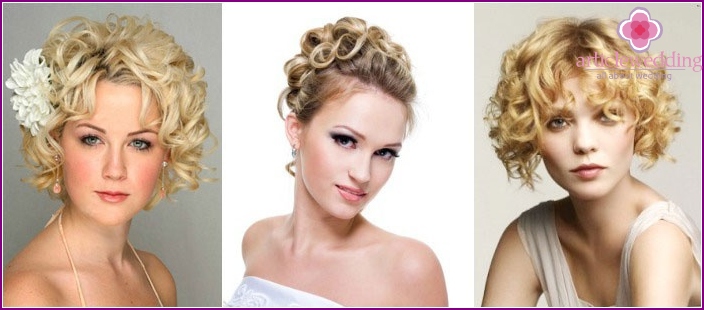 Hairstyles for Curly Hair
Some girls think unruly curlsbad luck, but there is nothing more romantic than a neatly arranged curly locks. Try interesting weaving or merely adds curls shape, securing lacquer. If you want to smooth her hair, straighten the hair stylist ask utjuzhkom or smooth gel.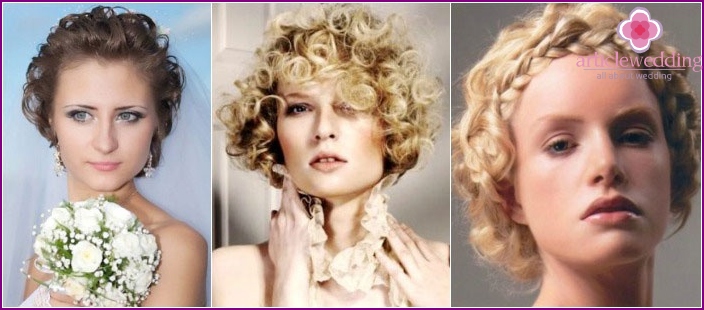 Using accessories
Accessories give hair to a short hairstyle special charm, but they must be used wisely. The main rule - do not overdo it with the number of them, well-chosen color, style decorations.
Hats-pills
This hat - classic headdress without borders. This option will add elegance bride.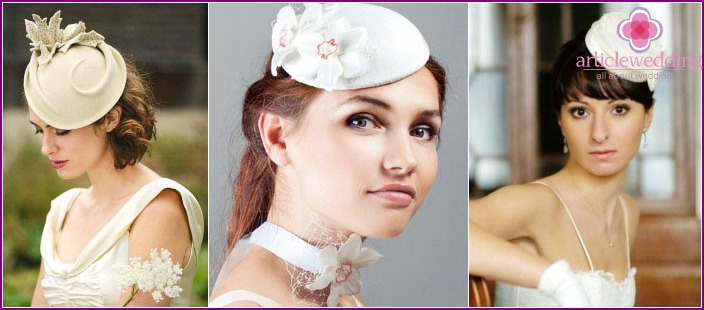 veil
Veil - the same "tablet", only with a veil covering the face of the bride. It is perfect for short-haired girls, adding the image of a retro-chic.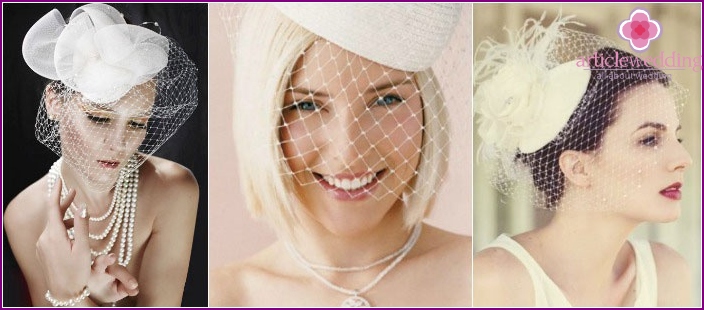 Headbands and hoops
These accessories will make the image of the culprit celebration nice and pleasant.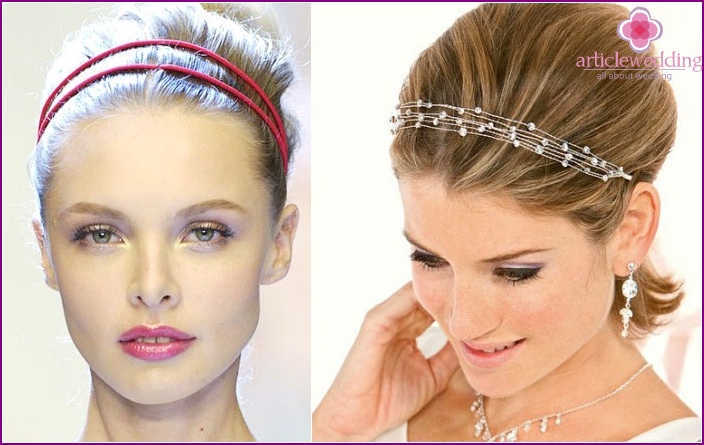 Wedding headbands and elastics
Super short hair or long bob look great in tandem with bandages and elastic bands, the style chosen.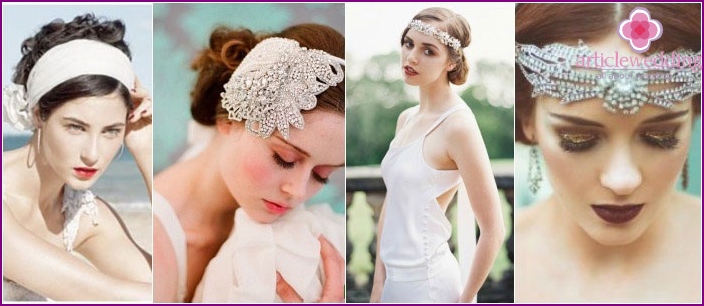 Tiaras
Diadem - universal decoration for ceremonial days. It makes a real princess bride. Remember that in the short haircuts look best diadems, not "overloaded" the details.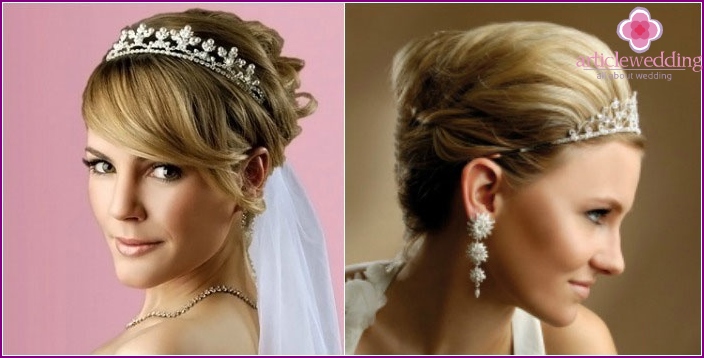 Pins and combs
A well-chosen clips and combs suited to any outfit a celebration.
flowers
Flowers underline femininity, tenderness girl. It is better to use one large flower - it can be a real or decorative.

Hairstyles with their hands
Short hair makes it easy to make beautiful hairstyles with your own hands.
How are soft curls hair short length, watch the video:
Volume Spit to the elongated square:
The owner of a small length of hair is to take care of the wedding hairstyle. To choose the ideal, you need to decide with the style, and then make a trial version of a barber.
Tell us in the comments what you liked wedding styling.