Wedding styling - an important part of the image of the bride. It reflects the personality of the girl, character traits and talents. If the failure or improper installation, the bride will feel uncomfortable. In this regard, it is so important to find the hairstyle that perfectly suits you, will be in harmony with the dress, facial features, accessories and general mood of a wedding ceremony. We will give important recommendations that will answer to your question, how to choose and how to make a wedding hairstyle. Because of this you will be able to take into account all the nuances and look dazzling.
How to choose a wedding hairstyle?

When choosing wedding hairstyles should be guided by these rules:
First of all choose a dress, because aroundIt will be built all the way: flowers, accessories, styling, makeup. If you work with a stylist, then try better a few hairstyles in advance and choose the most suitable and successful. Pick a dress that make you feel like a million dollars and a good hairdresser adapts style stowage under the outfit.
Take into account the state of your hair - verythin or short hair impose certain constraints will have to accept. If by nature you have curly hair, you should not think that a smooth hairstyle - this is what you really need.
Be flexible - discuss several optionsbridal hair styling, taking into account the texture of the hair, the dress, the presence or absence of veils and accessories. Find the best fit for you and the wedding image.
If you have a gorgeous dress with lots of beads,embroidery and other decoration, then the hairstyle should be the background for it - let the hair will be collected in a neat strict hairstyle, or waves lie on the shoulders. If the dress is simple, the installation should be more glamorous, sophisticated, decorated with accessories. Hair in any case should not compete with the dress.
bride's hair should shine - use a special serum for shine and dry before laying the strands, use a moisturizing conditioner.
Do not forget about accessories. If you want to wear a tiara, then consider how to hairstyle will be in harmony with it. Veil incomparable look with vintage wedding dresses. Flower ring fit for a romantic, bohemian image.
How to make a hairstyle for the wedding with their own hands?
Wedding hairstyle must be refined,feminine and delicate. This takes into account fashion trends, especially the face and character of the bride. And who, if not you personally, will be able to do this? Make your own hands styling is unique, unusual, unique. How to do it yourself wedding hairstyle? Below we provide a step by step workshops beautiful and simple in execution of pilings for the wedding.
curls

Curls - it's a great hairstyle. It is convenient, therefore, at the end of the day you will not have a headache from a million pins in her hair. In addition, the hairdo lively, dance and have fun because you can not experience. However, minus curls - their unpredictability. Because they are dynamic, they can not hold together. At the end of the day they may look ugly. So, how to make a wedding hairstyle curls?
Step Master Class:
Divide the hair diagonally from the left temple to the right side of the neck. Attach the clips.
Zacheshite the left side to the right, fix invisible.
Screw-on locks curling: wrap horizontally, starting from the bottom of the head and ending with the top.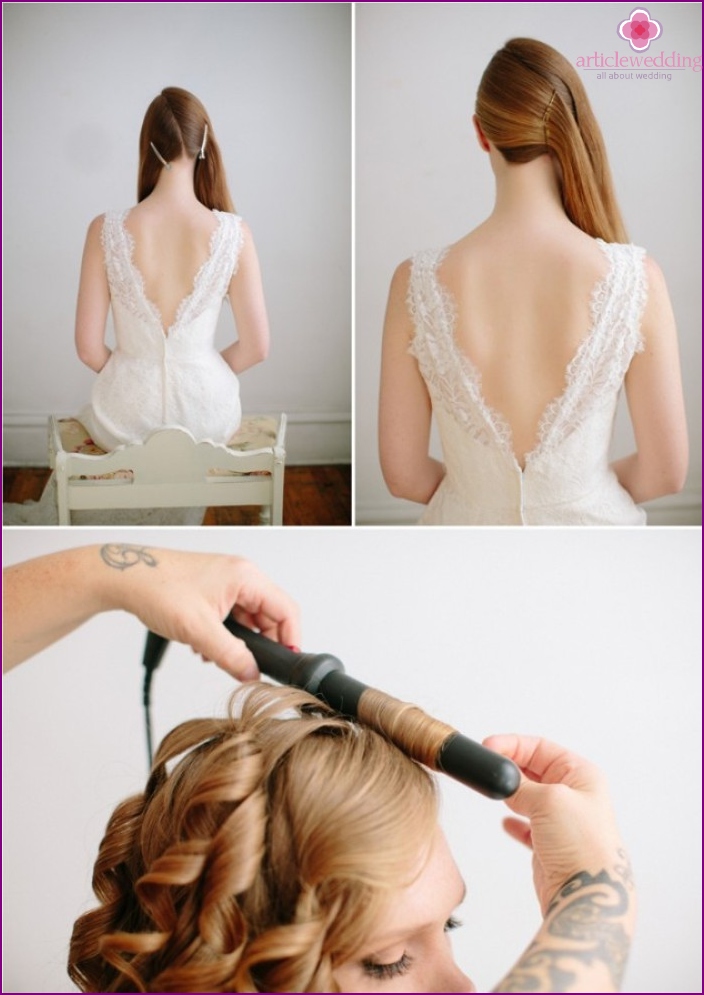 Let the curls cool down.
Clamp shape of the wave.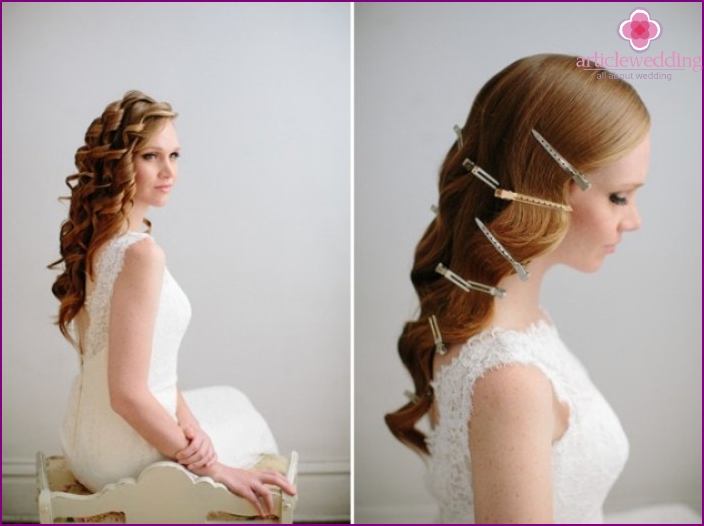 Spray hair with lacquer to secure. Remove the clips.
A beam with a veil

A beam with a veil - exquisite wedding styling. Do not worry if it will turn out very voluminous, because beam looks good in any design. Decorate it with flowers or tape to make it look more festive. So, how to make a wedding hairstyle beam?
Step-by-step instruction:
Tilt your head down, comb hair, tie tail.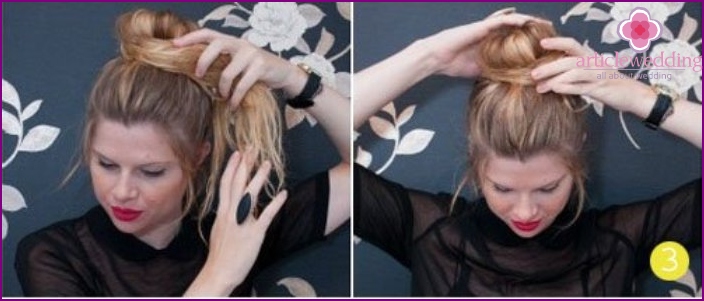 To add volume to make bouffant tail or screw the strands.
For the bulk of the beam using a thick sock or a special donut.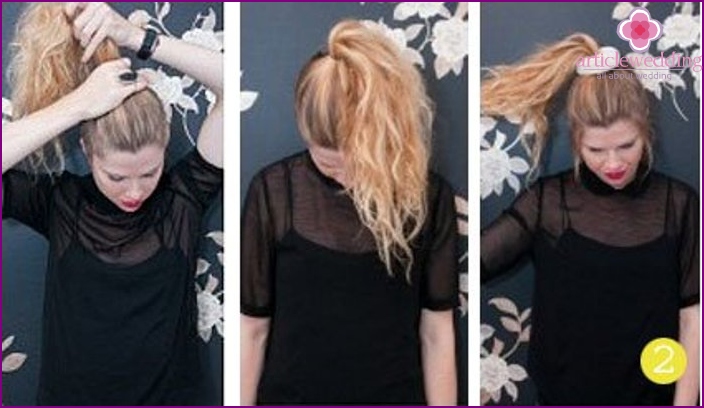 Form a bun, sprinkle nail fixation.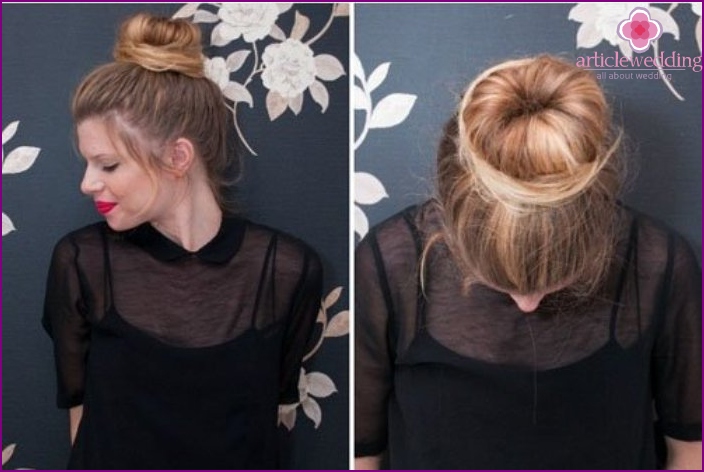 Decorate the hair accessories, funny behind the veil.
Bridal styling in the Greek style

How to make a wedding hairstyle in the Greek style? Here is an approximate technology, but it followed the steps, you will definitely cope with the creation of the elegant Greek way:
Make a side parting, comb hair.
Collect accurate low beam.
Pull the strands out of the beam, fasten their fancy, using beautiful flowers studs or rhinestones.
Sam beam tie bandage.
Options for hairstyles for the bride to the wedding with photos

To know about what and how to make a wedding hairstyle, we present to you photos of hair styling hair of different lengths. However, it should be attentive and to correlate the image with the shape of your face:
To soften a square shape, choose stylingLong strands front light rings or waves, creating a soft line. Short hair should also be slightly wavy. Better combed bangs and the hair divided into a side parting.
To elongate a round face, choose hairstyles. If short hair, choose styling with short bangs that make a person thinner.
When an elongated type of person is your task - to expand it visually. For long hair fit voluminous hairstyles for short one must have bangs.
For short hair

If you are the owner of short hair, do notnot think that anything the holiday can not be created on your locks. You can treat the hair spray and wind the conical curling or small curlers. The resulting curls lock varnish or wax, decorate or wrap tape. Not forbidden to use clips with large flowers, which are fastened by means of stealth. Using texturizing spray will make the strands tight.


On the hair of medium length

Medium length hair have undeniableadvantage, since they present a natural volume. A long hair is too heavy to hold him. Therefore, there is a great variety of packings. Always remain relevant relaxed and natural styling, refined and elegant, for example, the classic shell, beam, retro waves. light curls fit to create a gentle way. In this hairstyle is not forbidden to use artificial strands for added volume. Curls are fixed tiara, ribbon, hoop.

Her hair is usually supplemented by a minimumof accessories: delicate comb barrette. Such stacking attract attention in a healthy and beautiful hair, therefore please provide his shock of hair care professional. To create a spectacular curls divide the hair into two unequal sides. The front screw the strands from the person and the occipital - towards the face. Shake hands mop of curls and sprinkle with varnish.

Greek style and creates demandromantic images, but are suitable for stacking elongated dresses in the same style. Elastic bandages, tape ideally complement Greek hairstyles. The uniqueness attached braids, which blend harmoniously into the image of a wedding. Successfully completes their veils: layered and lush looks better if its mounted on the top, and the flowing and long - at the back or under the beam. Openwork braid decorated with flowers attract attention. Not forbidden to use fresh flowers on the whole branches that give the femininity and elegance.

At mid-length strands look greathigh elegant styling. For ordinary girls suit retro style that give the image brightness and flavor. Form a cold wave, evoke images of girls jazz era. High stacking 60s with the right accessories will make you a real doll. Use bows, ribbons, veils, hats.
Hairstyles for long hair

Long hair - a whole sea to experiment withwedding hairstyle. For the simplest option to collect tail hair, fasten a rubber band or a beautiful hairpin. For more complex variations of shape tail around a donut, which is used for beams. Not forbidden to braid braids that look chic. Feel free to combine them with a variety of fleece. In addition, as a wedding hairstyles look good with different bundles of ribbons, veils, bands.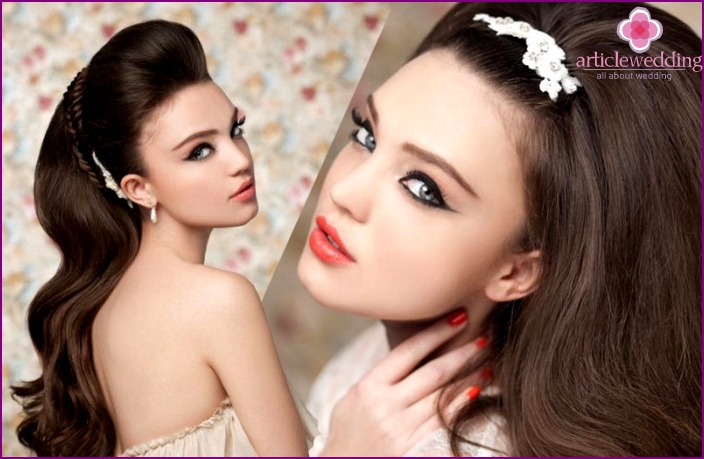 Video: how to make myself beautiful hairstyle
You want to make the most hair? You will succeed if you look at the pre-video, and then try to implement it presented ideas. Suitable such wedding hair styling for long and medium: