Wedding - an important celebration in the life of every girland to look at it is necessary to appropriately: stylish, feminine, luxurious. Fashion wedding dresses changes every season: wedding dress in 2016, for example, presented a wide range of models are the original cut and a rich otdelku.Pryamye, lush, lace, Greek, short - selection of wedding dresses in 2016 is huge, the main thing - to find the product you require style! You can visit the shop of evening and wedding dresses and try on their favorite - the consultants will select the best options for your figure. Please find tips and advice on choosing the holiday of your dreams image by leading stylists and designers.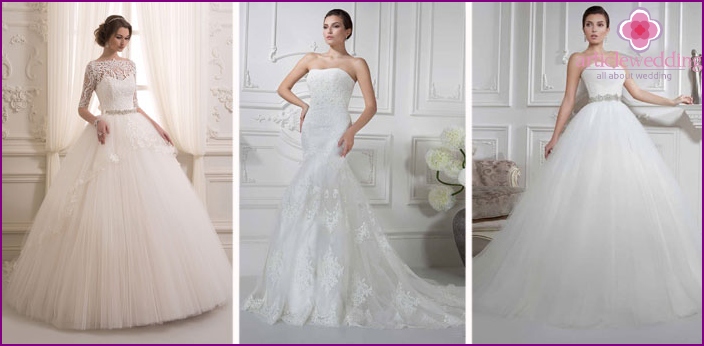 Wedding dresses 2016 collection with photos
Preparations for the wedding ceremony beginswell before the target date, because the choice of dress - not an easy task. In order not to be lost among a variety of festive dresses, you should be aware of the trend models this year. Refer to the selection of these products in 2016 by fashion experts:
Lacy masterpiece. Wedding collection 2016 full lace products: elegant, aristocratic, air. If you want to look restrained and subtle, as the English princess, buy lace dress. You can also stay on the individual details of the lace: gloves, boleros, veil.

Bohemian feathers. Wedding dress in retro style - a highlight of the season 2016. Snow-white plumage, the current 20-ies of the last century, it reappears on dresses and hats brides. The fashion house Badgley Mischka, in turn, was inspired by images of the 30s and created a line of exquisite dresses adorned with fringe and embroidery.
Luxury Hollywood. Classic dresses to the floor with an open back and long train like the girls who appreciate tradition. Note the bridal gowns by famous brands Reem Acra - he sews luxury products worthy of celebrities.

Floral extravaganza. Wedding dresses 2016 from Vera Wang are far beyond the traditional. Inspired by a flowering camellia, the designer has stood the entire collection in pink and red colors. They are such an unusual color, draped tulle and organza, seem weightless and is shaped like a cloud.

Shining crystal. Wedding dress inlaid with the Swarovski crystals, pearls and beads - the trend in 2016. Clothes made in this style, emphasize the bride's tenderness and give radiance around the festive image.
About fashionable wedding dresses 2016, you will learn of their video tutorials:
Wedding dresses lush 2016: photos
What girl does not dream of a magnificent dressPrincess? As a child, the parents fulfill the dream, and in adulthood - the designers of wedding accessories. Despite the large number of new models of wedding dresses, dresses with sculpting corset and fluffy skirt does not lose its relevance. In 2016, we expect the product to more airy skirts - this effect is achieved by creating extra folds in the fabric.Lush bridal dresses 2016 suit highbrides having chiseled waist. Low-cut bodice is close-fitting shape, so simply will not be able to hide those extra centimeters. Girls short stature should avoid excessively bulky skirts, as well as an abundance of decorations on the dress. An integral part of a magnificent wedding dress will be the veil, gloves and tiara.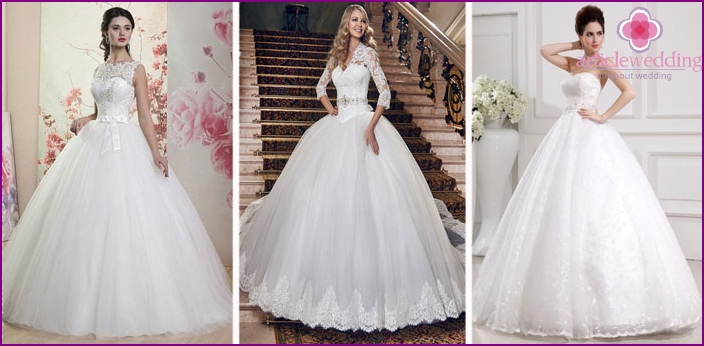 Lace Wedding Dresses 2016: photos
To Lace Wedding at all times treated withawe: it was kept as a dowry and inherited. Dressed in a gown of lace at his own wedding the bride promised a happy married life. Inspired by such an attitude to the lace as a material, modern designers use it to sew unsurpassed models of wedding dresses.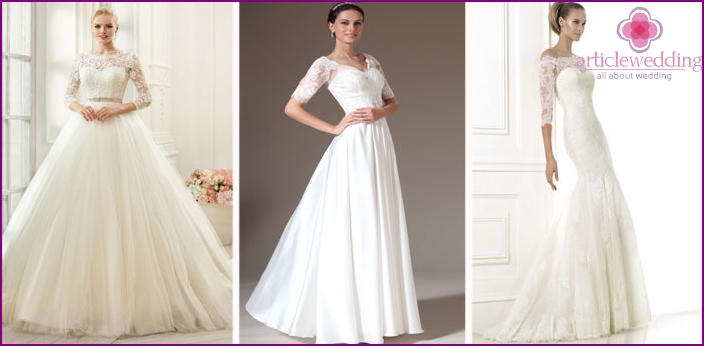 In the 2016 season, fashion houses offer bridesrefined and feminine model wedding dresses of guipure, French and vintage lace. Cleverly combining them with modern details, the designers achieve amazing results - create a luxurious and at the same time innocent outfits. Lace wedding dresses 2016 have a variety of silhouettes from the popular A-line with an elegant belt at the waist to the beloved designers silhouette of "mermaid".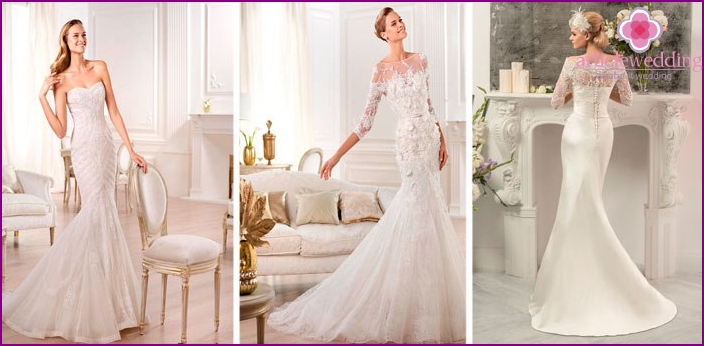 Greek wedding dresses 2016
Every year the wedding dress in the Greek styleare becoming increasingly popular. Smooth lines, elegant, comfortable cut - that captivates millions of brides around the world. The main requirement for this style - the maxi-length. Attire should be up-to-toe, cascading to the bottom of the soft waves. Generally under such style clothes they wear sandals, but the modern interpretation of the dress also allows high heel shoes.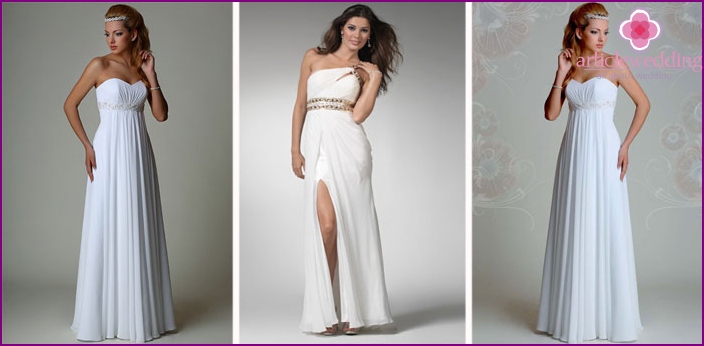 Wedding season 2016 opens in the Greek fashionclothing with high-waisted white and cream colors as well as light tunic free cut. In such outfits of the bride will feel at ease, and bare shoulders in some models - will add to the image of femininity.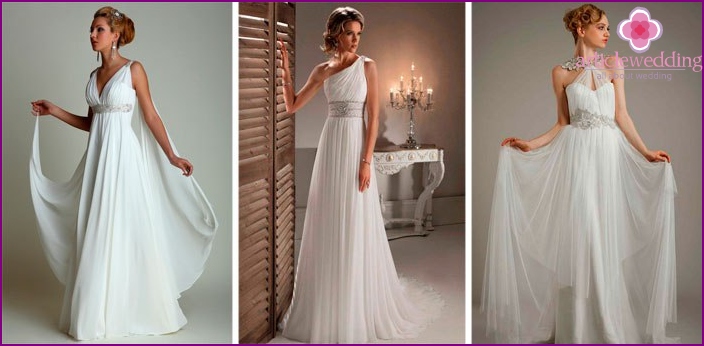 Wedding Dresses 2016 with a train
2016 Wedding dress with a train Satinmaterial will make the image of the bride's solemn and aristocratic. Such attire would be appropriate at a wedding in the church, as well as on-site wedding ceremony. During the celebration of the long train detach easily, but for this it must be secured with buttons or concealed clasp.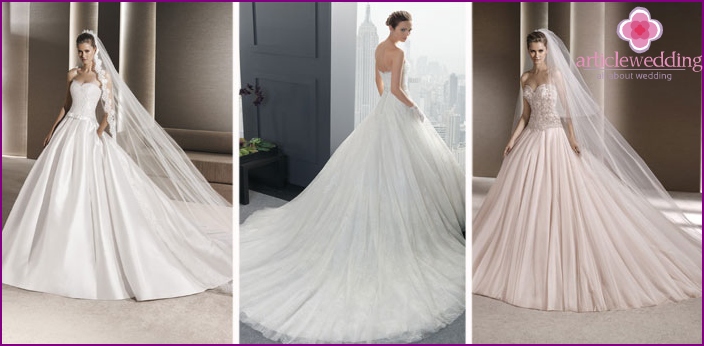 Luxury trail is well combined with a narrowdress-case and a flared fitting dress-mermaid. Dress strapless with spicy cut along the leg will look impressive and will impress guests. The suit veil, brooch, gloves as optional accessories to the wedding along this style. On current trends wedding season, you will learn from the fashion show of the brand Rembo Styling:
Short wedding dresses 2016
Not all delighted with the long weddingoutfits, including their old-fashioned and uncomfortable. A large number of tissue spent on tailoring products, weight outfit makes unwieldy bride. Selection of short wedding dresses made of silk, lace and stretch satin ensure freedom of movement of the girl, as well as emphasize the advantages of her figure. To draw a clear silhouette of the dress sewn into the lining of soft bone. Short wedding dress brides suitable growth medium, seeking to visually appear higher. Sleeveless dress, boldly opening leg, also like self-confident and active girls. When choosing accessories to shortened product, should pay special attention to the shoe - it should be beautiful and comfortable at the same time.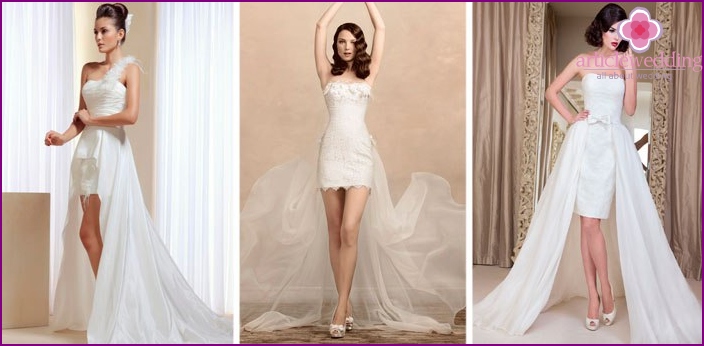 Wedding dresses: designer Oksana Mukha
In order to make a dress dreams with his own handsYou will need a special skill and a lot of free time. We recommend in this regard to trust the professionals, guaranteeing exclusive quality wedding products. Collection of wedding dresses by Ukrainian designer Oksana Mukha received rave reviews around the world. Dresses from this popular brand embody elegance, sophistication and femininity.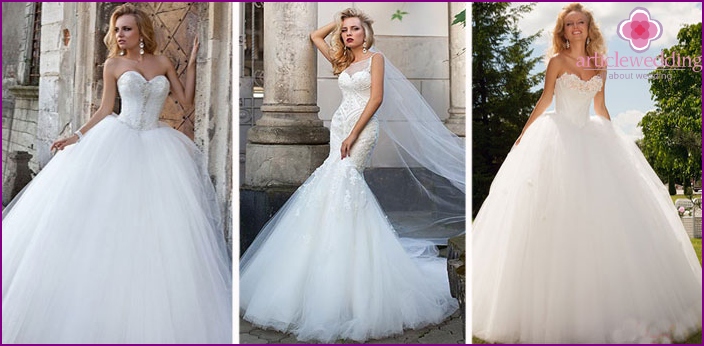 Wedding Collection 2016 by Oksana Mukha presented dresses of these styles:
Lush dresses with skirts, consisting of multiple layers. Products decorated with ornaments from beads, embroidery, pearls and crystals Svarovski.

Empire-style dress with a V-neck, characterized chiseled silhouette and smooth lines. This outfit profitable emphasize the dignity of the figure and hide its flaws.
Short wedding dresses for the modern and creative brides. The tailoring of high-quality materials - chiffon, organza, satin, silk and lace.
Wedding dresses 2016 collection embodiesall the trends of the season, allowing the bride dress to look stylish in any style. If your celebration has already taken place, we are waiting for photos of wedding dresses in the comments under our articles! You can also share experiences from the acquisition of a dress, paying attention to the pros and cons of the product. Beautiful wedding you and happy family life!