Wedding dress cover differentdesign direction, among which a special grace, subtle femininity and originality of different short models in the Greek style. Flying, form-fitting silhouette of flowing cloth, they make the bride look like a goddess descended from Olympus. Greek-style dress - perfect for a summer wedding and a large selection of styles to satisfy the demands of even the most selective beauty.
Styles short in the Greek style wedding dresses
Short Greek dress to the wedding aboundvariety of shapes, ranging from the waist line character, ending top configuration. However, they all have common features Empire style that make dress like a short Greek tunic. This is only the brightest of them:
flowing fabric gathered pleats extending from the top of the dress (bodice or shoulder);
loose skirt sloping slightly by lush folds and walking showing the silhouette of a girl;
the presence of fibulae (buckles, narrowing the continuous web of fabric on the shoulders) or stitches, brooches in their stead.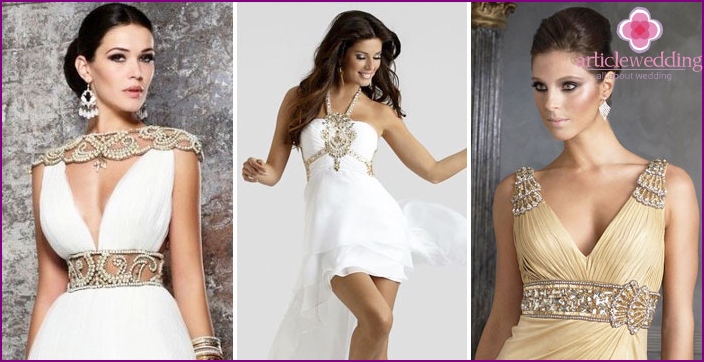 Differences may occur in these parts of the dress:
The waistline - inflated (located underbreast), solid (fitting all the distance from the chest to the hips, the skirt falls trapeze) and with an allowance (located at waist level or below, formed a band, captures the free-cut fabric, which turned up over the belt).
The configuration of the top - with one or two straps forming a V-shaped neckline, without them, straight bodice.
For sewing of clothes use light,flowing fabrics, which makes movement girl flying, graceful, slim figure and gives the image of the bride's delightful mystery. The choice is great - it's silk, chiffon, satin and other similar materials. Greek-style dresses are perfect for weddings, for both combine modesty and seductive, making every bride in Aphrodite. What Greek styles of wedding dresses in fashion this season, you can learn from the video:
Dress with straps over one shoulder
Straps are classical Greek dressits sequel, creating with it a single array. Linen fabric is taken with an overlap (more than necessary), and to cover silhouette, belt clip, or brooches stitches in certain places (on the shoulder, waist, sometimes - the forearm), lies in folds, which create a flowing effect. Draped over one shoulder, seized a brooch or stitch fabric forms a shoulder strap, which passes into the bodice. Modern interpretations of the dress straps are narrower, straight or overhead.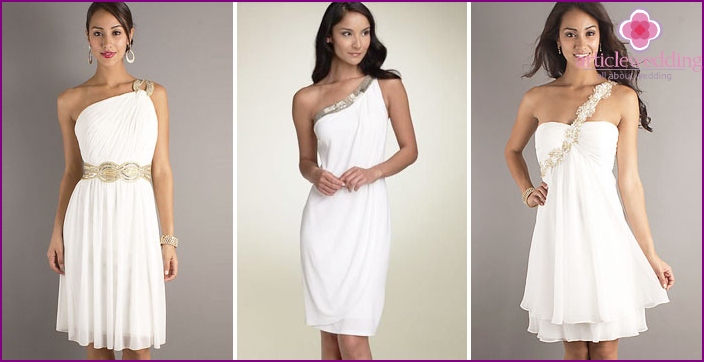 Wedding Dress with V-Neck
If the incision is made in the web of tissue that separates theit into two halves, these parts can be draped over each shoulder and secured top brooches or stitches. Then bodice will be formed in the V-neck, elegantly emphasizes the chest. Inflated waist, which is used in dresses of this style, enhances the effect. Classical and modern models allow the presence of light arms with a cut or not, and use an extra pair of brooches, which are attached at the base of shoulder straps, thin them and form a pentagonal recess.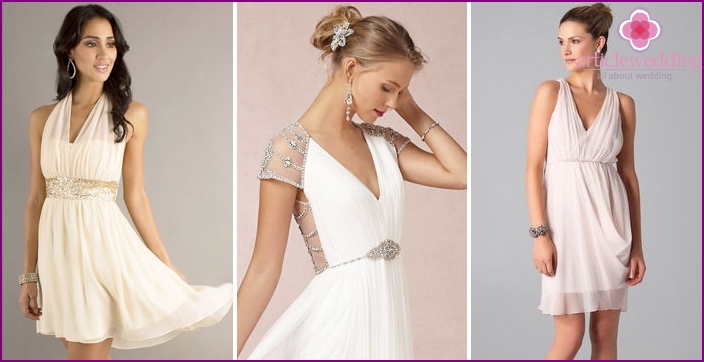 Strapless dress with straight neckline
Greek dress can be strapless. This model with a straight line of the bodice, flowing skirt or straight, inflated, solid or with an overlap waist. They open the neck and shoulders, emphasize the shape, show a large part of the body (hands, décolleté, shoulders, neck, legs), and therefore good for a hot summer, ideally combined with loose curls and gathered top, with a Greek-style accessories.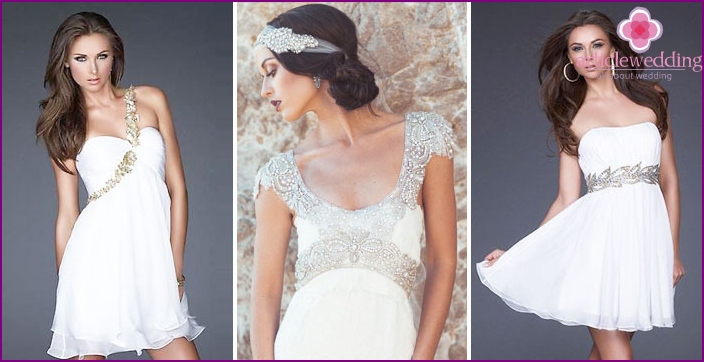 What accessories are suited to the Greek wedding dress?
Accessories for the Greek wedding dressmust be metallic colors, gold or silver hue. Attire may include embroidery with silver or golden threads that will remove the need to use additional decorations. Decorative items should be placed in moderation in the total composition of the bride dress, supplementing it, without diverting attention from the very culprits celebrations. It is not to use them - not an option, as appropriate, elegant decorating are:
Buckles, brooches;
brooches;
Rope Ribbon;
belt decorated with a pattern (beaded, Lurex threads, crystals);
large bracelets (one for one or both hands);
small pendant on a chain (medium length, look better with cleavage nicely settling in a hollow chest);
thin chain with a pearl, short and worn so that the jewel was placed around his neck;
hair ornaments (jewelry combs, barrettes, hairpins with pearls or stones, diadems, artificial or natural colors).
Shoes can be any, but it is better to design italso I had a Greek theme. This sandal, high light boots with laces, open ballet flats, sandals with heels or stilettos. Short dress allows you to wear to a wedding original and outrageous shoes that the length of the floor would be hidden from view: the model on a high platform and heel, with a massive arrangement of flowers or feathers, or a classic white pumps with lacing.
It dresses in the Empire style following hairstyles are perfect:
"Classical Greek" (collected top hair, pre-curled in ringlets, and casually but elegantly arranged);
"Beam" (hair smoothly combed out, going to the top in a ponytail, which is then twisted into a rope and made up to the cochlea or the ball);
"Sink" (length tease going at the back and twisted into a flat with one hand roll);
freely flowing curls;
broad braids and ears.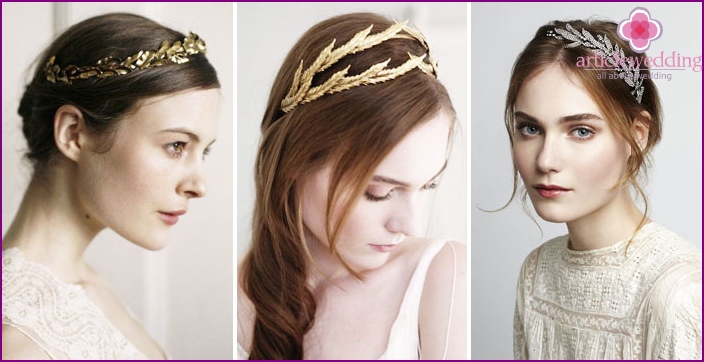 Photos short in the Greek style wedding dresses
Short wedding dress Greek style - aelegant ensemble, which makes perfect image of the bride. It is suitable for a wedding of any subject, not necessarily of the Greek, because it creates sleek, sophisticated, feminine and easy way, associated with the bride, with her blooming youth, romance, modesty and seductive femininity. If your choice is stopped on the dress this stylistic direction, you need the ideas that you can learn from a selection of photos below.