Wedding - a particularly important event in the life of everyladies. How to choose the right style of dress, the bride to be irresistible own celebration? Not all women have the perfect figure. And what if nature has given too much chest? Lush female body shapes are considered to merit a woman, a beautiful high breasts the dream of every second. Consider the appropriate styles of wedding dresses for women with large breasts. After all, the bride should be irresistible and feel comfortable under scrutiny guests.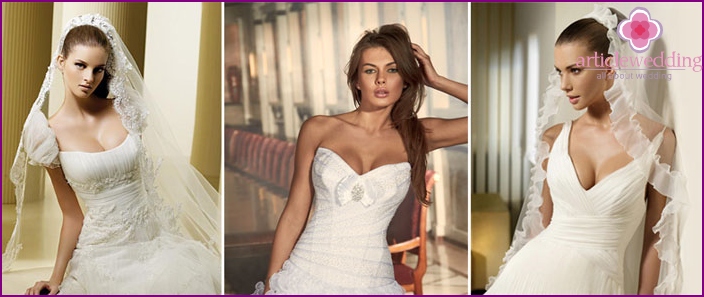 Tips for Choosing a dress for large breasts
Owners often have magnificent formscertain difficulties in choosing a wedding dress. Amid all the splendor presented in the bridal salon girls are often lost, not knowing how they fit dress. Choose the dress will help the stylist, as well as our advice and recommendations on the choice of attire for the fair article for the purpose beautifully emphasize the silhouette.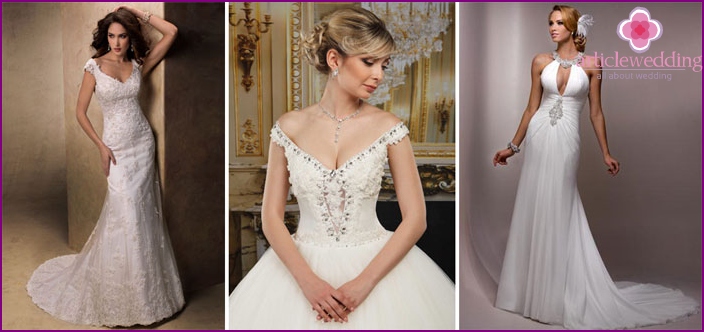 Emphasize the magnificent bust, giving it the desiredbeautiful shape, capable of a corset. Therefore corset model wedding dresses will suit owners of the luxurious chest. To you looked in the dress like a real princess, choose a style of dress with wide straps or small arms.
V - shaped bodice neckline should not bereset rhinestones, sequins, beads and other ornaments. Beautiful cut-out-droplet or neck without shleek visually reduce the breast. Style wedding dress, choose Cascade.
Empire style you will not work, because the impressive size of the bust will look even more.
Model with an open neck and shoulders, thinsleeves up to the forearm - a great variation for girls with "pear-shaped" type of figure with any breast size. Cut shapes "heart" beautifully emphasizes the bust, visually lengthens the neck.
Owners of luxury chest-to-face willcutout "boat", which runs horizontally along the collarbone line. This recess opens on the shoulders of a few centimeters, but girls with broad chest is better to change the style.
The wide strap across the neck visually reducesbig bust, gives it a nice shape. The style of this dress with bare shoulders, back, and often. Halter tied or fastened at the neck. Suitable girls high, with a beautiful figure and large breasts.
Well proven model with a horizontal broad band under the breast, the woman adds harmony, growth. Therefore, we recommend a low bride with luxury chest and broad shoulders.
Align visual proportions between largebust and hips will help a wide skirt. But when choosing a wedding dress do not overdo it with the supporting fabric hoops: they should not be wide.
The color and fabric
Current models of wedding dresses presentedall-new surprises - the interpretation of colors and shades at a wedding celebration. Dazzling white color does not lose its leadership position in the color spectrum, especially for a wedding celebration. Therefore, even busty beauties will feel the true queens of the festival, representing tenderness, gentleness and innocence in white traditional dress.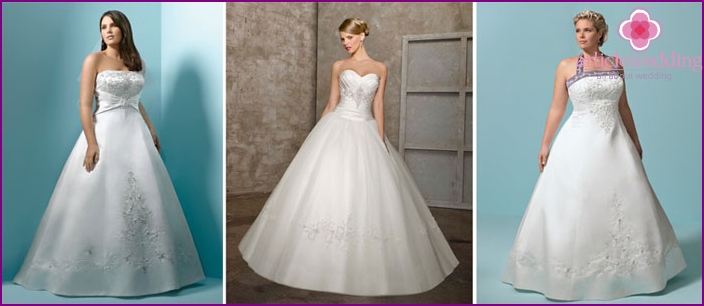 And yet stylish touch of modernitywedding dresses consider: ivory color, beige, light pink, pale purple, gold. Some extraordinary personality clothed in bright, for example, a red dress, or a combination consisting of several close by the tone or contrasting shades. Choosing a dress the color, do not forget to correlate it with the skin tsvetotip, hair and features of your physique. Light-skinned blondes to face will be white, pink, blue tint, dark-skinned brunettes - red, golden tones, brown - beige.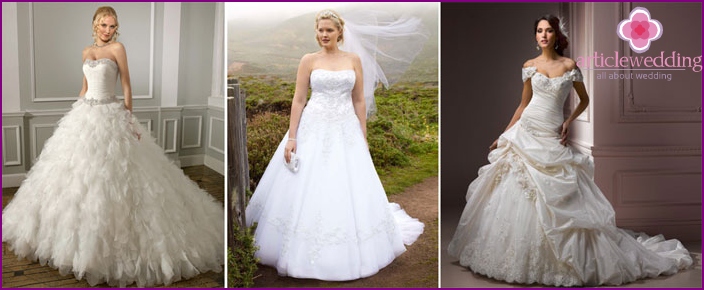 Especially popular are gaining extraordinary dressesstyles. Choosing dress in vintage style, you feel like a queen of yore. Ethnic Slavic motifs will give you a special attraction. If you want to put on the garments of oriental geisha, the tunic will embody the eastern goddess. Busty girls should opt for a simple dress with a bodice without rhinestones and decorations, hem the wedding dress can be painted with gold or silver thread, small crystals.
Often, women with dense breasts and luxuriousthe figure does not boast. Choosing tone dresses need to remember that light colors visually complete, and dark make slender figure. Therefore, it is quite suitable extraordinary option: the top of the dress to the waist is more contrast (darker) bottom. This combination of colors to visually balance the proportions of non-standard shapes.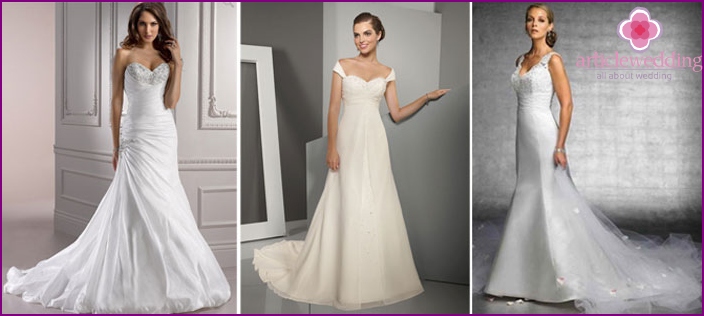 When choosing a dress is always necessary to pay attentionon fabric products. For busty ladies fit or slim, flowing material, or dense tissue that makes it visually charming and slender figure. Stretched fabric does not meet the girls with large breasts and a full figure, since all the flaws silhouette will especially stand out.
When choosing a model wedding dress fabric -decisive factor. Special mention should be given to the material on the bodice and corset. The fabric should be light, simple, nemnogosloynoy. Only a thin material will give you grace and distract from the shortcomings of the figure. When choosing a dress, avoid massive embroidery on the bodice, and numerous decorations. Emphasize others on hem dress. It must be different brightness, a special expressiveness and volume.
The length of the dress
dress length also plays a special role in itthe choice for the bride. Here take into account the style of the upcoming wedding. If you prefer to receive guests at the official ceremony of the event, and the length of the dress must conform to established standards. It's a long, floor-wedding dress, often with a train. This dress you a real goddess. If the wedding will acquire features of a friendly party, you have the right to wear a dress with a long skirt above the knee, or three-quarters. Short dress not condemn friends will be fun and easy.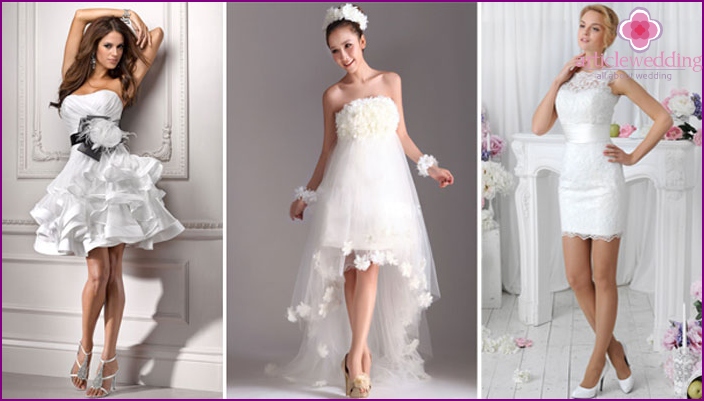 What style of dress will suit the big chest?
Women with magnificent breasts hard to findappropriate style wedding dress. After all, I want to look your best, taking admiring glances guests and groom, flutter ball on his own wedding like a bright butterfly. Among the large range of different models is hard to choose. Sometimes, it takes a long time, until the bride will choose the perfect attire. Consider the following options for those wedding dresses that are worth paying attention to girls with gorgeous breasts.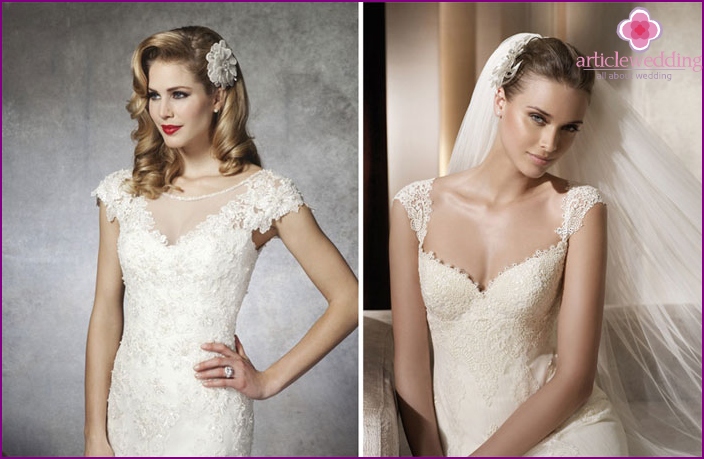 Sleeveless with a semi-circular cut
Hide breast size, that is, visuallyreduced under the dress really in a wedding dress with a semicircular cut. This style will not look at bride defiantly. If the shoulders beautifully delineated, and a woman's hand is not too dense, it is good to choose a dress without sleeves. Ideal for busty beauties - elegant model with an insert made of guipure and lace on the chest.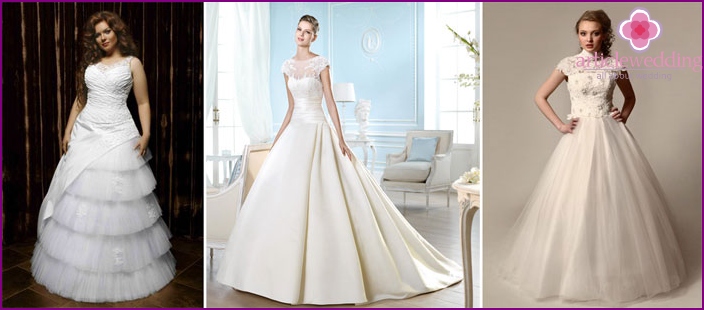 C V-Neck
You chose the V-shaped neckline? This model is suitable for wedding dress brides low, giving visual centimeters of growth, as well as featuring a beautiful neck and chest. Style well masks large bust, waist lengthens, gives women the figure of perfection. Depending on the depth of the cut, this model either breasts bewitches luxury with a plunging neckline, either visually reduce bust with a small neckline. Wide straps and elegant short veil and a hat with a flower to complement the image.
On the wide straps
Luxury chest - the dream of many girls. Owners of magnificent forms must be considered when choosing a wedding dress that breasts should be nicely recorded. It does not go deep cleavage, because the girl is uncomfortable, for example, while at the altar in the church. For a good support for the bust pick up the model on wide straps. This style of wedding dress looks always original, visually adjusting the shape, especially for women with broad forearms.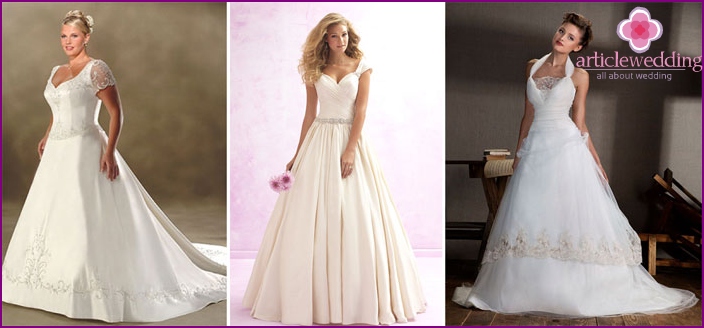 Dress-Case
Dress-holder for busty ladies -perfect option. This style completely hide figure flaws in problem areas. The model should not dress tight, and beautifully fitting shape. The length of the product, choose not too short, a little below the knee. Another variation is called a win-win plateau on which the bodice front penetrating fastener (zipper fine or many small buttons in a row). This outfit is perfect accentuate your silhouette.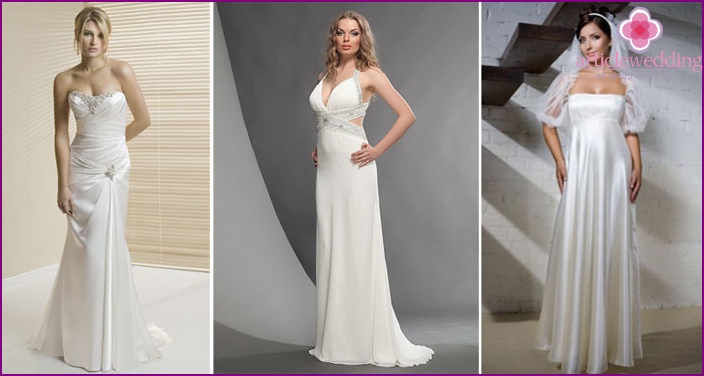 From what models of dresses is to refuse?
Choosing a wedding dress in the salon, do notpay attention to the following styles: models bustier and Empire styles. For girls with big bust empire is unacceptable even for trying, it's not their style. Bustier dress in style and not hide problematic figure places besides also increasingly highlight the chest. Therefore, these two style categorically not fit busty to representatives of the female half of the population. Also, forget about gloves and long sleeves - this is not your type.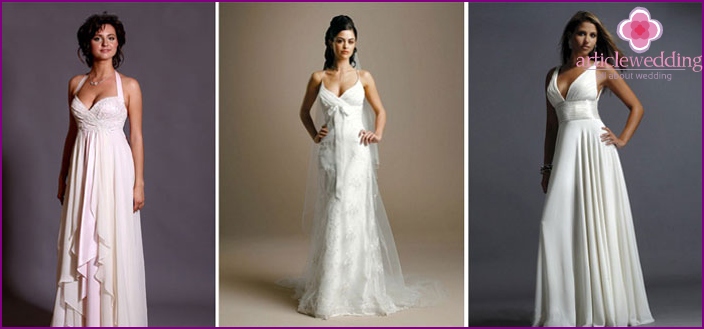 Wedding dresses for big busts - Photos
The bride should always look perfect, whichwhatever it was, high or short, thin or full, with small breasts or women's dignity impressive size. Therefore, in choosing a wedding dress to come to the aid of not only the above mentioned tips and suggestions, but also beautiful photos. Correctly pick up a dress, you stand in front of guests and narrowing the fragile, delicate and romantic bride.