Although monochrome white wedding dress stillremain favorites, the last few years, fashion houses offer brides getting married in a contrasting color combination. Wedding designers include in their annual collection of white wedding dresses with a black belt, which reflects two trends at once: an emphasis on the waist and striking tandem of black and white. This outfit will turn any girl into a creative bride with charm, and guests make long remember her wedding as an extraordinary event.
The models of wedding dresses with a black belt
The combination of white (or pastel) and attireblack accent - perfect for brides who want to escape from the banal total white, but the risk of not hitting the other extreme, choosing a bright color dress. White dress with a black belt will allow to observe the tradition of "marriage - in white," but it does not look dull. This item will solve the problem of the color accent in the design of the wedding. In addition, well-chosen black belt adjust some figure flaws without additional effort.
The girls, preferring to dress darkaccent, a few rules you need to know. Bright belt automatically pulls the attention from all over the image, so it must be matched perfectly. Accessories, bouquet and even shoes can play along with him. The main thing - to observe the color balance, or white-black dress is easy to turn to black and white. Many designers are advised to support other times dark detail: gloves, embroidered dress, trim the hem or neckline.
The combination of white-black dress with colorful details- An interesting experiment and justified. If you add another contrasting tone, get bold mix that will give the bride dynamism. It works well red (especially in make-up or manicure), or blue, but not every woman will choose this combination. Try replacing white pastel colors (blue, milk). In this dress black belt will lose contrast and elegant soft tone adds an unusual way of notes.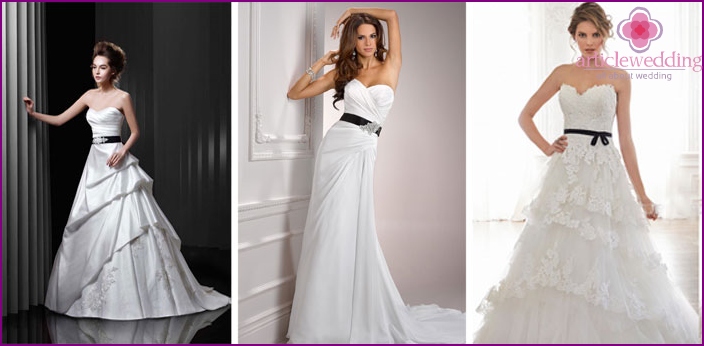 Bouquet - another opportunity to play withshades and color scheme to support a wedding dress. Original and luxurious at the same time looks like a combination of white and very dark colors. If such a bold decision not appropriate, add to a bright bouquet of small dark decoration (ribbon, beads or feathers). If you do not have the experience of a successful combination of related-contrasting colors, leave this matter to the stylist.
Equally important in the selection of lightwedding dress with a black belt play a particular figure. Beautiful bright belt can either emphasize or distort the proportions. Here we must take into account the model, the color of dress materials, decoration of all attire. Be sure to experiment before the wedding, try on different options and compromises simply brush (when a dress is visually very pleasant, but does not go or is there some kind of discomfort). What are the styles of the belt are suitable for this or that figure?
C wide or narrow belt under the breast
For girls with a disproportionate figure fitbright ribbon under the bust (in shaped "Empire" or direct model). Raising the waistline, this piece is visually align proportions and add centimeters. Looks for original wedding dress with a full skirt that begins right under the breast, separated by a black ribbon. This model is perfect for brides average growth or are in position. Short, and full of girls fluffy skirt with a high waist emphasis should be abandoned.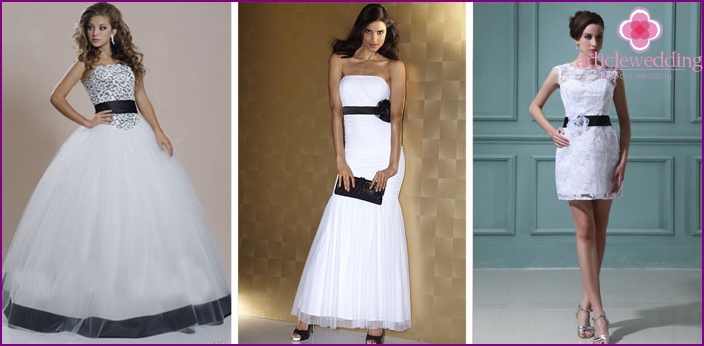 With satin bow located at the waist
A large black bow at the waist is ideal forthe wedding dress model "Princess" (with the expanding volume down skirt). Wide satin folds of the decoration support layering finery. Option for daring brides with long legs - volume bow on the hips. Dropped in this case waistline accented belt, and focuses on the buttocks. For direct and slim fit style small bow with neat folds or asymmetrical composition.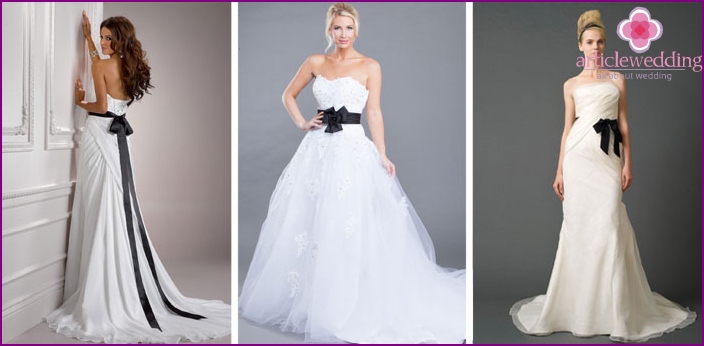 With a black belt, passing in the plume
This option is suitable for dresses with a straight skirt. Belt-trail will add spice and as a material for his smooth suit the type of fabric or satin light transparent chiffon. To smooth the girdle thin long suit or bow brooch attached in front or to the side. With decor in this case, you need to be careful that there is no congestion. medium width belt in harmony with embroidery. Wide Sash well with draped front.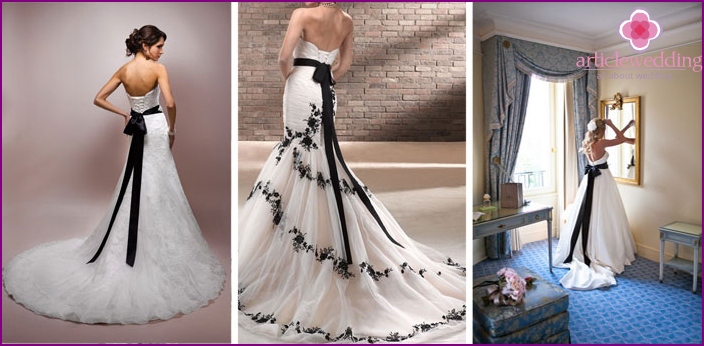 Options belt decoration on wedding dress
Strict rules on the choice of the belt together tono bride. Smooth concise satin ribbon looks stylish and convincing, but it is not the only solution for the girl has chosen a black and white outfit. Modern wedding dress with black belt is invited to decorate all kinds of decoration, from the laces to the Swarovski crystals. The main thing is to design a black accent at the waist it was "in the subject" and not discordant with the image of the bride.
openwork lace
Lace can be the entire belt, and onlybow (flower) on it. It is important that this form of decoration kept. The most fashionable and spectacular use of lace is delicate substrate on which fits perfectly smooth thin or wide ribbon. Lace substrate is either completely flat, just beyond the edge of the belt or asymmetrical - while it can grab the edge of the corset. Lace in such a combination is always dark, but the zone can be either black or white.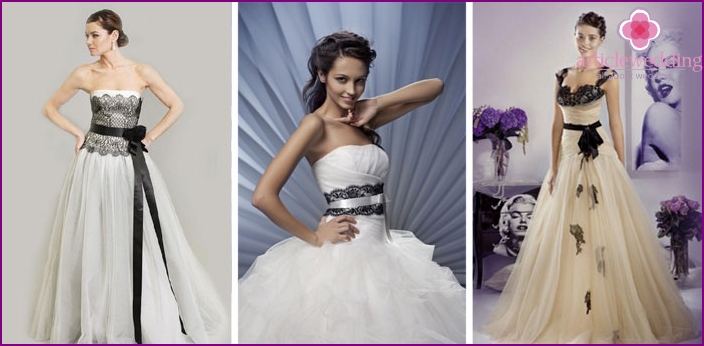 Brooches, stones or sequins
Decorated with crystals or stones makes the belt itselfStatement bright accessory. Pick up this way additional decorations should be in such a way that the bride did not look like a Christmas tree. Some designers offer a wedding dress thin belt, completely made of beads or crystals without the use of fabric. It is appropriate to look to models of direct or slim cut.
Brooches are well in tune with any belts,regardless of the size and material. This item usually repeats dress decoration (materials, design) and is adjusted for jewelry (jewelery) bride. If brooch - a major enhancement in the image, other decorations are chosen so as not to overshadow her. But the more a dress sewn decoration (embroidery, lace, beads), the bigger and brighter than the brooch should be, not to be lost.
Embroidery and flower applique
Contrast embroidery (white on black) runsas well as a brooch or a rhinestone - pulls the attention, leaving the rest of the details in the shade. Complement her other bright accessories impractical. Black embroidery on the belt of the same tone works well if repeats the same decoration on a wedding dress. This inconspicuous at first sight detail often complement some decoration (bow brooch).
Artificial flowers in the bride's dressecho the same trend in the decoration of wedding cakes. Flower trend firmly established in wedding fashion, so any woman can safely use black, white or mixed colors as decoration belt. Large, small, matt or metallic, soft or hard to keep the shape - there are no restrictions in the choice of floral appliques not.
Photo white wedding dress with black belt
Pictures of the white wedding dresses with blackzone will tell you whether to choose a model and some of its varieties preferred. Some styles are ready monochrome and white wedding dresses allow the addition of "non-native" black belts, with the proviso that it matched perfectly. Note that the same dress in different girl looks in its own way, so the fitting before the final purchase - the golden rule in the choice of wedding dress.