The distinguishing feature of a wedding dress - fluffinessskirts. Every girl dreams of a child drop down a flowing wedding dress. This effect is achieved by poddevaniya a special dress Petticoats. The choice of this element of the wardrobe is not as important as finding the desired wedding attire. But the correct Petticoat or as it is called, depends crinoline view the entire image, it is finished. This hidden from prying eyes piece wardrobe is not just for ballroom style dresses, but also for dresses with A-line or Empire style.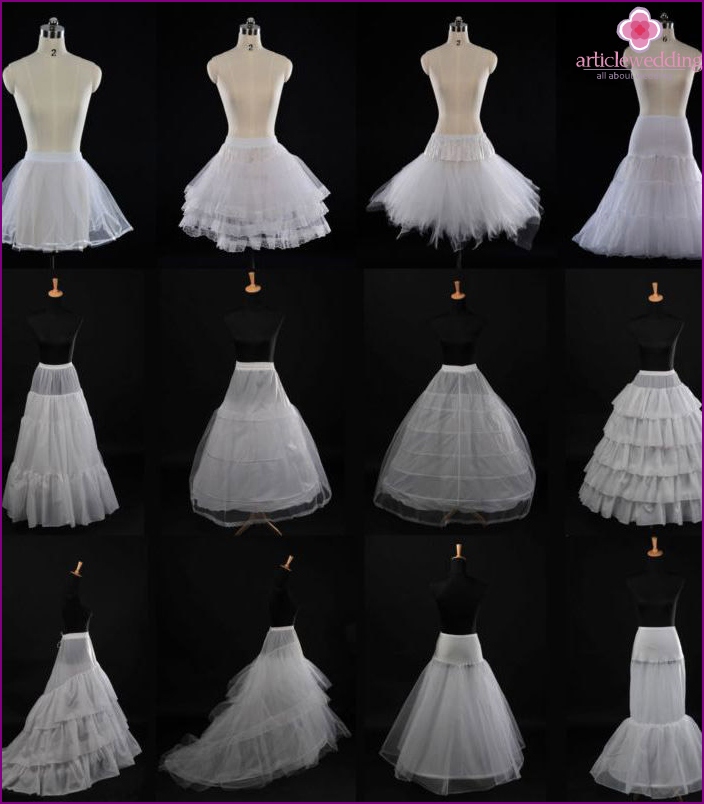 The main types of petticoats under the wedding dress
The main function of a wedding PetticoatUnderline style dress, it makes a skirt decorated, complete, that sets the tone for the whole outfit. Without this invisible parts wardrobe dress will not seem so elegant and festive. Some brides prefer to withdraw from the purchase crinoline, believing that it constrains the movement, does not feel comfortable in a holiday and interferes during the dance.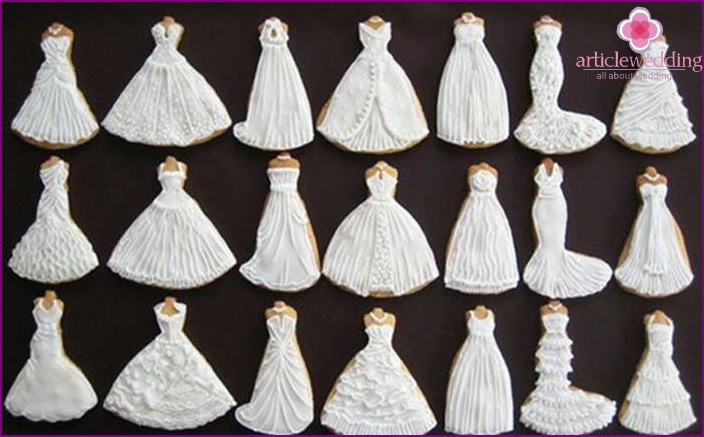 If you choose the right fashion accessory, it is notonly do not prevent you enjoy every minute of the solemn day, but will make your image a gentle and romantic, like a fairy princess. Lush crinolines do gait smooth and elegant bride. But in order to decide what will suit petticoats to your wedding dress, you need to understand the types of this accessory.
With flexible rings
Petticoat with flexible rings arethe greatest demand among modern brides. This type of crinoline considered a lightweight option compared with accessory having a rigid ring. When tailoring this element wedding wardrobe, use a cloth instead of a rigid grid, as in other models. The advantage of flexible plastic rings in that they do not stand out when walking.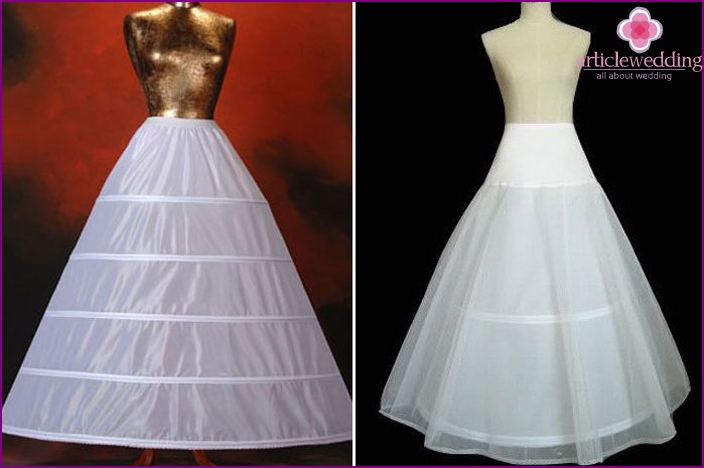 The bride will have no difficulty to movein a dress with petticoats, having a flexible ring. It can easily get in the car, sit at a banquet table and even participate in mobile contests and dancing. The only drawback of such models is considered to be short-lived plastic. Rings under strong pressure or misfolding may break and spoil the look of the dress. Petticoat cost with flexible rings more expensive models with rigid inserts.
With stiff from 1 to 7 rings
Underskirt with rigid rings - Classicversion of the crinoline. When such an accessory only came into vogue, it was made of a special fabric, which has in its structure the horse hair and linen thread. Due to the stiffness of the tissue crinolines well kept shape and volume. Modern tailors the manufacture crinoline skirts use mesh inserts with rigid rings and their number depends on the desired Petticoat style varies from one to seven.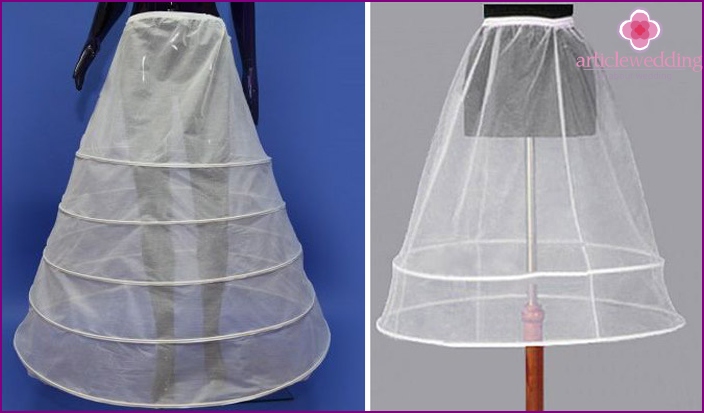 accessory model with rigid rings createsspace under the skirt wedding dress, so the bride can easily move around without getting tangled legs in multi-layered dress while dancing. But the disadvantages of this type are also characterized. So, when walking stiff rings stand out under her skirt dress, and if the wedding dress sewn from fine fabrics, the tin frame will show through. You may also experience difficulties when landing in the car as hard petticoats strongly rises.
Multilayer without rings
Sometimes the bride looking for such options Petticoats havewhich through no rings, spoiling the appearance of the dress, standing out from under her skirt. Their choice, they stopped in the multilayer crinolines, whose volume is achieved through a large number of layers of fabric sewn on top of each other rather than through a lasting annular frame. But the sandwich structure also has its drawbacks.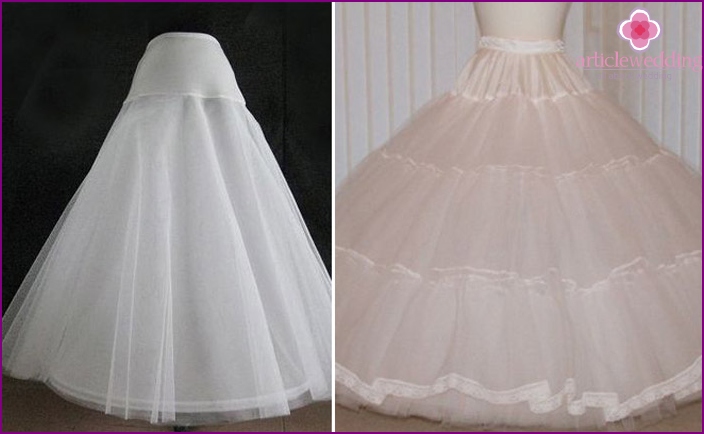 Experts recommend choosing such modelsaccessory only for short or long dresses a little below the knee. If layered crinoline sewn to the dress length at the floor, then it implies the use of large square footage of fabric, which significantly affect the price. As a result of the abundance of the material the product will be heavy and cause discomfort when walking. Since the manufacture of multilayer petticoat conventionally used synthetic fabric in such articles is hot and unpleasant.
To dress with a train
Wedding Petticoats for dresses with trainsfind problematic. There are such products are much more expensive than other models. They are made on the basis of these hoops Petticoat with plastic or tin rings, over which a mesh or fabric sewn ruffles. The only difference is that its dimensions are lengthened depending on loop length. Make these crinolines mainly to order.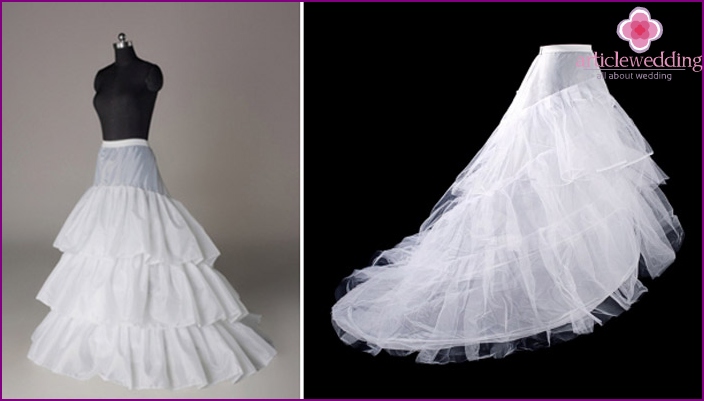 Explicit minus Petticoat with a loop - this is hisinconvenience. The bride will be uncomfortable to sit down in the dress, which has such an accessory, as when landing on a chair or in the car will go to trail in one direction only, and ruffles mesh - to another. From this outfit will look odd and unattractive, make a beautiful photo or video with sitting bride not work.
With mesh or fabric ruffles
Lush Petticoat with ruffles of tulle and sewmesh. To sew the basis of a lot of frills tissue, until the desired length and volume is achieved. Wear these Petticoat can both independently and over a crinoline with rings. By layering accessory frame show through and will not stand out. Dress gets the additional volume and the rings are hidden from prying eyes.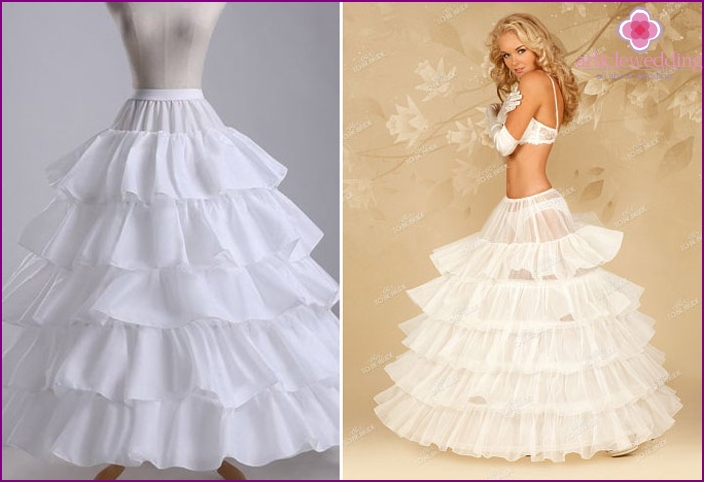 If tulle petticoats worn without a skeleton,you should not expect to get a good volume. Therefore, some bridal salons offer brides crinolines with rigid or plastic rings, over which a lot of frills sewn rows. Such petticoats holds its shape well, and the outfit as a whole looks neater and more thinned than with accessory fabric without frills.
How to sew petticoats with their hands?
For self-sew wedding Petticoat at home you will need:
tulle;
calico;
synthetic yarns in white;
braid;
button;
sewing machine.
sewing Instructions:
Select tulle, which will correspond to the type of your dress fabric. For satin petticoats to need hard tulle, and for silk dress - a soft type of fabric.
Measure the length of the wedding dress, petticoats should be 2-3 cm shorter than the dress.
Determine the width of the skirt crinoline. Based on this figure, calculate the width of the fabric and the number of frills.
Measure the waist.
Create a pattern on a basis Petticoat type shestiklinki or polusolntse. The waist area make a small incision - a place where it will be attached zip. Fasteners made in the form of buttons or hooks.
To carve out the necessary amount of ruffles of tulle. Note, the width of the bottom ruffles should be approximately three times wider than the lower skirt bases. To create a crinoline made of three to eight frills.
Every stitch a cut frill on the narrow side, giving it the appearance of a ring. Prostrachivaya edge ruffles on the machine, pull the thread so as to create uniform folds.
Sew all prepared and processed frills to the base of the skirt, making sure that the edge of the first top frills located at 3-4 cm below the fixing seam. Bridal petticoats ready!
Pattern